Japanese lacquerware, Urushi lacquer
This is JAPAN! Japanese Urushi lacquer for your life
Stylish Japanese lacquerware
Lacquer is also called "japan". As this fact explains, Urushi lacquerware is a representative traditional craft in Japan. In this page, we collect Japanese lacquer chopsticks, sake sets, bowls, and lacquer boxes. Please feel the beauty of Japanese lacquerware and great usability.
Dinner table with Japanese lacquer ware
Urushi lacquer ware.
With them, dinner table has taste.
Gentle outline shaved from natural wood.
Elegant gloss of Japanese lacquer.
Smooth texture and beautiful atmosphere.
Japanese lacquer has been handed down from generation to generation in all around Japan. And now, urushi lacquer lives in our life with modern design.
Bowl:Oborozuki 8 sun / Cup:Wooden cup from Gato Mikio Store
How about using Japanese beautiful lacquerware on your dinner table?
Japanese lacquer is characterized by great presence as high-class tableware, as well as usability for our daily life.
Stylish lacquerware works for daily dinner and a special table setting, too. Also, Japanese lacquer would be great gifts for your dearest people.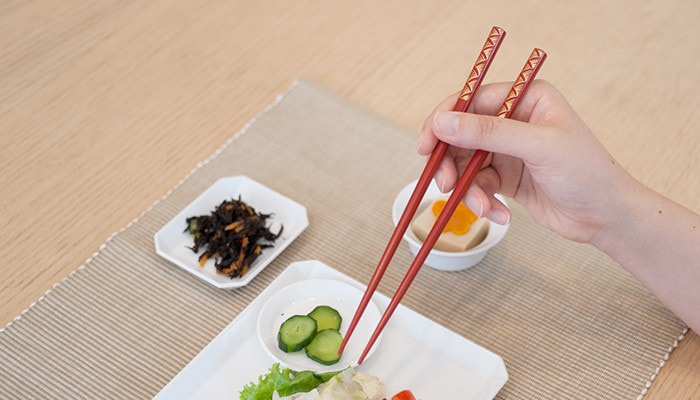 Chopsticks:Wajima lacquer chopsticks / Plates:TY Square plate and TY Round bowl
Tough and useful! What is "Japanese lacquer ware"?
Lacquerware is a tableware lacquered with Urushi. Urushi or lacquer is processed sap of "Urushi" tree, a tree of Urushi family.
Its beauty and durability have attracted people for a long time.
Some may think "it seems difficult to care lacquerware."
In fact, urushi lacquer is a stronger material than usual chemical paint. Japanese lacquer is characterized by its toughness and flexibility.
In addition, urushi has high antibacterial effect. So, lacquerware is safe for small child, too.
You can use lacquer chopsticks, bowls, cups or plates in as same way as other usual tableware. After use, you can wash lacquerware with soft sponge and thinned neutral detergent.
Urushi lacquerware with natural lacquer gains gloss as you use them. You will become fond of Japanese lacquer ware more and more.
Wooden cup from Gato Mikio Store
However, natural lacquer ware is weak against ultra violet rays and dry. Please do not store urushi lacquerware in place where have direct sunshine or extremely dry.
With these two cautions, you can use Japanese lacquer ware for a long time.
Now, we have various lacquerware such as coated with urethane or any other resin coating, and plastic tableware.
Synthetic lacquerware or the lacquerware coated with synthetic paint are easy to care. They have some taste of urushi lacquer, and easy to use in daily life.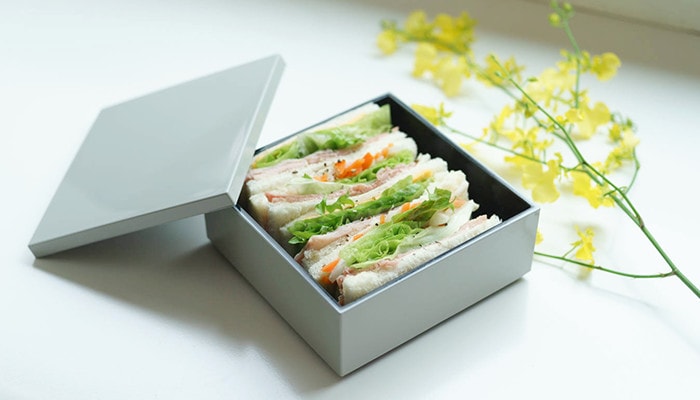 Original jubako box for Osechi
Here, let us introduce various Japanese lacquerware from traditional urushi lacquer to crafts made with skill of lacquerware.
Chopsticks, lacquer box, and more! Japanese lacquer ware
Stylish Japanese lacquer ware for your dearest person
Japanese lacquer ware seems to be too luxury or too "Japanese." However, urushi lacquerware is very useful and suits dinner table well. Lacquerware works for daily dinner or entertaining guests. Your life becomes richer with Japanese lacquer.
How about sending stylish lacquer ware for your dearest people? Lacquer ware tells your feeling of appreciation or cerebration. One of the representative Japanese traditional crafts Lacquer has been popular in the world. Japanese lacquer ware got great popularity as souvenirs from japan.
Caring tips
* All the products are handmade by traditional craftsmen. Please enjoy different individualities of each product.
Personalize gift service
For the bulk order more than 20 items, we can personalize your items with the name of your company, school, or with logomarks. If you plan to order corporate gifts or keepsake gifts, please contact us from "Contact us."
* Personalize gift needs service fee. The fee depends on items.
* Personalize service is not available for some products. Please feel free to ask us.