Donabe, earthen pot
Easy and delicious dinner with stylish donabe
Stylish donabe
Nabe Ryori or Japanese hot pot makes us warm. Especially for cold season, Nabe Ryouri is easy and delicious. Donabe is needed for Nabe Ryouri. In fact, donabe is more than a pot for Nabe Ryori! Japan Design Store offers various stylish donabe. You can choose your best one from donabe rice cooker, smart donabe, or petite donabe.
For Nabe Ryori! For rice! Donabe is the best
The sound of simmer. Warm steam from a hall. Great smell.
Donabe reminds us a happy dinner table. For Japanese people, donabe is a very familiar cookware.
We cook and serve donabe directly to the dinner table. So, cute or stylish design is important for donabe.
"Need a useful, and stylish donabe!"
We would like to introduce you our special donabe.
3 types donabe from our special collection
Donabe rice cooker Kamado-san of Nagatani-en

A donabe "Kamado-san" is an item of Iga pottery. Nagatani-en, a pottery of Iga pottery produces this special donabe.
Now, Kamado-san has been famous for its special function as a rice cooker. Everyone can make delicious rice easily.

The secret of simplicity is the original inner lid. Once you heat Kamado-san over open flame, you do not need to care about heat control. Just stop heating after some minutes. We do recommend eating delicious rice cooked by Kamado-san.




Related Products





Useful items with donabe rice cooker Kamado-san

Ohitsu, wooden rice bucket of Azmaya

We prepare great wooden rice bucket Kiso sawara cypress Ohitsu from Azmaya in accordance with the sizes of Kamado-san. Wooden rice bucket of Azmaya can keep freshness of delicious rice. A recommended item using together with Kamado-san.




Related Products





Wooden rice storage boxes of Azmaya and Masuda Kiribako

Rice is a perishable food. So, preservation way is important.
How about these stylish and beautiful wooden rice storage box? Japan design store offers wooden rice container from Azmaya and wooden rice storage box from Masuda Kiribako. To eat more delicious rice, wooden rice storage is recommended.




Related Products





Flat rice bowls of Hakusan Toki

To eat delicious rice, beautiful rice bowls are needed. Flat rice bowl of Hakusan Toki has beautiful form. As the rice bowl has large area, it makes rice look more delicious. So, this is a best partner for Kamado-san!




Related Products





Stylish donabe! "do-nabe" from ceramic japan

The name "do-nabe" comes from a word "Let's do nabe!"
Stylish and modern donabe can contain a lot. Smart donabe does not need much room in your cupboard. Compared to other donabe, do-nabe is lighter. Modern donabe fit various Nabe Ryouri.
Surprisingly, you can use do-nabe with open flame, oven, and microwave oven. In addition, do-nabe has pot for IH cooking heater use.




Related Products





Wooden kitchen hot pad Nabeshiki-house of Sunao Lab

Wooden kitchen hot pad Nabeshiki-house of Sunao Lab

When you serve donabe on the table, you need kitchen hot pad. For stylish do-nabe, Nabeshiki-house fits well! You can assemble wooden kitchen hot pad into a wooden house.




Related Products





Bloom bowl S of Hakusan Toki

As individual plates, we recommend cute bowl of Hakusan Toki. Bloom series has beautiful flower print. With modern do-nabe, your nabe party will become more stylish!




Related Products





Cute and useful donabe! Petite nabe of Nagatani-en

Petite nabe is cute palm size donabe. This is also a product of Nagatani-en. Petite nabe has various use way. You can use this small donabe with open flame, oven, microwave oven, or toaster. For example, you can cook soup, stew, gratin, or dessert. Petite nabe is rich in color variety. How about choosing each color for each family member? Your dinner table will be colorful and fun!




Related Products





Useful items with Petite nabe of Nagatani-en

Meibokuwan of Sonobe

For natural Petite nabe, natural wooden bowl Meibokuwan will fit. Beautiful rounded form makes us relax. How about making a natural table setting with Meibokuwan and Petite nabe?




Related Products





Flower rice bowl Madobe of Azmaya

Rounded form flower rice bowl of Azmaya fit rounded Petite nabe. Stew in rounded petite nabe with rice in flower rice bowl. What a cute table setting!




Related Products




4 recommend points of donabe
There are all sorts of "nabe". In addition to earthen pot, there are metal pots or cast iron pots.
However, donabe has been famous for Nabe Ryouri. Why are people fascinated with donabe?
Thick pottery clay to extract the taste of food

The greatest feature of donabe is its far-infrared rays effect. When a donabe is heated, donabe releases far-infrared rays. Far-infrared rays effect is a popular effect of charcoal fire. Donabe also has this effect. Donabe stores heat and warm whole pot. Since donabe conduct heat into food slowly, it extracts the taste of food.

Keep warmth effect to soak the taste into food slowly

Donabe has high keep-warmth effect. The remaining heat of donabe continues to heat the inside. The stew food absorbs the taste during it is getting cool. So, the hotpot becomes more delicious. You do not have to heat donabe over open flame for a long time. Moreover, you do not have to worry about boiling down.
For example, donabe rice cooker Kamado-san can cook rice after stop heating.

Omnipotence to broaden cooking

All donabe in our store are open flame, oven, and microwave oven safe. One donabe can broaden your cooking. In addition to Nabe Ryouri, you can cook steam food, stew, or dessert with donabe!

Great tools for communication

A dinner with donabe should be with many people. With your family or friends, Nabe Ryouri becomes a happy dinner. You can enjoy Nabe through a year, not only in winter. If donabe is your favorite one, Nabe dinner will be happier!
Use donabe in all seasons!
Do you use donabe in winter?
In fact, donabe can work in all seasons. It is "Mottainai" to use donabe only in winter.
In hot summer, we recommend using donabe.
Cooking in kitchen is very hot in summer, isn't it? Even with air conditioner, it becomes very hot by steam and heat. That is when donabe truly has a role to play!
Why donabe in that case? The reason is the keep warmth effect of donabe. With donabe, you can finish cooking in short time. Donabe can continue to heat after stop being heated. Therefore, you just stop heating and stay donabe for a while to boil more. With donabe, you do not have to care heat control near fire. Just have a rest. Donabe will heat the inside.
What's more, you do not have to worry about getting burnt or boiling down when you cook with remaining heat. How about cooking Kimchi-jjigae? Or ratatouille with vegetables sounds good.
In spring and fall, how about cooking takikomi rice with vegetables in season? Bamboo shoot in spring, chestnuts in fall. Enjoy seasonal food with donabe! Donabe can extract the taste of food.
Of course, winter is the best season to use donabe. You can cook various Nabe Ryouri. Stylish donabe makes your dinner table happier.
What should we care to use donabe for a long time?
Everyone would like to use favorite donabe for a long time. You can do it with a few tips.
Seasoning donabe (Medome) before the first cooking

Donabe is porous. This porosity makes food delicious. However, it may cause transferring of smell or crack. To avoid them, seasoning donabe (Medome) is necessary. Gelatinized starch clogs up small halls.

How to Medome

Fill donabe to about 80% with rice water, and boil it. Wait until donabe gets cool. If you do not have rice water, starch-and-water mixture or flour-and-water mixture are okay.

For seasoning Kamado-san of Nagatani-en, please make rice porridge to Medome. See more details from here.




Avoid rapid cooling

Rapid cooling of hot donabe cause crack. Please wait for a while to cool donabe.

Do not heat wet donabe over open flame

Heating donabe soon after you wash cause crack. Dry donabe well with turn it over.

Do not heat empty donabe

Heating empty donabe cause crack.
These four are the caring tips of donabe. With a few cares, you can use your favorite donabe for a long time. Please enjoy your wonderful life with donabe!
Stylish donabe can be good gift
Useful and stylish donabe is a suitable item for gift. Donabe can cook various delicious food. How about sending a donabe with a message "may your dinner becomes happier with this donabe!"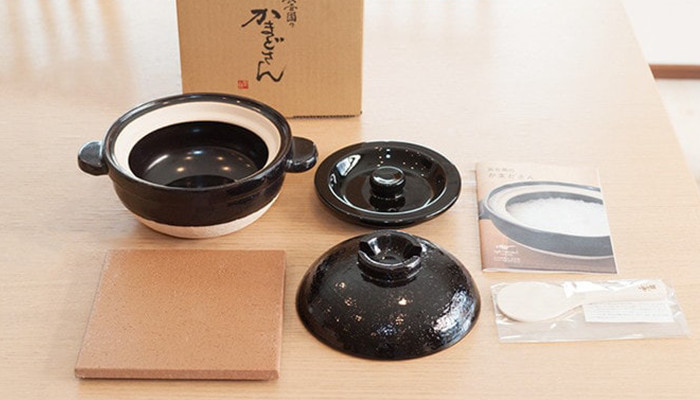 Caring tips
* All the products are handmade by traditional craftsmen. Please enjoy different perspective of each product.
Personalize gift service
For the bulk order more than 20 items, we can personalize your items with the name of your company, school, or with logomarks. If you plan to order corporate gifts or keepsake gifts, please contact us from "Contact us."
* Personalize gift needs service fee. The fee depends on items.
* Personalize service is not available for some products. Please feel free to ask us.