Bud vases Modern flower vases Japanese traditional crafts
Bud vases for your favorite place
Stylish bud vases
Bud vases can introduce seasonal colors or smells into our life. If we have many bud vases, we can enjoy flowers more. Small vases would be great wedding gifts or housewarming gifts. Enjoy a little richer life with stylish bud vases.
Color every day with flowers
Are you looking for stylish bud vases?
A single flower in your garden, or cute flowers you find at a passing flower shop, every flower looks more beautiful in a bud vase.
There are all sorts of bud vases. We cannot help collecting cute bud vases. Small vases do not take much room. In addition, just a bud vase itself can be a stylish interior item.
With a single flower or plant in a bud vase, any kind of rooms become stylish such as entrance hall, living room kitchen, or office.
Gerbera daisy, rose, sweet pea, plum…Let's arrange flowers in season in your favorite place!
When you have guests, a stylish bud vase and a single flower welcomes guests gently. You can entertain them in more stylish way.
In this page, we would like to introduce stylish bud vases for flower vase collectors or those who looking for the ultimate flower vase.
Please enjoy seasonal colors and flavors in your room.
Japan Design Store recommends these bud vases!
Like an artwork! Metal bud vases

If you would like to arrange a single flower gorgeously, how about metal vases? Japan Design Store offers brass and tin bud vases.

Metal vases seem rare, but they are elegant, beautiful, and useful.
The metal vases are handmade by traditional craftsmen. The masterpiece makes flowers look more elegant. Any kind of flowers look more beautiful with simple bud vases.

Shiny bud vases provide accent in your interior coordinate.

[Nousaku] Sorori

Sorori looks like an interior item in a gallery or high-class hotel. If we mention the "stylish bud vase", we state Sorori from Nousaku as the first. Superb line makes beautiful form of this flower vase. The surface is finished with hair-line. The handed over skill of craftsmen in Nousaku produce the elegant gloss. Calm and elegant sheen of Sorori makes plants look more beautiful.

In addition to use as bud vase, you can use it as an art object under the light.
We have 2 colors, gold or silver, and 2 sizes, S or L.




Related Products





[syouryu] Suzugami Japan Design Store original Flower vase set

We would like to introduce Suzugami from syouryu as a stylish bud vase. Suzugami has been popular as a flexible tin plate. In fact, suzugami can be used as a bud vase with an idea.

You can make the Suzugami flower vase easily! Roll a cylinder glass up with Suzugami, and arrange flowers. That's it!
We recommend 13cm or 18cm Suzugami for the bud vases.

The gloss of tin and unique pattern of pounding by hammer (Tsuchime in Japanese) provides sophisticated atmosphere. Japan Design Store makes this Suzugami flower vase set with Shot glass of Kimura Glass and suzugami. This set has been popular as gifts, too.
See more detail from "Cute & stylish! Flower vase set of Suzugami".




Related Products





[Nousaku] Flower vase "suzu"

If you like unique bud vase and items of Nousaku, we also recommend this. This is tin flower vase "suzu." The bud vases have great presence as art object.
The motif of this bud vase is fruits. 3 different fruits "fig" "apple" and "pear" become unique vase. Since they are made of tin, they have elegant and high-class atmosphere.

The greatest feature of tin vases is the effect to keep cut flowers last longer. Ionization effect of tin restrains propagation of bacteria in water. The ends of stems become hard to get damage. You do not need life-prolonging agent.
Please enjoy your favorite flowers with stylish bud vases.




Related Products





Attractive design! Ceramic bud vases

As the stylish bud vases, we recommend ceramic flower vases as well. We can see many ceramic flower vases. However, the ceramic bud vases in our store have fascinates people with extraordinary design and high quality. The ceramic vases make flowers look stand out with their simple design. Also, the unique presence makes room stylish. Which do you prefer our 2 ceramic bud vases?

[Ceramic Japan] still green

This is worldwide popular item! "Still green" from ceramic japan. This unique vase has got great popularity in the world of design in New York. Only astonishing skill can produce this unique bud vase. They are cute and stylish. Since the vases have beautiful white color, let's arrange colorful flowers.

Still green has 3 sizes. Each size has different design. You can get 1 each, or set of 2 or 3.




Related Products





[1616/arita japan] Flower vase

Flower vase of 1616/arita japan can be used as stylish bud vase. S&B series of 1616/arita japan is characterized by their modern and stylish design. It is like a modern architecture. Stylish flower vase can be put everywhere in your house; entrance hall, kitchen, living room, or bedroom.

Since this flower vase has big mouth, you can arrange a flower bouquet. However, just a single flower suits the modern vase as well. Even without flowers, you can enjoy the vase as an art object.
There are 2 sizes, L and S.




Related Products




Enjoy season and live richer with bud vases
What flowers do you arrange in the bud vases?
In spring, tulips, sweet peas, carnations, ranunculus, or gypsophila.
In summer, sunflowers, or hydrangea.
In autumn, chrysanthemums or cosmos.
In winter, narcissus, or camellia.
With bud vases, you can enjoy seasonal flowers easily. Or, if you can get early flowers in flower shop, you can enjoy a season earlier in your house.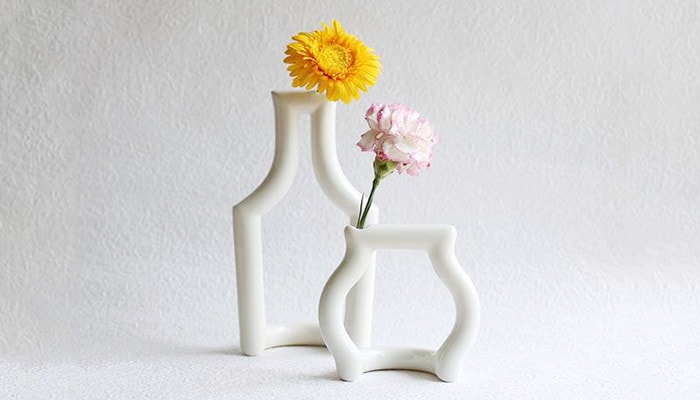 Also, you can enjoy bud vases in different ways for each season.
For example, cool color flowers provide us cool atmosphere in hot summer.
Or, powerful and beautiful flower such as a spray of plum cheers us up in cold winter.
With bud vases and seasonal flowers, you can enjoy careful and comfortable life.
Stylish bud vase×Oshiki for a special day
Even if you do not arrange flowers usually, let's arrange flowers for an auspicious day. For the New Year's Day or someone's birthday, stylish bud vases work.
To provide a special atmosphere, we recommend adding Oshiki for a stylish bud vase.
You do not need to learn difficult flower coordinate or arrangement. Just arrange flowers in bud vase, and put it on Oshiki. That makes a stylish coordinate.
If you would like to provide gorgeous atmosphere, put a few bud vases on an Oshiki.
Especially when you have guests, the combination of bud vase × Oshiki is perfect!
Related Products
Stylish flower bowl for stylish interior coordinate
Beautiful flowers are indispensable for stylish interior coordinate. How about stylish flower bowl or large vase? If you look for flower bowl or large flower vase, we also recommend this page. Please find the best flower bowls or vases for you.
Send a rich life with flowers
Beautiful bud vases would be wonderful presents as well. How about sending a special bud vase for your dearest person?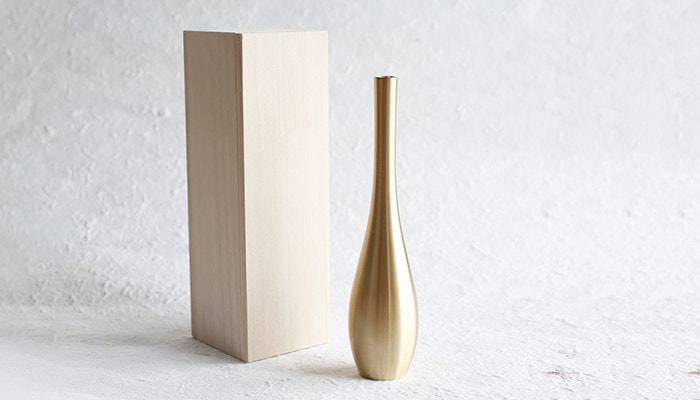 Bud vases make your life richer and calmer.
Stylish bud vases can be unique interior item while you do not arrange any flowers. If you are too busy to care flowers, you can arrange dry flowers.
Stylish bud vases would be great housewarming gifts or wedding gifts. Also, flower lovers get happy with stylish vases for your birthday.
In addition, vases would be suitable for the Mother's Day gift, Father's Day gift, or Christmas presents.
Caring tips
* All the products are handmade by traditional craftsmen. Please enjoy different individualities of each product.
Personalize gift service
For the bulk order more than 20 items, we can personalize your items with the name of your company, school, or with logomarks. If you plan to order corporate gifts or keepsake gifts, please contact us from "Contact us."
* Personalize gift needs service fee. The fee depends on items.
* Personalize service is not available for some products. Please feel free to ask us.