Flower bowls Stylish interior decoration Japanese crafts
Stylish interior decoration with flower bowls
Flower bowls & vases
Flowers make your interior decoration more stylish!
You do not need the knowledge or sense of flower arrangement. You just need stylish flower bowls or vases! With great flower bowls and favorite flowers, usual room changes into a wonderful space. Please find your best flower bowls or vases for your room. Enjoy richer life with flowers and stylish flower bowls.
Interior decoration with flowers
Flowers make our daily life colorful and cheerful.
If you add flowers into your interior decorating, how do you arrange them?
Flowers could be an accent in an interior decoration.
So, we would like to arrange flowers in more beautiful way.
You do not need much knowledge of flower decorations. You just need stylish flower bowls or vases! With stylish vases or bowls, you can make a stylish flower decoration easily.
In this page, we would like to introduce beautiful and stylish flower bowls and vases.
Enjoy fresh life with flowers or plants in your interior decoration.
If you like home decor, you should look our stylish flower bowls and vases. Also, if you are a flower lover, or looking for flower vases, please look here.
Spend a little gorgeous time with stylish home décor and flowers.
Search by space! These are stylish flower bowls and vases
Recommended flower bowls and vases for narrow spaces

If you would like to make a stylish interior decoration, you should choose suitable flower vases for the size of space.
Here, we would like to introduce stylish flower vases for narrow spaces; such as entry hall, gallery space, tabletop of kitchen, end table in your bed room, TV-Board, or wind sill.

[Nousaku] Sorori

If you would like to make an artistic interior decoration, we recommend "Sorori" from Nousaku. Refined streamline form has dignified atmosphere. Simple but sophisticated design vase suits any kind of interior design.
Sorori is a stylish traditional craft in Takaoka city of Toyama prefecture. It satisfies those who look for unique vases or art objects.

Beautiful and dynamic presence of Sorori is the reason of its popularity from men. Its smart form can be placed at narrow spaces. So, Sorori would be great gifts for opening business.




Related Products





[Nousaku] Flower vase "suzu"

For the easy interior decoration of flowers, we recommend flower vase "suzu" from Nousaku. This is a cute tin flower vase of fruits motif.
With a tin flower vase, you do not need life-prolonging agents for plants anymore. Because the ionization effect of tin restrains bacteria from propagation, and keeps the end of stems from damage. What a useful and stylish vase!

Suzu series are palm-size vases, but have enough weight as tin. The enough weight provides stability of flower vases. So, you can use tin flower vases at window sill, kitchen countertop, or entry halls.
Please enjoy interior decoration with unique vases.




Related Products





For slim vases, Oshiki suits well!

If you would like to add more gorgeous atmosphere, how about placing Oshiki?
Oshiki is Japanese traditional place mat. Japan Design Store original Oshiki makes flower look more elegant.
A piece of Oshiki and a vase provides elegant and Japanese atmosphere.

When you have auspicious party, or special guests, please entertain them with elegant Oshiki. Sheen like lacquerware provides high-class atmosphere to your home.




Related Products





Recommended flower bowls and vases for wide spaces

If you add flowers in wide spaces, how about these flower bowls or vases?
For example, for living room, dinner table, lounge in office…
Stylish flower arrangement in gathering space brighten the room.

[fresco] kasumi glass bowl

For the natural interior decoration, we recommend "kasumi" from fresco. Kasumi is handblown glassware by craftsmen. They have superb shades of colors. "kasumi" means haze. Like haze, kasumi glassware has delicate color.
The glass bowl has beautiful presence. You can use kasumi as tableware, and a flower bowl.

Even you do not have flower frogs, do not worry. Please try putting dry flowers on the flower bowl. Now, you can make a beautiful flower bowl.




Related Products





[Nousaku] KAGO

If you would like to make a chic interior decoration, we recommend KAGO from Nousaku.
KAGO S size is useful for the bud vase. Without bending, you can use KAGO as doily or coaster under the vase.
(Doily is a small ornamental mat made of lace or paper.)

KAGO M size is good size for place mat under the flower vase.

Left: Dahlia M size / Right: Dahlia L size

You can make a stylish home decor with KAGO L size. Arrange flowers in a large glass vase, put the vase on the KAGO, and stand KAGO dynamically.
Then, you can make a beautiful flower vase.
It is hard to find a flexible flower vase depend on the flowers' kinds or height.

KAGO provides us joy to interior decoration. It suits the stylish space for adults.




Related Products





[Japan Design Store] Original Jubako box

For elegant interior decoration lovers, our recommendation is Japan Design Store original Jubako boxes.
Jubako box is a tableware for Osechi Ryori in the New Year's Day. However, we recommend using Jubako as flower bowl!

It is very easy to make a flower arrangement with Jubako box. Using oasis flower foam, and fill the box with flowers. Even the beginners can enjoy flower arranging. Artificial flowers or dry flowers are also good.
Please select most suitable color of Jubako for your interior decorations.




Related Products





[ceramic japan] still green

If you like cute interior decoration like café, how about this "still green" from "ceramic japan"? Stylish and unique design vase got great popularities in the design world of New York.
At the first sight, you cannot help touching it to check the details of them.

If you have such a unique bud vase, your friends will praise you "what a wonderful vase!"
For a relaxing interior decoration, still green suits well.




Related Products




Look for stylish bud vase? Look here!
With a bud vase, you can arrange flowers every time you want to.
You can take in seasonal colors and flavors with bud vases. Bud vases can be used for entertaining guests or daily life.
We select our recommended bud vases.
Stylish bud vases would be great wedding gifts or housewarming gifts.
Flower bowls and vases as presents for precious people
For the stylish interior decorations, add beautiful flowers with wonderful flower bowls or vases. For a person, a couple, a family. Flowers provide richer life for everyone.
The flower vases and flower bowls we introduced here are also recommended for gifts. For home décor lovers or flower lovers, let's send cheerful life with flower bowls or vases.
Flower vase or bowls would be great wedding gifts, housewarming gifts, or birthday gifts. For the Mother's Day, let's send carnations with stylish flower vases or bowls.
Sorori has been popular from men. So, it is also recommended as the Father's Day gifts.
Just sending flower bouquet? How about with flower vases or bowls?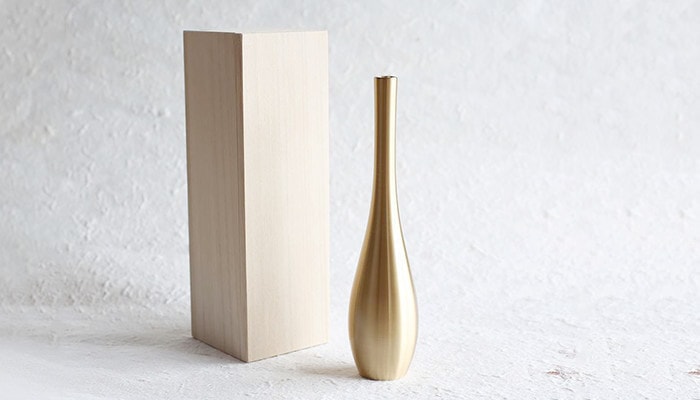 Caring tips
* All the products are handmade by traditional craftsmen. Please enjoy different individualities of each product.
Personalize gift service
For the bulk order more than 20 items, we can personalize your items with the name of your company, school, or with logomarks. If you plan to order corporate gifts or keepsake gifts, please contact us from "Contact us."
* Personalize gift needs service fee. The fee depends on items.
* Personalize service is not available for some products. Please feel free to ask us.