Japanese Arita porcelain of 1616/arita japan
Special feature! Modern Japanese porcelain from 1616/arita japan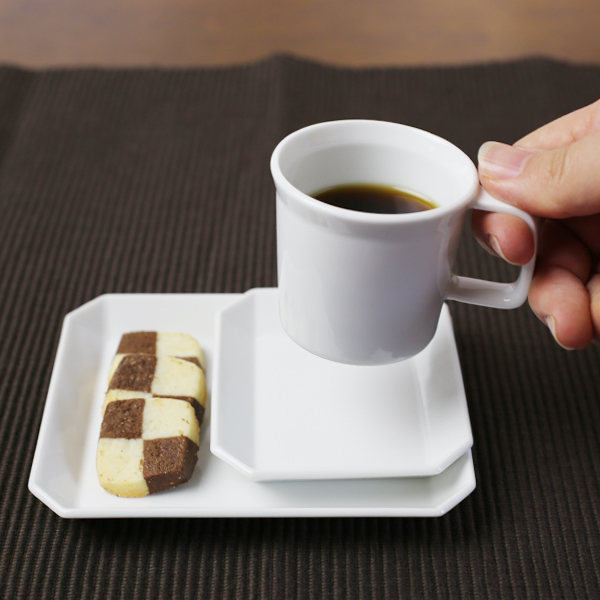 Japanese Arita porcelain of 1616/arita japan
A Japanese traditional craft Arita porcelain meets modern designers. An Arita ware brand 1616/arita japan offers modern design tableware with traditional skill of Arita porcelain. Let us introduce the charm tableware of 1616/arita japan.
Look for modern Arita ware? Get it here, 1616/arita japan!
Have you ever looked for Japanese traditional crafts with modern design?
You know that Japanese tableware have good quality, so they are expensive. However, you use tableware every day. Therefore, you want reasonable price but good quality crafts if possible, right?
Don' t you want to enjoy table coordinate with favorite tableware every day?
In fact, the owner of Japan Design Store has been longing for that tableware for a long time.
She was looking for the tableware of modern, simple white, and Japanese brand. Finally, she encountered these modern and stylish Arita ware of 1616/arita japan.
Arita porcelain is hard to use? NO! Daily use tableware
Arita porcelain is famous for its bright and colorful painting like "Kakiemon" or "Iro-Nabesima." When you imagine Arita porcelain, you may have the impression that it is expensive, artwork, or traditional crafts. Arita ware seems to be hard to use daily.
You are right that Japanese departs or antique shops sell gorgeous and colorful Arita ware. You also see Arita porcelain tableware used in Japanese restaurants.
However, Arita porcelain does not mean the gorgeous painting tableware. In fact, the definition of Arita porcelain is the porcelain made in Arita town in Saga prefecture Japan.
Momota Touen, a general trading company of Arita ware reinterpreted the original meaning of Arita ware.
The company developed a modern Arita ware brand 1616/arita japan for fitting with the contemporary lifestyle.
What is 1616/arita japan a brand of Japanese Arita porcelain?
1616/arita japan is a brand of Arita porcelain. The brand pursues the white color of original Japanese porcelain, and simple and modern design. Their Arita porcelain break the image of Arita porcelain as usual.
Momota Touen has long history as a general trading company and a pottery of Arita ware. The company produces stylish and modern tableware series with traditional skill and new design.
The representative of Momota Touen, Noriyuki Momota told us the beginning and future of the 1616/arita japan. He said "1616/arita japan started with the renewal open of Palace Hotel Tokyo. We wish that our products will be used by people around the world."
Now, 1616/arita japan has two series of Arita porcelain. One is the "TY Standard series" by a designer Teruhiro Yanagihara. TY Standard series is characterized by the simple and modern designs. Another series is "S&B Colour Porcelain" by Dutch designers Scholten and Baijings. S&B Colour Porcelain series is characterized by the colorful and modern designs.
In 2012, 1616/arita japan announced their porcelain at Milano Salone. The Japanese porcelain gained good reputations from designers or creators worldwide.
5 charming points of modern Arita porcelain brand 1616/arita japan
Dishes look very nice in snow white color porcelain

You can purchase white tableware everywhere. However, once you collect multiple white plates or bowls, you may realize the slight difference between shops or brands. Some plates are yellowish white, and some plates are bluish white.
1616/arita japan offers snow white Japanese porcelain. Arita ware is famous for its beautiful white color. Good quality pottery stone produced in Arita town of Saga prefecture make it possible to produce beautiful white color. The Japanese porcelain of 1616/ arita japan is characterized by the snow-white color porcelain.

Not warped and straight form of Japanese porcelain

The designs of Japanese porcelain from 1616/arita japan are not warped and calculated balanced.
You can see the accuracy of the Japanese porcelain of 1616/arita japan when you pile some plates or bowls. The corners of plates or bowls are beautifully in order.
The Japanese porcelain of 1616/arita japan has both usability and beauty when they are stacked.

Simple and moderate design Japanese porcelain

Square plates are not just square form. Round plates are not just rounded form. All the porcelain of 1616/arita japan are simple design. However, geometric design Japanese porcelain wear well. You can use the Arita ware of 1616/arita japan regularly for a long time.
The concept of 1616/arita design is "flat bottom and standing sides with certain angle." All Arita ware of 1616/arita japan are unified under this concept. Therefore, you can coordinate plates and bowls of different sizes or colors easily. The simple design tableware fit with Japanese sashimi or pancakes.

Lightness and toughness for Arita ware as daily use tableware

Arita ware use high density pottery stone. The craftsmen of Arita ware bake the porcelain under high temperature. The porcelain produced this way become thin, tough, and light.
To develop the series of 1616/arita japan, the craftsmen and designers pursued the producing of marvelous tableware. They examined all the progresses of producing an Arita ware such as material, molding, or glaze. Their careful examination realized the tableware with lightness, toughness, and beauty.

Reasonable price for Arita porcelain

When you hear Arita porcelain or traditional crafts, you may imagine the expensive crafts. However, 1616/arita japan offers the tableware from JPY ¥500. The representative of Momota Touen Noriyuki Momota wish "it is no meaning when the customers say that is good and do not buy. We have to make all effort for customers to use daily." With this thought, 1616/arita japan have reasonable price tableware. The Japanese porcelain of 1616/arita japan are filled with the wishes of craftsmen, designers, and the representative.
We also wish that the tableware of 1616/arita japan, or Arita ware will have been used in houses worldwide in 30 years or 50 years from now.
Modern Japanese porcelain of 1616/arita japan. What is your favorite style?
Treating guests with flower plates of Japanese porcelain
Elegant flower plates for adult women

TY Place plates have chic design and unique texture.
In fact, this Japanese porcelain plates have been the most popular items for adult women since its release.
Originally, the palace plate was made for the limited tableware for the Palace Hotel Tokyo. The plates have elegant form and rough texture like a palace.
Simple form and grayish white color reminds the polished adult women.
The elegance and the unique texture of the palace plates are the reasons of its popularity.

Confectioneries look very nice with flower form TY Palace plate

The Japanese porcelain of 1616/arita japan is designed for various types of cuisine, Japanese, Western style, or Chinese.
The form of Palace plate is a bloom of chrysanthemum. Multiple petals of flower bring the gorgeous and dignified presence on this Arita ware.
When you put a Japanese confectionary on the center of the palace plate, it seems like a bloom of wild chrysanthemum.
If you treat your guests with the palace plates, you can see the surprising faces of your guests.
Palace plate is an artwork to make seasonal confectionaries or fruits look nice.

TY Palace plates for special gifts

This Japanese porcelain plate is the most popular items for adult women. Everyone can use the plates daily.
Palace plate gain popularity for house use and presents for someone special.
We prepare exclusive boxes for TY Palace plates. The gift box is stylish and elegant. Good items for special gifts.

In addition, we offer some sets of different sizes. When you pile the large and small size plates, the plates become a big bloom of flower.
Unglazed texture and beautiful shading. Simple and elegant Arita porcelain is also good for wedding celebration.




Related Products





Make sushi stylish with modern Arita ware
TY Square plates make sushi gorgeous!

If you get precious sushi, you would like to eat it in luxury. Just move sushi from a pack, and move it to a plate. This little work makes your sushi look more gorgeous and delicious.
We recommend TY square plate for gorgeous sushi dinner.
Put sushi on large size Square plate, and pour soy sauce on a small size square plate.
Colorful sushi look more delicious in the white simple plate.
For a richer life, take a little time to make your time more gorgeous. Every day will change by small things.

Sushi? Fried chicken? Salad? Japanese porcelain plate fit various food

At first sight, this simple Japanese porcelain plates look good with café style dishes. So, we serve salad or fried chicken on TY Square plates.
One day, our manager put sushi she got at the shop on TY Square plates. Then, simple white plate changed to a frame for colorful sushi. Usual sushi became a gorgeous sushi at sushi shop.
Since that day, TY Square plates has been the standard plates for all kinds of dishes.




Related Products





Have a stylish breakfast with pale color Japanese porcelain
Arita ware has such cute pale color dishes!

S&B "Colour Porcelain" series offers gentle pale color plates and bowls. Light pink plates remind us the bloom of cherry blossoms in spring in Japan.
How about making a colorful plate for breakfast?
Pile colorful plates and bowls together, and make a cute plate. Then, put some pancakes or French toasts and fruits. Here, a cute café plate is complete!
The pale colors of Japanese porcelain S&B series are exquisite color, not too dark, not too light. Beautiful color plates make the dishes look more delicious.

Make an accent to dinner table with Sakura color Japanese porcelain

For women, pink color is forever "kawaii!" (cute).
The name of the color of this light pink plate is Sakura (cherry blossoms.) 175 Deep plate Sakura is very useful size for daily use.
Most people may consider that the colorful simple plates are Northern European tableware. Everyone may be surprised to realize that the natural plates are Arita porcelain!
One S&B deep plate enables you to use it for breakfast, dinner, or teatime.
Simple form and gentle color plates can easily coordinate with other tableware. A pale color pink plate make an accent to your table.




Related Products





Coffee break with simple and relaxing design Arita ware
Simple and cute! Japanese porcelain coffee cups and saucers

Colorful, various texture, and simple design.
Have you ever seen such coffee cups and saucers?
The coffee cups have simple bodies with unique form handles.
The saucers are extremely flat. They seem to be floating in the air.
Once you see the Japanese porcelain coffee cups and saucers, you never forget them.
The unique design of handle of cups seems not to be easy to hold. In fact, you can easily hold it.
The cup is very light and the handle has enough size. So, you can securely hold the handle.
Simple and modern design coffee cups and saucers has cute colors.

Exquisite pale color and design. beautiful coffee cups and saucers

You can see the different colorings of cups and saucers. Indeed, "cups and saucers," "the inside and outside of the cups," "the bottom of the cups and the sockets of saucers" have all different textures and colors.
We cannot explain the all fascinations of different colors and textures. So, we want you to touch and feel the difference by yourselves.
Traditional Arita ware meets new glaze and new skill. Please feel new texture of Arita ware.




Related Products




Modern Japanese porcelain was born with two designers and craftsmen
Modern Japanese porcelain TY series

Designer Teruhiro Yanagihara × traditional skill of Arita porcelain

A designer Teruhiro Yanagihara was born at Takamatsu city, Kagawa prefecture in Japan. He majored in design at Osaka University of Arts. In 2002, he established his own art studio ISOLATION UNIT/TERUHIRO YANAGIHARA. Under the concept of "Design the situation to design." since the establishment of his studio, he produced various projects in and out of Japan.
In 2011, Mr. Yanagihara opened "bespoke" at Kitayama in Kyoto as a "new creation place." He tries to create a new contact with the world.

Designer: Teruhiro Yanagihara

For 1616/arita japan, he focused on the beauty of white porcelain and designed simple and modern tableware.
"TY" stands for Teruhiro Yanagihara. He says that "TY Standard series have neutral form so that fit for multiple cuisine." TY "Standard" series offers new Arita ware fit for contemporary lifestyle.

Modern Japanese porcelain S&B series

SCHOLTEN & BAIJINGS × traditional skill of Arita porcelain

SCHOLTEN & BAIJINGS is a design studio. Two designers Stefan Scholten and Carole Baijings established the studio in 2000.
Since its establishment, their work has been characterized by bright coloring and new design by interpreting decorative motif with minimal approach.
The products of SCHOLTEN&BAIJINGS have got attention from art museum or private collectors.
They won Dutch Design Award twice. Moreover, their work won other international awards such as Wallpaper Design Award, ELLE DÉCOR International Design Award.

Left: Stefan Scholten Right: Carole Baijings

For 1616/arita japan, they did broad research and analysis on Arita ware. Based on careful research, they designed S&B "Colour Porcelain" with reinterpreted traditional color of Japanese porcelain.
Do you know the difference of pottery and porcelain?
Few people know the difference of pottery and porcelain. Generally, ceramic ware can be divided into pottery and porcelain. The Arita ware of 1616/arita japan is classified as porcelain.
The difference of pottery and porcelain is material. Pottery is made of pottery clay. On the other hand, porcelain is made of pottery stone. To make porcelain, craftsmen crush stone into powder and knead the powder with water. In this way, the craftsmen produce clay for porcelain.
In addition to the material, the baking temperature is different. Pottery is baked at temperatures 900 ~ 1300℃. Under these temperatures, the clay is tightened by baking. On the other hand, porcelain is baked at temperatures 1200 ~ 1400℃. Higher temperature than pottery.
Moreover, porcelain is produced by casting in a mold. Craftsmen pour "Deishou" (liquid clay with water and silicate soda) into a plaster mold.
There are some differences in the properties of pottery and porcelain. When you knock the pottery, the sound is dull. Pottery is less transparent (do not let the light through). The color differs from the producing area of the clay. Surface of pottery is soft, rough, and porous.
On the contrary, porcelain makes high tone when you knock it. porcelain is transparent (can let the light through). The color is snow-white. Hardly baked surface does not let the water through. The surface is close and less porous.
The tableware of 1616/arita japan has gentle texture like pottery, but snow-white color, thinness as a porcelain.
Media coverage & Awards
・ELLE DÉCOR International Design Award 2013
・TV Tokyo program "Wafu Souhonke"
・Magazine "ELLE DECOR" August 2013
・Magazine "VERY" April 2014
・Magazine "Discover Japan" 'Made in Japan, judges selected'
・The New York Times
・MUJI caravan of MUJI
・Newspaper Yomiuri
・Newspaper Saga