Japanese Large Lacquer Bowls from WDH
Eat Miso Soup with Authentic Japanese Lacquer Bowls
[WDH]Large Lacquer Bowls
Our original set
Exclusive gift box
With Japanese description
With English description
Let's eat plenty of gorgeous soup!
Eat soup of a variety of ingredients.
For that simple dinner, how about stylish lacquer bowls?
Gudakusan Shiru Wan from WDH is beautiful lacquer bowl.
"Gudakusan" means "a lot of ingredients" and "Shiru Wan" means "soup bowl."
As the name explains, this lacquer bowl can contain soup with a lot of ingredients. If you would like to eat a lot of vegetables, we recommend this bowl.
You can enjoy Tonjiru (miso soup made with pork and vegetables), Ozoni (soup with mochi rice cake), or Katsudon (rice topped with pork cutlet).
Please enjoy Japanese table setting with authentic Japanese lacquer bowls.
Elegant lacquer bowls would be great gifts for your important people.
Luxurious pair lacquer bowls can be good wedding gifts.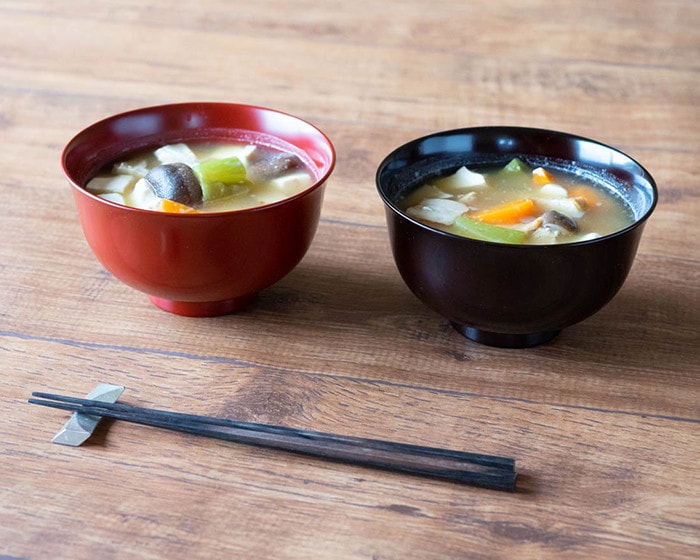 Eat delicious miso soup! Lacquer bowl for Japanese meal
Lacquer bowl from WDH is lacquerware bowl for miso soup of lots of ingredients. It is a tableware for Japanese meal.
One of the representative Japanese meal is miso soup.
Miso soup is a simple soup. It is a soup of broth, miso, and some ingredients. However, miso soup changes its taste depends on the ingredients. It has attracted us. Japanese people can eat miso soup even every day.
A cup of miso soup with vegetables, meat, or fish makes everyone smile.
Japanese lacquer bowls from WDH are perfect for daily miso soup. A beautiful lacquer bowl makes both who eat and make soup happy.
Of course, please use stylish lacquer bowls in your own way.
What is "WAHOKU"?
WASHOKU is Japanese traditional food culture. It is designated as Intangible Cultural Heritage by UNESCO in 2013.
Followings are some features of WASHOKU. Developed cooking skill and cooking tools to make the most use of fresh food of sea, mountains, and fields. Basic style of Ichiju-Sansai (One soup and 3 dishes) to keep health. Realize food culture with less animal fat by using Umami, it helps longevity. Expressing the change of seasons and beauty of nature. Close relation with annual events. And more.
We can say that miso soup express mentality of Japanese people to respect nature.
3 reasons why lacquer bowls of WDH makes us feel deliciousness of dishes
With lacquer bowl of WDH, we can feel deliciousness of soup more. Why can we feel the taste of dishes more? Let us introduce 3 secret points of the authentic lacquer bowl.
Eat warm soup while it is warm

Soup bowl of WDH is authentic lacquerware bowl. Lacquerware has longer history than ceramics. Lacquer bowls are hard to tell the heat of soup.
With this lacquer bowl, we can eat warm miso soup soon. Let's eat warm soup while it is warm. It's one of the ways to eat food deliciously.

Smooth texture of rim

Please pay attention to the smooth texture of its surface. Carefully lacquered bowl has smooth and gentle texture of urushi. Rim is very smooth. To make it easier to drink soup, the rim of lacquer bowl is a little bit warped from inside to outside.
In Japanese meal especially for soup or donburi, we directly eat from tableware. It is rare in the world. Therefore, WDH pursues the smooth texture of soup bowl.

Beautiful color to make dishes look stand out

We can enjoy large lacquer bowl from WDH by its smooth touch and beautiful appearance. WDH offers 2 colors of lacquer bowls, Red (Shu Nuri) and Black (Shin Nuri). Both colors are Japanese traditional colors to make Japanese dishes look beautiful. Lacquer bowls makes dishes tastier by its form and color.

Red lacquer bowl has calm and chic carmine color. This color provides gorgeous atmosphere. Black bowl emits elegant sheen of lacquer. Inside of the bowl is jet black. Outside looks reddish black or umber depends on angles.
Beautiful form produced by woodturners of Kaga
Decorous form when we look it from its top or side. The lacquer bowl from WDH is produced in a studio on Kaga city of Ishikawa prefecture.
Kaga city is a producing area of Yamanaka lacquerware which is famous for its woodturning. In fact, Yamanaka woodturning is designated as intangible cultural heritage of Ishikawa prefecture. It is popular for its beautiful wood grain.
Japanese lacquer bowl from WDH has cute and beautiful form. Craftsmen shave a bowl from wood one by one with lathe. That form makes us imagine various food to eat with. Please enjoy elegant atmosphere of lacquerware, its usability and comfort texture.
The large lacquer bowl is made of keyaki (Japanese zelkova). Unique way of cutting lumber in Kaga woodturning is called "Tate Kidori." In Tate Kidori, the lumber is taken from the wood in accordance with the direction of the wood grow. In this way, the lumber is hard to transform and strong against impact. You can use carefully made lacquerware bowl for a long time.
Lacquer bowl fit our hands
Gudakusan Shiru Wan from WDH is a large lacquer bowl. Authentic Japanese lacquer bowl fits our hands gently.
"Is it too big for small hands like women's?" You may think so for this large bowl. Do not worry. Even a person with small hands can take and hold bowl with one hand.
The lacquer bowl from WDH is about 8 cm (about 3.1inches) in its height. It is larger than usual lacquer bowls. However, not too big to hold it. Large lacquer bowl is suitable for men's hand as well. So, it is good gifts for your important men, too.
The Japanese lacquer bowl of WDH can be used as a small donburi bowl. You can use it for udon (Japanese thick white noodles), soba (buckwheat noodles), tendon (bowl of rice with tempura) or gyudon (bowl of rice with stewed beef).
Please feel the usability of the lacquer bowl with your hand.
Authentic lacquer bowl changes over the years
Gudakusan Shiru Wan from WDH is authentic lacquer bowl. The more you use it, the more the bowl gets gloss. So, you will love the lacquer bowl more as the time passes. Please use it to grow unique gloss of lacquer. How about using and growing lacquer bowls with your wife or husband?
500ml large! More use of large lacquer bowl than miso soup
The lacquer bowl of WDH is so large that we can eat miso soup with a lot of ingredients. Since it is big, we can use it for various meals. Noodles, donburi, or ozoni…
We recommend using lacquer bowl as café au lait bowl. Usual breakfast becomes more gorgeous.
Recommended food for large lacquer bowls
Miso soup, Tonjiru, Osuimono, Ozoni, Udon, Soba, Nyumen, Ochazuke, Niku Jaga, Tendon, Gyudon, Katsu don, Oyako Don, Café au lait.
Elegant gold logo at the bottom of bowl
"Itadakimasu" and "Gochisousama".
In Japanese manner, we place our hands together to appreciate food before and after eating food.
Also, we thank for people who cook the meal and people who cultivate and crop food.
On the bottom of the lacquer bowl, there is a gold logo of people's hands.
Use lacquerware bowl every day to care
We likely to think that it is hard to care authentic lacquer ware like this large bowl. However, it is not so easy. Using it every day is the best care.
Lacquer bowls do not like extremely dry atmosphere. So, using and washing every day keep the moisture of lacquer bowl.
After using the lacquer bowls, please wash it with soft sponge with neutral detergent just like ceramic tableware. Wipe water after washing to keep the bowl away from remaining white chlorine.
What is WDH which introduce us traditional crafts?
WDH is a brand which produces this Japanese lacquer bowl. Products of WDH are filled with their special care against manufacturing.
6 points of care by WDH
・Excellent in traditional skill or craftsmen's skill, and takes a lot of time and work
・Made in good quality material, and able to make stable production
・Original design that we cannot find in any other items
・Change over the years, so people become attached to the item with enjoy its changing taste
・Have a sense of security that the item is Made in Japan
・Great usability, and suitable for gift that can make the recipient happy
WDH is a brand which propose elegant lifestyle produced by greatest manufacturing from Japanese traditional skill. WDH aims to produce original items from good quality material that people can enjoy the change of items over the years and love and use it for 10 years or 20 years.
The lacquer bowl from WDH is lacquerware produced with traditional woodturning skill of Kaga. You can feel the wonderful craftsmanship of Japan.
Beautiful paulownia box of WDH
The lacquer bowl of WDH is within beautiful paulownia box.
Paulownia box has been used as storage box of art works or antique works. The box itself is made with traditional skill. The craftsmen who repairs the collection of art museum or museum produce this box.
The box is made of paulownia wood. Paulownia wood has been respected as an auspicious and lucky wood. The nonflammable nature of paulownia wood is one reason why we use paulownia box as storage box for artwork or high-class chest. In fact, the ignition point of paulownia is said about 400℃ (752℉).
In addition, paulownia wood is less contract or expand, or warped. So, it has high airtightness. We can store important items for a long time within paulownia box in Japanese temperature which changes temperature and humidity hard. Furthermore, paulownia box includes natural components that is strong against insect damage or rot.
So, when you do not use the lacquer bowl for a long time, please use the paulownia box to store it.
Do not miss a small thing! Sanada Himo
On the paulownia box of the lacquer box, a ribbon is tied in bowknot. This is "Sanada himo." If you like tea ceremony, you may have seen one before.
The name of "Sanada himo" originated from a samurai Sanada Masayuki. He is a father of famous samurai Sanada Yukimura. Masayuki loved Sanada tape as strong and tough tape.
Sanada tape is made of thick cotton thread. It is woven with warp and weft. The tape has the shape of flat and narrow bag. So, Sanada himo is hard to be extended.
Samurai used this tape as cord for attaching sword or decoration of armor. In addition, people use Sanada tape for tying important items such as paulownia box for tea utensils or a cord for kimono.
For the box of tea bowl, the ribbon is tied in cross. But for this lacquer bowl, it is a bowknot. So, it looks modern. Exclusive box for the lacquer bowl is a cute and modern box with traditional paulownia box and Sanada himo.
Like beautiful wooden bowls? How about Meibokuwan?
If you like wooden bowls, we recommend Meibokuwan from Sonobe as well. Meibokuwan has natural atmosphere with wood grain. Rounded bowl can be used for soup, salad, or cereal. Relaxing cute bowl has been popular wedding gifts.
When we compare, "Meibokuwan L" is a little smaller than Gudakusan Shiru Wan from WDH.
Send lacquer bowl as gifts? Leave it to Japan Design Store
Carefully produced lacquer bowls would be great gifts for your important people. Elegant atmosphere of authentic lacquerware and usability for various food. Japanese lacquer bowls would be wonderful wedding gifts, housewarming gifts or birthday gifts. For your relatives, friends, or boss, authentic Japanese lacquerware bowls have suitable quality.
Japan Design Store offers various suitable gift wrapping for the stylish lacquer bowls. You can also choose Japanese traditional Noshi wrapping. From cute wrapping to formal wrapping, please leave it to gift staff of our store.
Cautions
* Please use the lacquer bowl just for rightful purpose.
* Before you use the bowl at the first time, wash it with soft sponge with neutral detergent and rinse it by lukewarm water.
* Please do not use the lacquer bowls over open flame, in oven, microwave, or boil.
* Please avoid using the lacquer bowls in refrigerator or freezer. It may cause damage or break of product.
* Please do not keep soaking the lacquer bowl into water or leave the bowl with juicy food for a long time.
* Please do not put strong acidic food like vinegar or lemon.
* Lacquer may cause rash depends on your physical condition. If you feel itchy or anything unusual, please stop using lacquer bowl immediately and see a doctor.
How to care
* After using, gently wash with soft sponge and neutral detergent as soon as possible. After wash, wipe water well with soft cloth, do not dry the bowl naturally.
* Please avoid using dishwasher or dish dryer for the lacquer bowls.
* Please do not store the bowls in place where gets direct sunlight.
Personalize gift service
For the bulk order more than 20 items, we can personalize your items with the name of your company, school, or with logomarks. If you plan to order corporate gifts or keepsake gifts, please contact us from "Contact us."
* Personalize gift needs service fee. The fee depends on items.
* Personalize service is not available for some products. Please feel free to ask us.