※This page is translated using machine translation. Please note that the content may not be 100% accurate.
Fashionable and delicious authentic coffee tool Traditional crafts
How to brew delicious coffee. Enjoy with dripper and mill.
本格派コーヒー道具
ご自宅で最高の一杯のコーヒーを楽しむなら、コーヒー豆だけでなく、コーヒー道具にもこだわりたいところ。デザイン性・品質の高いコーヒー道具は贈り物としてもおすすめです。
Enjoy the cafe-style coffee at home.
The carefully selected quality and production area of coffee beans, the popularity of carefully brewing "Third Wave coffee" is growing.
You may drink a coffee in a cafe or coffee stand in town. Well, if it is assumed that brew the coffee yourself, what to prepare?
What would you select for a cup of coffee? Country of origin of the coffee beans. Stage of roasting (roasted). How to ground. Such as how to use the coffee mill ... The more you know, you will notice the profundity of coffee.
Here we will introduce a rare coffee mill or dripper to help the fun coffee life.
Find your favorite cup and equipment, please enjoy the the best one cup of your own.
Prepare tools, such as a stylish cafe
This is the coffee tool to prepare If you enjoy the hand drip coffee.
Easy to use, well-designed tool would be good.
Such as coffee mill or dripper, it requires special knowledge to use a professional tool ...? Such worry is not necessary.
We have selected easy-to-use coffee tools. You might be asked "Where did you get it?" by coffee lovers.
Storage containers

First, prepare a fresh beans roasting freshly for brewing a tasty coffee.
Over time from roasting, the beans are oxidized, and it may spoils the taste and aroma. Please use the roasted beans as soon as possible within 1-10 days from roasting.

Also, when the beans are ground in to powder, it will increase the area to be exposed to air. Therefore, it is best to grind only amount to drink every time.
Please put the remaining beans in a sealed container and keep in the refrigerator. (within 20 days to 1 month)
Coffee specialty glass and ceramics made of container is a fashionable, it is recommended to coffee lovers.
At that time, it's a good idea to put a silica gel and oxygen scavenger together.It will protect from humidity and oxidation.
There will be poeple who prefer to leave beans for few days from roasting. It is good to try to enjoy the change of the coffee taste!

Hand grinding mill

Coffee of taste, of course, there may be a lot of people who like the coffee aroma.
How to enjoy the aroma of coffee ... it is to grind the coffee beans on their own.
Convenient electric mill is also good, in order to enjoy the aroma of coffee to fully, why not grind by hand grinder?
In fact, the moment when the most you can enjoy the aroma of coffee, it is the time to grind the beans.

Related Items

Dripper

You might think plastic dripper and paper filter are standard of hand drip. Now, easy-to-use ceramic or stainless steel dripper or filter has come out a lot.
Easy-to-use things, what a nice look, things take time to extract ... By trying a variety of products, the world of coffee it will spread more.

Server

You might think plastic dripper and paper filter are standard of hand drip. Now, easy-to-use ceramic or stainless steel dripper or filter has come out a lot.
Easy-to-use things, what a nice look, things take time to extract ... By trying a variety of products, the world of coffee it will spread more.

Kettle

Important point is to pour hot water slowly to the coffee beans in the hand drip.
The pot with thin spout or coffee kettle would be easy to use.
Find your favorite coffee beans
If you want to brew the finest coffee, go to the coffee shop to get aromatic coffee beans freshly roasted!
Coffee beans taste and aroma are different by production areas or roasting stage. Please tell your preference to coffee shop staffs. It might be good to ask their recommendations.
At that time, it is also important to ask the way of grinding and drinking. "Which beans is good for cafe au lait?" "How to grind this beans?" "Which coffee is nice with cheese cake?" etc...
While you enjoy a variety of beans, you will find a favorite country of origin and roasting stage!
Prepare your favorite coffee cup
Coffee in the same way as alcohol, do you know that the taste is changed by coffee cups and mugs?
Professional varistors recognize the difference by the cup, such as a cup of material and capacity and thickness and design, and distinguish well.
Such as the thickness of the edge of cups, or the inside color, etc... Don't you want to drink coffee with your favorite cup?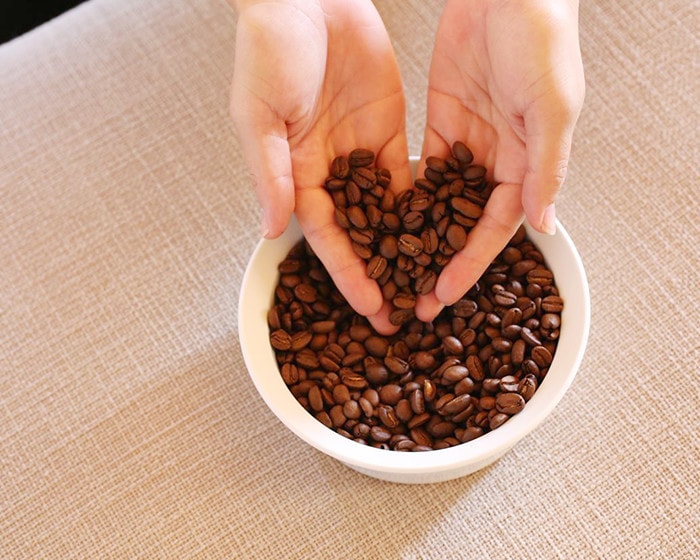 Type of Cup
See the thickness of the spout

Thinner cup, you can feel the coffee taste without being disturbed by the cup. However, there are many people who enjoy the texture of the material in the thick cup.

Related Items

Spread the way of edge

Human tongue feels sweet taste on the tip, sour taste on the side, bitter taste on the back.
Because coffee spreads over the entire mouth by a wide edge cup, you may feel sour taste.
Because coffee goes straight toward the throat by a straight edge cup, you may feel bitter taste.

Inside color

If the inside color of cup is dark, it is difficult to know the depth of the coffee color. It is preferable to choose a pale color of the cup in order to enjoy the amber color of coffee.

Related Items
Fun making process! The way of brewing delicious hand-drip coffee.
First challenge! Grind coffee beans.

Browned fragrant roasted glossy beans ... Now, aroma of coffee beans spreads!

Grind the beans...

Grind to smooth

Comments from staff

In the case of electric mill, it is possible to grind the beans in an instant. Because it is carefully selected beans, you might want to grind by hand.
Actually, I like the aroma of when I grind coffee beans than when I drink a cup of coffee.
In addition, I will feel a sense of accomplishment by grinding beans.
"For men, I did not feel so much hard" is the impression of our male staff.
If couples and married couples, try to ask your husband or boyfriend? You will surely have a fun time collaboration.

Boil water. Set the beans in the filter.

Temperature of hot water depends on the type of beans and stage of roasting, but 85-90 degrees is suitable temperature. (Pour the boiling water into the pot, and wait about 1 minute. It will be a suitable temperature.)
When you extracted quickly in freshly boiled hot hot water will be "bitter strong refreshing taste." When it slowly extracted with hot water of about 85 ℃ and will be "sweet and rich taste."

Pour the hot water to beans, and steam for 20 seconds

Wait about 20 seconds to make it easier to extract the tasty ingredient of coffee.
Since coffee contains oil, there is a nature to repel moisture. However, by steam with a small amount of hot water, hot water tends to penetrate into the coffee, it is easier to extract the tasty component.

Once you pour the hot water, fluffy foam comes out!

Coffee beans that are not over time from roasting contains carbon dioxide gas to beans. It is high evidence of freshness. You can enjoy a fragrant coffee.
Please start pouring hot water from the center so as not to crush fluffy foam. After ground coffee beans swollen mostly, pour the hot water while turning.
Firstly, pour the hot water at the center, then spread out little by little, finally pour at 500 yen coin size in circular motion.

Comments from staff

Even if ground beans does not rise, it does not mean the quality of the coffee beans is bad. Since beans swell is an evidence of freshness, you might expect more.
I will be nervous to pouring the hot water not to break the fluffy foam.
I want to pour vigorously hot water, but slowly and carefully because of the delicious coffee.
With great expectations for the fluffy foam of ground coffee beans.

If you get one cup of, stop pouring the hot water. Remove before the hot water in the dripper fall all.

The very first drop of coffee is most delicious, the last drop contains the bitterness of the components and impurities.
To enjoy the refreshing aftertaste, but please remove the dripper without extraction to the end.

こだわりの一杯の出来上がり!

Coffee that was ground and was brewed by myself tastes exceptional. Don't you want to enjoy the coffee with your favorite coffee cup?
Delicious coffee, first is best to enjoy the taste and aroma in the black. In addition, it will become a little luxrious feeling to put a such as milk and sugar and maple syrup and Wasanbon.
Easy! Caring for coffee mill
OK to just wipe with a soft cloth or tissue
Please wipe with a soft cloth or tissue If it is dirty.
If you mind the remained coffee powder after use, please remove it with the special brush or unused flat brush.
Please note that the washing with water will cause the metal to corrode.
Stylish coffee tools as Interior Accessories
Stylish coffee tool is a nice as the interior accessories even when not in use. It will be different attractiveness with the machine type mill and coffee maker. It is a perfect item to stylish rooms.
Because a coffee mill would not be used often on weekdays, it might be wonderful to select the stylish mill to decorate the kitchen.
Start with a cup of carefully brewed coffee in the holiday morning
Even if you love you delicious coffee, it is difficult to grind the beans and drip coffee slowly every day.
You can enjoy delicious coffee with instant coffee or coffee maker in the weekday morning ...But, on weekends, how about spending a luxury coffee time by selecting your favorite coffee beans or coffee tools?
Secret for brewing delicious coffee
First, prepare the beans that have been purchased at your favorite coffee shop.
Get the whole bean coffee rather than the ground beans at the shop. Let's ground by yourself.
The secret of brewing delicious coffee, is to use the beans that has been ground and roasted freshly.
It might be a little difficult to get the roasting freshly beans. However, even try to ground yourself when you want to drink, you will notice the difference.
Hand grinding of coffee mill compared to the electric mill, for women, it may need a little power. Fragrant aroma of coffee scent in time you are grinding is exceptional.
Finally the moment of destiny!
Well, if the room is wrapped in a nice aroma of coffee, finally the moment of destiny!
Prepare a dripper and the cup, let's carefully pour hot water.
By the way, did you know that recently there are various kinds of coffee dripper?
Here, we've prepared a ceramic filter of 224porcelain.
It is an eco-friendly dripper that does not need a paper filter.
The ceramic filter has the function to filter the water. When you brew the coffee with this filter for your guests, they may be surprised.
The varistor style hospitality to your friends
When you enjoy coffee with several people, it would be nice to prepare a larger server.
When friends come home, why not brew coffee on the living room table?
The coffee brewed carefully in their presence, it would be exceptionally delicious.
Stylish design of the coffee set
If the interior of the room is modern and stylish, you will want to choose a stylish coffee set. Plastic drippers are also good, but why not try to use fashionable drippers.
Japanese company KINTO is making this coffee set. Its product, such as are sold in the interior shop of Northern Europe, it has been attracting attention as a well-designed product.
Both use the stainless steel mesh filter that does not need coffee filters.
Set that is made of glass and stainless steel, it reminds the laboratory instruments. With this coffee set, the act of "to extract the coffee" can be seen in what is science.
You look cool when brewing coffee with this stylish coffee set.
Busy weekday morning, a simple breakfast of bread and coffee
Would not it be more convenient to have a cup of coffee and bread in a busy morning something?
Even breakfast with bread, coffee and a simple salad, you can enjoy a cafe-like atmosphere by placing a little bit of taste in the dishes.
Here is warmth of wood warm Combine the snapper lab cafe tray with the cement produced purse cup It was.
Would you like to be healed from the morning with a Scandinavian tableware? I would like to stock Scandinavian dishes! Customers looking at this 」also please.
Related Items
Great feeling with your favorite tableware!
The golden brown crispy toast served with fried egg that shines like the sun.
When you put the toast on the square plate of Arita porcelain, it will be the stylish dish.
This mug is 1616 / arita japan of the product. It is a thin and durable porcelain.
As with the plate, modern design of the mug is wonderful.
Even in the busy morning, delicious bread and a cup of fragrant coffee, and if there is a favorite tableware, It seems you can spend a day energetic!
Related Items
Wednesday night the cafe time to enjoy reading
On a day coming home early or family go out, while reading the book you wanted to read, how about enjoying a hot coffee with a roll cake?
Carefully brewed coffee for yourself, will heal the fatigue of the day.
Handmade texture of the coffee cup is well matched to the casual content of the novel.
This is moderato series of ceramic japan took over the tradition of Setoyaki.
Related Items
Change the atmosphere by a black tray
White mug you are using for usual breakfast will be modern and mature atmosphere when you put it on the black tray.
Your own quiet time for yourself.
If you are anxious about caffeine, enjoy decaf (decaffeinated coffee).