Japanese coffee grinder Manual coffee grinder MokuNeji
Fell in love with stylish Japanese coffee grinder
[MokuNeji]Coffee mill
Our original set
Exclusive gift box
With Japanese description
With English description
A cup of coffee relaxes us. Have you ever thought brewing coffee from grinding coffee beans at home?
Burr coffee grinder, manual coffee grinder, from small to big, there are all sorts of coffee grinders in the world.
From various coffee grinders, we would like to introduce beautiful Japanese coffee grinder.
This manual coffee grinder is designed by MokuNeji. MokuNeji is characterized by its simple and tender design.
Manual coffee grinder seems to be difficult to use or care. Do not worry about it!
Here, we would like to introduce the fascination of beautiful Japanese coffee grinder.
Enjoy the aroma of coffee more!
When we enter a coffee shop or café, pleasant aroma of coffee welcomes us.
Even you are a not coffee lover, the aroma relaxes us.
In fact, a research of neuroscience said that the aroma of coffee gives great relaxation effect. Coffee aroma provides us richer moment in busy days.
Why don't we enjoy such a great aroma of coffee more in our daily life?
When is the moment the coffee beans give off its aroma most?
Do you know when the coffee beans give off its aroma most?
Just roasted coffee beans? When we pour hot water on ground coffee powder?
The answer is when the coffee beans are ground by coffee grinder.
If we have home coffee grinder, we can enjoy the aroma when we "grind coffee beans", "pour hot water" and "drink coffee." We can fully enjoy the flavor through brewing a cup of coffee like a barista!
Please imagine a slow and pleasant time surrounded with aroma of coffee.
Fell in love at the first sight! Japanese coffee grinder from MokuNeji
When you see it at the first time, you may not believe that the beautiful manual coffee grinder is made in Japan.
This Japanese coffee grinder has solid weight and superb curve.
The surface of Japanese cherry birch has white, beautiful, and warm texture like a maple wood.
We have never seen more beautiful manual coffee grinder than this Japanese coffee grinder from MokuNeji.
We have confident that those who has great aesthetic sense like this beautiful coffee grinder.
The color and texture of wood will change over the years. You can grow your own manual coffee grinder.
In fact, this Japanese coffee grinder have got great reputations at exhibition in the world or high-class department in Japan.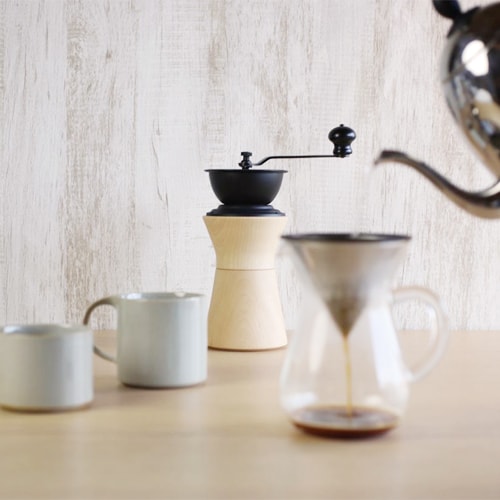 MokuNeji, a brand of Crafts×Products
MokuNeji is a brand who design and produce woodwork with great design. They unite the taken over skill of wood turning in the world of traditional crafts with the skill of producing elaborate nails like industrial products.
Like this Japanese coffee grinder, the fusion of high efficiency of industrial products and gentle and beautiful taste produced by woodturners suggests rich time and space.
Wood turning skill of Yamanaka lacquerware of Ishikawa prefecture
Nails processing by MokuNeji is by the skill of Yamanaka lacquerware in Kaga city of Ishikawa prefecture. Yamanaka lacquerware has about 450-years history.
In Ishikawa prefecture, there are 3 big producing areas; "Yamanaka wood turning", "Wajima lacquerware", and "Kanazawa makie." The perfection of Yamanaka woodturning puts them beyond reach of other wood turnings in Japan.
In Yamanaka, craftsmen process the spinning lumbers on wood turning lathe.
Only the superb skill can produce the beautiful shape of the Japanese coffee grinder.
Manual coffee grinder by an old-established coffee brand "Kalita"
The Japanese coffee grinder of MokuNeji uses the coffee grinder by an old-established coffee brand "Kalita". You may know the name of this brand.
Manual coffee grinder cause less frictional heat. Therefore, it keeps delicious aroma of coffee.
The coffee grinder is made of strong and solid cast iron. You can arrange the degrees of grind from fine to coarse-grind. Please make your favorite ground coffee.
* Some parts of cast iron mill are made in Taiwan.
What is the difference of manual and electric coffee grinder?
Enjoy fresh aroma

The greatest point of manual coffee grinder is the fresh taste during you are grinding.

It is said that coffee beans will lose its flavor or taste by frictional heat or be oxidized.
Slow grinding by manual coffee grinder restrains the frictional heat and makes the real taste of coffee beans stand out.

Also, manual coffee grinder does not need power sauce. For sunny days, you can enjoy grinding coffee with the Japanese coffee grinder near the window or outside.
Please enjoy the great smell of coffee by grinding slowly.

Enjoy grinding coffee beans by yourself!

The happiest feature of the manual coffee grinder is the time of grinding coffee beans by yourself!
KOTORIKU is the design company of this Japanese coffee grinder. Yoshimasa Furusho who is the representative of KOTORIKU talked about the coffee grinder as follows.

"I would like customers to enjoy using the coffee grinder every morning. While you boil hot water, you can grind coffee beans. It is not so troublesome work. I believe that we can make a custom to have a relaxing time in the busy days by using manual coffee grinder."

Now, we can buy anything. In that convenient days, one work of grinding coffee beans for yourself or your dearest person is like a magic! You cast a spell to make a cup of delicious coffee.
Great features of manual coffee grinder of MokuNeji
Beautiful design is practical as well

Japanese coffee grinder of MokuNeji pursued the easiness of grinding coffee beans and beauty in detail.
The body of the coffee grinder is made of Japanese cherry birch. Skilled woodturners of Yamanaka lacquerware carefully produced the body one by one.

A designer Hiroshi Yamasaki from YAMASAKI DESIGN WORKS designed this curvy form. Craftsmen shave the superb curve to realize the stability and easiness to hold.

When we do not use Japanese coffee grinder, we can enjoy it as a home decor.

Remove the ground coffee beans easily

When you grind the coffee beans, the coffee powder is piled in the bottom half of the body. You can remove the ground coffee beans with a little twist of the body.

The secret of this easiness is "3-jo Nejikiri Kako", or "3-screws processing." In fact, this special work is said to be hard for woodturning.
Usually, the screw in just 1. However, this Japanese coffee grinder has 3 screws. Therefore, we can remove the bottom half of body with 1/3 of twist (about 90-degree twist.)

Lumbers have individualities and transform by humidity or temperature. So, making 3 screws for woodworking is only possible by skilled craftsmen.

Easy to care, possible to be disassembled

The care for manual coffee grinder seems to be difficult. In fact, it is very easy!
For the daily care, just wiping coffee grinder with tissue or soft cloth.
The grinder part is made of iron, so do not wash there with water to avoid getting rot.

If you care about the coffee powder in the grinder, sweep the powder with brush.
All the parts of Japanese coffee grinder consist of screws and wood. No adhesives are used. Therefore, the manual coffee grinder is easy to care. You can use the coffee grinder for a long time at ease.
Cute boxes would be suitable for gifts
The Japanese coffee grinder from MokuNeji is within cute cardboard box.
It is suitable for presents for coffee lovers.
Also, beautiful manual coffee grinder would be great Father's Day gift or retirement gifts for coffee lovers.
Sending manual coffee grinder is sending relaxing time.
As the special gift, please select Japanese coffee grinder.
Caring tips
* The volume of coffee beans you can grind at once is about 30g.
* The material of this coffee grinder wood and iron is weak against water. When you care of the coffee grinder, please use tissue or dry cloth.
* When the dust or coffee powder is piled in the grinder, please sweep there with commercial brush for coffee grinder, dry teeth brush, or new brush for painting.
* All the products are handmade by traditional craftsmen. Please enjoy different individualities of each product.
Personalize gift service
For the bulk order more than 20 items, we can personalize your items with the name of your company, school, or with logomarks. If you plan to order corporate gifts or keepsake gifts, please contact us from "Contact us."
* Personalize gift needs service fee. The fee depends on items.
* Personalize service is not available for some products. Please feel free to ask us.