Simple and modern Arita porcelain, 1616/arita japan, TY Square plate
Simple life with simple plate. Square plate of Arita porcelain
[1616/arita japan]TY Square plates
Our original set
Exclusive gift box
With Japanese description
With English description
The birth of square plate
The collaboration of a designer Teruhiro Yanagihara and the traditional skill of Arita porcelain produced the TY Standard series of 1616/arita japan.
The first product of the series is this modern simple plate "Square plate".
It is difficult to finish flat and make an angle. This plate needs high skill and experience.
This Square plate was realized by various ideas and skills.
Traditional skill and novel design.
"It is possible to produce a new thing by a fusion of different things."
The Square plate of 1616/arita japan seems to realize this concept.
The charm of Square plate, a simple and modern Arita porcelain
Sharp form and glossy white texture.
This Square plate is like a Northern European tableware.
A lot of people may be surprised to know that this Square plate is made of Japanese Arita porcelain.
This simple form plates fit various cuisine.
First, Western style breakfast with Square plates.
Yes, it is very simple and stylish.
How about Japanese cuisine?
Yes, the plates are also good with Japanese rice and karaage (Japanese fried chicken).
For simple life lovers
"Simple goods are the best in life."
TY Standard series of 1616/arita japan is the best series for those people.
If you pile the different sizes of plates, you can pile them compactly like the picture below.
The beauty of Square plate is designed for not only when you use, but also when you pile the porcelain.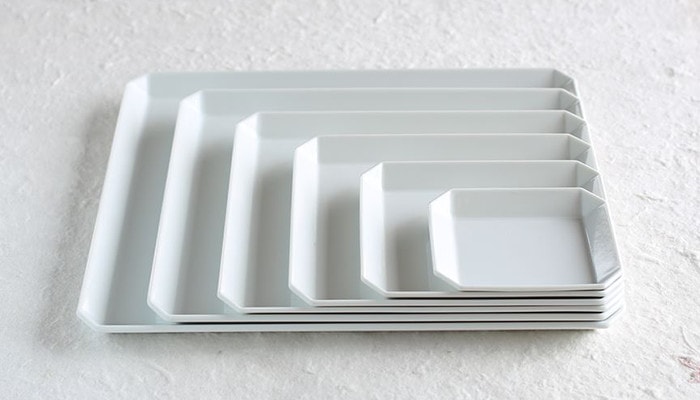 Coordinate with your free idea
Since the Square plate is easy to pile up, you can make a plate with several plates.
The simple form and color of Square plate broaden your idea.
Please make your original coordinate with this stylish Arita porcelain.
Stylish party table with simple plates
When you have a party with this Square plate of Arita porcelain, the dinner table changes into elegant like a high-class restaurant.
For big dish, Square plate 235 or Square plate 270 are the best size.
In addition to a party, Square plate of Japanese Arita porcelain is suitable when you have several guests or cook big meal for holidays.
Square plate 165 or Square plate 200 are good for each person to take some from large plates.
The Square plate of 1616/arita japan can color the multiple meals if you collect various sizes.
This simple plate is made of hard pottery clay. Therefore, you can use the Arita porcelain daily.
In addition to the usefulness, the plate has elegant form.
How about having a tea time with Japanese special plates.
Related Products
Caring tips
* Wash with soft sponge with ph.-balanced detergent.
* You can use these products in microwave oven and dishwasher.
* All the products are handmade by traditional craftsmen. Please enjoy different perspective of each product.
Personalize gift service
For the bulk order more than 20 items, we can personalize your items with the name of your company, school, or with logomarks. If you plan to order corporate gifts or keepsake gifts, please contact us from "Contact us."
* Personalize gift needs service fee. The fee depends on items.
* Personalize service is not available for some products. Please feel free to ask us.