Unique bud vases suzu Nousaku
Enjoy flower longer! Unique bud vases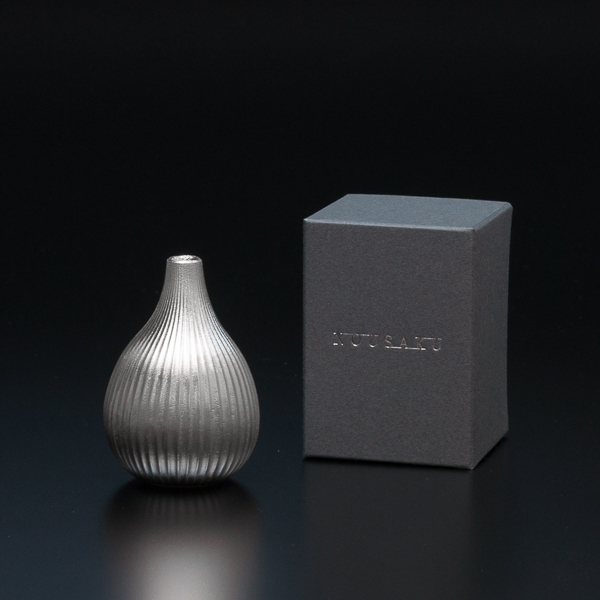 [Nousaku]flower vases suzu
Our original set
Exclusive gift box
With Japanese description
With English description
Want to prolong the life of cut flowers? Use unique bud vases from Nousaku
If we get beautiful flowers, we would like to enjoy it as long as possible.
"How can we make cut flowers live longer?"
Flower lovers think so every time they arrange flowers in vases.
In fact, there is a magical vase that can keep the life of cut flowers longer.
That is "suzu", a tin vase from Nousaku.
Suzu is a bud vase produced by top casting brand in Takaoka city in Toyama prefecture.
As the representative products of Nousaku, tin beer cups have been popular items. Tin beer cups are famous for unique effect to make sake delicious.
Actually, tin vase has a special fascination.
Let us introduce the attractive points of unique vases "suzu".
Unique vases "suzu" would be great gifts for flower lovers.
Flowers live longer! Surprising antibacterial effect of tin vases
"Water in a tin bowl does not rot."
"Fall a piece of tin in the well, it keeps water clean."
Tin has been said to be such a magical material from old times. Therefore, tin has been used as the material for tea utensils or sake sets. Tin has high ionization effect. That ionization effect brings antibacterial action, and make water hard to rot.
The main cause of die of cut flowers are bacteria in the water. The bacteria in water disturb stems from sucking up water. Recently, a result of a research was announced. According to the research, "antibacterial effect of tin has the action to keep the various germs away from the ends of stems."
So, bacteria are hard to propagate in the water in tin vases. You can enjoy cut flowers longer with the vases.
Notes of using life-prolonging agent of cut flowers
Tin has effect to restrain bacteria from propagation. So, tin vase keeps the water clean, and flowers live longer. If you use the commercial life-prolonging agent for plants, the agent cause tarnish of tin. When you use tin vases, we recommend not using life-prolonging agent.
Unique vases "suzu" have 3 types
Unique vases "suzu" have 3 different types. The surface is not processed, just as it casted. Therefore, each item has its unique taste.
The motifs of suzu are 3 fruits; "fig" "apple" and "pear." What is your favorite vase?
Nousaku unique vase suzu "fig"

Rounded body and narrow top. Unique vase "fig" has superb cute form. Please have a carefully look. You will see that it is asymmetrical design! That's why we feel gentle atmosphere from this bud vase.




Related Products

Nousaku unique vase suzu "apple"

Unique vase "apple" of suzu series has elegant rounded shape. In fact, this metal vase is not sphere like a real apple, but has oval shape. Its impressive presence reminds us the abstract carving.




Related Products

Nousaku unique vase suzu "pear"

Tin vase "pear" has gently carved design like a well-ripe pear. This unique vase has curvy shape. Since "pear" has asymmetrical design, you can enjoy various faces of the "pear". How about finding best angle depends on the flowers?




Related Products
Unique vases "suzu" are designed by Hisae Igarashi
Tin vases "suzu" from Nousaku have gently carved design like the real fruits. These unique vases are designed by a designer Hisae Igarashi. She designed the cute chopstick rests set "LOVE" from Nousaku as well.
Profile of Hisae Igarashi
Born in Tokyo
1985: Graduated from Kuwasawa Design School, Department of Interior Home
1986-91: Work at Kuramata Design office
1993: Established IGARASHI DESIGN STUDIO

She is engaged in development of business space, installation, furniture, products, or playground equipment. Her field is broad; "Clothing / Food / Housing / Education." She designed the interior of famous shops such as "TSUMORI CHISATO" or "une nana cool." She continues to pursue the present-form design. She won many design awards such as JCD Design Award or Good Design Award. She was once a judge in Good Design Award.
Vases with useful weight and size for everywhere
You can arrange your favorite flowers in your favorite places with the unique vases "suzu."
3 bud vases of "suzu" are palm size vases. However, they have solid weight. Since the unique vases have solid weight, they are hard to fall when we arrange flowers.
In addition, the compact size is another attractive point of the unique vases "suzu." The smallest bud vase "fig" can be placed on window sill.
The other vases "apple" and "pear" can be placed in entry hall, living room, bedroom, or kitchen countertops.
1 unique vase provides you to create stylish coordinate. With 2 or 3 vases, you can make rhythmical interior coordinate.
Compact and unique vases would be great gifts, too.
High-class atmosphere of 100% pure tin
Unique vases "suzu" are casting of 100% pure tin.
Tin is the third expensive metal after gold and silver. The bud vases "suzu" are not applied mirror finishing. The just casted surface emits gentle light. Although it is a metal vase, "suzu" has soft atmosphere. Simple but chic vase make various flowers look stand out. Please enjoy the high-class atmosphere of 100% pure tin.
Tin is hard to be oxidized, and strong against rust. Therefore, you can use the unique vase daily at ease. Tin will not rot. So, people have loved tin products as auspicious gifts.
If you look for flower vases of high-class brand as gifts, we recommend the unique vases "suzu" from Nousaku.
Nousaku has taken over tradition of Takaoka copperware
Nousaku is in Takaoka city of Toyama prefecture, and a casting studio that takes over the casting skills of traditional Takaoka copperware.
Their concept is "Make better casting in better way." Nousaku has pursued the beauty with using the maximum use of texture of material.
Nousaku was established in 1916. They started to produce the Buddhist altar fittings with casting skill. People have taken over the casting skill for 400 years. At the beginning, they mainly produced utensils for tea ceremony, the Buddhist altar fittings, or flower vases. Recently, their products vary from interior goods, tableware, to lighting. Traditional crafts designed for modern lifestyle tell us the fascination of Takaoka copperware.
Only Nousaku can produce the unique vase "suzu" by their high casting skill. Nousaku continues to try new possibilities of casting with mixing 3 components "Tradition / Skill / Beauty".
Soft cushion at the bottom of vase keeps table from damage
"Does a metal vase damage table?"
You do not have to worry about that for the unique vases "suzu." The metal vases have soft cushions at the bottom.
Usual use of the tin vases does not damage wooden or resin table.
Look for flower vase of Nousaku? how about "Sorori"?
If you look for stylish flower vase from Nousaku, we recommend "Sorori" as well.
Sorori has smart and refined atmosphere like an artwork. Hair-line finishing provides elegant shine. Simple and stylish vases have been popular from men, too.
Sorori is made of brass. How about enjoying the difference of materials with Sorori and suzu?
Collect stylish bud vases!
Japan Design Store offers various stylish bud vases such as "still green" from ceramic japan, or our original "Flower vase set with Suzugami".
Still green won great reputation from the world.
Flower vase set with Suzugami is a set of suzugami and shot glass of Kimura Glass.
Please enjoy life in each season with colorful flowers.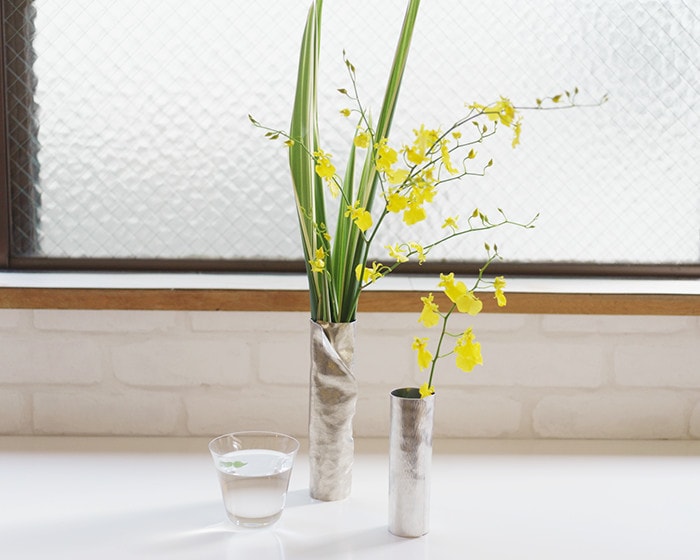 Unique vases of Nousaku as presents
If we have a unique tin vase, we can enjoy arranging flowers more! Tin vase "suzu" would be great gifts for flower lovers.
Simple and elegant vases suit any kinds of rooms. From young to old, people can enjoy stylish vases and flowers. Unique vases can be cool interior goods as well.
How about sending unique vases as wedding gifts or housewarming gifts? Tin vase does not break or rot. Auspicious metal vases can be great birthday gifts, too.
Modern vases would be a wonderful thanks gifts.
English description available
Unique bud vases "suzu" are with English description. You can send these unique vases for your overseas friends. Also, Japanese traditional crafts have been popular as the gifts for host families when Japanese students do a homestay in a country.
Send unique vases as gifts? Leave it to Japan Design Store
Japan Design Store offers various elegant gift wrappings for the unique vases "suzu." If you send the metal vase as gifts, our gift staff put beautiful gift wrapping for it. Easy wrapping and Japanese Ume Mizuhiki have been popular Japanese wrapping.
Caring tips
* All the products are handmade by traditional craftsmen. Please enjoy different individualities of each product. The surface of the vase is not applied. Therefore, each product has different face.
* Some patterns may appear inside the vase due to the water response. That patterns have no problem in products' quality. Please use the vase at ease.
How to care
* Metal vase "suzu" is made of 100% pure tin. Tin is softer than other metals. When you clean the vase, please use sponge with neutral detergent.
* When the gloss becomes dull, polish the vase with commercial metal polish or baking soda. The gloss will return with the vase.
Personalize gift service
For the bulk order more than 20 items, we can personalize your items with the name of your company, school, or with logomarks. If you plan to order corporate gifts or keepsake gifts, please contact us from "Contact us."
* Personalize gift needs service fee. The fee depends on items.
* Personalize service is not available for some products. Please feel free to ask us.