Small vases, still green, ceramic japan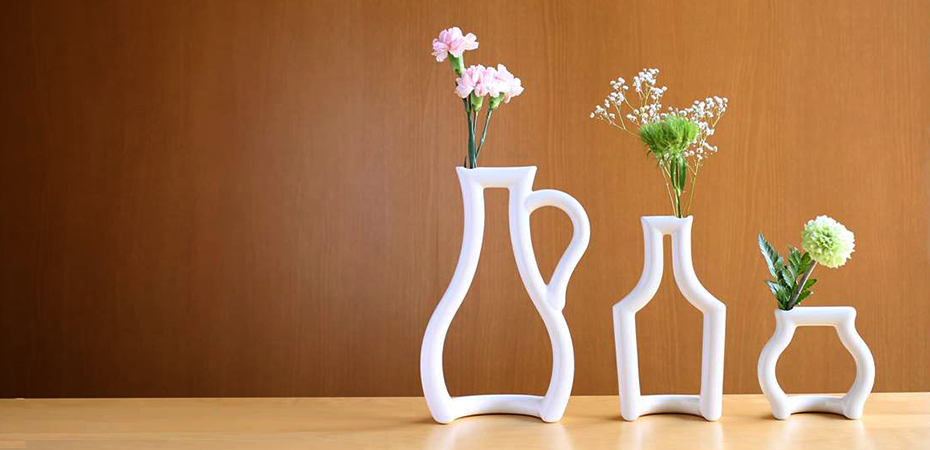 Worldwide attention! Unique small vases
[ceramic japan]Still green
Our original set
Exclusive gift box
With Japanese description
With English description
Have you ever seen such a unique small vase?
When you buy one or a few flowers at a flower shop, or when you find some beautiful flowers in your garden, what kind of vases do you use for them?
There are all sorts of vases in the world now, from small to big, simple to decorative.
However, have you ever seen such stylish, unique but simple small vases?
In fact, these small vases became a best-seller in the design world of New York.
Of course, all the items in Japan Design Store are "Made in Japan", "High quality", "Good design", and "Rare."
Here, we would like to introduce the fascination of unique small vases.
"still green" from ceramic japan
These unique small vases are "still green" from "ceramic japan." Ceramic japan is famous for their great design ceramics. It is in Seto city of Aichi prefecture.
As the name "still green" explains, these white small vases have a message "a thing which is going to start, and its state."
We will explain the meaning of this message later with the introduction of a designer.
These white small vases got great reputations in overseas earlier than in Japan.
From Japan! Small vases sold more than 10,000 in MoMA New York
The first meeting with "still green" and me, the buyer of Japan Design Store was at a select shop in Omote Sando in Tokyo.
On the top left of a shelf, with a glass object and metal calendars, I found a unique art object like a water jag. I remember the big impression I got that time. "Ah, this is a flower vase! That's why this ceramic is shaped as a water jag."
One year after the meeting, I visited the Museum of Modern Art in New York (MoMA). MoMA is called the center of the world art.
At the museum shop of MoMA, I met again with the "still green."
At first, I thought that "Oh, that small vase was designed by an American designer." To check the name of maker, I saw the backside of the white vase. Then, I found some letters saying "ceramic japan, made in Japan."
"Is that a product of Japan!?" I got great impression again.
According to a staff of the museum shop, many items of ceramic japan are designated as the permanent collection of MoMA. Among them, "still green" got great popularities for its unique design with great skill. In fact, the white small vases were sold more than 10,000 at the museum shop at that time.
Among the Japanese items at the museum shop of MoMA, "still green" became a best-selling item.
Now, the white small vases get attention from the buyers around the world. Many design museums or select shops in the world sell "still green."
3 features of the small vases "still green"
"How can they make it?" Unique design

The greatest feature of this white small vase is the unique design. Everyone would be surprised "how can they make it?" The simple and astonishing design is the contours of water jag, liquor bin, or jam bin.
Glossy white of porcelain gives clean atmosphere to the small vases. Unique white vase can be an art object as it is.

Also, these small vases are very compact. You can put these white vases on a narrow shelf, sideboard, or bookshelf. You can see through the other side of the vases from the body of them. So, still green has great presense, but does not assert itself too much. The white small vases fit various types of rooms.

The small vases make the flowers look great. For unique-design-lovers, or flower lovers, we recommend these small vases with our confident.

More difficult than it looks! High skill of ceramic production

Small vases "still green" has very simple design. However, it is very difficult to produce one vase. In fact, few makers can produce it and it takes much time and work.

To make this form is not so difficult. But to make empty inside like a tube is very hard.
If the craftsmen pour too much pottery clay, the inside of tube will be filled. If the wall of tube become too thin, the item will be broken after baking. These small vases are very difficult to produce.

Nevertheless, ceramic japan succeeded to produce the difficult small vases.
Simple design vases cannot be completed without high skill of craftsmen. Therefore, we have never seen similar or copy item of this.

It is easy! Great usability

Usually, vases are big and heavy. It is difficult to handle it with one hand. Moving the flower vases or changing water take time.
However, the small vases "still green" has slim tube design. It is easy to hold it with one hand. You can move the small vases easily.

You may worry about its stability. Please be assured. The inside of the white vases is all empty. So, you can pour water into the flower vases.
If you pour water into the vases, the vases gain more stability. Weak wind cannot fall the vases down.
3 sizes of white small vases
Stylish small vases "still green" has 3 sizes, S, M, L. To our pleasure, all sizes have different design.
The largest size is "Water," the form of water jag. Medium vase is "Liquor," the form of liquor bin. The small size is "Jam," the form of jam bin.
You can select your favorite size or form from Water, Liquor and Jam. But we recommend displaying 2 or more small vases.
When you collaborate 2 or more vases of different sizes, you can make more stylish atmosphere to your room. Please enjoy the small vases "still green."
Maker of the small vases "ceramic japan"
Stylish small vases "still green" is produced by a ceramic atelier "ceramic japan."
Ceramic japan is a pottery brand in Seto city of Aichi prefecture. It was established in 1973. Seto city is a producing area of Seto ware. Seto ware is one of "Japanese Rokkoyou," or 6 old pottery in Japan. Now many makers and craftsmen produces porcelain or pottery in Seto city with inherited skill.
Ceramic japan is an epoch-making maker who started "ceramics with design." They thought "the present day, it is not enough to produce Japanese tableware as usual."
Ceramic japan collaborates with talented designers. In addition to Yuko Tokuda, they collaborated with Ooki Sato from nendo, TONERICO: Inc. Sori Yanagi, or Mina perhonen. With these designers, ceramic japan produces various products of sense.
Some products of ceramic japan was designated as the permanent collection of MoMA (The Museum of Modern Art in New York).
Who is the designer Yuko Tokuda?
A designer Yuko Tokuda designed the small vases "still green."
Ms. Tokuda was born in 1979. After her graduation from the faculty of Product Design in Musashino Art University, she entered the graduate school of University of Art and Design Helsinki. From 2004, she has designed products, packages, and displays of shops at an advertising agency "SUN-AD Co., Ltd."
She is famous for the package design of a Japanese traditional confectionery shop "Toraya." Simple and modern package of Toraya won ADC Award in 2007. ADC Award is rewarded for great design products or advertisement in the year.
She collaborated with ceramic japan to produce "still green."
She would like to produce "a new vase no one have ever seen. It is not for arranging flowers exaggeratedly. But it is for arranging some flowers or green picked up in a garden."
She tried to ask the users through her design. "The form of a vase that people take it for granted and the function of a vase to arrange flowers. Keeping these form and function, but if we slightly change the perspectives, we can create a thing that we have never seen before. How do people think about that thing?"
The product name "still green" was born from the "state of incomplete product" and "a vase for arranging green."
In addition to the design, the concept and naming of the small vases are unique and philosophic.
Best item for gifts! With cute leaflet
Small white vases "still green" has a cute small leaflet for all items, regardless of the size. The leaflet is produced by a copy writer of SUN-AD, Yukiko Komiya. It is written in Japanese only. The meaning is as follows.
"Have a good cry, Get thirsty"
"STILL GREEN"
"Immature. A thing which is going to start, and its state."
When you open the leaflet, paper leaves come from inside. The leaflet expresses the clear atmosphere of the small vases.
You can add your message to the leaflet, and send it to your dearest person.
Of course, with some flowers and the small vases are great gifts!
For more elegant gift! Stylish Dish cloth or Handkerchief wrapping
If you would like to send these small vases as gifts, how about the sets with Dish cloth or Handkerchief wrapping? We make Japan Design Store original sets with "still green" and Dish cloth or Handkerchief from WDH. We will wrap "still green" with Dish Cloth or Handkerchief. Colorful dish cloth or handkerchief gives more elegant atmosphere.
Of course, you can use the Dish cloth or Handkerchief after you open the wrapping. Eco-friendly and useful gift wrapping! These sets are suitable items for wedding gifts or housewarming gifts.
Related Products
Caring tips
* All the products are handmade by traditional craftsmen. Please enjoy different individualities of each product.
Personalize gift service
For the bulk order more than 20 items, we can personalize your items with the name of your company, school, or with logomarks. If you plan to order corporate gifts or keepsake gifts, please contact us from "Contact us."
* Personalize gift needs service fee. The fee depends on items.
* Personalize service is not available for some products. Please feel free to ask us.