cute Japanese chopstick rests from Nousaku
Cute Japanese chopstick rests have stories
[Nousaku]Chopstick rest
Our original set
Exclusive gift box
With Japanese description
With English description
Japanese chopstick rests tell stories on the table
Cute chopstick rests of Nousaku have stories.
Small Japanese cooking tools quietly tell their stories on the table.
You can feel Japanese hospitality "omotenashi" on your table.
You may be surprised to hear that chopstick rests have stories.
In fact, cute chopstick rests of Nousaku have each story like the names of flowers or knots.
The designers and inventors of Nousaku produce the chopstick rests with their thoughts "customers can spend exciting time at daily dinner or party seat with our products."
Nousaku offers various chopstick rests.
"Hanabana" are the motifs of flowers such as sakura (cherry blossoms) or Japanese plum. "Sakura" are composed of cute five petals of cherry blossoms.
"Tsuki" (moon) have elegant and chic form. "Musubi" are the motif of Mizuhiki, Japanese auspicious paper strings. And "LOVE" are designed for the table with love.
Unique chopstick rests of Nousaku evoke rich and elegant feeling to you.
Cute chopstick rests with stories are also good for presents and gifts.
The stories of cute chopstick rests of Nousaku
Japanese chopstick rests of Nousaku are the set of 4 or 5 pieces. Some sets are with different designs, and some are with the same.
Some pieces have their own meanings, and some have the meanings when 4 or 5 pieces gathered together.
For example, let us introduce Japanese representative flower design "Sakura."
Sakura are the set of 5 cute petals of sakura. Each piece is the form of petal. 5 pieces become a bloom of sakura when they are gathered.
You can coordinate each petal separately on the table. Your table become a spring dinner.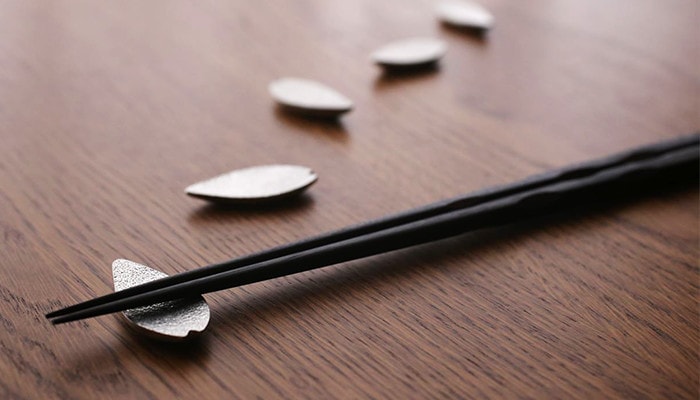 "Hanabana," "musubi," and "LOVE" are the set of different design pieces. Different but with same theme designs chopstick rests color your table.
"Hanabana" are the set of 5 different Japanese flowers; Ume (Japanese plum), Sakura (cherry blossom), Kikyo, (Japanese bellflower), Cosmos, and Hasu (lotus). All flowers bloom and color Japanese land in each season. Cute flower chopstick rests decorate your dinner table stylishly and elegantly.
"Musubi" are the motif of Mizuhiki. All different patterns are Japanese traditional auspicious design.
"LOVE" is more than alphabets. If you have close look at the shape, all letters have shape of houses. Moreover, a letter has a door.
Chopstick rests can entertain your guests.
This is Japanese omotenashi! Cute chopstick rests from Nousaku
Here, we explain our impression of the Japanese chopstick rests of Nousaku.
"Simple designs are stylish." "Mat silver color is modern."
These were the first impression of Japanese chopstick rests from Nousaku.
When we held the chopstick rests, we were surprised that the chopstick rests were heavier than we imagined before.
The reason of this solidness is the material of chopstick rests.
Cute chopstick rests from Nousaku are made of tin.
This special material is also a feature of the chopstick rest of Nousaku.
Next, we touched the surface of cute chopstick rests.
The surface was uneven.
Since the Japanese chopstick rests are handmade casting, they have uneven surface. The rough surface creates gentle atmosphere.
By the way, do you mind the hygiene of chopstick rests? Since the chopstick rests are the pedestal of chopsticks or other cutleries, and chopsticks and cutleries directly touch your mouth, chopstick rests should be hygiene.
In fact, tin has high antibacterial effect by its high ionization effect. Also, tin is hard to cause metal allergy. Therefore, you can use the tin chopstick rests safely.
Moreover, the Japanese chopstick rests are easy to use.
You can handle the tin chopstick rests as same as other tableware.
Unlike ceramic chopstick rests, the metal chopstick rests are hard to be chipped or cracked.
However, please note that sudden temperature change cause the fragility of material. Please avoid refrigerate or heat the tin chopstick rests.
Daily tableware should be practical, as well as stylish and modern.
Cute chopstick rests from Nousaku have good design, good usability, and good hygiene.
Japanese stylish chopstick rests are good presents, too.
The world envy the traditional skill of Nousaku
All chopstick rests are handmade by traditional casting craftsmen of Nousaku in Takaoka city in Toyama prefecture, Japan.
Takaoka city is a producing area of a traditional craft called Takaoka copperware.
The city make up the 95% of production amount of copperware in Japan.
The copperware varies the Buddhist altar fittings, tea ceremony utensils, and other crafts.
Recently, Nousaku have produced tableware and interior. The cute chopstick rests are one of them.
You can see the inherited skill of craftsmen through detailed work and finishing of cute chopstick rests.
People worldwide recognize the high skill and design of Nousaku. Their products have been sold in hotels, department stores, and select shops of the world.
Cute chopstick rests will give an accent to your table coordinate. The chopstick rests will be good omotenashi!
Metal chopstick rests fit various types of table coordinate
Cute chopstick rests are made of 100% real tin. Usually, tin tableware use alloy of tin and other metal material. 100% tin itself is too soft to make easy finishing. However, Nousaku does not use alloy.
In addition, tin is the third expensive metal after gold and silver. Moreover, tin is hard to be oxidized and strong against bacteria.
Also, tin has less metal unique smell, and good hygiene.
Tin chopstick rests fit various types of table coordinate. Japanese, Western style, traditional or modern. The chopstick rests make every table coordinate stylish.
Among various designs, "Katabami," "Hanabana," and "Musubi" can be bent easily. You can make your original form by yourselves.
Have you ever see other bendable chopstick rests?
Unique Japanese chopstick rests will be also good gifts.
Cute chopstick rests are suitable gifts
Unusual, unique, and elegant presents for someone special. We recommend Japanese chopstick rests from Nousaku.
"Katabami," "Hanabana," "Sakura" for flower lovers, and modern "Tsuki" for fashionable person. "LOVE" are the perfect gift for wedding celebration.
Traditional motif "Musubi" can be more than chopstick rests. Cute motif can become cute brooch with pin, or cute pendant with strap.
You can feel the high skill of craftsmen and novel design through small chopstick rests.
Japan Design Store original gift set
In Japan Design Store, our buyer and staff make original gift sets with various items from various brands. You can find those stylish gift sets only in Japan Design Store! Please select our recommended sets.
Original gift sets are within our original gift boxes. Our original gift box has gentle ivory color like Japanese paper. A gold logo mark is on the box as an accent.
Addictive user of chopstick rests
To be honest, chopstick rests are not necessary in daily life.
However, once you use Japanese chopstick rests, you will be addictive user of chopstick rests.
When you see the chopsticks or cutleries on the cute chopstick rests, the table coordinate suddenly become crisp.
Originally, chopstick rests are the utensil to keep chopstick hygienic by avoiding direct touch to the table, and to prevent chopsticks fall from the table. However, the chopstick rests from Nousaku has those functions with cute design and stories. Chopstick rests can color your life.
Caring tips
* Wash with soft cloth or sponge with ph.-balanced detergent after use.
* Please do not rub with a hard-scrubbing brush. Also, avoid polishing with the cleanser since the product is soft and vulnerable.
* When the gloss has become dull, please polish the products using a commercially-available metal polish, toothpaste or baking soda. The gloss will return with them.
* Please do not apply to the direct flame because of the low melting point.
* You cannot use it in microwave oven.
* Please do not put in the freezer to reduce the risk of tin pest (that tin becomes brittle by the cold).
* Intensive pressure to the one place, or twist chopstick rests will cause the break of tin plate. Please do not bend the chopstick rests too much.
* All the products are handmade by traditional craftsmen. Please enjoy different perspective of each product.
Personalize gift service
For the bulk order more than 20 items, we can personalize your items with the name of your company, school, or with logomarks. If you plan to order corporate gifts or keepsake gifts, please contact us from "Contact us."
* Personalize gift needs service fee. The fee depends on items.
* Personalize service is not available for some products. Please feel free to ask us.