[Set] Omotenashi set from Takaoka
Stock status

Available for reserve
Due date for dispatch

2022-09-09
Easy order, Ship soon
Payment

Paypal

* Available Credit Card is depend on customer's Paypal account policy.
Please check your Paypal account pilicy for your choiced card.
More Information
size
Differs depending on the item
weight (g)
519.0000
notes
Differs depending on the item
remarks
【Set contents】2 items: Suzugami 13cm (×2) / Chopstick Rest set Flowers (×1)
All the products are handmade by traditional craftsmen. Please enjoy unique individualities of handmade crafts.
Short Description
【[Set] Omotenashi set from Takaoka】 This is a set of 2 suzugami from syouryu and Chopstick Rest set "Flowers" from Nousaku. Both brands are located in Takaoka city in Toyama prefecture. All items in this set are made of 100% real tin. Therefore, you can bend the items into your favorite forms. Suitable gift for flower lovers or Japanese lovers.
Related Products

Nousaku
Nousaku is a top brand of metalworking in Toyama city. They continue to produce artistic products with bendable tin. The items are not only traditional crafts, but also artwork. Designers around the world are fascinated by their design and detailed work.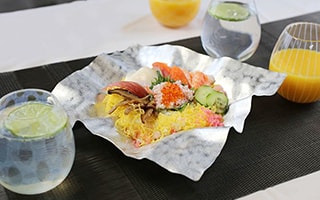 syouryu
Flexible dish "Suzugami" has attracted attention. Since 1909 its inception, the production specializes in phosphorus for the temple. This brand has produced a product that takes advantage of "tapping a hammer" technology.
Related Posts