Kutani plates, Moomin, amabro
Moomin world meets Japan Kutani
[amabro]MOOMIN JAPAN KUTANI
Our original set
Exclusive gift box
With Japanese description
With English description
Worldwide famous character Moomin × Japan Kutani
Kutani ware is a porcelain in Japan.
Kutani porcelain has more than 350-years history.
A popular brand "amabro" realized a collaboration with Moomin and Kutani ware!
"JAPAN KUTANI-GOSAI-" series are beautiful Japanese tableware of Kutani and cute Moomin friends.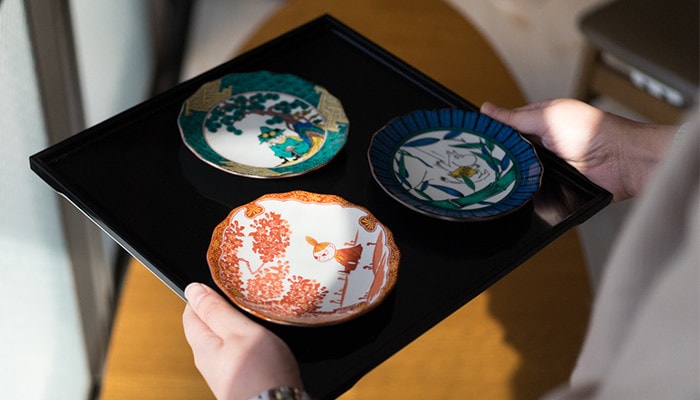 Unique world of Moomin × Kutani porcelain
Moomin Kutani plates are not just cute character goods. It is for adult.
Amabro is a product brand. They propose a life with Japanese traditional and beautiful things. Under the concept of "Art of life", amabro produces various products.
"JAPAN KUTANI-GOSAI-" series is cute and stylish Kutani plates. With a traditional skill of Kutani, cute characters of Moomin are designed.
We can see a brand concept "Rebuilding of expression" from a Kutani plate with Moomin design.
In this Moomin Kutani ware, Moomin character are expressed with 5 traditional colors of Kutani. Those are "red, green, yellow, navy, and purple."
Unique and stylish Kutani plates of Moomin would be great gifts for Moomin lovers.
Please enjoy an elegant world by cute Moomin friends and gorgeous Kutani ware.
What is Kutani ware?
Kutani ware is a porcelain produced and sold mainly in the south Ishikawa prefecture.
Kutani ware is a Japanese traditional craft. It is a representative painting ceramic. Other painting ceramics includes Kakiemon, Iro-Nabeshima, or Ninsei.
In 1655, Saijiro Goto opened his kiln in Kutani village of Ishikawa prefecture. He learned ceramics in Arita under the orders of Kaga han (domain).
Since he opened his first kiln in Kutani village, the porcelain name became Kutani ware.
The best feature of Kutani ware is its colorful painting. With traditional 5 colors of red, yellow, green, purple and navy, craftsmen draw detailed design with piling up the colors. This unique skill is called "Gosai."
Also, "Akae" is famous for Kutani's unique skill. Craftsmen draw very minute paintings with red color.
Among Kutani ware, the porcelain created in early Edo era (about 300~350 years ago) is called "Ko-Kutani (Old Kutani)." Ko-Kutani has been especially popular for its gorgeous coloring and daring design of natural plants or birds.
The world knew Kutani ware when it was exhibited in Vienna international exhibition. Since then, Kutani has been exported to the world. It has been popular for gorgeous and elegant artwork.
Elegant and stylish Kutani ware have got attention from the world as "JAPAN KUTANI."
Very useful! Kutani Moomin plates make a happy dinner table
All Kutani plates of Moomin have design like Ko-Kutani. To make a balance with food, Ko-Kutani plates have some blank space.
Cute and gorgeous Kutani Moomin plates color your dinner table.
You can use the Kutani plates for Japanese dinner, sake time, or Western-style food and cake. Useful size and colorful plates work in various scenes.
For daily use, entertaining guests, or celebrating parties, Moomin character make a dinner table happier. You can enjoy tables setting with Kutani plates.
"JAPAN Kutani -GOSAI-" has 5 items
Moomin Kutani plates from amabro has 5 items. We can see Gosai (5 colors) in the 5 plates. Each plate has design of one Moomin character and Japanese traditional plants; Matsu (pine tree), Take (bamboo), Ume (plum), Sakura (cherry blossom), and Botan (peony).
It may be difficult to imagine the combination of Moomin with Kutani ware. However, each character suits the atmosphere of Kutani well.
Even the plates are small, you can feel the details of Kutani ware from the Moomin plates.
Let us introduce the 5 characters of Moomin Kutani.
MOOMIN×amabro JAPAN KUTANI -GOSAI-
Snufkin

Snufkin plate has impressive green of Kutani ware. Snufkin is popular for his free life style. We believe that some people get harmonica influenced by Snufkin. He sits down calmly on the vital pine tree.

MOOMIN×amabro JAPAN KUTANI -GOSAI-
Moomintroll

Moomintroll plate has fresh navy of Kutani ware. Moomintroll is, needless to say, the protagonist of the story. This is one scene in "Moominvalley turns jungle." Moomin is flying in a bamboo forest.

MOOMIN×amabro JAPAN KUTANI -GOSAI-
Snorkmaiden

Snorkmaiden plate has gentle yellow of Kutani ware. Snorkmaiden is a girlfriend of Moomintroll. She sleeps under the beautiful plum flowers.

MOOMIN×amabro JAPAN KUTANI -GOSAI-
Little My

Little My plate has bright red of Kutani ware. Little My is a small, but sarcastic girl. Many people are fan of her cute appearance and nature. She lives with Moomin family in Moominhouse. She sits under the full bloom of cherry blossom.

MOOMIN×amabro JAPAN KUTANI -GOSAI-
Mymble

Mymble plate has elegant purple of Kutani ware. Mymble is an elder sister of Little My. She makes her hair bun like that of Little My. Beautiful purple peony reminds us a big plate of Ko-Kutani, "Aote Doha ni Botan zu Oohirabachi."
Look at the back of Kutani plate
Please look at the back of Kutani Moomin plates. Here is Misabel! Misabel is a very depressed girl. Why is she running? We can imagine a story from a small picture.
Kutani Moomin plates as interior goods
Kutani Moomin plates from amabro can be stylish interior goods, too. Since the plates have traditional Ko-Kutani design and Finnish Moomin friends, Kutani plates make your room more stylish. In entrance or living room, please find a best place for the cute Kutani plates.
Original box of Moominhouse
"JAPAN KUTANI -GOSAI- BOX SET" is a set of 5 plates of JAPAN Kutani. This set is within exclusive box of Moominhouse!
Cute box is just same as Moominhouse. Moomin lovers would like to get at least this box. How about placing Moominhouse with Kutani Moomin plates?
Moomin Kutani plates set for gift
Moomin Kutani plates "JAPAN KUTANI -GOSAI-" is a colorful and elegant tableware set. These plates have a beautiful fusion of traditional beauty and modern aesthetic sense.
Elegant plates would be great gift for your dearest people. For wedding gifts, housewarming gifts, or birthday gifts, colorful Kutani plates will make everyone happy.
Moomin tableware set of JAPAN KUTANI × SOMETSUKE
Japan Design Store prepares our original set of Moomin tableware. This set includes 2 plates of Kutani ware and 2 cups of Arita ware. You can enjoy 2 different Japanese traditional crafts.
This set is within exclusive box of Japan Design Store. Our gift box has gold logo mark on the white box.
If you have Moomin lovers, please select Kutani Moomin plates for them. Beautiful Kutani plates has been popular gift. You can send this Kutani Moomin plates to Moomin lovers in faraway country through online shop.
Let's tell your thought with cute Moomin Kutani plates!
For your long use at ease
* "JAPAN KUTANI -GOSAI-" series is Kutani ware plate. You can see kannyu (cracks on the surface) in paintings. Those are features of products. We appreciate your kind understanding.


* "JAPAN KUTANI -GOSAI- BOX SET" is a set of 5 plates; "Snufkin", "Moomin", "Snorkmaiden", "Little My", and "Mymble". You cannot designate the patterns.
Caring tips
* NOT microwave oven or oven safe.
* Dishwasher safe. But please note that Kutani plates may be damaged or cracked under certain situation. Please use the dishwasher with following care label of it.
* Please avoid rapid change of temperature. That may cause breakage or cracks of plates.
* All the plates are polished enough. However, when you mind the rough place of the bottom of plates, please polish there with fine sandpaper or the bottom of other tableware.
* Please do not use the plates at high places or unstable places. That may cause breakage or injure.
* After use, please dry the plates enough. When the dry is not enough, it may cause stains or mold.
* The breakage of the products may cause serious injury.
* When you put sour food on the Kutani plates for a long time, paintings may turn their colors.
* All the products are handmade by traditional craftsmen. Please enjoy different individualities of each product.
How to care
* Wash with neutral detergent and soft sponge after use.
* Please check the care label of the detergent. Paintings may be easy to be removed by washing.
* When you use forks, knives, spoons with the tableware for a long time or frequently, the tableware may become black by the adhesion of metal components. Also, scuff marks may be caused by strong scratch by knives.
Light scuff marks can be removed by polishing it with soft sponge with cleanser.
Personalize gift service
For the bulk order more than 20 items, we can personalize your items with the name of your company, school, or with logomarks. If you plan to order corporate gifts or keepsake gifts, please contact us from "Contact us."
* Personalize gift needs service fee. The fee depends on items.
* Personalize service is not available for some products. Please feel free to ask us.