Moomin tableware, amabro
Stylish Japanese tableware by Moomin × amabro
[amabro]MOOMIN
Our original set
Exclusive gift box
With Japanese description
With English description
Moomin × amabro produce exquisite tableware
Moomin has loved all over the world since its first publication in 1945.
This time, worldwide popular character Moomin collaborates with a Japanese tableware brand "amabro."
Nostalgic, as well as novel.
We get the sense that we have seen it before, but we have never seen such a tableware.
Moomin × amabro offer magical tableware which have both nostalgic atmosphere and new aesthetic sense.
You can enjoy fantastic world of Moomin with Japanese traditional beauty.
Stylish tableware set of Moomin would be great gifts for Moomin lovers.
3 series of tableware from Moomin × amabro
3 representative Japanese porcelain realized the collaboration with Moomin. They are Kutani ware from Ishikawa and Arita porcelain from Saga.
The tableware of Moomin × amabro has elegance of traditional crafts. Moomin plates and cups are Moomin goods for adults.
Colorful and elegant Kutani ware
Moomin × amabro "JAPAN Kutani-GOSAI-"

"JAPAN Kutani-GOSAI-" is a series of small Kutani plates. Moomin × amabro pay attention to traditional 5 colors (Gosai) of Kutani ware. The 5 colors are "Red", "Yellow", "Green", "Navy" and "Purple." Using these 5 colors, small Kutani plates express the world of Moomin.

Please enjoy elegant world by cute Moomin characters and Kutani. The small plates by Moomin × amabro have traditional motif of Ko-Kutani. So, not only Moomin lovers, but also ceramic lovers will satisfy their quality.

"JAPAN Kutani-GOSAI-" series has 5 patterns, "Snufkin", "Moomintroll", "Snorkmaiden", "Little My" and "Mymble."
We offer cute gift box set with all 5 plates.




Gentle and relaxing Arita porcelain
Moomin × amabro "SOMETSUKE"

"SOMETSUKE" is a series of small plates and choko cups of Arita ware. Sometsuke means underglaze blue porcelain. In Japan, Arita is the oldest producing area of Sometsuke.
Moomin characters harmonize the motifs of Arita porcelain in Edo era (about 300~350 years ago.)

Moomin friends painted by delicate shades of blue. Blue and white tableware suit various types of dinner table.




Moomin × amabro SOMETSUKE Small plates

Small plates of SOMETSUKE series from Moomin × amabro has 5 patterns. They are "Forest", "Fishing", "Swimming", "Playing" and "Snow Mountain."

In "Swimming" plate, Moomintroll is swimming under the water. So, this plate is glazed in light blue.

Moomin × amabro offer cute gift box set with all 5 plates.

Moomin × amabro SOMETSUKE Choko cups

Choko cups of SOMETSUKE series from Moomin × amabro has 3 patterns. They are "Holiday", "Hide and seek" and "Playtime."
Each cup is designed with auspicious motif Matsu (pine tree), Take (bamboo) and Ume (plum).

Moomin × amabro offers set of 3 cups in cute blue box.

Simple and warm Mashiko pottery
Moomin × amabro "MASHIKO POTTERY-GLAZE-"

Moomin × amabro series "MASHIKO POTTERY-GLAZE-" is small plates of Mashiko pottery. Craftsmen glaze traditional glaze "Nukajiro", "Seiji" and "Kaki" with special skill "Kakenagashi."

Unique and wonderful world of Moomin suits well with the atmosphere of Mashiko pottery. Please enjoy the illustration of Tove Jansson and simple and warm taste of Mashiko pottery.

"MASHIKO POTTERY-GLAZE-" series has 5 types of plates, "Nukajiro", "Seiji", "Kaki", "Gosu", and "Ame". We offer a set in a beautiful exclusive box with 5 types of plates.



How about the sizes of plates in Moomin series?
Moomin × amabro series has plates of 3 different ceramics. In fact, each plate is different in size.
Arita ware plates of Moomin are 135mm in diameter. Kutani ware plates of Moomin are 130mm, and Mashiko ware of Moomin are 155mm.
Kutani ware plates are good for snacks or dessert. Arita and Mashiko ware plates are useful size as individual plates. Cute Moomin plates work for daily meals to tea time.
If it is difficult to choose the best size of tableware in online shopping, we recommend scaling the size of plates in your cupboard.
Characters in Moomin valley and Japanese nature
Please look at the nature in the tableware of Moomin × amabro. All of them are Japanese natural scenery, but harmonize with Moomin characters.
Japanese traditional ceramics have used nature as its motifs for a long time.
In "JAPAN Kutani-GOSAI-" series, each plate has Matsu, Take, Ume, Sakura (Cherry blossoms) and Botan (peony.)
In "SOMETSUKE" series, plates and cups have the motifs of Matsu, Take, Ume, mountain, riverside and fish.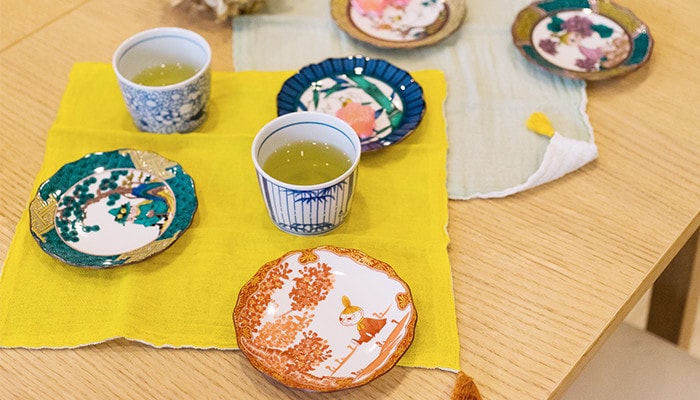 Moomin characters live in the Nordic nature. Moomin stories develop in the Japanese beautiful scenery in the Moomin × amabro tableware. The fusion of Nordic character and Japanese nature will captivate you. You will be excited to use the tableware.
Moomin × amabro
What is Moomin?
"Moomin" is stories of friends in Moominvalley. The protagonist of Moomin series is Moomintroll. He is an elf in the Moominvalley.
A Finnish author Tove Jansson wrote Moomin series. From the first publication "The Moomins and the Great Flood", the series continues as "Comet in Moominland", "Finn Family Moomintroll", "The Exploits of Moominpappa" and more.
Moomin series has been loved as novel, picture books, and animation cartoon.
In Japan, as the boom of Nordic lifestyle raise, Moomin gets attention more and more. We can see some Moomin shops or Moomin café. Many Moomin lovers collect Moomin goods.
In 2017, new Moomin movie was road-shown. In 2018, Moomin was appeared as a question in National Center Test for University Admission of Japan.
In 2019, Moomin VALLEY PARK will open in Saitama prefecture. The popularity of Moomin seems not weaken.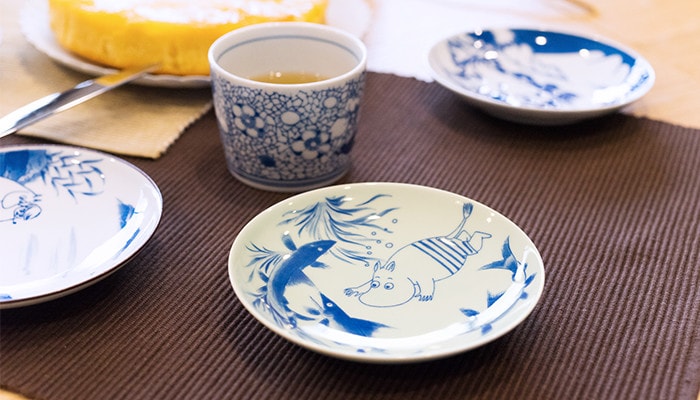 It is said that the fascination of Moomin is its unique worldview. It is nostalgic, filled with wonder, and philosophic somehow. It is a fairy tale, but Moomin tells us important things.
What is "amabro"?
Amabro is a product brand produced by MURAKAMI ART Co., Ltd under an artist Amane Murakami. Amabro is established in 2006.
Under the concept of "Art of life", they propose a life with Japanese traditional and beautiful things. Amabro is started under the concept of "Rebuilding of expression." The products with traditional beauty and modern aesthetic sense are artwork. They reconsider various creation existing now, and create new product from an artistic view.
Tableware set of Moomin × amabro for presents
The tableware of Moomin × amabro is a stylish traditional craft. One day, Moomin friends relax us. Another day, they tell us an important thing of life.
Please welcome the unique tableware to your dinner table.
Traditional but modern tableware set would be great gifts. Japan Design Store offers original gift set from Moomin × amabro.
For Moomin lovers, high-class Moomin goods are one of the happiest gifts. Some tableware sets are within gorgeous and cute gift boxes. They are good wedding gifts, housewarming gifts, or birthday gifts.
Of course, children will be happy with cute Moomins.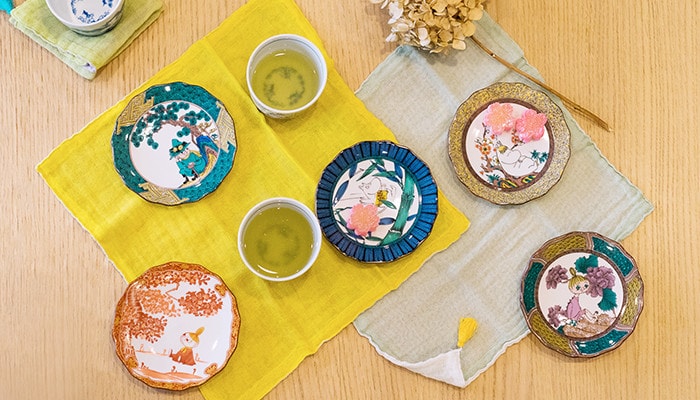 You can send this Moomin × amabro tableware to Moomin lovers in faraway country through online shop. Cute Moomin friends and superb work of traditional craft will tell your thought with Moomin tableware.
Recommended gift wrapping of Japan Design Store
Japan Design Store prepares various gift wrapping. You can choose the best gift wrapping from various wrapping ways.
Our gift wrapping has chosen as presents for wedding gifts, housewarming gifts and more.
Original set within exclusive original gift box
Japan Design Store original sets of Moomin × amabro are within Japan Design Store original gift boxes. Our gift box has gold logo mark on the white box.
Caring tips
* All the products are handmade by traditional craftsmen. Please enjoy different individualities of each product.
Personalize gift service
For the bulk order more than 20 items, we can personalize your items with the name of your company, school, or with logomarks. If you plan to order corporate gifts or keepsake gifts, please contact us from "Contact us."
* Personalize gift needs service fee. The fee depends on items.
* Personalize service is not available for some products. Please feel free to ask us.