Nousaku Tin sake cup Bamboo
For your luxurious sake time. Bamboo sake set of Nousaku
[Nousaku]Bamboo
Our original set
Exclusive gift box
With Japanese description
With English description
More chic sake time with high class bamboo sake set
Bamboo sake set of Nousaku is handmade by craftsmen. Surprisingly, the finishing is all done by a craftsman, Kenji Mizumaki.
This bamboo sake set is expensive than other sake set of Nousaku. Now, you know the reason.
We will introduce you a fascination of bamboo sake set here.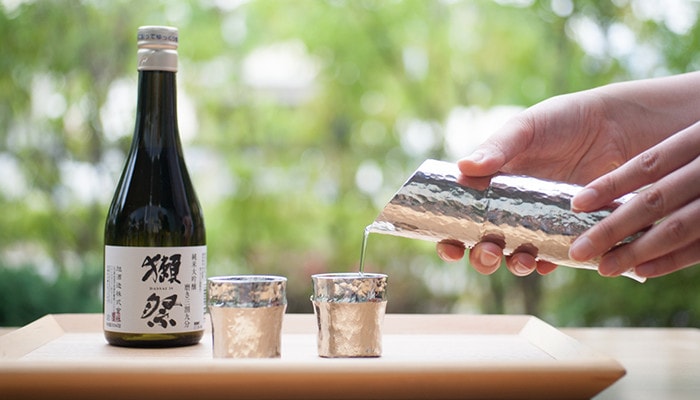 Taste delicious Japanese sake with pure tin 100% bamboo sake set
Have you ever drunk Japanese sake with tin sake cup?
Japanese sake lovers have loved tin sake cups. For sake lovers, once they drink sake with tin sake cups, they cannot think about the life without tin sake cups anymore.
First, the feature of tin sake set is the effect of making sake delicious. Tin has great ion effect that can remove miscellaneous taste of sake.
Scientifically, the relationship between tin and fusel oil is the secret of how to soften the taste of sake. The fusel oil is a volatile component which is generated during the brewing of alcohol. Too much fusel oil can generate strong smell and impurity. It is said that the fusel oil is especially contained in Japanese sake and wine.
Actually, the tin has an effect to dissolve the fusel oil. So, the taste becomes mild.
If you are looking for good sake glass, please select tin sake set.
Also, tin sake set has luxury atmosphere. Especially, when you pour sake, you can see beautiful shining. Clear sake looks shiny in the tin sake cup. White sake will be more white with the gloss of tin.
Tin sake cups can give you a luxury time. For your daily home sake, or a party with your friends, tin sake set make your time more special.
If sake is delicious, the dishes also become delicious, too.
Please have a good time.
Special sake set, "Bamboo sake set"
Bamboo sake set of Nousaku has luxurious atmosphere. This bamboo sake set has one katakuchi (a sake bottle) and two guinomi sake cups.
There are some special reasons why the bamboo sake set is special.
Produced by Kimio Nonaga, Chief chef of "Nihonbashi Yukari"

"Nihonbashi Yukari" is an old establishment of Japanese-style restaurant. Three generations serve their dishes to the Imperial Household Agency of Japan.
Bamboo sake set of Nousaku was produced by Mikio Nonaga, the third chief chef of "Nihonbashi Yukari." Mikio Nonaga won the "Ryouri no tetsujin (Iron man of cooking) JAPAN CUP '02." After that, he was designated as Japanese representative young chef. In addition, he presented his Japanese cuisine at the World Expo in Milan in 2015. Now, he gets reputations from the world.

We can understand the dignity of bamboo sake cup. The sake cup gives luxury atmosphere to Washoku, or Japanese cuisine.
At the bottom of bamboo sake set, there are logo of Nousaku and "Nihonbashi Yukari."

All products are finished by a craftsman Kenji Mizumaki

The beautiful shining surface of bamboo sake set is called "tsuchime" finishing. Tsuchime is a manufacturing way with pounding the surface with hummer many times. To make beautiful tsuchime, expert skill of craftsmen is needed. The surface and bottom of the bamboo sake set is finished by a craftsman Kenji Mizumaki. The artwork of Kenji Mizumaki were selected for Nitten Exhibition and Modern art work Exhibition. He worked as an assistant of Kyubei Shimizu, Japanese representative carver.
Bamboo sake set of Nousaku has original beauty, different from the mass-produced products.

Bamboo sake set is produced by the fusion of famous chef and skilled craftsman. It is like an art! Special beauty and elegance of this bamboo sake set make your sake time special.
Bamboo, but not just "bamboo"!
Japanese, modern, and stylish sake set, the bamboo sake set of Nousaku. As you can see, the motif of this sake set is bamboo. But, not just bamboo!
You can feel the difference when you touch it. The place of bamboo joint and the diameter of cups are superb! The cups fit your hand. In addition, the sake cups have comfortable weight, not too heavy nor too light.
You can feel the beauty of the tin sake cup when you pour sake, and the pleasant sensation when you drink sake with them.
The guinomi or sake cup can contain about 50cc. Beautiful sake cup whets the desire for sake.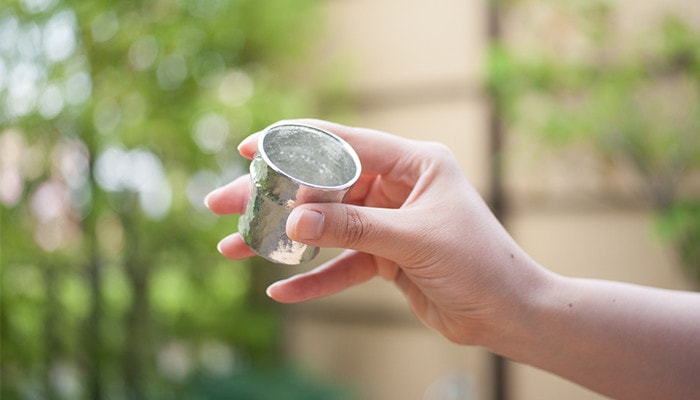 Katakuchi, or sake bottle can contain about 220cc. The spout is like a diagonally cut bamboo. There is a small dent on the spout. Therefore, the spout is hard to drip.
The inside of bamboo sake set is finished in suname. Suname is uneven pattern on the surface of casting. It is not smooth like a mirror plane, but uneven. This finishing of suname emits the gentle light. When you pour clear sake, the surface of suname reflects light. Japanese sake looks more delicious and gorgeous.
Japanese culture in the motif of bamboo
Japanese people have been loved and used bamboo for a long time. You may imagine beautiful bamboo forest in Japan. We can see motifs of bamboo in kimono, family crest, or carved wooden panel in house or castles. Also, Japanese people use bamboos as various utensils or tools; bamboo basket, flower vase, or tea ceremony utensils. Bamboos are always green. They do not lose their color regardless of the season. In addition, bamboo grow very fast and straight. Therefore, bamboo is said that it is a symbol of prosperity and vitality.
You can feel the vitality of bamboo and Japanese culture with this bamboo sake set of Nousaku.
Enjoy Kappo-sake with tin bamboo sake cups
Do you know kappo-sake? Takachiho town in Miyazaki prefecture is the origin of this.
At first, men engaged in forestry drink hot tea with cut bamboo and warm it with fire. Shortly, people pour shochu instead of tea, and drink sake with bamboo in auspicious occasion.
Bamboo sake set of Nousaku is made of real 100% tin. Therefore, it has high thermal conductivity. Tin has low melting point. So, you cannot warm tin bamboo sake cup over open fire. However, you can easily enjoy hot sake with warm katakuchi with hot water.
Of course, you can enjoy cold sake, too. If you would like to drink cold sake, refrigerate the sake cup and bamboo sake bottle before you drink. You can enjoy cold sake with bamboo sake set.
Another recommended item! Guinomi bamboo of Nousaku
We have another bamboo sake cup. it is guinomi bamboo of Nousaku.
Guinomi bamboo is a sake cup. It does not have katakuchi, or sake bottle.
We have two colors, gold and silver. Both colors have chic and stylish atmosphere of bamboo. Howe about sending a pair of bamboo guinomi for couples?
Guinomi bamboo does not have tsuchime pattern on the surface. Inside and outside of the cup has suname pattern. The outside has rougher pattern than that of inside. at the bottom, there are beautiful stripe pattern like the fiber of bamboo. Also, there is a logo of Nousaku at the bottom of sake cup.
The outside is easy to hand and gentle. The inside is finished to reflect the light and look sake more delicious. Designers care the details of guinomi, and craftsmen handmade each cup.
* This Guinomi bamboo does not have the logo of "Nihonbashi Yukari" at the bottom.
Easy to care! Have a wonderful time forever
You may worry whether tin gets oxidized. In fact, tin is the third expensive metal after gold and silver, and hard to be oxidized. When the products lose the gloss, please polish it with baking soda.
Tin products cannot be used in dish washer, dish dryer, or microwave oven. After using, you can wash it with ph.-balanced detergent and soft sponge. That is enough! Unlike ceramics or glasses, you do not have to worry about breaking or chipping it. with easy care, you can enjoy delicious sake for a long time.
Bamboo sake set and guinomi bamboo as auspicious gifts
Bamboo sake set and guinomi bamboo has simple and Japanese modern design. How about sending this bamboo sake set or sake cups to Japanese lovers or sake lovers?
Bamboo has joints, in Japanese fushime. Japanese call turning points of life "fushime", too. Graduation, change job, marriage… there are a lot of turning points in life. Therefore, Japanese people send gifts with bamboo motif as the celebration for one's fushime.
Of course, these sake cups and bamboo sake set will make your sake time more luxury and stylish. Tin sake set does not break or chipped. You can use them at ease.
In addition to Japanese sake, you can enjoy shochu, wine, umeshu, and more!
Customers' review of bamboo sake set and guinomi bamboo
Gifts for celebration of retirement

I sent guinomi bamboo as gifts for celebration of retirement. He looked satisfied with its luxury atmosphere. I was happy, too! Guinomi bamboo is suitable for Father's Day gifts, too.

Sent it for my overseas friend

I bought it for my overseas friend. He looked happy with bamboo motif. It was really "Japan"!

Birthday gift for my sake lover friend

I bought it for my sake lover friend for his birthday. He said he had been interested in tin guinomi. According to him, Japanese sake would be more delicious. I wanna buy mine and drink sake with him!

Fell in love at first sight

I had been interested in tin guinomi of Nousaku. Finally, I found simple and stylish bamboo, and fell in love with it at first sight! In addition to the design, it has great usability. I use it almost every day. I can drink delicious Japanese cold sake.

Father-in-law's 70's birthday

I bought it for my father-in-law's 70's birthday. He is sake lover. He liked it with its quiet elegance form. It has balanced weight, and easy to hand since it has bamboo joint. I am happy to find modern sake cup for elderly gentleman.
Everyone may know sake set of Nousaku already. The sake set of Nousaku is famous for its function to make sake mellow and delicious.
Today, let us introduce the bamboo series of sake set of Nousaku.
Bamboo series has simple and modern design as well as other sake set of Nousaku. In addition, bamboo series has Japanese essence.
Moreover, bamboo has been loved by Japanese people for a long time. The vitality of bamboo makes it an auspicious motif. Great gifts for Japanese lovers to tell the Japanese culture, or have a stylish home party with this special bamboo sake set.
By the way, guinomi bamboo is different from other guinomi of Nousaku.
The place on a cup we drink from is smaller than that of other sake cups. Therefore, when you drink sake with guinomi bamboo, you look more elegant!
When you send sake set as gifts, most people imagine men. However, this bamboo sake set would be great gifts for women, too.
Other Nousaku guinomi
Nousaku offers substantial lineup of sake sets or cups.
In addition to the bamboo sake set and guinomi bamboo, Nousaku offers other items like "Fujiyama" with motif of Japan's Mt. Fuji, and a tin tableware with mysterious beauty "Kuzushi".
In addition, there are the popular items of our shop "Tin Beer Cup and Tumbler" and "Chirori" to make the hot sake delicious. Moreover, we offer compact sake cups pair "Futae."
Enjoy and find your best sake cup from various tin tableware of Nousaku.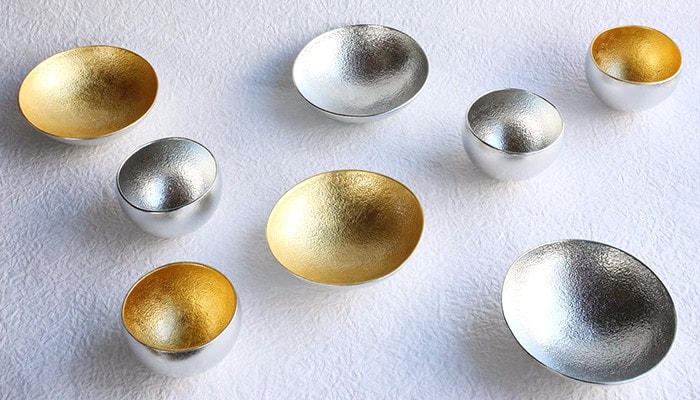 Caring tips
* Tin is very soft metal. therefore, you may bend it with a little power. It is not inferior goods or defects, it is feature. Please enjoy this magical metal.
* Sake sets with gold leaf have changed their specifications a little. Now (July 2018), gold leaf is not gilded on the edge of each sake set. Please note that some products are partly different from the pictures of this page.
* Wash with soft cloth or sponge with ph.-balanced detergent after use.
* Please do not rub with a hard-scrubbing brush. Also, the product is soft and vulnerable. Avoid polishing with the cleanser.
* When the gloss has become dull, please polish the products using a commercially-available metal polish, toothpaste or baking soda. The gloss will return with them.
* Please do not apply to the direct flame because of the low melting point.
* You cannot use it in microwave oven.
* Please do not put in the freezer to reduce the risk of tin pest (that tin becomes brittle by the cold).
* Please do not put in the dishwasher and dryer.
* All the products are handmade by traditional craftsmen. Please enjoy different perspective of each product.
Personalize gift service
For the bulk order more than 20 items, we can personalize your items with the name of your company, school, or with logomarks. If you plan to order corporate gifts or keepsake gifts, please contact us from "Contact us."
* Personalize gift needs service fee. The fee depends on items.
* Personalize service is not available for some products. Please feel free to ask us.