wooden kitchen hot pads from Sunao Lab
Wooden house? Cute kitchen hot pads
[SUNAO LAB.]HOUSE TRIVETS
Our original set
Exclusive gift box
With Japanese description
With English description
Cute wooden house in the middle of dinner
"Dinner is ready!"
A mother's voice echoes in the house.
A father comes to the dinner table. Grandparents are talking about the dinner with dearest grandchild.
The child transforms the wooden toy, and put it at the middle of the table.
The mother puts a hot pot on the wooden toy.
In fact, the wooden toy is a cute kitchen hot pad.
This is a wooden kitchen hot pad from Sunao Lab. The name is "Nabesiki-house", kitchen hot pads house in Japanese.
The kitchen hot pads have natural texture of wood and stylish design like Northern European tableware.
Cute design has loved by child and parents. During their childhood, children can enjoy assembling the house toy. As they grow up, they use the kitchen hot pads to put their cooked pot.
Happy dinner time begins with the wooden kitchen hot pads.
Cute wooden kitchen hot pads for delicious dish
"Have a pleasant time with sincerely cooked dishes."
When you cook dishes for your family or friends, you may have this thought.
When you serve the dishes, you select tableware as well.
Tableware can make the dishes look more delicious. Then, what is it that decorate stylish tableware?
The answer is the small items on the table. Cute kitchen hot pad is one of them.
You may have cutlery rest or place mats already. How about kitchen hot pads?
A pot has great presence on the table. However, the kitchen hot pads tend to be overlooked.
This cute kitchen hot pads become unsung hero on the table. Cute wooden hot pads can softly decorate the pot.
You know that kitchen hot pads are very small part of tableware. But that small utensil can tell your heart with your delicious dishes.
Cute wooden hot pads from Sunao Lab softly decorates your table. Make your table more stylish with this hot pad.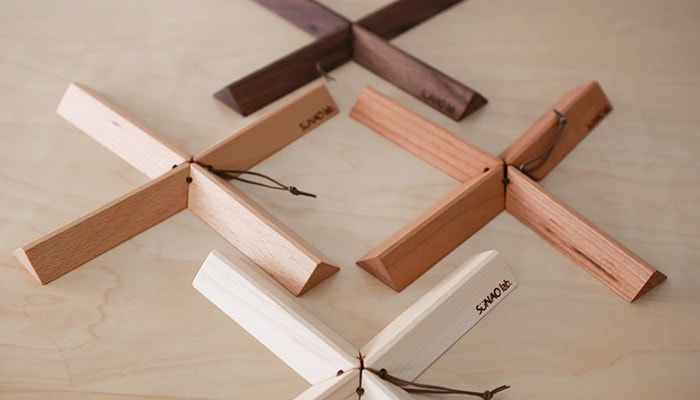 Stacking? Wooden house will be Northern European interior
This wooden hot pad from Sunao Lab can be a cute kitchen utensil and interior.
As the name of this product "Nabesiki-house" tells, the cute kitchen hot pad becomes a cute wooden house.
When you use it as a kitchen hot pad, the form is like a cross. When you do not use the hot pad, you can assemble four sticks into a cute wooden house.
A wooden house is like a Northern European interior. You can hang the strap on the hook.
For children, this cute assembling wooden house become a toy.
Your children prepare the kitchen hot pad with joy.
Humorous and elegance. Simple and cute.
This wooden kitchen pads suggest a richer life.
Safe natural material, wooden kitchen hot pads
Safety is an important point to choose a tableware. Even a tableware has good design and function, you cannot use it if it is not safe.
As wooden tableware, you should pay attention to the paint.
This cute kitchen hot pads are finished with natural vegetable oil.
Natural vegetable oil is harmless to human body, and strong against water or dirt. In addition, natural vegetable oil can make natural finishing to show beautiful texture of wood.
Round edge of wooden kitchen hot pad
The edges of wooden hot pads are shaved to round form. Children can touch it safely.
Cute kitchen hot pads are made of safe material and safe form. All family members can enjoy this wooden kitchen hot pads.
Have a tea time with teapot and wooden kitchen hot pad
Do you use kitchen hot pads when you cook a pot only?
How about using it with teapots?
When you serve hot milk to family, or hot coffee to your guests, this cute kitchen hot pad work.
Small and cute wooden hot pad can decorate your table softly.
Simple and stylish kitchen hot pad to have a cute tea time.
4 colors of cute wooden kitchen hot pads
We offer four colors of wooden kitchen hot pads. Select your favorite one.
Black cherry

・Black cherries' tree.
・Reddish brown and have beautiful grain of wood.
・Popular among women.
・As time pasts, the color turns to amber.

Maple

・Produce maple syrup.
・Smooth texture.
・White natural wood.

Walnut

・Walnuts' tree.
・Dark brown color.
・Popular furniture uses walnut.

Beech

・European beech.
・Glossy beautiful texture.
・Small dots on the surface.
・Wooden toy often uses beech.
Cute hot pads are suitable gift
Small kitchen hot pad is a suitable gift for your friends.
For example, when you visit your friend's house with your children, cute wooden hot pads are good presents with sweets.
When you assembling the wooden hot pads, it will change into a small wooden house. The small size hot pads can stack in small places. So, the receivers do not have to prepare a big space for stacking.
Cute wooden kitchen hot pads can warm your home, and your friends' home.
Stylish gift set with wooden kitchen hot pad and kettle
We make Japan Design Store original sets. The sets are suitable for gifts, too.
For natural wooden kitchen hot pads, simple and stylish kettle "Pottle" suits well. These sets would be stylish interior items.
For your own use, or items for wedding gifts or housewarming gifts, these sets are suitable. These sets are our recommended color combinations.
Related Products
Within Japan Design Store original gift box
Some gift sets are within our original gift boxes.
Our original gift box has gentle ivory color like Japanese paper. A gold logo mark is on the box as an accent.
Record of Awards
2010:The wooden kitchen hot pad won FUKUOKA DESIGN AWARD in 2010.
Caring tips
* Please note that the color or the grain of wood may be different from the pictures. All the products are made of natural wood.
* All the products are handmade by traditional craftsmen. Please enjoy different perspective of each product.
Personalize gift service
For the bulk order more than 20 items, we can personalize your items with the name of your company, school, or with logomarks. If you plan to order corporate gifts or keepsake gifts, please contact us from "Contact us."
* Personalize gift needs service fee. The fee depends on items.
* Personalize service is not available for some products. Please feel free to ask us.