Japanese bowls, Rice bowls, Hakusan Toki
Beautiful Japanese bowls to make rice look more delicious
[Hakusan Toki]Flat rice bowls
Our original set
Exclusive gift box
With Japanese description
With English description
Story of finding stylish Japanese bowls and pair rice bowls
At that time, 1 year had already passed since we opened Japan Design Store. However, we have not sold most basic Japanese tableware; "Japanese rice bowl."
The reason is clear. We have not able to meet good ceramic bowls which meet our standard. Our standard of selecting items is "modern, good design, and long usability."
As a buyer of this store, I have been concerned about this situation.
In fact, I found a great Japanese bowl at a store of Roppongi in Tokyo. But the problem was the price. It was JPY ¥30,000! (about USD $300)
Of course, good quality goods can be used for a long time. Nevertheless, for me, I could not able to pay ¥30,000 to a bowl.
We use Japanese rice bowls almost every day. So, it is the fate of ceramic bowls to get a piece broken or chipped.
From the perspectives of design and cost performance, I could not find the reasonable Japanese rice bowls.
Finally, I found an ideal stylish Japanese rice bowl!
One day, I finally found an ideal Japanese tableware at a meeting of manufacturers. It met all conditions in terms of design, price, and usability.
That is flat rice bowl of Hakusan Toki designed by Masahiro Mori.
This Japanese bowls have stylish and smart form. Colorful rice bowls have beautiful and detailed patterns on them. In fact, these Japanese rice bowls were exhibited at some art museums around the world such as Germany, Spain, and the United States.
Mr. Oda of "DESIGN MORI CONNEXION" introduced me this wonderful Japanese bowl. According to him, the Japanese rice bowls of Hakusan Toki has been a long-seller. The designer Mr. Mori pursued design and usability of this flat rice bowl.
(By the way, Mr. Oda established a selling company since he was a big fan of Mr. Masahiro Mori. He loves the design of Mr. Mori.)
The Japanese bowls of Hakusan Toki was released in 1992. The next year, in 1993, this beautiful rice bowls won Good Design Award.
I could find this beautiful rice bowls earlier if I had checked the yearbook of Good Design Award.
However, I can introduce this Japanese rice bowls with my confident now.
Here, let me introduce the fascination of stylish Japanese bowls of Hakusan Toki.
Japanese bowls of Hakusan Toki make rice look delicious
These stylish Japanese rice bowls needed more than 10 years before they released. It can be said that these rice bowls are the masterpiece from the all aspects; usability, design, and happiness to choose from various patterns.
The flat rice bowls of Hakusan Toki are natural and elegance. The Japanese bowls fit Japanese and any other styles of cuisine.
To make a good food presentation, put rice softly at the center. The blank space of rice bowls make rice stand out.
The Japanese bowls of Hakusan Toki have been famous for "rice bowls which makes rice look delicious."
Related Products
5 reasons why Japanese bowls of Hakusan Toki have been long-seller
In addition to design, the flat Japanese bowls of Hakusan Toki have various attractive points to get popularity.
Easy to have, easy to store

The best feature of the rice bowls of Hakusan Toki is this flat and large form. Usual Japanese rice bowls are 12~13 cm in diameter. Compared to this, the rice bowls of Hakusan Toki are about 15 cm in diameter.

You may wonder that such a large rice bowl is hard to handle. However, you will see the difference by touching it.
You can easily hold the bowl by supporting the edge and the bottom of the rice bowl with your fingers. This Japanese bowl fit your hand.
Even the small hand of a child can hold the Japanese bowls of Hakusan Toki.

Also, the Japanese bowls of Hakusan Toki have not so high height. Therefore, you can stack some rice bowls neatly in your cupboard.
Japanese rice bowls are daily use tableware. The point of the easiness to have and store are important when you choose rice bowls.

Rich variety! You can enjoy the pattern inside rice bowls

We can say that the designer Masahiro Mori is an authority of modern design. When the forms of flat rice bowls were decided, Mr. Mori paid his attention to "how can I finish this to a novel and bright design?"
When the Japanese bowls were released, he announced 144 patterns of Japanese rice bowls!
Large and flat form makes it possible to enjoy the great designs of rice bowls.

From the time of its release, the Japanese rice bowls got explosive popularities for their novel design. In fact, 2600 rice bowls were sold within 3 weeks.

Now, the Japanese bowls have 100 types of patterns. For a while, the Japanese rice bowls had 300 patterns!
In this store, we selected some among the 100 patterns.

Japanese bowls can be used for various foods!

From the view point of usability, this point is the most different from usual rice bowls. The Japanese bowls of Hakusan Toki fit various foods in addition to rice. The rice bowls can make various foods stand out.
This large and flat form of Japanese bowl makes it possible. In addition to use as a stylish rice bowl, you can put dishes or dessert on the Japanese bowl.

Large and flat form is easy to wash

You can feel this usability when you wash them. Since the Japanese rice bowls of Hakusan Toki is large and flat, you can wash the inside neatly.
The rice bowls of Hakusan Toki can be used in dishwasher and microwave oven.

Enjoy color coordination

From various patterns, you can enjoy your own color coordination.
Japan Design Store selected the Japanese bowls with "usable, stylish, simple and modern design."

For example, white and navy pair becomes a chic coordinate. White and blue pair can be Scandinavian style. Please enjoy color coordination with these colorful rice bowls!
White and blue rice bowls can make fresh food presentation like this picture.
Comparing the sizes with flower rice bowls of Azmaya
In this picture, we compare the sizes of flat rice bowl of Hakusan Toki and flower rice bowl of Azmaya.
Flower rice bowl has rounded form. Compared to this, flat rice bowl of Hakusan Toki is more stylish.
When you hold the Japanese rice bowls, flat rice bowl can make your hand look more beautiful.
2 types of texture; mat and glossy
The Japanese rice bowls of Hakusan Toki has 2 types of gloss; mat and glossy.
In our store, mat series get more popularity.
Recommended Japanese rice bowls! Simple and chic mat white
In our store, we introduce 12 types among 100 patterns. Our buyer carefully selected. The standard of choice is 3 points as follows. 12 Japanese rice bowls passed these check points. So, we recommend all items with confidence.
Usable color

We use rice bowls every day. In addition, you can use the Japanese bowls for dishes or dessert. So, we chose usable colors "white" or "navy."
White or navy tableware make food stand out.




Related Products

Coordinated combination

At first, you can start with your favorite pattern. But the usability of rice bowl invites you to buy more bowls.
In consideration of the future demand, we selected the 12 types. In fact, you can make balanced table setting among all 12 rice bowls.
You do not have to worry about coordination when you buy more.

Good for pair rice bowls

Pair rice bowls are popular gifts in Japan.
Therefore, we prepare 6 pairs of rice bowls. Chic, simple, or colorful pair.
You can select the best pair for your dearest person.




Related Products
Pursuit of simple beauty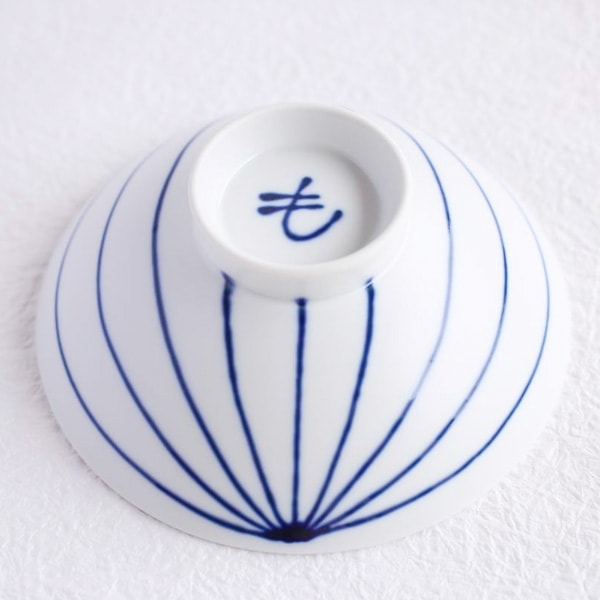 Japanese rice bowls of Hakusan Toki have been popular for gifts!
The Japanese bowls of Hakusan Toki have been popular items for wedding gifts or housewarming gifts.
One rice bowl and pair rice bowls are within exclusive boxes. Also, each item has a message card from the designer Masahiro Mori.
If you buy a Japanese bowl, we will send you the bowl within white exclusive box.
Pair rice bowls will be sent to you within beige exclusive box.
If you would like to choose your original pair, please select your favorite two and an exclusive box.
Related Products
Who is the designer of the Japanese rice bowls Masahiro Mori?
Masahiro Mori was born at Shiota town of saga prefecture in 1927. He learned design in the Faculty of product design at Tama Art University. After his graduation, he got the position at the design section of Hakusan Toki.
The Scandinavian leading designer Kaj Franck recognized his talent. Mr. Franck invited Mr. Mori that "let's come to Finland and work together." However, Mr. Mori declined the invitation that "I have a lot of work to do in Japan."
Mr. Mori's policy is as follows. "I feel the happiness of design for designing daily-use tableware, making forms, producing it at factory, and sharing the tableware with many people." Under this policy, he produced many ceramics.
His products won numerous international design awards such as Good Design Awards, Long Life Design Awards, and the Gold prize of Industrial category of International Competition of Ceramic Art in FAENZA of Italy.
110 works of his products won honorable awards.
After retiring from Hakusan Toki, he devoted himself to the education of design. he worked as professor at Aichi University of the Arts, and Kyushu Sangyo University.
He closed his life in November 2005.
Messages from Masahiro Mori
Mr. Mori left countless impressive messages to the design world.
Let us introduce 4 messages which our manager loves.
What is Hakusan Toki, the brand of stylish Japanese rice bowls?
Hakusan Toki is in Hasami town of Nagasaki Prefecture. Hasami town has 400 years' history of Hasami porcelain production.
It was established in 1951. They do integrated production from design to ceramic production. With the good material "Amakusa pottery stone" and inherited skill, Hakusan Toki creates many long-sellers.
Japan Design Store introduces items of "DESIGN MORI CONNEXION" from Hakusan Toki. The items are designed by a designer Masahiro Mori.
The origin of ceramic production for Hakusan Toki and Mr. Mori is followings; "first of all, it is easy to use" and "it will get accustomed to daily life."
Hakusan Toki treasures that their items will be used for a long time by customers. Therefore, their production begins from the imagination of a scene when people use the item.
Not too gorgeous, nor common. New, but nostalgic somehow. Comfortable in use, and never boring. Such a simple and stylish design is the attractive point of Hakusan Toki and DESIGN MORI CONNEXION.
We have some more stylish pair rice bowls!
Japan Design Store offers more great pairs or sets of Japanese rice bowls. Japanese bowls are the best items for wedding gifts or housewarming presents.
Please find your favorite one.
About care of metal marks
Metal mark is black stain on ceramics like a drawing by pencils. It is adhesion of metal components. Friction with ceramics and metal items such as forks, knives, spoons or metal basket may cause metal marks. Particularly, flat rice bowls glazed with mat glaze are easy to get metal marks. Even glossy ceramics can get metal marks by strong friction or using metal items for a long time. Once ceramics get metal marks, we cannot remove it with neutral detergent.
By any chance ceramics get metal marks, put polishing powder on soft sponge and wash with hand. Stubborn metal marks may not be removed.
Caring tips
* Microwave oven and dishwasher safe.
* All the products are handmade by traditional craftsmen. Please enjoy different individualities of each product.
Personalize gift service
For the bulk order more than 20 items, we can personalize your items with the name of your company, school, or with logomarks. If you plan to order corporate gifts or keepsake gifts, please contact us from "Contact us."
* Personalize gift needs service fee. The fee depends on items.
* Personalize service is not available for some products. Please feel free to ask us.