Mini Japanese Clay Pot from Nagatani-en
Collect All Colors! Useful and Cute Mini Japanese Clay Pot
[Nagatanien]Mini Donabe
Our original set
Exclusive gift box
With Japanese description
With English description
Cute and universal! Cook and serve with Japanese clay pot
Mini Japanese clay pot "Petite Donabe" has cute rounded form.
It is very small, palm-size earthenware pot. However, mini Japanese clay pot has been popular for its universal use.
Just cook within mini clay pot and serve it directly to the dinner table. You can make a stylish table setting.
Here, we would like to introduce useful "Petite donabe" from Nagatani-en which is famous for donabe rice cooker Kamado-san.
Stylish Japanese clay pot is useful all the more because it is small!
Earthenware pot is useful especially for Nabe cooking. In cold season, one-pot cooking in a big donabe pot is delicious and easy.
Then, how should we use these small Japanese clay pots? In fact, mini earthenware pot is universal all the most because they are small. We can use Petite donabe regardless of seasons. It is useful and cute. Let's use mini donabe cocotte efficiently and get more benefit than other people.
As soup or miso soup bowl for a person

Small Japanese clay pot can be individual bowls. Petite donabe is good size for dish or soup for a person. Cute and stylish earthenware pots for each person make colorful and happy table setting. Small clay pots entertain your guests as well. Mini Japanese clay pot has lid. So, it keeps dishes warm until we eat the dishes.

For small dishes or steamed food

Mini Japanese clay pot from Nagatani-en can be cooked within microwave, oven and toaster. In addition, we can cook the mini pot over open flame. (When you use the mini earthenware pot over open flame, please put net on stove trivet and keep low flame since donabe pot is small.)

For example, when you would like to eat Chawanmushi, (steamed egg custard dish) just mix up egg, stock soup, and some ingredients in Japanese clay pot, and warm it within microwave for 3~5 minutes. You can cook soup or steamed food by just warming donabe with liquid and ingredients. Of course, small earthenware pot is recommended for cooking gratin and quiche. It is a pleasant point that we can cook and serve the Japanese clay pot directly. We can save washing of cookware or tableware.

As mini cocotte, cast iron cocotte such as from Le Creuset or STAUB have been popular. But if you like cute Japanese mini cocotte, we recommend Petite donabe from Nagatani-en. With one small earthenware pot, we can cook one dish easily. We cannot stop collecting various colors of mini donabe.
Let's make dishes in some mini donabe cocotte to start a stylish home party!

Sweet dessert after meal

It is not only soup, dishes, or snack which you can cook with the mini Japanese clay pot. Petite donabe works for dessert at tea time. Isn't it rare that a pot is suitable for tea time?

For example, you can cook apple confiture with mini earthenware pot easily. Cut apple, put apple slice and sugar into donabe, and warm it in microwave, that's it! When you have a sudden guest, you can prepare dessert easily with petite Japanese clay pot. Also, you can enjoy chocolate fondue with chocolate and fresh cream warmed in the donabe pot. If chocolate get hard, just warm clay pot again in microwave.

This Japanese clay pot can be used in oven. So, you can cook baked pudding or cheese cake and more like you do with mini cocotte. Make favorite tea for sweet dessert cooked by Petite donabe. For tea, just cooked confiture adds happier time. Please enjoy pleasant tea time with mini Japanese clay pot.

For baby food

Mini earthenware pot of Nagatani-en is useful item to make a little amount of one dish. So, mini donabe also works for baby food or small dish for children.
For example, when you would like to cook porridge, using big donabe is a little bit troublesome. Then, small Japanese clay pot helps mother and father. Also, when you would like to cook softer taste dish for children, mini cocotte is very useful.
Nagatani-en looks at life
These cute mini Japanese clay pots are produced by Nagatani-en which is famous for its donabe rice cooker "Kamado-san". Nagatani-en is in Iga city of Mie prefecture. It opened its kiln in 1832. Nagatani-en has inherited the traditional skill of Iga pottery and continue to produce stylish potteries to fit modern lifestyle. Their ideology is "dinner table is a forum of playing." Nagatani-en wishes that a dinner table can be a forum to make happy bond with family members or friends. With this wish, Nagatani-en tells Japanese food culture through Iga pottery.
What is Iga pottery produced by Nagatani-en?
Mini Japanese clay pot from Nagatani-en is made of Iga pottery. The pottery clay of Iga pottery is produced from a stratum called "Kobiwako-sou." Kobiwako-sou includes a lot of corpses of plants or living creatures. When the clay is burned, the corpses are burnt away and the clay become porous. Porous clay of Iga pottery is called "breathing clay."
This breathing clay has high far-infrared effect. So, it is a perfect clay for donabe pot. High thermal-storage clay pot can heat the food from its inside thoroughly. In addition, pottery clay of Iga has water absorbency. The evaporation heat when the water in clay vaporizes keep inside pot cold. Therefore, small earthenware pot is good for juicy cold food.
Let's cook! Happy recipe for Petite donabe
Small Japanese clay pot is with small leaflet. That leaflet introduces some easy recipe (only in Japanese). Since the Petite donabe can be used in oven, microwave, or over open flame, you can cook various foods.
Here, we would like to introduce easy recipe. This is good for lunch box as well.
"Easy! Okra Roll Ups"
<Ingredients>
Thin sliced pork 2 slices (about 60g / about 2.1 oz) *If slice is small, 4 slices
Okra 4 pieces
Salt & Pepper A little
Cheese powder If you like
<Directions>
1.Rub okra with salt and rinse them. Cut off black corners of top of pod. Cut sliced pork into half and roll up okra. Cut it into half again.
2.Soak lid and pot of Petite donabe into water for about 1 minute. Drain water well and put okra roll up. Sprinkle salt and pepper. Put lid and warm donabe pot in microwave (500W) for 2 minutes. Sprinkle cheese powder if you like as finish.
Small earthenware pot can cook small dish easily. So, it is useful for quick cooking for lunch box. Okra roll up is delicious even it is cold. Please try it!
When you prepare dinner and need one more dish, petite Japanese clay pot works.
Cute clay pot as kitchen decor
Kitchen tends to be messy with various items. You may think that "some petite donabe takes room in kitchen." However, the Petite donabe of Nagatani-en is really small.
One donabe pot does not take much room in cupboard. Some donabe pots would be cute kitchen decor. Small colorful clay pots make you happy in your kitchen. Stylish kitchen makes you happier every day. Earthenware pot is not just a cookware, but also a kitchen decor.
Useful Japanese clay pot as gifts
Stylish small clay pot from Nagatani-en is useful cookware and cute tableware. It can be used in oven, microwave and over open flame. Small handle is very cute. We can see the warmth of handmade products from details.
Nagatani-en offers 6 colors of small earthenware pots, White, Green, Yellow, Black, Ame (Brown), and Orange.
Fresh white is good for those who like to complete tableware in white. Green has clear light green color. It makes dishes stand out. Yellow is cream color. You can enjoy the original color of Iga pottery with Yellow pot. Natural color pot suits well with wooden tableware. Glossy black is just like smaller Kamado-san. If you have Kamado-san, how about using Kamado-san and black Petite donabe together? Ame has rustic atmosphere. Bright Orange makes dinner table cheerful.
Also, we offer pair of Japanese clay pot. We have 4 sets, Yellow & Green, White & Black, Ame & Orange, and Ame & Black. Cute pair earthenware pot would be great wedding gifts as well. Useful donabe pots would be also good gifts for cooking lovers or the Mother's Day.
Since mini cocotte is useful for baby food, it is good new baby gifts as well.
Please have a happy dinner time with cute mini Japanese clay pot.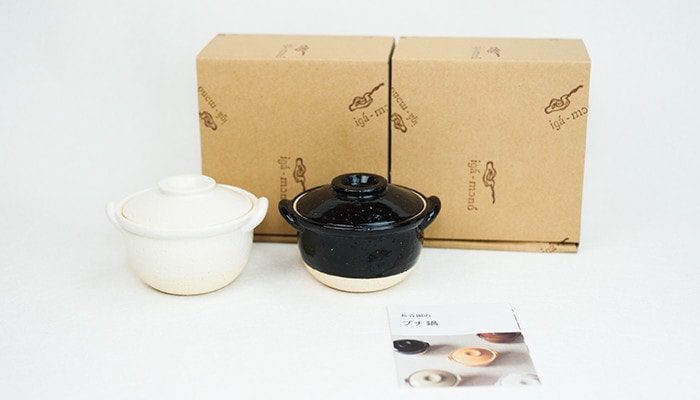 Customer's voice
Miniature of Kamado-san!

I was attracted by its cute figure like a miniature of Kamado-san from Nagatani-en. I am satisfied with my shopping since mini earthenware pots work more than I expected. It is stylish, and useful for easy soup or Chawanmushi.

For baby food

I use this Japanese clay pot for rice porridge for my child, and defrosting food. I like it for its usability and cute appearance.

Changed my image of Donabe!

This earthenware pot can be used in oven, microwave, toaster and over open flame. It changed my image against donabe. I have Yellow and Green pots now to cook dishes for dinner now. I am planning to collect other colors for my family someday.

Cook dishes for bento

I always cook dishes for bento box with Petite donabe. Since it is small, it is easy to clean it after cooking.
Japan Design Store offers more donabe pot
Nagatani-en offers donabe rice cooker "Kamado-san." It is popular since we can cook delicious white rice easily. It took 3 and a half year to research and invent Kamado-san. You do not have to control fire while cooking. You do not have to worry about boiling over. With small earthenware pot, Kamado-san makes your dinner happier.
Also, if you look for stylish donabe pot, we recommend "do-nabe" from ceramic japan. This do-nabe overturns conventional image of donabe pot by its stylish and smart design. Lid and pot are flat so that we can store it neatly. Do-nabe can be used in oven, microwave and over open flame. You can enjoy cooking with Japanese clay pot more.
Caring tips
* All the products are handmade by traditional craftsmen. Please enjoy different individualities of each product.
Personalize gift service
For the bulk order more than 20 items, we can personalize your items with the name of your company, school, or with logomarks. If you plan to order corporate gifts or keepsake gifts, please contact us from "Contact us."
* Personalize gift needs service fee. The fee depends on items.
* Personalize service is not available for some products. Please feel free to ask us.