Cute Glass Plate Droplet from Sghr, Sugahara
[Sghr]droplet
Our original set
Exclusive gift box
With Japanese description
With English description
Sparkling Drops of Cute Glass Plate Droplet
Droplet has cute glass polka dots.
Drops of glass shine with light like droplet.
For café time at home, girls' party, home party.
Cute glass plates color dinner table brightly.
Have a sparkling time with droplet.
Beautiful glass plate with shining drops
"Want to put macarons on it!"
"It must be perfect with hors d'oeuvre."
Just a one look catches girls' heart.
Droplet is a magical glass plate that whatever we put on it, it becomes photogenic.
Droplet is a cute glass plate from Sghr (Sugahara).
Big and small polka dots shine under the light as drops of light.
Cakes, appetizer, or pasta, any kind of food is good with this shining plate.
Usual coffee time at home becomes a little bit gorgeous. When you invite your female friend, or have a home party, cute glass plates work.
Please have a wonderful time with droplet.
Beautiful glassware set makes everyone smile when they see it. So, it is a good gift.
Expressive shine of handmade glass plate
Glass plates droplet of Sghr are all handmade by glass craftsmen. Carefully finished plates have warmth of handmade products.
Drops of glass are stands of plate. The surface of the plate is smoothly flat. Big and small polka dots are in uniformed thick. So, the glass plate is stable. Glass craftsmen of Sghr catch the most beautiful moment of scorching glass and make it to a work. Therefore, this cute glass plate has beautiful gloss of glass.
Since it is a handmade glass, each droplet plate shows us different beauty. Drops like droplet are all different. A glass plate produced by glass craftsmen of Sugahara will shine your days.
3 sizes of glass plate
Japan Design Store offers 3 sizes of droplet from Sugahara. We have 15cm (about 5.9 inches), 18cm (about 7 inches), and 24cm (about 9.4 inches) plates in diameter.
15cm plate is good with Japanese confectioneries, choux cream, or small cake. It is also good as a base plate for small bowl with some dishes.
18cm plate is suitable size for 3 pieces of cakes or confectioneries, or small hors d'oeuvre. This size is useful for glass decor as well.
24cm plate is perfect for sashimi, big hors d'oeuvre, or pasta. Big glass plate can make dinner table gorgeous.
In addition, it is good as an accessory tray with accessories or perfume.
Pile some plates! Our original set
Glass plates droplet are beautiful colors. A glass plate is beautiful enough, but with piling or using some plates together, each glass makes the other stand out.
Japan Design Store makes some sets with some colors. you can enjoy piling or using them together. Our buyer and a staff who loves cute items held a long meeting and make these sets.
You can make a stylish table setting easily with our original set. Please use cute glass plates for any purposes like coffee break or elegant Christmas dinner. Japanese auspicious color "Red & White" set would be great wedding gifts as well.
Related Products
Cute accessory tray set
Glass plate droplet from Sugahara is recommended for accessory tray as well. Shining drops make your important jewelries look more beautiful. Japan Design Store makes sets of droplet plate and glass ring holder.
Curvy glass ring holder has atmosphere of an artwork. Accessory tray set is recommended for just married couple as a place for their marriage rings.
Related Products
Send droplet of Sghr as gifts? Leave it to Japan Design Store
Cute glass plate droplet of Sugahara is good reward for yourself, and great gifts for your important people. Carefully produced glass plates can tell "Thank you" or "Congratulations." Beautiful glassware would be wonderful wedding gifts, birthday gifts, or housewarming gifts.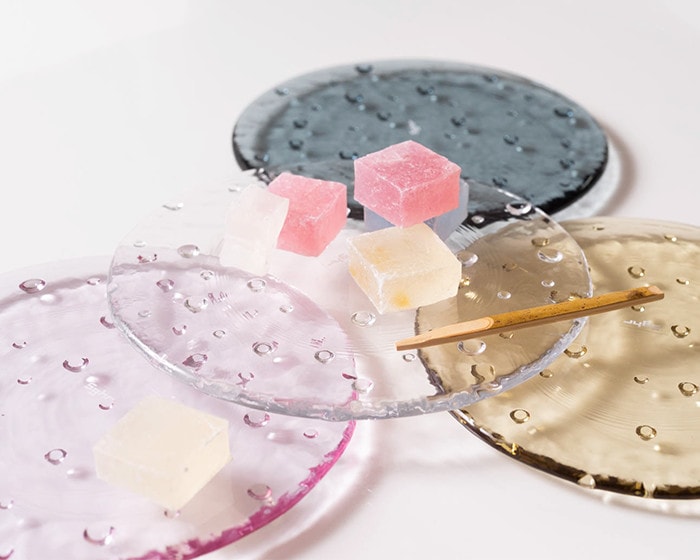 If you send droplet as gifts, please leave it to Japan Design Store. We offer various gift wrappings such as Easy wrapping with Tosa Japanese paper or Japanese traditional Noshi wrapping. Ume Mizuhiki option has been popular, too. Our gift staff carefully wrap your gift and ship it.
For your long use at ease
All glass plates droplet from Sghr are handmade by glass craftsmen. It may occur that slight difference in color or size of each glass. Also, since the glass is made of natural sand, we can see some small air bubbles or lines in glasses. Please enjoy only one feature of handmade glass.


Left: Color difference (Violet) / Right: Size difference (15cm)
Cautions
Glass plate droplet of Sugahara is not a heat-resistant glass. However, you can pour hot water in pot (not just boiled, about 80℃~90℃, or 176℉~194℉) into glass in normal room temperature.
Rapid change of temperature may cause break of glasses. Please avoid heating glass over open flame, in oven or microwave. Please avoid putting hot.
Caring tips
・Before use, wash glass with neutral detergent. After use, do same cleaning.
・When the glass get damage, it becomes easy to break. Please be careful not to hit with other hard tableware or glasses.
・Please do not use cleanser, sponge with polishing material, or scouring crush. It may cause break or deteriorate the strength.
Personalize gift service
For the bulk order more than 20 items, we can personalize your items with the name of your company, school, or with logomarks. If you plan to order corporate gifts or keepsake gifts, please contact us from "Contact us."
* Personalize gift needs service fee. The fee depends on items.
* Personalize service is not available for some products. Please feel free to ask us.