Unique Glass Ring Holder from Sghr, Sugahara
[Sghr]Glass Ring Holder
Our original set
Exclusive gift box
With Japanese description
With English description
Beautiful Glass Ring Holder for Every Day
Glass ring holder from Sghr (Sugahara) has beautiful curvy design.
Ring holder like an art work makes us happy every time we see it.
When you take bath, put make up on, cook, wash dishes,
The ring holder keeps your important rings.
Good wedding gifts as marriage ring holder as well.
Fixed place where you entrust your rings
Glass ring holder from Sugahara is a masterpiece with beautiful curvy line.
The unique form like an art work is produced by making use of the feature of glass.
On vanity set, lavatory, bed side, or kitchen counter, you may take your rings. Ring holder is useful then. You do not have to worry about lost.
Stylish glass ring holder from Sghr has gentle design to fit your life. Also, please enjoy its design as a glass decor.
This glass ring holder can be used for the holder for pair rings. So, it is recommended for wedding gifts or gifts for a couple. Beautiful and cute glass ring holder calmly watch over a life of two.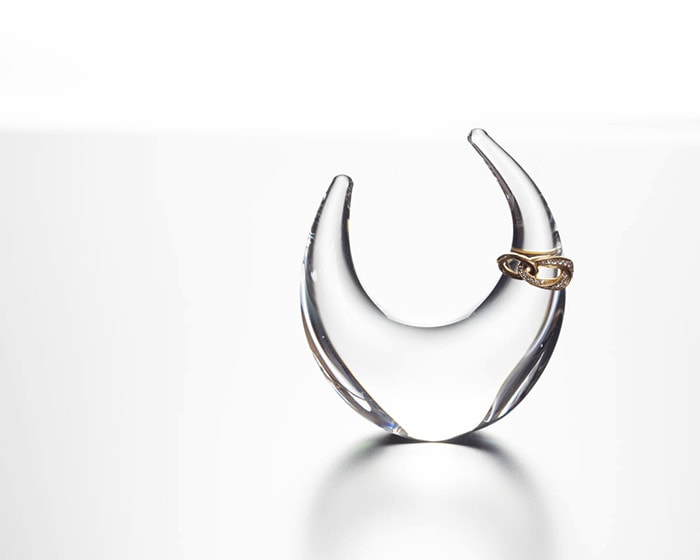 Japan Design Store recommends! Accessory tray set
Japan Design Store prepares stylish accessory tray sets with glass ring holder and glass plate from Sugahara. Place your rings in ring holder, and neckless or pierce earrings on glass plate. It becomes a beautiful art. It is also good that display there with seasonal accessories. Of course, glass plate can be used as tableware.
Accessory tray set with droplet

This is a set with droplet and glass ring holder from Sghr. Droplet is a flat glass plate with cute polka dots. Drops of glass shines with light like droplet.




Related Products





Accessory tray set with grid plate

This is a set with grid plate and glass ring holder from Sugahara. Grind plate is a glass plate with shining grid patterns. Your accessories shine on glittering glass plate.




Related Products




Glass ring holder for your life time
Glass ring holder of Sghr is recommended as a life-time ring holder.
Housework, job, bath, childcare. Some women may take their rings when they put makeup on. "Want to keep my important rings from dirt or water." If you think so, glass ring holder is recommended. You can wash the holder. And glass holder does not rot if you put it in humid place.
The more you use it, the more you love this glass ring holder. Life-time usable ring holder keeps your memory of proposal of marriage. Or, glass ring holder can be beautiful ring pillow for marriage rings in wedding ceremony.
Glass ring holder from Sghr for wedding gifts
Great wedding gifts are high-quality items that can be naturally used every day.
As a stylish wedding gifts, many people select this glass ring holder from Sugahara. Glass ring holder like a crescent moon suits modern interior or natural interior. Wedding gift is a gift with wish of eternal happiness of important people. So, glass ring holder is a suitable item for wedding gifts.
Send glass ring holder as gifts? Leave it to Japan Design Store
If you would like to send glass ring holder from Sghr as gifts, please leave it to Japan design Store. We offer Japanese traditional Noshi wrapping which is indispensable for wedding gifts or housewarming gifts in Japan. You can make a message card for FREE. Let's send a special gift with warm message. Our Easy wrapping with Tosa Japanese paper has been popular for its elegant design.
For your long use at ease
All glass ring holders from Sghr are handmade by glass craftsmen. It may occur that slight difference in capacity or size of each glass. Also, since the glass is made of natural sand, we can see some small air bubbles or lines in glasses. Please enjoy only one feature of handmade glass.
Cautions
* Glass ring holder of Sugahara is not a heat-resistant glass.
* Rapid change of temperature may cause break of glasses. Please avoid putting hot glass ring stand on cold place or wet place.
* If you fall thick glass ring holder, it may break and cause injury. Please do not put it on unstable place.
Caring tips
・When the glass get damage, it becomes easy to break. Please be careful not to hit with other hard tableware or glasses.
Personalize gift service
For the bulk order more than 20 items, we can personalize your items with the name of your company, school, or with logomarks. If you plan to order corporate gifts or keepsake gifts, please contact us from "Contact us."
* Personalize gift needs service fee. The fee depends on items.
* Personalize service is not available for some products. Please feel free to ask us.