Sake serving set, Nousaku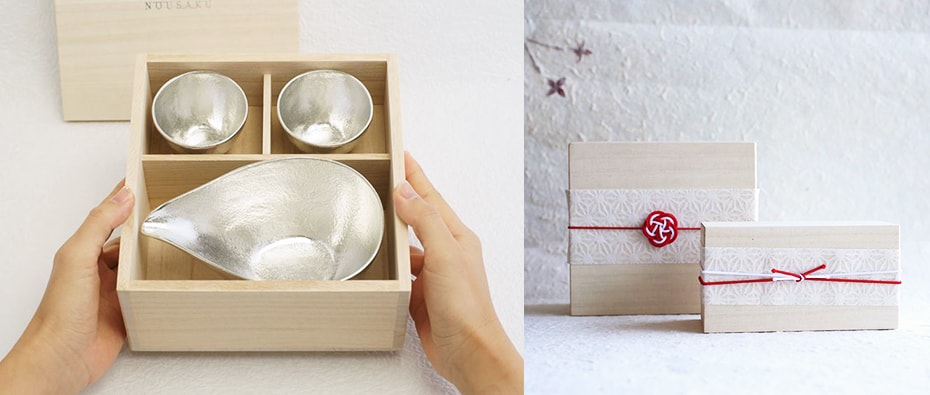 Nousaku sake serving set for finest gift
[Nousaku]Premium sake sets
Our original set
Exclusive gift box
With Japanese description
With English description
Elegant sake serving set as finest gift
The beer cup, tumbler, katakuchi and guinomi of Nousaku have been popular as gifts to the dearest person of our customers.
At the time of its release, we only offered the sake serving set within gray exclusive box.
To meet the demand of some customers, Japan Design Store decides to prepare more elegant and traditional set. These are the sake serving sets within paulownia boxes.
For example, we offer "Sake serving set" with katakuchi and guinomi sake cups, "Pair beer cups," and "Pair NAJIMI tumbler." As presents to sake lovers, couples, or boss, they are strongly recommended.
When you or your dearest person have celebrating event, we recommend the combination of gold and silver color. In Japan, the pair of gold and silver is auspicious. For birthday, wedding, or anniversary, the sake serving sets are the best!
* We cannot offer putting name service for all products. We appreciate your kind understanding.
For your happy times such as birthday, wedding, or anniversary, please enjoy finest time with elegant sake serving set.
Able to offer original set
We also offer the exclusive boxes or paulownia boxes for sake serving set. You can make your original set with favorite colors or sizes of sake cups.
If you would like to make your original set, please choose your favorite katakuchi (×1), sake cups (×2), and exclusive box or paulownia box.
* The size of the box depends on the size of katakuchi. Be careful when you choose.
Sake serving set as gifts? Leave it to Japan Design Store!
We prepare all the products of Nousaku within their exclusive boxes.
The exclusive box has silver shiny logo on the gray box. For more classical gift, we prepare some paulownia box set.
In fact, few online shops offer Nousaku original exclusive box or paulownia box. If you would like to send Nousaku items as gifts, please choose our shop!
Also, all the products of Nousaku have Japanese and English descriptions in the exclusive boxes. You can get it and send it to friends in the world.
Caring tips
* Tin is very soft metal. Therefore, you may bend it with a little power. It is not inferior goods or defects, it is feature. Please enjoy this magical metal.
* Sake sets with gold leaf have changed their specifications a little. Now (July 2018), gold leaf is not gilded on the edge of each sake set. Please note that some products are partly different from the pictures of this page.
* Wash with soft cloth or sponge with ph.-balanced detergent after use.
* Please do not rub with a hard scrubbing brush. Also, the product is soft and vulnerable. Avoid polishing with the cleanser.
* When the gloss has become dull, please polish the products using a commercially-available metal polish, toothpaste or baking soda. The gloss will return with them.
* Please do not apply to the direct flame because of the low melting point.
* Please do not use it in microwave oven.
* Please do not put in the freezer to reduce the risk of tin pest (that tin becomes brittle by the cold).
* Please do not put in the dishwasher and dryer.
* All the products are handmade by traditional craftsmen. Please enjoy different individualities of each product.
Personalize gift service
For the bulk order more than 20 items, we can personalize your items with the name of your company, school, or with logomarks. If you plan to order corporate gifts or keepsake gifts, please contact us from "Contact us."
* Personalize gift needs service fee. The fee depends on items.
* Personalize service is not available for some products. Please feel free to ask us.