Japanese tin beer cup and tumbler, traditional crafts
Enjoy beer with tin tumbler! Nousaku beer cup
[Nousaku]Beer cups / Tumbler
Our original set
Exclusive gift box
With Japanese description
With English description
Cold beer at home!
A cup of beer is a reward for your busy day. For your hard work, hard study, done test, something happy or unhappy. No matter how good or bad day you spend, a cup of beer always welcomes you warmly.
Your pleasant time will be much happier if you use a special glass for your usual beer.
We recommend this beer tumbler and mug made of tin.
Tin tumbler and beer mug of Nousaku
The beer cup and tumbler of Nousaku is made of tin. When you imagine the glass of beer, you may imagine the glasses made of glass. However, we recommend the tin pilsner glass.
The best feature of tin is its high thermal conductivity. When you pour cold drink into tin tumbler, glass, or cup, they turn to cold soon. The spout becomes cold. And then, you can enjoy cold beer. You can drink colder drink if you refrigerate the glass.
This tin beer cup and tumbler is a nice gift for sake lover.
Related Products
Tin is the third expensive metal material
Do you know that tin is the third expensive metal material after gold and silver? The beer cup, glass, and tumbler of Nousaku is made by 100% real tin. You may not familiar with metal tableware. However, tin is harmless for human body. So, you can use this beer tumbler without anxious.
All products are made of valuable material with Nousaku's traditional casting skill of Takaoka city, Toyama prefecture in Japan.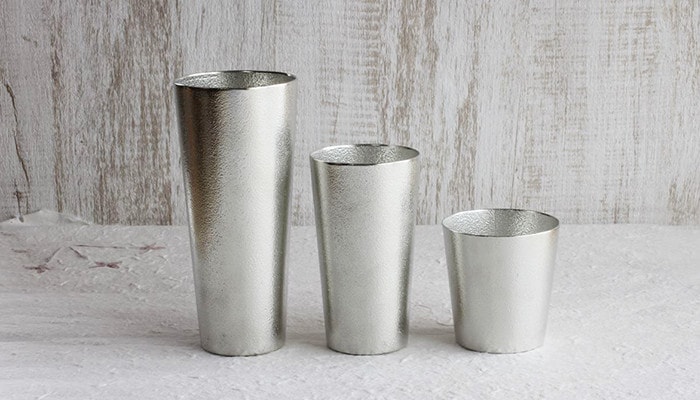 Nousaku, a top brand of Toyama
Nousaku is one of the ateliers making traditional tin or brass crafts. Their atelier is in Takaoka city in Toyama prefecture, Japan. Nousaku produces tin or brass works with new design. Every year Nousaku announced new items. Their items fascinate worldwide people as their traditional work as well as artwork. Nowadays, it is said that you should visit Nousaku when you look for some traditional crafts with modern design.
In 2014, Nousaku opened direct management store in Milano, Italy.
Recommend point of tin tumbler, beer cup, and beer glass
Tin makes beer delicious

Tin has been known that it can purify water. When you pour beer to the tin tumbler, the taste of beer turns to mellow. In addition to this, tin tumbler and pilsner glass have uneven surface inside, the tumbler or glass can make creamier beer foam than the beer glass made of glass.
Please compare with the taste of beer with tin glass and glass-made glass.

Cools quickly, and keep cold

Tin has high thermal conductivity than any other metal material, or glass, or porcelain. Therefore, tin tumbler is good for cold drink like beer or highball, also for hot drink like hot sake.

At first sight, you may not believe that such a thin cup can really keep cold. In fact, thick beer cup cannot keep warm so much. When you pour cold drink into thick beer tumbler, the difference of temperature between cup and drink occurs. When the difference happens, the temperature of the glass wants to be equal to that of the beer. Then, the glass deprives the cold of drink.
Therefore, thin beer glass or tumbler can keep cold longer than thick cup.

100% tin harmless for human body

Tin has high antibacterial function, and hard to cause metal allergy. So people have used tin as some utensils since 1500 B.C.
Tin is harmless to human body and less metal peculiar smell. Thus, tin tableware does not interrupt the taste and aroma of drink.

Easy care

Tin is acid-resistant metal. So you do not have to worry about oxidation into black like silver. You can handle tin tableware just like other usual tableware.
How soft tin is?
If you have never touched tin products, you may be surprised of the softness. Tin is soft though it is a metal. Therefore, this beer cup made of 100% tin can be changed its form easily.
Regarding to the softness, tin beer cup is soft even a small child can bend it easily. I am ill-mannered but cannot stop bending the rim of tin beer cup while I drink. Unique texture of bending metal attracts me.
Since tin is such a soft metal, the rim of the tin cup is not always a perfect circle. The rim may be a little bit warped when it is delivered. It is not an inferior goods, but due to the feature of tin. Please bend the tin beer cup to make your favorite form.
(But please be careful of too strong power. If you bend too much, tin beer cups may be cracked or broken.)
Collection of tin beer tumbler, cup, and glass
Nousaku 100% tin beer cup L

This beer cup is characterized as its simple design. Even its name is "beer cup," you can enjoy iced coffee, or any other cold drink with this cup.
Please enjoy cold beer or highball with refrigerated cup.
The size of this beer cup is 380ml. Therefore, it is best size for pouring 350ml canned beer.
You can enjoy cold beer from the first gulp to the end.




Related Products

Nousaku 100% tin beer cup M

The Nousaku beer cup M is 200ml container. A woman can handle this cup with her one hand.
As with the beer cup L, cold beer cup can make your drink colder.
For those who do not drink alcohol, this cup is good for drink tea and water. Two reasons for this. First, M size is best size for a water glass. Second, tin has high purification function. So the tin cup makes the water mellow.




Related Products

Nousaku 100% tin tumbler

This tumbler is 150ml container. As same as tin beer cup M and L, this tumbler has high thermal conductivity. How about drinking Japanese sake or whisky? Or you can put some sauce or food in it. When you serve cold soup like vichyssoise in this tin tumbler, your dinner table will be more special.




Related Products

Nousaku 100% tin NAJIMI tumbler

"NAJIMI" means "fit" in Japanese. This name comes from a dent for putting your thumb on one side. Thus, it is easy to handle while it can contain 350ml.
We prepare the pair set for gift. This set is suitable present for sake lovers.




Related Products
Perfect gifts and souvenirs from Japan
All beer cups and tumblers are sent to you with exclusive gift boxes. The box is a gray box with silver logo of Nousaku.
We also prepare the special gift box made of paulownia wood. Please select this paulownia box for the gift for someone special.
Also, when you visit or want to visit Japan, please choose tin beer cups or tumblers as "omiyage." Omiyage means souvenirs.
Even if you do not drink sake, tin beer cup can make water delicious.
You do not have to visit various places in Japan. Instead, you can get great Japanese souvenirs online!
Caring tips
* Wash with soft cloth or sponge with ph.-balanced detergent after use.
* Please do not rub with a hard scrubbing brush. Also, the product is soft and vulnerable. Avoid polishing with the cleanser.
* When the gloss has become dull, please polish the products using a commercially-available metal polish, toothpaste or baking soda. The gloss will return with them.
* Please do not apply to the direct flame because of the low melting point.
* Please do not use it in microwave oven.
* Please do not put in the freezer to reduce the risk of tin pest (that tin becomes brittle by the cold).
* Please do not put in the dishwasher and dryer.
* All the products are handmade by traditional craftsmen. Please enjoy different perspective of each product.
Personalize gift service
For the bulk order more than 20 items, we can personalize your items with the name of your company, school, or with logomarks. If you plan to order corporate gifts or keepsake gifts, please contact us from "Contact us."
* Personalize gift needs service fee. The fee depends on items.
* Personalize service is not available for some products. Please feel free to ask us.