Blue and white dishes, Bloom series, Plates, Hakusan Toki
Useful blue and white plates of Bloom series
[Hakusan toki]Bloom Plates / Free dish
Our original set
Exclusive gift box
With Japanese description
With English description
Cute blue and white plates of Bloom series for various scenes
The blue and white dishes Bloom series from Hakusan Toki have bright lapis lazuli flowers on white porcelain.
Bloom series is rich in variety. The blue and white dishes have bowls or cup & saucer. First of all, however, we recommend starting with these blue and white plates.
One blue and white plate can make your dinner table lively. Deep blue color makes the dishes look more delicious.
Japan Design Store would like to introduce the sizes and usability of the Bloom series.
What sizes and types does Bloom Plate have?
Blue and white plates of Bloom series have 6 sizes of plates; Plate LL (Dinner plate), Plate L, Plate M, Plate S, Plate SS, and Free dish. In addition to the rich size, Bloom series has 2 patterns; "Wreath" or "Bouquet."
In total, the blue and white plates of Bloom series have 12 plates. Please choose the best one for you.
Each plate has each roll. So, you can collect all sizes, or choose useful sizes for your life scene. For example, use Plate LL (Dinner plate) for main dish, and use some Plate S as individual plates. A cute table setting is complete!
What is "Free dish" of Bloom plates?
Free dish has a little more depth than other plates. So, it is useful for soup or pasta. The diameter of Free dish is almost same as the Plate M.
Hakusan Toki does not categorize Free dish in Plate series. However, we use the Free dish as plate usually. So, our store introduces this useful blue and white dish together with Bloom plate series.
Related Products
The size and use of each plate and Free dish
Here, let us introduce each size and use of blue and white plates.
Plate SS:φ115mm

Plate SS is a little larger than mamezara. Small blue and white plate has enough presence on the table. You can put fruits, nuts, or soy sauce on it.
In addition, you can use it for putting cutleries or ladles.
Some customers use the Plate SS as the saucer for dessert cup of Bloom series.
This size is useful for individual plates.




Related Products

Plate S:φ165mm

Plate S is a utility player. For individual plates, or cake plates, Plate S is very useful size. When you put dessert, that would be very cute!




Related Products

Plate M:φ200mm

Plate M is good size for serving dishes of one person. Also, good size for a piece of cake with some cut fruits.
You can put meat dish with salad in one plate for one person with this Plate M. In addition, Plate M is the best size for a slice of bread. For your breakfast or brunch, this blue and white plate works!




Related Products

Free dish:φ200mm

Free dish has more depth than Plate M. So, for pasta, soup, or salad bowl, you can use this Free dish. Also, you can use it for breakfast with cereal or granola.




Related Products

Plate L:φ235mm

Plate L covers various dishes every day.
For big spaghetti, curry and rice, or one easy café plate with main dish and salad… Plate L of blue and white plate works every day for you.




Related Products

Plate LL (Dinner plate):φ260mm

Plate LL is the biggest size of Bloom plate series. You can put main dish, salad, and rice on one plate. As a main plate of special dinner or home party, big blue and white dish is useful.
When you put some scones or muffins, you can put jam or cream in small bowl on the plate.

When you see Plate LL, you may be surprised at the big size. However, it is indispensable size when you serve big dishes such as roasted beef, roasted chicken, or a cake.




Related Products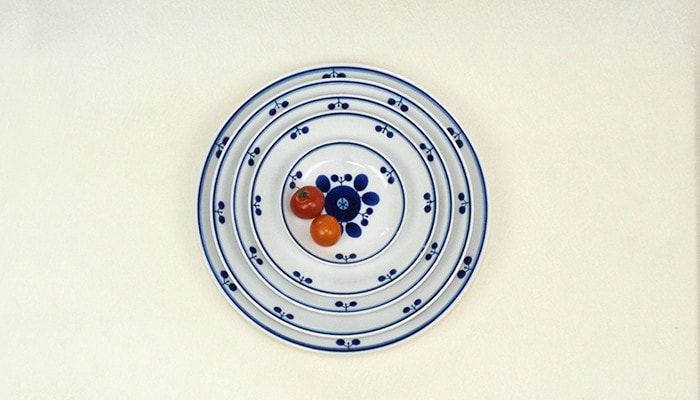 Japan Design Store offers great sets of Bloom plates
Some customers asked us to send the blue and white plates as gifts. Therefore, we make Japan Design Store original set of Bloom plates. The sets are in white kraft boxes. Please use this set as wedding gifts, or birthday gifts. We are happy to be serve of you.
Caring tips
* You can use it in microwave oven or dish washer.
* All the products are handmade by traditional craftsmen. Please enjoy different individualities of each product.
Personalize gift service
For the bulk order more than 20 items, we can personalize your items with the name of your company, school, or with logomarks. If you plan to order corporate gifts or keepsake gifts, please contact us from "Contact us."
* Personalize gift needs service fee. The fee depends on items.
* Personalize service is not available for some products. Please feel free to ask us.