Japanese wooden tea canister Karmi
Special Japanese wooden tea canister Karmi
[GATO MIKIO]KARMI
Our original set
Exclusive gift box
With Japanese description
With English description
Having a slow tea time
Tea time relieves you from a busiest day.
A cup of tea, or coffee makes you relaxed. Do you like green tea, black tea, or coffee?
Boil water, prepare your favorite tea leaves, and ready the tableware.
Pour hot water into the pot, and wait for a while to let tea leaves steam.
Drinking and making tea time is slow and pleasant time.
Also, it is one of the happy time to collect cute tea set or finest tea leaves.
When you get new tea leaves, the leaves should be stored carefully to keep the taste and aroma of leaves.
A special tea canister to keep tea leaves fresh
Tea leaves are delicate food.
Temperature, humidity, oxygen, and light may damage the taste or aroma of tea.
Therefore, it is important to move tea leaves into airtight container once you open the tea leaves.
Glass bottle or Tupperware are not suitable for storage the tea leaves. In fact, tea leaves do not like light. Transparent Bottles or Tupperware allow the light to come through.
This special wooden tea canister "Karmi" can keep the freshness of tea leaves by its surprising air tight effect. This wooden tea container was born from the fusion of the skill of Japanese Yamanaka lacquerware with a designer.
Only skilled craftsmen can make this wooden tea caddy. The body and the lid of tea container can be closed absolutely.
This perfect airtight effect keeps the tealeaves from humidity.
You can store the leaves of green tea, black tea, Chinese tea, herbal tea, or coffee beans.
High airtight effect by the skill of craftsmen
The unique process of Yamanaka lacquerware and the high skill of craftsmen makes the airtight wooden tea canister Karmi.
First, the unique way of cutting lumber. The lumber is taken from the wood in accordance with the direction of the wood grow. In this way, the lumber is hard to transform and strong against impact.
This unique way makes it possible to produce detailed process and airtightness of this tea canister.
Next process is the "rokuro-hiki." Rokuro means the potter's wheel in Japanese. Rokuro-hiki is a skill that craftsmen shave the rolling wood on the potter's wheel. The craftsmen produce detailed work on the surface of the wood.
This excellent skill makes this high airtight tea container.
Beautiful design
You can see the beautiful stripe pattern on the surface of this wooden tea canister. This pattern is called "sensuji." Sensuji is the original skill of Yamanaka lacquerware of Japan.
To be surprised, the accuracy of each line is an error of only 0.08mm.
This beautiful design sensuji is only made by high skilled craftsmen.
The function, and the design as a tea container.
This dignified form looks like a high brand watch.
Karmi is recommended for a reward for you, and present for someone special.
Won numerous award
Exquisite design has won the numerous awards from in and out of Japan.
2010 Good Design Awards of Small and Medium Enterprises
The Good Design Award is sponsored by Japan Institute of Design Promotion. The Award is an only system of comprehensive evaluation and recommendation of design. The award of Small and Medium Enterprises is given to an excellent design among the products of small and medium companies in Japan.
2011 German Design Plus award
Design plus is an international design award organized by Messe Frankfurt Inc. of Germany. This award is given for products which has beautiful design plus function, eco concern, or fun.
2012 German Federal Design Award Silver
This award is an international authoritative award organized by The German Design Council. It is said that this is a most authoritative design award in the awards around the world. Since the criteria of judge is very strict, the award is called "the award in awards."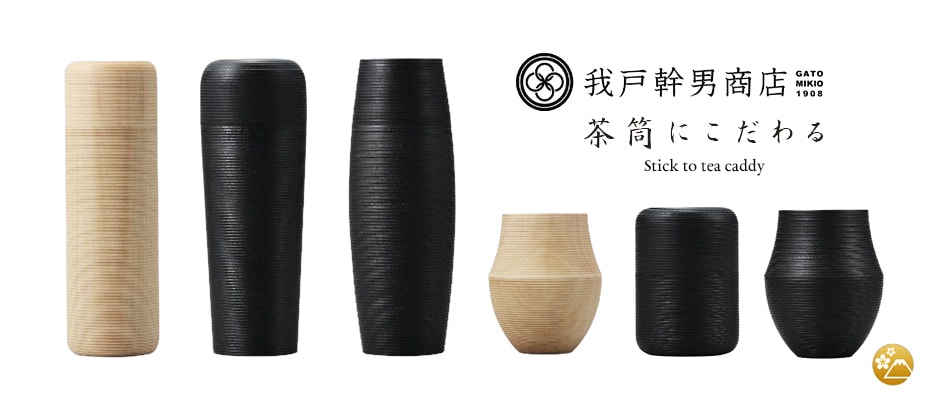 Of course, special wooden tea canisters are great for gifts.
Also, when you visit or want to visit Japan, please choose these wooden tea canisters as "omiyage." Omiyage means souvenirs.
Wooden tableware is very familiar to Japanese people. Please feel the breeze of Japanese forest.
You do not have to visit various places in Japan. Instead, you can get great Japanese souvenirs online!
Caring tips
* Please wash with soft cloth or sponge with ph.-balanced detergent after use.
* Please do not use followings; thinner, benzene, metal or steel brush, polishing powder, or bleach.
* Please avoid storing strong acidic food. Acidic food may cause corrosion.
* All the products are handmade by traditional craftsmen. Please enjoy different perspective of each product.
Personalize gift service
For the bulk order more than 20 items, we can personalize your items with the name of your company, school, or with logomarks. If you plan to order corporate gifts or keepsake gifts, please contact us from "Contact us."
* Personalize gift needs service fee. The fee depends on items.
* Personalize service is not available for some products. Please feel free to ask us.