Thin Wooden Wine Glasses from Gato Mikio
[Gato Mikio]Wine Glasses
Our original set
Exclusive gift box
With Japanese description
With English description
Beautiful Wooden Wine Glasses with Natural Warmth
Wooden wine glasses "TOHKA WINE" have cute rounded form.
These glasses are masterpiece of Gato Mikio Store
which is an old-established studio of Yamanaka lacquerware.
Thin wooden glass as if it is see-through is named "TOHKA."
Warmth and gentle texture of natural Japanese cherry birch
Provides you more relaxing and gorgeous time.
For warm dinner and delicious wine
How about enjoying wine more slowly tonight?
Wooden wine glasses "TOHKA WINE" from Gato Mikio make us forget busy days.
Beautiful thin-turned glass provides luxurious relaxing time.
For warm dinner with candles.
See a movie with some cheese.
Dessert time with hot wine with cinnamon stick.
Wooden drinking glasses are perfect for most relaxing time at home. Whenever your lips touch the wooden wine glasses, you can feel supreme gorgeousness. Once we drink with the wooden wine glass, we cannot leave it anymore.
Wooden wine glasses from Gato Mikio have high class atmosphere. Pair glass set is recommended for wedding gifts or birthday gifts.
Superb form by artisan
Wooden wine glasses from Gato Mikio are surprisingly thin.
They are chic colors but have gorgeous atmosphere with swelled form.
Unique design of the wooden wine glass was born from delicate technique. The name "TOHKA (透華)" consists of "透" which means transparent and "華" which means flower. The wooden drinking glass is as thin as see-through. And the design which makes wooden grain stand out is likened to flower.
Peerless skinny stem is of course made of wood. Flat foot is attractively smooth. Slight lift of rim gently fits our lips. It provides us the taste of wine. Cute rounded Bourgogne glass keep full-bodied smell of wine.
Wooden wine glasses from Gato Mikio are masterpiece that wood turner of Yamanaka lacquerware turn from a lumber one by one. Stylish wooden drinking glass with tradition and sense gives accent in rich life.
Mr. Asano who is the chairman of brand "eN"
Designer Masaharu Asano designed wooden wine glasses "TOHKA" from Gato Mikio. He runs an architectural design office "ASANO GEIJUTSU Inc." under the vision of "We want to enrich the city by creating new value with our architectural design techniques. We'll plant and cultivate the seeds of human activity: shelter, food and clothing." (From their website.) He established product design department and deploy original brand "eN." From architectural design to daily necessities, they design broad field.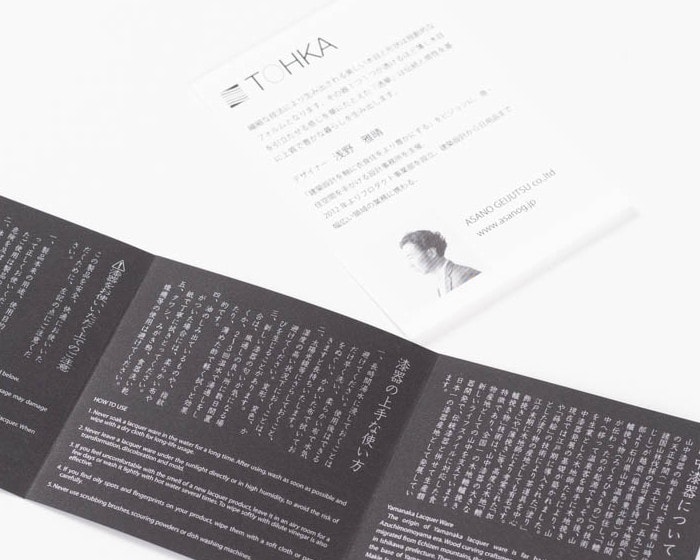 Beautiful wood grain of natural Japanese cherry birch
Wooden wine glasses of Gato Mikio have smooth texture. This wooden drinking glass is made of natural wood Japanese cherry birch. Japanese cherry birch is solid and hard to be broken. It is characterized by delicate wooden grain and can be turned thinly. So, Japanese people have loved this wood as material for bowls or trays.
Special technique of artisan of Gato Mikio makes the wood grain look beautiful. It is called "Tate Kidori" which means that lumber is taken from the wood in accordance with the direction of the wood grow. Since craftsmen process wood without resisting against the direction of wood grow, wood lumber is hard to be warped. Craftsmen can turn the wood thinly with wood turning lathe.
This wood wine glass is made of natural wood but does not have scent of wood hardly. Please enjoy the smell of your favorite wine.
What is Gato Mikio Store?
Gato Mikio Store is established in 1908. It is a studio of Yamanaka lacquerware with long history of more than 100 years. Craftsmen have inherited craftsmanship of the first wood turners and produce Yamanaka lacquerware for modern lifestyle. They show traditional technique of Yamanaka lacquerware today.
The lacquerware is based on Japanese aesthetic sense. It is filled with Japanese artistic sense and produced with expert skills. Lacquerware of Gato Mikio have got great reputation as long-use tableware. In fact, their products won various awards at International Urushi Exhibition or Good Design Award. Not only in Japan, but also international people pay attention to this brand.
Brand logo on the bottom of wooden wine glass
At the bottom of wooden wine glass "TOHKA WINE", there is a logo mark of "彰宣 (Syosen)." Syosen is the original brand of Gato Mikio Store.
Wooden wine glass of Gato Mikio as gifts
Stylish wooden wine glasses form Gato Mikio are recommended for gifts.
As for famous wine glasses, Baccarat or RIEDEL are popular. But if you would like to feel Japanese craftsmanship, we recommend "TOHKA WINE" from Gato Mikio. Masterpiece of Japanese brand has warmth of handcraft. The more you use wooden drinking glass, the more you love it.
Wooden wine glasses are finished in mat with gentle sheen. It is rather hard to slip. "I would like to send stylish wine glass for my wine-lover friend, but I worry about breakage…" Then, we recommend wooden wine glass for you.
Pair wooden glasses would be great wedding gifts or wedding anniversary gifts. Also, it is a good present for Japanese sake lovers.
Send "TOHKA WINE" as gift? Leave it to Japan Design Store
If you send wooden wine glasses "TOHKA WINE" as gift, please leave it to Japan Design Store. We wait for you with suitable stylish gift wrappings.
Elegant Noshi wrapping is especially popular for gifts to Japan lovers since it is written in Japanese kanji. Cute Ume Mizuhiki option has been popular as well.
Our gift staff carefully wrap with thought of "Thank you" or "Congratulations" and send it to your important people.
For your long use at ease
* This product is wooden wine glass handmade by craftsmen one by one. Appearances of wood (color or wood grain) are all different and have individualities. Please enjoy unique appearance of one-of-a-kind item.
* Wooden wine glass "TOHKA WINE" from Gato Mikio is a composed lacquerware with urethane coating.
How to care
* Please avoid soaking glass into water for a long time. For durability, wash as soon as possible, wipe water with soft cloth and dry with another dry cloth after use.
* Please avoid storing under direct sunlight or too humid place. They may cause transform, change of color, or mold.
* If you mind unique smell of new lacquerware, place wooden wine glass in an airy place, dip in lukewarm water several times, or lightly wipe it with thinned vinegar.
* When oil come out, or wine glass get finger prints, carefully wipe with soft cloth or paper.
* Please avoid using scouring brush, polishing powder, dish washer or dish dryer.
Cautions
* Use product in right way following with genuine use or purpose of product. Wrong use may cause breakage of product or danger to your body.
* Painting may cause rash depends on your physical condition. If you feel itchy or anything unusual, please stop using wooden wine glass immediately and see a doctor.
* NOT open flame, microwave, or oven SAFE. It causes fire.
* Stop using if wooden wine glass gets cracks.
Personalize gift service
For the bulk order more than 20 items, we can personalize your items with the name of your company, school, or with logomarks. If you plan to order corporate gifts or keepsake gifts, please contact us from "Contact us."
* Personalize gift needs service fee. The fee depends on items.
* Personalize service is not available for some products. Please feel free to ask us.