Tokkuri, sake set, Shuki daruma, ceramic japan
Cute tokkuri Shuki daruma sake set
[ceramic japan]Shuki daruma
Our original set
Exclusive gift box
With Japanese description
With English description
Simple and cute! Unique tokkuri Shuki daruma
Rounded form snowman! This is a cute tokkuri "Shuki daruma" from ceramic japan. Tokkuri is a kind of sake bottles to enjoy Japanese sake.
Shuki daruma fascinates us with its cute design. This is a cute and stylish tokkuri.
You can enjoy hot sake with cold snowman. In Japan, we have a word "yukimi-zake." Yukimi-sake means drinking sake with seeing beautiful snow.
So, even it is not snow, you can enjoy yukimi-zake with this cute tokkuri Shuki daruma.
Most of tokkuri have traditional chic design. It is true that they have sense of Japan. However, to coordinate with usual tableware you have, cute and modern tokkuri is better, isn't it?
If you would like to enjoy Japanese sake party with your friends or families, Shuki daruma enliven the happy atmosphere more!
Also, when you have a pleasant sake time at the end of a day, cute sake set will relax you.
You cannot get this cute tokkuri at tableware store!
Since Shuki daruma has unique design, you cannot get it at usual tableware shops. Some customers say, "I wanted to know Shuki daruma before I got usual tokkuri and sake set."
Shuki daruma is sold at interior shops, design stores or select shops. It is a sort of artwork.
In addition to great design, Shuki daruma has usability. The sake cups of Shuki daruma can be stacked in the tokkuri neatly.
3 types of Shuki daruma, bisque, glossy, and gold
Shuki daruma has 3 types, bisque, glossy, and gold. Among 3, the most popular item is bisque.
Bisque tokkuri and sake cups are unglazed white porcelain. After baking, craftsmen smooth all porcelain one by one. Only skilled craftsmen can finish uniform surface. You will be surprised when you touch the smooth sake set.
The mat texture of bisque reminds us virgin snow. From the simple and unique texture, bisque is the most popular type among 3. Of course, we recommend glossy type and gold muffler type, too.
In fact, few shops sell glossy and gold Shuki daruma. We understand that bisque Shuki daruma is the most popular item. However, our owner wants to propose some alternatives to the customers.
The maker of this cute tokkuri
Most tokkuri and ochoko (sake cups) are traditional Japanese design. Of course, we love those usual sake set.
But if you look for stylish tokkuri, we recommend this simple and cute tokkuri "Shuki daruma."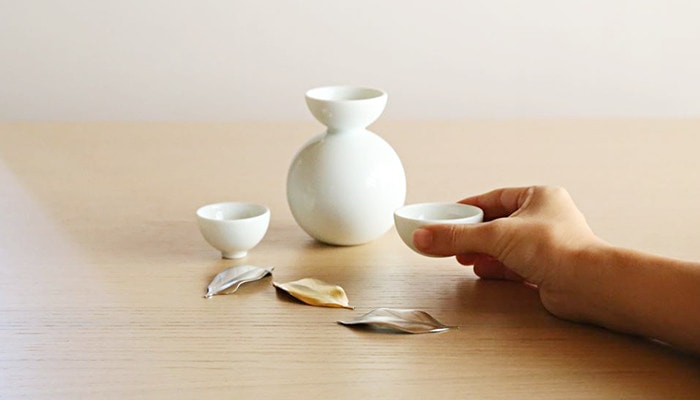 Then, where is the maker of this stylish tokkuri?
It is "ceramic japan," a ceramic brand in Seto city of Aichi prefecture.
Ceramic japan has welcomed up-and-coming designers to the projects of their products. The ceramic brand won many Good Design Awards.
You can see the logo of ceramic japan and the designer at the bottom of tokkuri.
What is "ceramic japan"?
Cute tokkuri sake set Shuki daruma is produced by a ceramic atelier "ceramic japan."
Ceramic japan is a pottery brand in Seto city of Aichi prefecture. It was established in 1973. Seto city is a producing area of Seto ware. Seto ware is one of "Japanese Rokkoyou," or 6 old pottery in Japan. Craftsmen of Korea or China started to produce these old potteries.
Other 5 areas are Shigaraki, Bizen, Tanba, Echizen, and Tokoname.
Now many makers and craftsmen produces porcelain or pottery in Seto city with inherited skill.
Ceramic japan is an epoch-making maker who started "ceramics with design." They thought "the present day, it is not enough to produce Japanese tableware as usual."
Ceramic japan collaborates with talented designers. For example, Michio Akita, Katsuhiko Ogino, Kaichiro Yamada, Ooki Sato from nendo, TONERICO: Inc. and so on. Some products of ceramic japan was designated as the permanent collection of MoMA (The Museum of Modern Art in New York). Now, the products of ceramic japan get high reputations from the world.
Designed by a product designer Kaichiro Yamada
Design office of Kaichiro Yamada: KAICHI DESIGN
Mr. Yamada graduated from the Interior Design course of Musashino Art University in 1997. After his graduation, he worked as an assistant at a laboratory in Musashino Art University. Since 2004, he has been the chairman of KAICHI DESIGN.
He designs interior products which changes discomfort to sympathy. Mr. Yamada won Good Design Award, and Red Dot Design Award of Germany.
By the way, what is "Tokkuri?"
Here, we would like to introduce "tokkuri" in detail. What is tokkuri? What is the origin of its name?
Historically, it is said that tokkuri was born in Edo era, about 200~400 years ago. The custom of drinking sake took root in ordinary citizens. In restaurants, tokkuri becomes popular as a sake bottle for drinking adequate amount of sake. After that, various sake set was born to drink Japanese sake more deliciously.
Now, general "tokkuri" is made of ceramics, metal, or glass. Common size is 180ml~360ml (6~12 fl oz).
This cute tokkuri Shuki daruma can contain 270ml (9 fl oz.) As a tokkuri, Shuki daruma is the medium size.
The origin of the name of tokkuri is interesting. As you can see, tokkuri has a narrow part at the upper part. On the contrary, the bottom part is swelling. Therefore, when you pour sake with tokkuri, it makes good sound. In Japanese, the state of pouring is explained as "tokuri tokuri." This "tokuri" turns to "tokkuri."
Cute and usable tokkuri!
The most feature of Shuki daruma is cute rounded form of snowman. However, this tokkuri is not only cute, but also very usable!
When you would like to make hot sake (atsukan), warm the tokkuri and sake cups of Shuki daruma together in hot water. Then, sake cup works as lid. You can warm sake sooner. During heating, Shuki daruma looks like a snowman is taking a bath. Simultaneously, sake cup become warm. You can enjoy more delicious hot sake.
Moreover, if you would like to drink hot sake as soon as possible, bisque and glossy Shuki daruma can be warmed in microwave oven.
* Gold muffler Shuki daruma is glazed with a special glaze including metal. Please avoid using them in microwave oven.
Also, when you would like to enjoy cold sake, refrigerate sake set before use. You can enjoy colder sake with cold tokkuri and sake cups.
The unique mat texture of Shuki daruma fits in winter and summer. In winter, the tokkuri makes us feel warmth. In summer, it makes us feel cold. You can enjoy using Shuki daruma the whole year.
A special tokkuri Shuki daruma is simple, but has great presence. Your usual dinner will be more happy and stylish with this Shuki daruma.
Which do you prefer mat or glossy?
Shuki daruma of ceramic japan has 3 types, bisque, glossy and gold muffler. If we classify them by texture, we have 2 types, mat or glossy.
All types have certain weight. You can feel the high quality of white porcelain when you touch them. The inside of the 3 types are all glossy.
In our store, most popular item is mat bisque.
Simple mat white Shuki daruma has pure atmosphere of snowman. Mat texture fits TY Palace plate of 1616/arita japan well.
With your favorite sake and sake set, your dinner time turns to be more special one!
Of course, some people prefer glossy tokkuri. If the other tableware is glossy, glossy Shuki daruma fits better. You can make more unified table setting.
As a gift, gold muffler is the most popular among 3. The reason is its gorgeous color. Tokkuri has cute gold muffler. The inside of the sake cups of gold Shuki daruma is shiny gold.
When you look for unique gift, gold Shuki daruma is the best!
Related Products
Any other use than sake bottle?
This cute tokkuri can be used more than a sake bottle. Usual traditional tokkuri is hard to use in other ways. However, stylish Shuki daruma has various use ways.
For example, you can put sauce for eating noodles. In addition, you can put syrup or sauce in the bottle. Please note that it is difficult to wash the inside of tokkuri with sponge. It is better to avoid putting oily or sticky sauce.
Or, you can arrange some herbs such as parsley or basil.
Cute sake set Shuki daruma is great item for gifts
Few people buy stylish tokkuri by themselves. Therefore, Shuki daruma can be a great gift for who like Japanese sake and cute design items.
Shuki daruma is a sake set of 1 tokkuri and 2 sake cups. So, it is suitable for wedding gifts.
In addition, the box of Shuki daruma is very cute! Cute tokkuri Shuki daruma can make you and your important person happy.
Japan Design Store original stylish sets
If you would like cute tokkuri "Shuki daruma" as gifts, we recommend Japan Design Store original sets. For sake lovers, we make a set with Shuki daruma and Sake catalogue. (Sake catalogue service is only available in Japan.)
Related Products
Also, we make sets with "Shuki daruma" and Dish cloth from WDH. We will wrap cute tokkuri with colorful Dish Cloth.
All sets are thoughtfully selected by our buyer. Please choose our recommended sets.
Related Products
Image of Japan Design store original gift box
Some gift sets are within our original gift boxes.
Our original gift box has gentle ivory color like Japanese paper. A gold logo mark is on the box as an accent.
Related Products
Caring tips
* Bisque and glossy Shuki daruma can be used in microwave oven and dish washer. Gold muffler Shuki daruma cannot be used in microwave oven.
* All the products are handmade by traditional craftsmen. Please enjoy different individualities of each product.
Personalize gift service
For the bulk order more than 20 items, we can personalize your items with the name of your company, school, or with logomarks. If you plan to order corporate gifts or keepsake gifts, please contact us from "Contact us."
* Personalize gift needs service fee. The fee depends on items.
* Personalize service is not available for some products. Please feel free to ask us.