Japanese Beautifully Clear Wine Glasses from Wired Beans
Glossy Clear Wine Glass Keeps Full-bodies Aroma and Taste
[Wired Beans]Wine Glasses
Our original set
Exclusive gift box
With Japanese description
With English description
Pursue form in millimeters! Eternal Wine Glass
At the first sight, we are involved in the noble form.
Aroma of wine in glass.
When we hold one mouthful wine, the aroma emits in more mellow.
These clear wine glasses are "Eternal Wine Glass" from Wired Beans. Wired Beans pursue the drinking touch of stem glasses. These wineglasses are just made for wine lovers.
The clear wine glasses from Wired Beans have stylish design great usability, and more!
In fact, these wine glasses are with Lifetime compensation (only valid in Japan).
"Want customers to use stem glasses for a long time."
"Wish handwork of craftsmen provides richer life of owners."
Lifetime compensation of "Eternal Glass" series started from these wishes. Wired Beans is the first Japanese brand who add "lifetime compensation" to glassware.
Clear wine glasses from Wired Beans can be used for one's lifetime. So, this stem glasses have been popular wedding gifts or wedding anniversary gifts to wish everlasting happiness.
Original design for young wine
Unique rim for wine glasses.
"Lift" of rim of the stem glasses is not only a stylish design.
When people drink, we reflectively guess timing of starting breath adjusting to the changing degrees of rim to lips. The "lift" of the clear wine glasses is designed to move up the timing slightly.
So, the "lift" is to enjoy aroma of wine. The lift makes us to hold more air into wine and feel richer aroma.
3 gentle points to tell attractiveness of wine
Clear wine glasses from Wired Beans are joint developed by honorary sommelier Shin Kibayashi and his sister Yuko Kibayashi. Shin Kibayashi had position of a member of a selection committee of Japanese wine at Ise Shima Summit in 2016. He is also a writer. Yuko Kibayashi is a nonfiction writer.
Design of stem glasses are filled with pursuit of developers. It is not only for wine lovers, but also for wine beginners. The developers elaborated so that even wine beginners can enjoy wine lightheartedly.
3 gentle points for us in clear wine glasses of Wired Beans
Easy to use

Clear wine glasses of Eternal Wine glass series have superb height that is easy to store in generally used cupboard in Japan. Also, designer designed the height that does not obstruct our eye level at Japanese dinner table. Easy to hold, but hard to be broken. Craftsmen express superb thickness and beauty of glass for the stem glass.

Easy to understand

When you look stem, you can find logo mark of Wired Beans. This logo mark tells us the place to hold for users. Beginners of wine glasses can hold stem glass beautifully.

4 piled squares express "User" + "Wired Beans" + "Craftsmen (Tajima Glass)" + "Designer (GK Industrial)." Wired Beans make wish upon this logo that keeping good relationship of the 4 and treasure culture of using items for long time.
Clear wine glass of Eternal Wine glass series links person to person with lifetime compensation.

Easy to drink

Craftsmen finally reached to superb forms of stem glasses of Eternal Wine glass series. They repeat tasting wine with each glass for each kind of wine. These forms embody the presence of wine today and approach to young wine.
Clear wine glasses of Eternal Wine glass were born with consideration for lifestyle of Japanese people.
If you have hesitated to purchase stem glasses because you worry about the care of it, now is the chance to get wine glasses!
Also, if you think "I love wine, so I would like to purchase high-class wine glasses someday", how about starting it with these clear wine glasses?
Japan Design Store original! Comparison taste set
We made Japan Design Store original set of wine glasses.
Pair Eternal Glasses / Wine glass / Bordeaux k

If you look for pair high-class wine glasses, we recommend you this set. Pair wine glasses of Bordeaux k. This set is great gift for red wine lovers. The name "Eternal glass" is suitable for wedding gifts or wedding anniversary gifts as well.




[Set of 3] Eternal Glasses / Wine glass

This set includes 3 different types of wine glasses. It attracts clear wine glass collectors. Just looking these glasses make us relax. It is said that wine changes its taste by the form of glasses. Champagne, Bordeaux, and Bourgogne. If you would like to change glasses depends on the production area of wine, this set is best for you.



With lifetime compensation! Long-usable clear wine glasses
Wired Beans realized "Authentic item" with which we would like to spend life by handmade of Japanese craftsmen. It is to "link craftsmen and users."
By any chance you break your important stem glasses from Wired Beans, Wired Beans exchanged broken glass to new wine glass! (Please note that lifetime compensation service is only valid in Japan.) Surprisingly, this compensation is valid for owners' lifetime. If you have hesitated to send fragile glasses as wedding gifts or housewarming gifts, this system helps you a lot.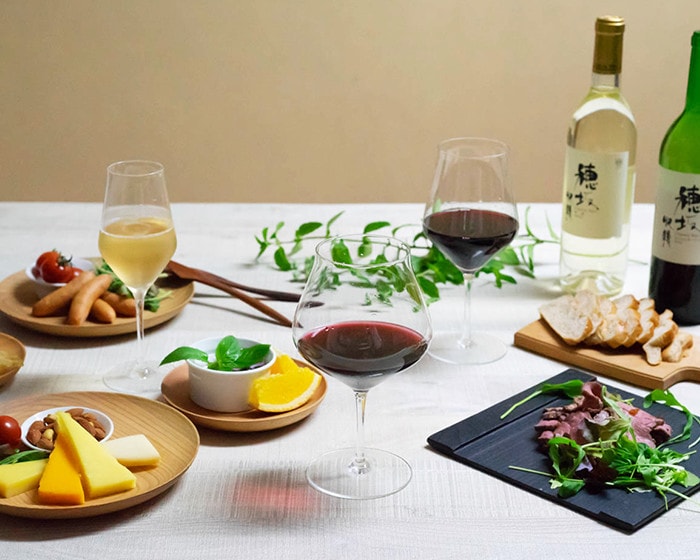 What should we do if the glass is broken?
When the stem glasses of Eternal Wine glass series are broken, please put pieces of broken glass and compensation paper (in Japanese, 補償書) in the wooden box and send the box to Wired Beans. Wired Beans will send a new one. (* This service is only valid in Japan.)
Broken pieces of your glass will be recycled to new products.
* For exchange, you need 3 items "Pieces of broken glass", "Exclusive box" and "Compensation paper."All 3 items are attached when you purchase. Please keep them carefully.
For more details about compensation, please see "About the compensation system of Eternal Wine glass."
Worldwide recognized Japanese design
Eternal Glass series are started to be sold in North America and European countries as "Eternal Glass for your lifetime" since 2013.
In 2014, the glass won Red Dot Design Award in Germany. Also, the glass won Bronze award in International Design Excellence Awards (IDEA) in U.S.A.
Furthermore, the glass won Special award in German Design Award in 2016. This award is an award for selecting most excellent design from the products which won international design awards. Therefore, nomination for the award itself is honor.
Since 2012, Wired Beans have exhibited their products in exhibitions in Paris, Frankfurt, New York, or Chicago. An article of the glass was published in New York Times. Design of Eternal Glass series have won great reputations all over the world.
In Japan, Eternal Glass series won Good Design Award in 2010, 2012, 2013 and 2017. The clear wine glasses of Eternal Glass series won Good Design Award in 2017.
Beautiful clarity with transparent glass
Stem glasses from Wired Beans have beautiful clarity that makes us see the color of wine well. "Transparent glass" makes this clarity.
Transparent glass is a glass material that has similar refractive index and transparency of crystal glass. It consists of some metals such as barium or lithium. It does not include lead which is often included in the crystal glass. So, it is a next generation material that is gentle for people and environment.
3 types of Eternal Wine glass series
Wired Beans offers 3 types of clear wine glasses in Eternal Wine glass series. Which is your favorite stem glass?
Eternal Glass / Wine glass / Champagne k

Clear wine glass "Champagne k" of Eternal Wine glass series has swelled design compared to general flute glass. This stem glass also has lift on its rim. These designs are to make people feel original aroma of grape.
In addition, there is a special work to make rising bubbles more.

Flute glass

Flute glass is a champagne glass with long and narrow shape. Many people remember this type of glass when they hear "champagne glass." By narrow and long shaped glass, champagne touches air in small area so we can enjoy original taste and aroma, and bubbles for longer time. Swelled flute glasses like this "Champagne k" have been especially loved by champagne lovers since people can enjoy aroma well.




Eternal Glass / Wine glass / Bordeaux k

Clear wine glass "Bordeaux k" of Eternal Wine glass series is designed with well consideration of its balance. Designer pursues in details to make most appropriate proportion when stem is shortened. Rim has original "lift" so that aroma and taste bloom in mouth by taking air with wine when drink.




Eternal Glass / Wine glass / Bourgogne k

Clear wine glass "Bourgogne k" of Eternal Wine glass series is designed from scratch to make best proportion within the size which is storable in general cupboard in Japan. In addition, designers regulate bowl size by millimeter. With "lift" on rim, you can enjoy well drinking touch and original aroma of Bourgogne. Foot is stable size with the consideration of whole design.



Trivia about Kinds of wine
・

Champagne


"Champagne" is a sparkling wine that is brewed in accordance with the rule of "champagne" in Champagne area where is the northernmost producing area of France. As for high-class champagne, "Dom Perignon" and "Moet & Chandon" are famous.
・

Bordeaux


"Bordeaux" is wine that is brewed in Bordeaux where is southwest of France. It is characterized by distinct attack (initial impression) and strong astringency. By aging, astringent taste become mellow or aroma become more gorgeous.
Method of brewing Bordeaux wine is characterized by blend of several kinds of grapes. Basically, main grapes are Cabernet Sauvignon and Merlot. The responsible brewer decides kinds of grapes, extent of blend, and proportion. Wine bottle with square shoulders is characteristic of Bordeaux wine.
・

Bourgogne


Bourgogne is well known producing area of wine where is in southeast area of Paris. Before the French Revolution in 18th century, most wine was produced in abbeys. Romanee Conti which is famous for the most expensive wine in the world is also one of the Bourgogne wine.
Unlike Bordeaux, Bourgogne wine is brewed from one kind of grape. Basically, Chardonnay grape is used for white wine and Pinot Noir for red wine.
Wine bottle of Bourgogne has rounded shape with sloping shoulders.
What is GK Industrial Design?
Clear wine glasses are designed by a long-established industrial design office "GK Industrial Design." It was established in 1952.
Even you do not know the name of GK Industrial Design, their products are so famous that most Japanese people have seen one of them at once.
For example, logo of Cosmo energy holdings, the soy sauce cruet of Kikkoman, package of Bufferin (medicine for headache), train of JR-EAST, Akita Shinkansen "Komachi", Yurikamome 7300, Shell flat seat of JAL, etc. Designed products by GK Industrial are well permeated in our life.
Their ideology is "fusion of technique and art." Their design differs from utensils in life to trains and won various design awards.
While trying to have design firmly taking root in industrial society, they propose systems enlivening the relationship between humans and things, or lives and industries.
Beautiful stem by craftsmen of Tajima Glass
Clear wine glasses of Eternal Glass series are filled with pursuit of developers, designers, and Wired Beans. Tajima Glass expressed that pursuit perfectly into a stem glass.
When you use the wine glass, please see beautiful stem as well. This stem is thin and long, produced by special skill "Hiki Ashi" which means draw leg from glass. Craftsmen draw glass from the bottom of bowl. Therefore, the joint of bowl and stem become very smooth. Also, stem glass become hard to be broken.
Only skilled craftsmen of Tajima Glass can produce beautiful "Hiki Ashi" stem of clear wine glasses. Handwork of craftsmen establish the beautiful design and strength of the wine glasses.
Tajima Glass is a glass studio of Edo Glass established in 1956. There are some craftsmen who are designated as "Traditional craftsmen in Tokyo." They produce masterpiece that is only produced by handwork such as stem glass, ice cracked glass, color coated glass, or handmade glass sheet.
Clear wine glasses of Wired Beans are carefully produced by skilled craftsmen one by one. All product is one-of-a-kind item. Please enjoy special time with only one stem glass in the world.
* This movie makes sound.
Send gift of clear wine glass through Japan Design Store
Stem glasses of Eternal Glass series are recommended for gifts for your important people. Japanese high -quality wine glass would be good souvenir for your friends in other countries. (* Lifetime compensation service is only valid in Japan.)
Clear wine glasses of Wired Beans are within elegant wooden box made of cedar tree. Good smell of wood makes the gift more special.
Japan Design Store offers various gift wrappings suitable for wedding gifts, new baby gifts, or housewarming gifts. You can also choose Japanese traditional Noshi wrapping.
Popular combination with sake catalogue and wine glass
If you would like to send clear wine glasses of Eternal Glass series, how about sending glass with special wine? Sake catalogue gift is popular item for all alcohol lovers. (Catalogue gift service is only available in Japan.)
Sake catalogue is a magazine with various alcohol drink all over the world. Wine, Japanese sake, shochu, brandy, beer, whisky, and liquor.
"I would like to send happiness of choosing alcohol for my dearest alcohol lover." Sake catalogue can tell your warmest thought.
[About the compensation system of Eternal Wine glass]

Rules of compensation


If you break your important glassware, Wired Beans will exchange it into new glass. The first time is for free. For the second time and after, customers need to pay the commission. Payment should be done by cash on delivery.
Wired Beans cannot compensate in the following situations.
* The broken glassware cannot be identified. (Please send large broken pieces.)
* If customer lost compensation card or wooden box. (Please keep the wooden box.)
* Without the name and address of customers, and date of purchase in the compensation card. Or, if customer alter the contents of card.

About compensation card


Compensation cards are in the all the items of Wired Beans.
The compensation card is valid only in Japan. The card cannot be reissued.
Wired Beans cannot meet the demands from the overseas countries. We appreciate your kind understanding.
* Wired Beans may stop this service from necessity of the makers or atelier.

The way of exchange


If you kindly purchase the glassware of Wired Beans in Japan Design Store,

please send broken pieces of glass and compensation card in the wooden box to Wired Beans.

Wired Beans will send a new glass to you.
* Customers need to pay shipping cost for sending and returning the product.
* The way of exchange is explained in the description paper in the box when you receive the item. (Japanese only)
* Please keep the wooden box or exclusive box and compensation card.

Contact form and address for exchange


Wired Beans Inc.
980-0022
Urban net Itsutsubashi building 6F, 1-5-3, Itsutsubashi, Aoba-ku, Sendai, Miyagi
Tel: 022-380-8700 (9:00~17:00, Sat. Sun. Holidays are closed)
Mail:wiredbeansstore-support@wiredbeans.co.jp
URL:https://wiredbeans.jp/
For your long time at ease
* All the products are handmade by traditional craftsmen. Please enjoy different individualities of each product.
* Wooden box may have small scratches.
* Instruction manual and compensation card is in wooden box. Compensation card cannot be reissued.
* We can see air bubbles, unevenness, or black dots in clear wine glasses. These are proof of handmade craft produced by craftsmen with their spirits. Air bubbles bottled up air in kiln in high temperature at the moment when the glass is produced. Unevenness is unexpectedly produced by work when craftsmen remove scorching glass from kiln. Black dots are pieces accidentally come off from long-used tools of craftsmen. All of these are characteristics of handmade products by craftsmen. We appreciate your kind understanding.
Cautions
* Watch out when you remove wine glass from the box. Glasses are fixed with cushioning material in the cedar box so that the items do not break during shipping.
* Clear wine glass is not heat-resistant glass. Please avoid rapid change of temperature of glasses. Especially, please avoid using glass in refrigerator.
* Please avoid using dishwasher or microwave for wine glasses. It may cause breakage or turbidity of glass.
* Please avoid using polisher or sponge with cleanser. They damage wine glasses.
* Please be careful when you touch broken glasses.
* When you wash inside the glass, please do not twist the sponge. Delicate glassware may be broken.
Personalize gift service
For the bulk order more than 20 items, we can personalize your items with the name of your company, school, or with logomarks. If you plan to order corporate gifts or keepsake gifts, please contact us from "Contact us."
* Personalize gift needs service fee. The fee depends on items.
* Personalize service is not available for some products. Please feel free to ask us.