Houhin teapot, Houbin, WDH
Sophisticated teatime with beautiful Houhin teapot
[WDH]Houbin
Our original set
Exclusive gift box
With Japanese description
With English description
Carefully brewed tea is delicious
Houhin teapot is a tea utensil to enjoy slow time.
Elegant Japanese teapot extracts the taste of tea leaves thoroughly in low temperature of hot water.
With simple teapot, we can take in the natural bless of tea leaves.
Houhin teapot from WDH provides us such a luxurious time.
Tea is not just a drink to wet our throat.
Fresh smell and taste of tea relax our feeling.
How about trying a Japanese careful tea time with Houhin teapot?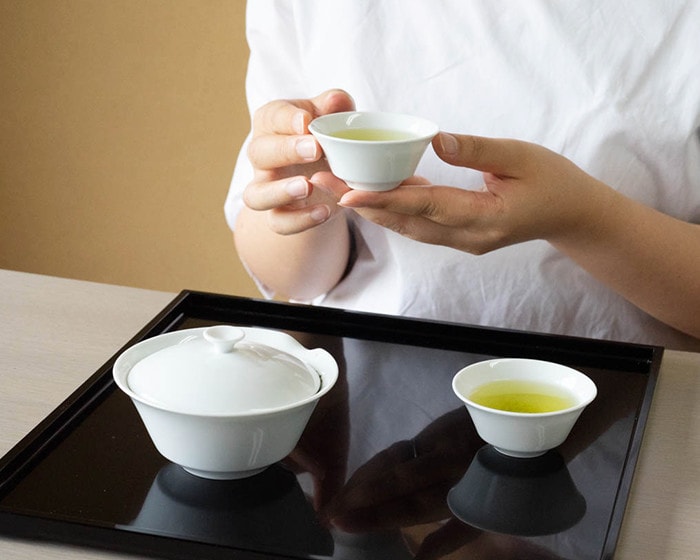 Teacups from WDH can be piled in the Houhin teapot. It is a smart tea set!
So, Houhin tea sets are recommended for minimalists.
Simple and stylish tea sets would be great wedding gifts, housewarming gifts, or birthday gifts for tea lovers.
What is Houhin?
Houhin, or Houbin is a type of teapot. It does not have handle.
Houhin teapot is suitable for high-class tea leaves such as gyokuro, Kabuse tea or hand-rolled tea. With Houhin teapot, we can extract the taste of tea slowly in low temperature of hot water.
When you imagine Japanese teapot or kyusu, most people imagine teapots with handles such as Tokoname ware, Banko ware, or Shigaraki ware. In Uji of Kyoto, however, Houhin teapot is the popular kyusu.
Uji is famous as a producing area of high-class tea leaves. Kyoto accounts for only 3% of tea production in Japan. However, Kyoto amounts to more than 50% of Gyokuro production in Japan. We can see that Uji has pursued producing only high-class tea leaves.
Tea culture of Uji is tasting high-quality tea in low temperature of hot water. Since elegant tea culture is permeated in Uji, Houhin teapot is popular.
Houhin is a teapot to change atmosphere and brew tea carefully. Please feel delicate Japanese culture from beautiful tea set.
Recommended tea leaves for Houhin teapot
Houhin teapot is suitable for making high-class tea that should be brewed in low temperature of hot water. You can enjoy gyokuro, Kabuse tea or hand-rolled tea.
Gyokuro

Gyokuro has plenty of body and sweetness. The method of cultivation for Gyokuro differ from that for Sencha. It is called "Hifuku Saibai" or Cultivation under cover.

In Hifuku Saibai, tea woods are covered with reed screen or straw screen 3 weeks before their harvest. The cover block 70~90% of sunshine. In this way, the photosynthesis of tea leaves is controlled. Then, catechin that is bitter component of tea leaves are restrained. Instead, tea leaves gain rich theanine that is Umami component.

Special method of cultivating makes full-bodied and sweet tea leaves.
Also, gyokuro has unique smell like sea weed. It is called "Ooika."

Kabuse tea

Kabuse tea is balanced in mellow taste. It is also cultivated under cover. However, Kabuse tea will be covered 1 week before its harvest. In addition, the cover block 50% of sunshine. These 2 points are different from gyokuro.
Kabuse tea also has Ooika. This is high-class tea leaves that has both features of gyokuro and sencha.

Hand-rolled tea

Hand-rolled tea has fair bitter taste and fresh smell.
Artisans hand roll tea leaves to make it leaf spines. This is the original method of producing sencha, and the origin of tea production.

Now, it is difficult to get hand-rolled tea since it does not have much production.
When we pour hot water to hand-rolled tea leaves, the leaves gradually open. With Houhin teapot of WDH, you can enjoy this unique scene.
Modern design of Houhin tea sets makes your behavior look beautiful
Houhin teapot from WDH calm us.
Simple and modern design suits our life naturally.
On the dinner table, kitchen countertop, or in cupboard, Houbin tea set provides neat atmosphere.
Houhin teapot has a cute knob on its lid. The knob has gently curved dent. That hollow suits our thumbs. When we pour tea with houhin, the teapot makes us look beautiful.
Enjoy an elegant Japanese tea time with Houhin teapot from WDH.
Cute tea leaves at the bottom of Houhin teapot and teacups
At the bottom of Houhin teapot and teacups, we find a cute motif of tea leaves! A small cute point catches our heart.

Special design to extract the taste of Japanese tea
Houhin teapot of WDH is rare among various Houhin teapots in the world.
In fact, this Houhin does not have tea strainer.
Most kyusu or teapots have some kinds of tea strainers such as stainless basket or ceramic hemisphere with many small halls at the mouth of spout.
On the contrary, Houhin teapot of WDH does not have tea strainers.
Then, do we need to prepare tea strainers for this teapot?
NO. In fact, the lid of Houhin teapot has a jagged edge instead of basket or ceramic hemisphere. This jagged edge works as tea strainer.
In addition, the lid of houhin teapot has the secret to extract delicious tea.
The points are opening space of the jagged edge and a hall on the lid. These two spaces circulate air by convection. This convection makes houbin teapot easy to pour. Also, tealeaves become easier to open leaves by the convection.
This is the secret of Houhin of WDH that it can make delicious Japanese tea.
Masterpiece of Hasami ware
The tea set of Houhin from WDH is carefully produced by craftsmen in Hasami town of Nagasaki prefecture. Hasami town is famous for Hasami ware. It is a producing area of ceramics with 400 years' history.
Houhin teapot is stylish thin porcelain. We can see the detail handwork of craftsmen from the beautiful form and great usability of the tea set.
2 colors of Houhin tea set
WDH offers 2 types of Houhin. One is white porcelain, another is celadon.
White porcelain has glossy beauty.
Celadon has beautiful green color like jade. This color is also called "Hisoku", or secret color. It is said that this mysterious beautiful color attracted the emperor of China in ancient era, and he prohibited using this glaze for the ceramics for civilian.
If you would like to enjoy the color of gyokuro tea, we recommend white porcelain Houhin. If you like antique-like atmosphere, we recommend celadon tea set.
Enjoy every bit of tea leaves with Houhin
WDH suggest tasting tea leaves with Houhin tea set.
Tea leaves after brewing tea become soft and slightly smell. Let's eat it with citrus or ponzu.
Sencha and gyokuro includes a lot of nutrition such as potassium, calcium, magnesium, phosphorus, iron, β carotene, vitamin E, folic acid, or vitamin c.
Let's take in all the bless of high-class tea leaves into our body.
Easy to care! Houhin tea set as daily use item
Houhin tea set of WDH is not only a stylish tea set, but also a usable item.
There are 2 points of these usability.
Easy to wash

First, this Houhin teapot is very easy to wash. This teapot does not have tea strainer. Also, houhin teapot has wide diameter. So, we can wash it easily, and dry well.

Easy to store

Secondly, this tea set can be stored neatly. This tea set includes a Houhin teapot and 2 teacups. When we pile up 2 cups, we can store the cups in the teapot. Since Houhin does not have handle, it does not need much space in a cupboard.
This Houhin tea sets are smart. So, we can use and store it any time we need. Even a busy person can take a time to make tea carefully.
For stylish minimalists, we recommend this smart Houhin tea set.
How to use Houhin?
Here, we introduce how to make delicious tea with Houhin teapot of WDH. It's not difficult. Please have a calm tea time with Houhin.
First brew
①Pour boiled hot water into Houhin to warm teapot.
②Pour the hot water in the Houhin teapot into teacups to warm teacups. Wait for a while to cool hot water into adequate temperature.
③Discard remaining hot water in Houhin teapot. Put 3~5g tea leaves into teapot. Put the lid of teapot and let the tea leaves steam until the hot water in teacups becomes adequate temperature.
The adequate temperature for gyokuro, Kabuse tea, and hand-rolled tea is about 50~60℃ (122~140℉).
④Pour cooled hot water like drawing circle into Houhin teapot.
⑤Extract tea leaves for 1~2 minutes until tea leaves open. Tea leaves should not open too much, 2/3 of full leaves is good.
⑥To uniform the strength of tea, pour tea little by little alternately to 2 cups. The last drop of tea has condensed taste. So, pour the tea until the last drop.
⑦Enjoy first brew. It has mild taste, sweetness, and plenty of body.
Second brew
⑧Second brew is brewed with a little hotter water than the first brew.
⑨Pour cooled hot water into houhin teapot again, and extract tea leaves for 30 seconds. Similar to the first brew, pour tea little by little alternately until the last drop.
⑩Enjoy second brew. It has fresh and clean taste.
Eat tea leaves
⑪After tasting second brew, eat tea leaves in houhin teapot. Spread the tea leaves, squeeze citrus, pour ponzu or soy sauce. You can enjoy the aroma of tea leaves.
What is the adequate temperature of hot water for houhin?
Houhin is a teapot without handle. It is appropriate for tea which is brewed in low temperature. When we brew gyokuro, hand-rolled tea or Kabuse tea, about 50~60℃ (122~140℉) is the adequate temperature of hot water.

To check the temperature, using thermometer is the easiest way. However, it is troublesome to check temperature by thermometer every time. Especially in front of your guests, we hesitate to do so.
So, the best way is getting used to brew tea with houhin teapot.

Hot water get cold about 10℃ (about 50℉) every time we change vessels. When we move hot water from kettle to houhin teapot, the temperature become about 90℃. Move hot water from teapot to teacups, then the water becomes about 80℃. Wait for about 5 minutes to get the water become about 60℃.

Depend on seasons, hot water becomes easier to get cold. So, remember this way as one standard.
When you get used to brew tea with houhin teapot, enjoy tea in your favorite temperature.
Nanbu tetsubin for more delicious tea
When you enjoy delicious tea with houhin tea set, how about boiling hot water with Nanbu tetsubin? Nanbu tetsubin is cast iron kettle. It has been popular all over the world. When we boil hot water with Nanbu tetsubin, the hot water becomes mellow and delicious. The iron removes impurities in the water.
Nanbu tetsubin from Roji Associates has traditional design. To our joy, this kettle can be used over induction cooktop.
Look for stylish teapot? We also recommend this!
Houhin teapot from WDH is a sophisticated tea set. If you look for stylish teapot, we recommend this page. Here, we introduce ceramic kyusu, cast iron teapot from Nanbu tekki, and more. We collect masterpiece produced with Japanese traditional skill.
Houhin teapot as presents
Houhin teapot and teacups send you calm time. From daily tea time to entertaining guests, the houbin tea sets provides stylish tea time.
How about sending houhin tea sets for tea lovers?
Houhin tea sets are within exclusive paulownia box. Beautiful tea sets would be great wedding gifts, housewarming gifts, or birthday gifts for tea lovers.
Simple and modern tea sets will make life richer.
Japan Design Store ships to the world!
Japan Design Store receives orders from all over the world. Now, Japanese tea have got attention in the world. How about getting or sending elegant tea time?
Stylish Houhin tea sets would be great presents for tea lovers in all over the world.
Houhin tea sets of WDH have English descriptions of the item. Also, how to brew tea is explained. Unfortunately, how to brew tea is explained only in Japanese. However, you can see some illustrations.
Gift wrapping of Japan Design Store for important gifts
If you send houhin teapot of WDH as gifts, we recommend our original gift wrapping. Japan Design Store offers various gift wrappings. From Japanese traditional Noshi wrapping to casual gift bag wrapping, please select your favorite gift wrapping.
Even your friends or families are in other countries, we will ship all over the world. Our gift staff carefully wrap your important gifts.
Caring tips
* All the products are handmade by traditional craftsmen. Please enjoy different individualities of each product.
Personalize gift service
For the bulk order more than 20 items, we can personalize your items with the name of your company, school, or with logomarks. If you plan to order corporate gifts or keepsake gifts, please contact us from "Contact us."
* Personalize gift needs service fee. The fee depends on items.
* Personalize service is not available for some products. Please feel free to ask us.