Tin Tea Caddy, Storage Tins from SyuRo
[SyuRo]Tea Caddy
Our original set
Exclusive gift box
With Japanese description
With English description
Simple Tea Caddy from SyuRo
Cute rounded tin caddies in our hands.
Storage tins from SyuRo are beautiful with original taste of its material.
As time passes, the tin caddies get deeper taste.
When you make tea or cook, tin tea caddies are always by your side.
Here, we introduce cute storage tins for your life.
Become an antique after a while
Open and close lid comfortably.
Tin tea caddies from SyuRo are very simple design. Designer produces these tea tins to make the most use of material. Its simple taste attracts us.
Storage tins are representative products of SyuRo. The tin tea caddies have been popular not only in Japan, but also in overseas countries such as Sweden or Denmark.
How about having storage tins to raise a stylish antique?
As the time passes, tinplate become calm and mat.
Brass and copper get darker and have antique-like taste.
Please stroke tin tea caddies with your palm. Oil of hand covers tins, and it gets unique gloss and taste.
Stylish storage tins suits modern life style naturally. Tea tins work for tea time or cooking time. Daily necessities from SyuRo have been popular gifts as well.
New tool was born from tea caddy without wrapping paper
At one time, it was believed that "metal tea caddies without wrapping paper cannot be a product."
As for tea caddies, they are usually with wrapping paper or paint.
However, Masuko Unayama, the chief designer of SyuRo discovers beauty in cans without wrapping papers, and she realized it as a product.
SyuRo has its atelier in Torikoshi in Taito ward in Tokyo. Taito ward has long-established hardware store, printer, can studio, or fabric wholesale shops.
An atelier of cans in Taito ward produced tin tea caddies of SyuRo. Craftsmen make storage tins one by one, and cans are carefully polished in the atelier of SyuRo.
Tea tins from SyuRo were born with the atmosphere of old town and modern life style.
Fun to display! Superb design of tin tea caddies of SyuRo
SyuRo pursued not only texture of the storage tins.
Masuko Unayama considered for the sizes when she designed tin tea caddies.
Tea tins should be beautiful when they are displayed or piled up.
She did not decide the size of storage tins by its function. Tin tea caddies were designed so as to they looked beautiful and stylish. These sizes broadened the ways of use of tin tea caddy.
SyuRo offers 3 colors of tea caddy, Copper, Brass and Tin.
Tin tea caddy is useful for any kind of food
Tin tea caddies from SyuRo have a lot of ways to use. That is why many people all around the world love the simple tea tins. You can use a tin tea caddy or display a few cans. Of course, some people collect more storage tins.
Here, let us introduce some recommended use of tin tea caddy. How do you use the tea tins?
As canister for coffee beans

Tin tea caddies of SyuRo can be used as canister for coffee beans. For coffee lovers, caddies for coffee beans are indispensable. If you have some kinds of coffee beans such as Kilimanjaro, Mocha, or Blue Mountain, a few storage tins are useful.

Kitchen caddy for seasonings or spices

Let's store daily use seasonings in tin tea caddy. Black pepper, chili, star anise, cinnamon… If you breed herbs in your garden, dry rosemary or bay leaves can be stocked in storage tins.
3 tea tins in kitchen are stylish display. Tin tea caddy makes your cooking happier.

Storage for snacks

Tin tea caddy of SyuRo has an inside lid. Although it is not a perfect air-tight container, tea tins save snacks from humidity. Candies or cookies easily get humid. So, storage tins keep their taste. Simple tin tea caddy can be put on your desk for nuts or dry fruits.

Caddy of dry food, beans, or pasta

Simple tin tea caddy can be a container for short pasta of any other dry food. Colorful macaroni pasta would be cute in tea tins. L size of tin tea caddy is good size for soy beans.

Standard use as tea caddy

Stylish tin tea caddy from SyuRo was born from Ms. Unayama's idea from tea caddy. So, please use storage tins as tea caddies. You can store green tea, Genmai tea, black tea, or herb tea.
Simple tin tea caddies get deeper taste as time passes. Unique tea tins bring richer tea time for you.
Tin tea caddies would be great gifts for tea lovers who like various types of teas.
What is the size of tin tea caddies?
S size of tea tins are φ7.5 × H 8.0cm. The volume of the caddy is 160g of tea leaves and 80g of coffee beans.
L size of tea tins are φ10.5 × H 8.5cm. The volume of the caddy is 330g of tea leaves and 200g of coffee beans.
As containers for daily necessities
Simple and stylish tin tea caddies can be beautiful home decor as well. In addition to food, you can store tools of your hobby, makeup tools, hair accessories, or medicine.
To tidy up small stuff, storage tins work well. Cute tea tins relax us in living room or bedroom. Please enjoy using tea tins with your favorite items in your favorite places.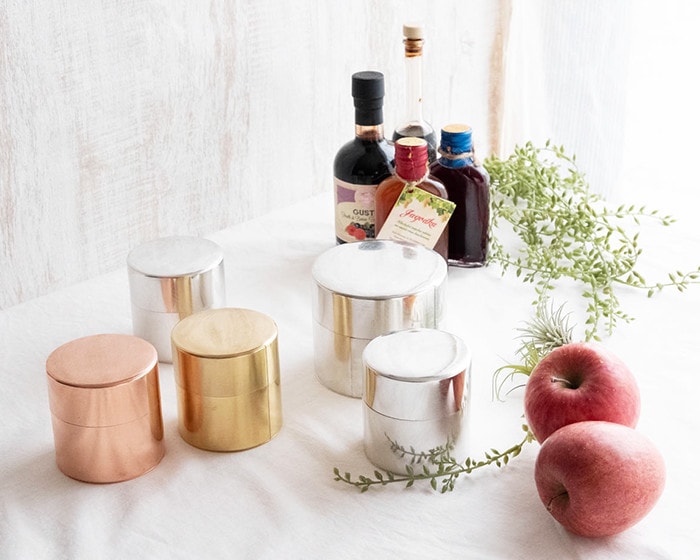 Cute wooden teaspoon suitable for tin tea caddies
"I have never seen such a cute wooden teaspoon!"
Wooden teaspoon from SyuRo attracts us very much. Cute rounded wooden teaspoon makes us happy everytime we touch it.
This wooden teaspoon is made of Japanese raisin tree which is often used for furnitures. Craftsmen hollow the wood to make each spoon. We can feel careful and detailed work of craftsmen from warm form and smooth texture. Wooden teaspoons are finished with oil. So, you can scoop watery foods.
These wooden teaspoons can be stored in tin tea caddies from SyuRo.
If you would like to enjoy a life with storage tins, we recommend wooden teaspoons as well.
2 sizes of wooden teaspoons from SyuRo
SyuRo offers L and S size wooden teaspoons.
Wooden teaspoon L is W 5.0cm ×L 8.0cm. It is about 1 tablespoon. This is good size for scooping coffee beans. You can store L teaspoon in Large Tin tea caddy with coffee beans. Thick and rounded bottom provides cute atmosphere.
Wooden teaspoon S is W 3.0cm ×L 7.5cm. It is about 1/2 teaspoon. This is good size for tea, honey, or jam. You can store S teaspoon in Small Tin tea caddy.
On the backside of wooden teaspoons, we can see initials of craftsmen.
Cute! Original set of Tin tea caddy and wooden teaspoons
Japan Design Store makes set with Tin tea caddies and wooden teaspoons. They are very stylish if you use them together. Useful and stylish sets make coffee time, tea time or cooking time happier. Good gifts as well.
Related Products
What is SyuRo?
SyuRo has a lot of fan who like carefully life.
It is established in 1999 by Masuko Unayama. They design daily necessities or directs restaurants or shops.
SyuRo tells the manufacturing of Japanese craftsmen through contemporary sense. We can use their items for a long time. Their products are not cool and affected, but stylish and warm. Cool masterpiece that we can feel the craftsmanship suits our life comfortably.
SyuRo is active in sale in overseas shops. Now, their items are sold in more than 20 countries such as France, U.S.A., U.K., Denmark, Sweden, Norway, Finland, Germany, Belgium, and so on.
Especially for the tin tea caddies, they are sold more in Nordic countries than Japan.
Attractiveness of Japanese craftsmanship is spread through products of SyuRo.
Send tin tea caddy as gift? Leave it to Japan Design Store
Stylish and useful tin tea caddies of SyuRo are recommended as gifts, too. Long-time-usable tools would be great wedding gifts or housewarming gifts. Storage tins change their tastes over the years. Every day, tea tins relax us. So, sending storage tins means sending a richer life.
If you would like to send tin tea caddy as gift, please leave it to Japan Design Store. We will wait for you with careful and stylish gift wrapping. Tea tins from SyuRo would be good gift for your friends in other countries. We carefully wrap items and send it to your dearest friend.
For your long use at ease
* All tea caddies from SyuRo are handmade by craftsmen one by one. We can see small scratches, polished marks, welded marks, or polka dots or change of material colors due to feature of material. They will become not remarkable as time passes. Please enjoy unique taste of material.


* To enjoy the natural taste of material, storage tins are not finished for rust preventing. Therefore, joint of material is easy to get rust. We do ask for kind understanding.


* Wooden teaspoons from SyuRo are hollowed from natural wood (Japanese raisin tree) one be one. Even same size spoon is different in sizes or capacities. Also, we can see individualities in wooden grain and colors. Please enjoy only one feature of handmade products.
* Wooden teaspoons from SyuRo may have unique smell of wood at first. The smell fade as you use. Please be at ease.
Precaution
* Tin tea caddy from SyuRo is not a perfect air-tight container. We recommend putting a drying agent when you store food which dislike humidity.
* Materials of cans are weak against water. Please avoid storing cans in refrigerator.
* Please be careful of opening of can.
How to care
* Tinplate is a metal plated tin.
* Please stroke tin tea caddies with your palm to avoid spot and enjoy unique gloss and taste.
Personalize gift service
For the bulk order more than 20 items, we can personalize your items with the name of your company, school, or with logomarks. If you plan to order corporate gifts or keepsake gifts, please contact us from "Contact us."
* Personalize gift needs service fee. The fee depends on items.
* Personalize service is not available for some products. Please feel free to ask us.