Chic Glass and Glass Bowl Leila from Sghr, Sugahara
Wavy Line and Chic Appearance Leila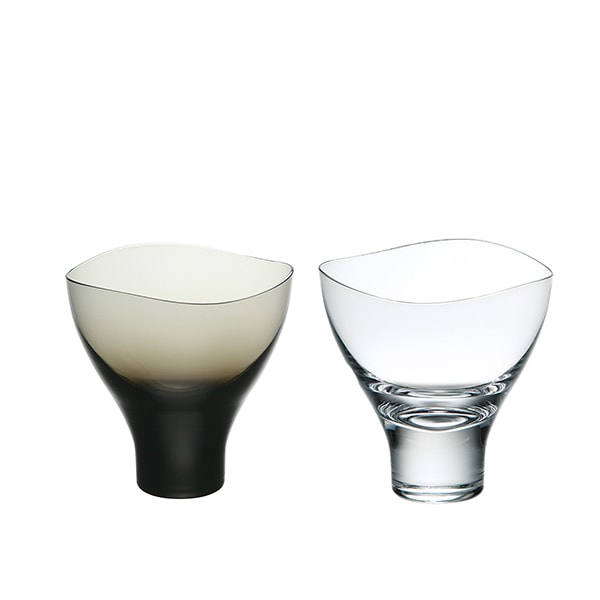 [Sghr]leila
Our original set
Exclusive gift box
With Japanese description
With English description
Beautiful flicker of light like surface of water
"Leila" series from Sghr draws beautiful curvy lines.
Leila is a beautiful glass with wavy rims and slender form.
Gentle curve has kind atmosphere. Curvy glass will relax our dinner with family or friends. Chic glass can be used as dessert cup with ice cream.
2 sizes and 3 colors of Leila
Sugahara offers 2 sizes and 3 colors of Leila series. Colors are Clear, Tan and Carbon. All colors suit well with any types of dishes. Please find your favorite one.
[Sghr] Leila Bowl S

Leila Bowl S is good for daily use or serving it to your guest. You can use this glass as wine glass, whiskey glass or glass for iced coffee. Also, Leila is good for dessert cup. Gradually open form from bottom to the rim looks like flowers. This unique form comfortably fit our hands.




Related Products

[Sghr] Leila Bowl M

Leila Bowl M is good for salad bowl or dessert. It is also good for cold soup or shaved ice. Glossy bowl with stand makes an accent on table. Beautiful glass bowl seems to be good for flower bowl as well.




Related Products
Japan Design Store original glass pair set
Bowl S of Leila is more used as glass than a bowl. So, Japan Design Store prepares our original pair glass set. "Tan & Carbon" set has chic atmosphere. Good glass for wine time.
"Clear & Carbon" pair is recommended for who like neutral colors. Simple and chic glasses suit any types of interior.
Pair glass set of Leila is within paulownia box. Pair glass would be great gifts for couples.
Related Products
Send Leila as gifts? Leave it to Japan Design Store
Leila glass from Sugahara is good rewards for yourself, and great gifts for important people. Handmade glass and glass bowls have both high-class atmosphere and warmth.
Chic glass can tell your "Thank you" or "Congratulations" for your special one. Handmade glasses would be wonderful wedding gifts, housewarming gifts, return gifts, birthday gifts, or the gifts of the Mother's Day or Father's Day.
If you send Leila glass from Sghr as gifts, please leave it to Japan Design Store. We wait for you with various stylish wrapping. You can select Japanese traditional Noshi wrapping as well. Cute Ume Mizuhiki option has been popular.
For your long use at ease
All glasses Leila from Sghr are handmade by glass craftsmen. Slight difference may occur in capacity or size of each glass. Also, since the glass is made of natural sand, we can see some small air bubbles or lines in glasses. Please enjoy only one feature of handmade glass.
Cautions
Leila glass of Sugahara is not a heat-resistant glass. However, you can pour hot water in pot (not just boiled, about 80℃~90℃, or 176℉~194℉) into glass in normal room temperature.
Rapid change of temperature may cause break of glasses. Please avoid heating glass over open flame, in oven or microwave. Also, please do not pour cold drink into hot glass or put hot glass on wet place.
Caring tips
・Before use, wash glass with neutral detergent. After use, do same cleaning.
・Please do not use cleanser, sponge with polishing material, or scouring brush. It may cause break or deteriorate the strength.
・When you wash inside the glass, please do not twist the sponge with some power.It may cause break of glass and injury. We recommend using sponge with handle.
・When the glass get damage, it becomes easy to break. Please be careful not to hit with other hard tableware or glasses.
Personalize gift service
For the bulk order more than 20 items, we can personalize your items with the name of your company, school, or with logomarks. If you plan to order corporate gifts or keepsake gifts, please contact us from "Contact us."
* Personalize gift needs service fee. The fee depends on items.
* Personalize service is not available for some products. Please feel free to ask us.