Luxury towels, Imabari towel, Imabari Kinsei
Finest texture Luxury Imabari towel "Gokujo towel"
[Imabari Kinsei]Gokujo towel
Our original set
Exclusive gift box
With Japanese description
With English description
Not just a popular gift, but a high-quality towel gift
Everyone will be happy with high quality towel gifts.
"Popular towel gifts are good, but I want more premier one."
If you think so, we recommend luxury towels "Gokujo towel" from Imabari Kinsei.
Gokujo towel is a premium towel that can tell your heartful thought for recipients.
We recommend luxury towels to adults who know the authentic items. As premium gifts and as rewards for yourself, finest towels would be great.
"I received luxury towels as my wedding gifts and I really liked it. So, I decide to send it for my friend's new baby gifts." Like this, many customers choose the luxury towels.
Stylish premium towels have been popular wedding gifts or return gifts.
Imabari towel for your dearest people
"Imabari towel" is one of the representative high-quality towels in Japan.
"Imabari towels" are towels produced by manufacturers which are in Imabari Towel Industrial Association.
All the products of Imabari Kinsei are Imabari towel. Luxury towel "Gokujo towel" has original brand tag.
The brand name "Imabari Kinsei" has the meaning that "craftsmen and producing area of Imabari make it with devotion." Imabari Kinsei aims to make towels that "people feel happiness every time they touch it, and everyday becomes happier." Luxury towel of Imabari Kinsei wishes for the happiness of all people relating to towel; craftsmen, senders, recipients and users.
Finest quality with greatest quality hybrid cotton
The greatest feature of the luxury towels is its texture.
This premium towel is made of hybrid cotton which is peculiar cotton in India. This luxury towel is weaved with finest long-fiber cotton Shankar 6 from Gujarat of India.
The features of Indian cotton are unique smooth texture and rich oils and fats. Indian people pick raw cotton one by one with their hands. Handpicked cotton does not lose fats and oils. Therefore, Indian cotton has softness.
Each fiber of Shankar 6 is long, skinny and delicate. To make the luxury towels, craftsmen twist fibers softly to express moist texture.
One yarn includes a lot of fibers. So, the towels get shiny gloss.
Please feel the finest quality of luxury towels "Gokujo towel" with your hand.
Pursuit the finest texture! Superb weaving of towel craftsmen
Premium towels have soft texture for people. It is more "moist and soft" than "fluffy."
Gokujo towel has more pile yarns than usual towels. Towel craftsmen in Imabari weave longer pile in high density. So, the luxury towels have finest texture.
From babies to adults, everyone can use the premium towels comfortably every day.
High quality towels with greatest absorbency and durability
The luxury towels "Gokujo towel" are finest towel in absorbency and durability, too.
As you use the premium towels for a long time, you will see the real high-quality towels. Even you repeat washing, you can feel the comfortable texture and absorbency of the towels.
Depends on the water quality, towels or clothes are easy to get damage. However, the luxury towels of Imabari Kinsei can keep its texture. So, we recommend Imabari luxury towels to customers in overseas.
Premium colors for sophisticated adults
These luxury towels have chic design.
Plain towels are useful in any scenes. Deep and chic color expresses the high quality of the premium towels.
Skillful towel craftsmen of Imabari produce superb color.
To make the most use of materials, craftsmen take double or more time than the time for general towels to remove impurities of cotton carefully. After that, pure cotton is dyed and washed with special care.
Solid wooden box guarantees reliable quality of luxury towels
Luxury towels of Imabari Kinsei are within beautiful wooden boxes.
Solid wooden box tells us the guaranteed quality of Gokujo towel. Relief on the wooden box adds more gorgeous atmosphere to the luxury towels.
Won Good Design Award! Towels in wooden box from Imabari Kinsei
Towels of Imabari Kinsei won "Good Design Award" in 2017. That is the first winning for towels in wooden box. Their total branding from colors, patterns, quality and package got high reputation. This premium towel "Gokujo towel" is one of the towels of Imabari Kinsei. Imabari towels set in elegant wooden box would be great gifts for your important people.
Luxury towels of Imabari Kinsei introduced by Japanese magazines
Luxury towels of Imabari towel is introduced by many Japanese magazines.
Examples of publication of "Gokujo towel"
・"Mrs. June 2018"
・"Zexy premier SPRING 2018"
・"Hiyoko club February 2018"
Gokujo towel of Imabari Kinsei for gifts
Luxury towel set would be great gifts for everyone. If you look for gift ideas, we recommend Imabari towel.
Purposes of gifts
・Wedding gifts ・Wedding favors ・Return gifts ・New baby gifts ・Housewarming gifts ・Celebration of enter school ・The Mother's Day ・The Father's Day ・Memento ・Just for you
Looking for stylish Imabari towel? How about these?
In addition to luxury towels, Japan Design Store sells various Imabari towel sets. Imabari Kinsei offers "Mon-Ori towel (Patterned towel)" and "Shifuku towel (Bliss towel)". Baby poncho "BAB PONCHO" from amabro has been popular new baby gifts. High quality towels of Imabari pursuit materials, design, and texture.
Please check this page as well.
Japan Design Store offers stylish gift wrapping for towel sets
Premium towels of Imabari Kinsei are high quality towels. In Japan, Imabari towels sets are popular gifts. Japan Design Store prepares elegant gift wrappings for gift items.
You can choose Japanese traditional Noshi wrapping. We put Tosa Japanese paper and Mizuhiki elastic ribbon for USD$1 wrapping. Japanese Ume Mizuhiki is popular option.
Our gift staff carefully wrap and pack your important gifts for you.
* Luxury towels set "Gokujo towel" are within wooden box. It is big and heavy. If you would like to send towel set as gifts, we recommend sending it to recipient's house directly.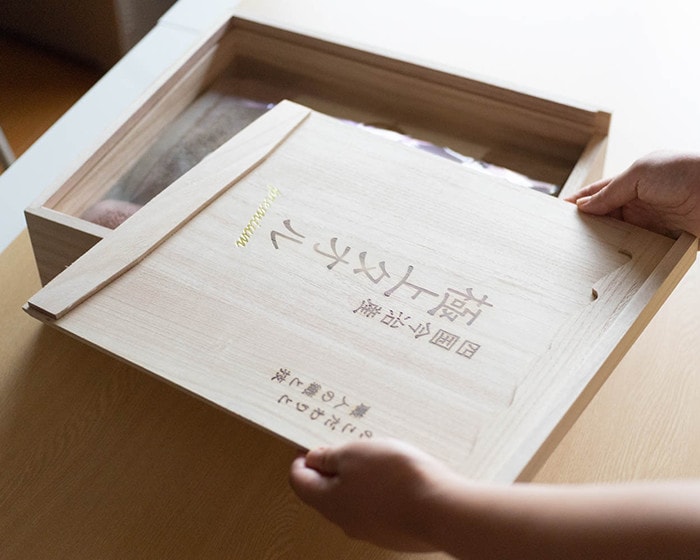 Personalize gift service
For the bulk order more than 20 items, we can personalize your items with the name of your company, school, or with logomarks. If you plan to order corporate gifts or keepsake gifts, please contact us from "Contact us."
* Personalize gift needs service fee. The fee depends on items.
* Personalize service is not available for some products. Please feel free to ask us.