※This page is in the middle of translating that now.
Layered stripes of Hakusan pottery: Fashionable square plates and long plates can also be used as grilled fish plates
[Hakusan Pottery] Overlaid stripes
Our original set
Exclusive gift box
With Japanese description
With English description
The simpler Japanese food is, the more beautiful it is! Special "layered stripes"
Do you have a square plate?
When you prepare new tableware, you will probably look for a round plate.
What's not surprising is, yes, the square plate .
Hakusan Pottery's "layered stripes" can be used for both Japanese and Western dishes.
A nice square plate that makes the serving of dishes crisp.
Your daily dining table will change!
The secret plate of a fashionable Japanese expert
"There is no square plate to put saury on ...!"
In the fall, I realize that I didn't have the right plate for slim grilled fish.
Dashimaki tamago and seasonal grilled fish.
If you can make Japanese food well, you will want to serve it in a fashionable way.
The simpler the dish, the more you want to add some ingenuity when you put it on the table.
Hakusan Toki's "Kasa Nejima" is useful in such situations.
If you have overlapping stripes, you can arrange it in style at any time!
You can enjoy the feeling of a set meal restaurant or a soba restaurant at a Japanese restaurant. If you coordinate cutely, it will look like cafe rice ♪
Let's start with a natural cute Hakusan pottery square plate as the first step to becoming good at Japanese food!
The Japan design store is definitely a great deal if you buy Hakusan pottery square plates and layered stripes!
Japanese style and fashionable! Extensive selectable wrapping service
We have our original tableware set that is perfect for gifts
The point is to use bicolor! Overlapping stripes can be arranged freely
Hakusan Pottery's layered striped plate is also very popular on SNS.
The reason is the blue painting that looks bicolor.
"Square plate seems to be used only for grilled fish and sushi ..."
It's a waste to think!
The point of the overlapping stripes of Hakusan Pottery is to use the boundary of contrast. If you serve it like two small plates, your usual side dish will look cute! Lightly squeezed rice balls are also a treat, so you can easily improve your hospitality.
Of course, leave the standard grilled fish to us.
The Blue & white painting makes the saury refreshing and delicious.
Awarded Good Design 2016! A new long-selling product whenever you see it
"It was designed over 30 years ago !?"
The modern and fashionable "layered stripes" of Hakusan pottery are so surprising. The series of Hasami-yaki square plates and long plates with beautiful blue stripes with a pen-like touch was designed by product designer Masahiro Mori, like the Hakusan pottery flat tea bowls.
The layered stripes of Hakusan Pottery, which has been loved as a long-selling product, are exactly the standard for Japanese tableware. Although it was released in 1984, it does not make you feel old. In 2016, he received the Good Design Award for his cuteness like hand-painted folk crafts and his skill in entertaining cooking.
A mysterious vessel, layered stripes, that suits both old-fashioned cafes and dining with Scandinavian interiors. Beautiful Japanese tableware that will be loved over time.
Excellent usability! Lineup of layered stripes
The secret of Hakusan Pottery's layered stripes is that it has a simple and refreshing Scandinavian design pattern, and its gently curved form corresponds to a variety of menus.
In addition to grilled fish and omelet rolls, enjoy serving rice balls, asparagus dishes, yakitori, pinchos, and other Japanese and Western dishes.
Introducing the lineup of layered stripes of Hakusan Pottery!
If you get lost, this is it! A long square plate that makes you feel that you are glad you bought a square plate
Hakusan Pottery Layered Striped Long Plate Long

"Nagayaki Dish Long (25.5 x 11.5 cm)" is especially popular for the layered stripes of Hakusan Pottery. If you get lost in the square plate for the first time, this is recommended first.

Hakusan Pottery / Layered Striped Nagayaki Plate is perfect for omelet rolls, grilled fish, hors d'oeuvres and sushi. Of course, it's fashionable to serve like two small plates.
Even if you line up more than one, it doesn't take up much space, so you can line up two or three on the table at a home party.
You will surely be satisfied with "I'm glad I bought the square plate ...!".




Related Products

Wide variety of sizes! A stylish square plate that can be used like a regular round plate
Hakusan Pottery Layered Striped Anti-Square Plate

Hakusan Pottery's layered stripes, "Sorikuzara," can be used casually as if it were a round plate that you always use. If you have a square-shaped anti-square plate, the table will be tightened.

Hakusan Pottery ・ There are 3 sizes of multi-striped anti-square plates! There are "Anti-angle medium plate (16.5 x 16.5 cm)", "Anti-angle multi-use plate (21.0 x 21.0 cm)", and "Anti-angle plate (27.5 x 27.5 cm)".

The counter-angled medium plate can be used as a plate, cake plate, or confectionery plate. The anti-horned plate is used for serving meat dishes such as salads and roast beef, and daily main dishes such as sushi. It is also recommended for single dishes such as pasta and curry rice.
The anti-angle plate is a size that can be used as a party plate. It can be used as a multi-plate, so when not in use, it's nice to put fruits and seasonal accessories on the living table.

Anti-angle multi-use dish




Related Products
A long-baked plate and an anti-square plate that are slightly different when viewed from the side
Let's take a look at the overlapping stripes of Hakusan Pottery from the side.
As the name suggests, the counter-horn plate has a shape with curved corners. Some juicy side dishes such as simmered dishes and thick stir-fried dishes can be served without worry. On the other hand, the long-baked plate has a gentle curve. It is a fun plate to serve in a rectangular shape.
It's slim even when stacked, so it's fun to clean up
The layered stripes of Hakusan Pottery are smart enough for a cupboard.
It's stackable and can be stacked neatly, so it's easy to take it out and put it away. Even if you have the same number of people in your family, this is safe.
Related Products
Masahiro Mori's special design, as if hand-painted with a pen
The layered stripes of Hakusan Pottery are simple but unique.
The slanted thin striped lines look like geometric patterns and are stylish. Still, it also has a gentle texture like hand-painted.
The "layered stripe" pattern was born from the commitment of designer Masahiro Mori.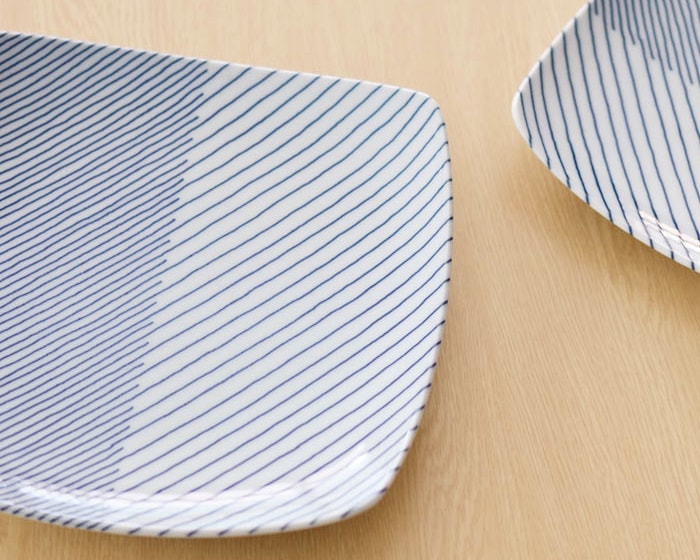 The painting of the overlapping stripes of Hakusan Pottery is by transfer technique. However, the ink-bleeding atmosphere looks like hand-painted with a pen.
"What kind of thought did Mr. Mori design for the layered stripes?"
When I asked the studio, I was able to hear the episode when designer Masahiro Mori created the overlapping stripes in 1984.
The layered stripes were created by Masahiro Mori's thoughts on the design and the technology of Hakusan Pottery to realize it. Masahiro Mori's wishes and mass production technology for pottery were born in unison, and it is a fashionable square plate that was fully announced to the world.
In addition, the stripes of Hakusan pottery and layered stripes continue to the edge of the plate. It makes me happy that the details are beautifully finished.
What is Hakusan Touki, the creator of Scandinavian-style square plates and layered stripes?
"Hasami ware" that I often hear these days. "Hakusan Touki" is a ceramic brand located in Hasami Town, Nagasaki Prefecture, which has a history of 400 years of porcelain production, which is the production center of Hasami ware.
Hakusan Pottery was founded in 1951. As a workshop that consistently performs from design to manufacturing, we make use of Amakusa pottery stone, a high-quality material that can be quarried in Amakusa, Kumamoto Prefecture, and produce fashionable tableware with reliable technology.
Hakusan Pottery is a fashionable Japanese tableware brand that has produced many long-selling products even before Hasami ware became as famous as it is today.
At the Japan Design Store, we have selected and introduced the design item "Design Mori Connection" by designer Masahiro Mori from Hakusan Pottery.
For Hakusan Pottery and Masahiro Mori, the starting point for making pottery is that it is easy to use and that it fits into our daily lives. We value the fact that people who use it will be attached to it and use it for a long time, and we make vessels from the image of the life scene where people use the vessel.
It's not a gorgeous decoration, but it's not mediocre. It's new, but I feel nostalgic. A simple and fashionable design that is comfortable to use and never gets tired of. This is the charm of "Hakusan Pottery" and "Design Mori Connection".
What is Masahiro Mori, the designer of layered stripes?
Born in Shiota Town, Saga Prefecture in 1927. He studied design at the Craft Design Department of Tama Art University and joined the design room of Hakusan Pottery in 1956.
Although Kaj Franck, a great designer in Scandinavia, asked me if I could come to Finland and work, there are still episodes where I declined because there is still a lot of work to be done in Japan. increase.
Ceramics produced under the policy of "I feel the joy of designing to share and live with many people by thinking about the vessels used in everyday life, making shapes and producing them at the factory" , Received numerous international design awards such as the Good Design Award, the Long Life Design Award, and the Gold Award of the Industrial Department of the Italian Faensua International Ceramic Art Exhibition.
The award goes to about 110 award-winning works.
After leaving Hakusan Pottery, he was also enthusiastic about design education, and also worked as a professor at Aichi Prefectural University of the Arts and a professor at the Faculty of Arts, Kyushu Sangyo University. He eternal slept in November 2005.
Masahiro Mori's words that I want to convey
Masahiro Mori left a number of impressive words in the design world.
It's close to a digression, but I would like to introduce four of the store manager's favorite quotes.
Fresh blue&white matches any table
Hakusan Pottery's layered stripes with beautiful blue stripes are eye-catching.
The refreshing blue striped plate and layered stripes can be an accent on the table, but they are not overstated. It is a container that is easy to coordinate with your own blue or white tableware.
The layered stripes of Hakusan Pottery are perfect for a dining table in a Japanese space or a dining room with a Scandinavian interior. It is a layered stripe that complements Japanese food, but you already know that it is a vessel that also looks good on Western and Chinese dishes such as carbonara, tomato spaghetti, and mapo tofu.
Hakusan Pottery's layered stripe series, which has a reputation for looking delicious regardless of the genre of food. It makes home cooking look like a small restaurant with a nice atmosphere, so it is irresistible for cooking lovers.
Hakusan Pottery's layered stripes are very convenient to have at home!
The original set from the Japanese design store is recommended as a gift
The fashionable Hakusan pottery layered stripes are a perfect gift for loved ones.
Few people have a square plate. We have prepared our original set at the Japan Design Store in response to the request "I want to give it to my dear friends and family!" .. This is recommended for those who like cooking, Mother's Day gifts, wedding gifts and new construction gifts.
Related Products
Hakusan Pottery's layered stripe series is Hasamiyaki.
Unlike Arita ware, Hasami ware does not have gift sets or gift boxes at Hakusan Pottery Studio because it has been made for home use. The layered stripe set will be delivered in combination with the one in the white craft box of the workshop, but wrapping is also available.
An elegant Japanese design store original gift box is also available/h4>
Some set products will be delivered in a gift box exclusively for the Japan Design Store. A golden logo mark is included in an elegant white box suitable for gifts.
The best gift for your precious gift is the wrapping of the Japanese design store.
The Japan Design Store offers a variety of fashionable wrappings to suit the gift scene. The elegant Noshi packaging and modern Japanese wrapping using red and white Mizuhiki are popular.
Introducing the layered stripes of Hakusan pottery and the voices of users ♪
"The Shimashima pattern is cute!"
"Easy to use!"
And everyone who uses Hakusan Pottery's layered stripe series every day. It seems that the features of the layered stripe series are fully utilized to add color to daily life.
Hasami ware with a Scandinavian design is cute, but can you use it in your daily life? If you have any concerns, please refer to how other customers use it.
Increase your cooking motivation! Both Japanese and Western food ♪

I love this striped series and bought a long plate for fish fillets.
It is an easy-to-use square plate that goes well with both Japanese and Western dishes, and is very useful. Just serving fish on this plate looks really good! The horizontally long plate can be used for various dishes other than fish, so it seems to be a motivation for cooking that you are not good at. It was light and it was a long plate as expected!

For a plate for fashionable saury

I've always wanted a saury plate, but I couldn't step forward ...
Looking at this Hakusan pottery square plate, I decided to purchase it because it had a nice design and I thought it could be used for Iloilo other than saury. I bought 5 for my family.
I have to cut my head for saury, but I am satisfied with the very nice long plate.

Reasonable but fashionable! The favorite I finally met

I've always been looking for this type of plate, but I couldn't find what I liked at the store. Even if you come across Japanese tableware made by the artist, the prices are quite high. This is reasonably priced and very fashionable! I decided immediately after discovering it! Shimashima's long-baked plate is my favorite!

Satisfied with the beautiful blue color ♪ It is also useful when visiting customers

I've always been interested in it when I saw it at the store before. I couldn't forget the cute striped pattern, so I finally bought it. The blue tableware is more beautiful than I expected and I am very satisfied. The dishes are perfect not only with grilled fish such as saury, but also with grilled chicken, vegetables, and spare ribs.
It can also be used for hors d'oeuvres when visiting customers. I've been wondering about the fashionable square plate for a long time, but I'm using it more than I imagined. I'm glad I bought it.

Not too heavy, not too light, just right

The striped pattern is really good !! It's really cute and lovely! I've been worried about it for a long time, and I've checked it many times in the photos, but it arrived and I saw the real thing ... It's cute! I was deeply moved by my family.
I put sushi on it and served teriyaki chicken and soaked spinach. The square plate is not too light and not too heavy, and I've been crazy about collecting Scandinavian brand tableware, but I think I'll be addicted to Japanese tableware from now on!

Found at an old folk house cafe! Convincing usability

I was looking for a long plate for grilled fish. I got the impression that it was a Scandinavian style rather than a Japanese style. The saury is not long enough to hold one, so when I put down my head, the whole saury slanted. The tableware itself is not so heavy, and the surface is smooth and easy to wash.
The design is also casual, so it seems easy to use. Is it for a little young people? I felt that, but I was convinced that the same tableware came out at my favorite old folk house cafe the other day. On the contrary, I think it doesn't have to be old. The price is reasonable and it is understandable that Japanese tableware that is easy to use is popular.
I finally found it! Beautifully designed square plate
When you try to prepare sashimi, grilled fish, omelet rolls, etc. at home, you will notice that you do not have the perfect shaped square plate, long plate, or long square plate.
Actually, even if you are looking for a Japanese and Western tableware brand with a nice design, there are surprisingly few workshops that make horizontally long rectangular plates such as square plates, long plates, and long square plates ...! I couldn't find the tableware to match Japanese fish dishes.
Of course, it would be nice to serve it on simple and modern Western tableware, but I think it would be better to put grilled fish on Japanese tableware.
What should I say ... The grilled fish eaten in the urban and fashionable dining bar may be delicious, but when you eat the grilled fish, you should feel it more delicious in a Japanese space like breakfast at an inn. (Lol).
However, if it is a grilled fish with a taste that is exclusively for grilled fish, it will be earthen, so there are many heavy vessels and it is difficult to use for other menus. The tableware for business use at the set meal shop is also a little different. On the other hand, a simple white porcelain plate makes me feel a little lonely when I serve a saury.
At that time, I was looking for a pot that suits simmered dishes and boiled fish at the same time,
The buyer's best recommendation is the long-baked plate. If you have grilled fish, sashimi, omelet rolls, and rice balls for the number of people in your family, you will not have any trouble serving the Japanese menu for a while, whether at your usual dining table or at a home party.
If you are looking for a fashionable square plate, this is also recommended
In addition to the layered stripes of Hakusan Pottery, we also have fashionable square plates and long square plates that are perfect for boiled fish and grilled fish. Glass plates and tin plates are also our recommendation. Please have a look.
The Japanese design store is definitely a great deal if you buy Hakusan pottery square plates and layered stripes!
Japanese style and fashionable! Extensive selectable wrapping service
We have our original tableware set that is perfect for gifts
For your peace of mind
The layered stripes of Hakusan Pottery are all items made by craftsmen one by one. There may be slight individual differences in size, warpage of edges, and patterns, but please enjoy it as a characteristic of handicrafts.
Precautions
* You can use a microwave oven and dishwasher.
名入れについて
For large orders of 20 or more items, we also accept names such as company name, school name, logo mark, etc.
If you are considering it as a souvenir「Please contact us from "Inquiry Form for Companies / Businesses ".
* A separate fee is required for name-insertion processing. Prices vary depending on the product.
* Some products may not be accepted. Please feel free to contact us.