Arita deep dish, NAMASU plate, amabro
Classical Arita deep dish NAMASU plate
[amabro]NAMASU
Our original set
Exclusive gift box
With Japanese description
With English description
Enjoy food presentation with Arita deep dish
NAMASU plate.
You may have never heard this name.
We would like to introduce unique Arita deep dish "NAMASU" here.
In fact, most Japanese people do not know NAMASU plate.
Please look at the form of the Arita deep dish of amabro. High stand is on the deep dish.
This form is not so common.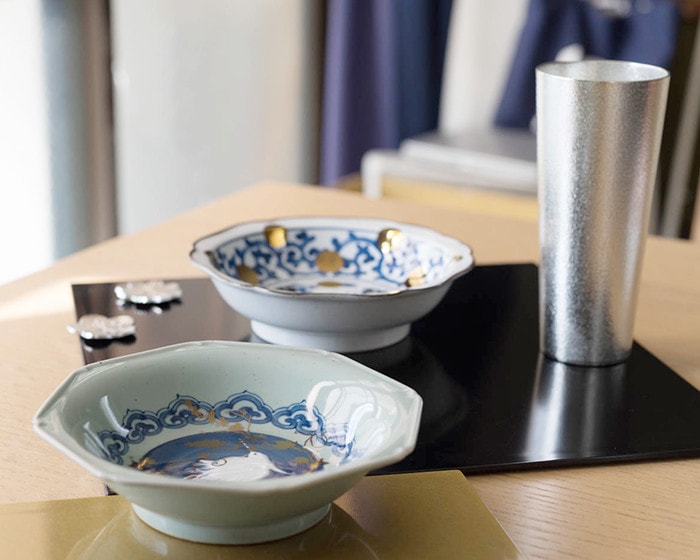 This Arita deep dish NAMASU plate is the revival of "Namasu plate" used in Edo era (about 300~350 years ago.) At that time, Namasu plate had been popular tableware for Japanese common people.
"How do I use the Arita deep dish today?"
Your food presentation will be happier with NAMASU plate. Since the Arita deep dish of amabro has traditional and modern design, various foods suit the plate.
Also, beautiful tableware set would be great gifts for dearest person.
Classical × modern, the expression of amabro
Arita deep dish of amabro has elegant, but unique design. On the Japanese traditional pattern, gold paintings shine.
Amabro is a product brand under the concept of "Rebuilding of expression." From the representative artist Amane Murakami down, they produce products with modern art perspective while respecting Japanese good traditions.
Amabro designed the Arita deep dish "NAMASU" based on the form and pattern of "Namasu plate" of Edo era. In addition to the traditional design, gold paintings are added with modern aesthetic sense.
The Arita deep dish of amabro fits usual dinner table, but provides classic and modern atmosphere.
NAMASU plate gives gorgeous time to your daily dinner.
What is Namasu plate?
By the way, what is "Namasu plate"?
Namasu plate is about 5 sun (15cm) in diameter. The rim of the plate stands. So, it has some depth.
Now, Japanese people call a dish which dress chopped vegetables with vinegar and sugar as Namasu.
However, in the old days, Namasu was the name for chopped raw fish or raw meat. So, Namasu includes marinated fish (such as Shimesaba or Sudako) or dressing raw fish with vinegared miso (Nuta).
Therefore, Namasu plate was a plate for main dish.
In Japanese style meal, rice bowl and soup bowl are set in front, and the Namasu plate is set over the bowls. Now, we understand why Namasu plate has high stand. To make a beautiful table setting, and make it easy to take the food from the plate, Namasu plate has high stand.
Stylish and useful! Arita deep dish of amabro
The Arita deep dish of amabro has about 5.5 sun (160~170mm) in diameter and 48mm in height. The classical plate has appropriate depth for use.
NAMASU plate can be used for stewed food, salad, stir-fried vegetables, or cut fruits. Various foods look more delicious and beautiful on the Arita deep plate. If you put sashimi like the people did in Edo era, you can make Japanese high-class table setting!
In addition, the depth of the Arita plate adequate for soup. Chic and gorgeous plate makes your sake time more elegant.
Moreover, 2 or 3 Arita deep dishes can make more gorgeous table setting.
From daily dinner to special party, please use the NAMASU plate in your own way.
Furthermore, brilliant decorated plate is recommended as an interior item. While you do not use the Arita deep plate as tableware, you can display the beautiful plate on your favorite space.
3 types of NAMASU from amabro
amabro NAMASU "Tako-Karakusa-Sho-Chiku-Bai-Mon-Rinka"

This long name Arita dish plate is composed of 4 words, "Tako-Karakusa", "Sho-Chiku-Bai", "Mon" and "Rinka."

"Tako-Karakusa" and "Sho-Chiku-Bai" are the names of pattern. "Mon" means pattern. "Rinka" is the name of the shape of plate.
So, "Tako-Karakusa-Sho-Chiku-Bai-Mon-Rinka" means a Rinka shaped plate patterned with Tako-Karakusa and Sho-Chiku-Bai.

The combination of Tako-Karakusa and Sho-Chiku-Bai was popular as auspicious motif in 18th century. Tako-Karakusa pattern in bold line was especially used for Sometsuke tableware to export.

On traditional pattern, the Arita deep dish has gold polka dots. The polka dots look buds of flowers, or drops of rain.
Golden polka dots make traditional paintings impressive.

Ceramics painting: "Tako-Karakusa"

The "Tako-Karakusa" pattern on the Arita deep dish was introduced from China. Whorled vines and leaves look like the octopus's sucker. So, it is called Tako-Karakusa. Tako (octopus) is an auspicious motif. It is said, "Octopus sticks to good things", "Tako reminds us 多幸 (a lot of happiness)", or "Octopus wraps the difficulties in smoke."

Ceramics painting: "Sho-Chiku-Bai"

The "Sho-Chiku-Bai" pattern on the Arita deep dish is composed of 3 Japanese plants, Matsu (pine tree). Take (bamboo) and Ume (Japanese plum). Matsu and Take is evergreen tree and Ume blooms its flowers earlier than all other flowers. So, the combination of Matsu, Take and Ume expresses long-life. Sho-Chiku-Bai is a representative auspicious motif in Japan.

amabro NAMASU "Tulip-Mon-Rinka"

Can you guess what flower is painted in this Arita deep dish? In fact, it is tulip!

In 1660s, tulip had been widely favored in Netherlands. The flower of "Tulip-Mon-Rinka" is an imaginative flower of Japanese potter. Japanese potter in that time had never seen tulip. So, he painted his imaginative tulip on the Arita deep dish. It is very unique!

On unique tulips, golden birds are flying. The birds are painted in detail. The combination of flying birds and tulips makes an elegant and gorgeous plate.
Also, red, white, and gold color are very auspicious in Japan. Elegant tableware would be great gift.

amabro NAMASU "Shiro-Nuki-Sagi-Mon-Hakkaku-zara"

This long name Arita deep dish plate is composed of 4 words, "Shiro-Nuki", "Sagi", "Mon" and "Hakkaku-zara."
"Shiro-Nuki" is a kind of skill. Cover bird shape with black ink or wax, glaze the bottom of Arita deep dish, and bake it. Then, the covered place remains white.

"Sagi" is snowy heron. "Mon" means pattern. And "Hakkaku-zara" means octagon shape plate (Hakkaku is octagon and zara or sara is plate).
Unique pattern around Sagi is called "Kumo-mon." Kumo means cloud.

This Arita deep dish has beautiful Sometsuke paintings on the celadon.

The gold paintings are vines of grape. The grape vines are popular motif in the paintings of Western world.
This NAMASU plate realized a fusion of Japanese tradition and western tradition.

Ceramics painting: Shirasagi

It is believed that white Sagi or Shirasagi in the ceramic world is also influenced by China. In China, Shirasagi was loved as the symbol of noble person who are not stained by mud. The white feather and elegant posture was very beautiful and noble. So, snowy heron was often drawn in paint or crafts with a wish of the success. In Japan, the ceramics in China was the ideal for craftsmen. So, we can see Shirasagi on Japanese ceramics, too.
Microwave safe while the Arita deep plate has golden paint
Usually, tableware with gold or silver decoration are not microwave safe. However, NAMASU plate from amabro is "microwave SAFE!" It is very rare.
Therefore, you can warm dishes on the Arita deep plate in microwave.
NAMASU plate is beautiful and useful tableware.
(Other series of amabro, MAME, CHOKU, and ERI are not microwave safe.)
Delicate work! Look at the high stand of the Arita deep dish
Please look at the high stand and the back of the Arita deep dish NAMASU. Once you touch the high stand, you will be surprised at the smooth surface.
This style is called "Janome-Kodai". "Janome-Kodai" is often seen in the ceramics of late Edo era (about 250 years ago).
"Janome" is a name of Japanese traditional pattern. It is double circle with inside circle painted over. "Kodai" means high stand.
The bottom of the Arita deep dish is similar to this pattern. The center of the bottom of NAMASU plate is sunk and filled with glaze.
The high stand of the Arita deep dish is glazed to the edge of the bottom. They are baked with special tools for kiln. So, the Arita soba cups are hard to damage your dinner table.
Amabro revived the tableware of Edo era in every detail. Antique lovers will satisfy this quality.
At the center of the Arita deep dish, the potter's mark "A" is drawn by craftsmen. On traditional design soba choko, modern alphabet gives unique atmosphere.
Cute and stylish! Dish towel wrapping
Japan Design Store have got good reputations of our various gift wrapping.
This time, we prepare special sets with Arita deep dish NAMASU wrapped with dish towel.
This stylish dish cloth from "WDH" is a big cloth. This dish cloth is made of "kaya." Kaya means mosquito net. Kaya is light, thin, and good water absorbency. Also, it becomes dry soon. Japanese people have loved kaya since Edo era.
You can use the gift wrapping material. It is eco-friendly and useful set.
Important gift? Visit Japan Design Store
Japan Design Store offers various gift wrapping. You can choose the best one for your purpose. We will wrap your item thoughtfully.
Especially, the Japanese paper and Ume-Mizuhiki set have been popular from all generations.
The Arita deep dish NAMASU is a traditional and modern Japanese tableware. You can make a great table setting with a NAMASU plate.
This useful and beautiful Arita deep plate would be great gift item, too. NAMASU is within chic exclusive box. On midnight blue box, golden tooling shines.
Original set within our exclusive gift box
Japan Design Store makes a original set with the Arita deep dish NAMASU and Arita soba cups CHOKU. This set is within our elegant white box. It would be great gift.
The Arita deep dish NAMASU would be suitable for wedding gifts, housewarming gifts, or birthday gifts. Also, high-class plates are good presents for the Mother's Day or Father's Day.
How about selecting useful and elegant Arita deep dish?
For your long use at ease
* We can see some chip or crack of the gold paintings of the Arita deep dish. Also, we can see different shade of color or chip of patterns on paintings. All the tableware is handmade by craftsmen one by one. We appreciate your kind understanding to the handmade crafts. There is no problem in its quality.
* Arita deep dishes of "NAMASU" series have black small dots. They are iron components in the clay. Please enjoy the unique texture of special clay.
Other caring tips
* NOT oven safe.
* When you put sour food on the Arita deep dish for a long time, paintings may turn their colors.
* Please do not use the plates at high places or unstable places. That may cause breakage or injure.
* The breakage of the products may cause serious injury.
* After use, please dry the plates enough. When the dry is not enough, it may cause stains or mold.
How to care
* Wash with neutral detergent and soft sponge after use.
* Please check the care label of the detergent. Gold paintings and paintings may be easy to be removed by washing.
* When you use forks, knives, spoons with the tableware for a long time or frequently, the tableware may become black by the adhesion of metal components. Also, scuff marks may be caused by strong scratch by knives.
Light scuff marks can be removed by polishing it with soft sponge with cleanser.
Personalize gift service
For the bulk order more than 20 items, we can personalize your items with the name of your company, school, or with logomarks. If you plan to order corporate gifts or keepsake gifts, please contact us from "Contact us."
* Personalize gift needs service fee. The fee depends on items.
* Personalize service is not available for some products. Please feel free to ask us.