[Dish cloth wrapping] Tako-Karakusa-Sho-Chiku-Bai-Mon-Rinka / NAMASU series / Deep dish / amabro
Stock status

1
Shipping Date

We will ship your order within a week.
Easy order, Ship soon
Payment

Paypal

* Available Credit Card is depend on customer's Paypal account policy.
Please check your Paypal account pilicy for your choiced card.
More Information

| | |
| --- | --- |
| size | Differs depending on the item |
| weight (g) | 470.0000 |
| notes | Differs depending on the item |
| remarks | All the products are handmade by traditional craftsmen. Please enjoy different individualities of each product. Tableware of NAMASU series have black small dots. They are iron components in the clay. We can see some chip or crack of the gold paintings, or different shade of color or chip of patterns on paintings. There is no problem in its quality. Check the care label of the detergent. Gold paintings and paintings may be easy to be removed by washing. NOT oven safe. When you put sour food on the Arita deep dish for a long time, paintings may turn their colors. The breakage of the products may cause serious injury. After use, please dry the plates enough. Do not use the plates at high places or unstable places. Wash with neutral detergent and soft sponge after use. The tableware may become black by the adhesion of metal components. Light scuff marks can be removed by polishing it with soft sponge with cleanser. |
| Short Description | 【[Dish cloth wrapping] Tako-Karakusa-Sho-Chiku-Bai-Mon-Rinka / NAMASU series】Amabro revives the "Namasu plate" which had been loved by people in Edo era. We will wrap the "Tako-Karakusa-Sho-Chiku-Bai-Mon-Rinka" with Green dish cloth of WDH. Gold paintings shines on the blue and white porcelain. Traditions meet modern aesthetic sense. Dish cloth wrapping set would be great gift. Of course, dish cloth can be used as a kitchen tool, too. |
amabro
Amabro is a product brand of MURAKAMI ART corporation directed by an artist Amane Murakami. Under the theme of "Art of life", they propose a life with Japanese traditions.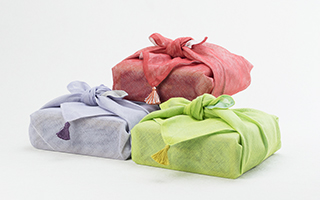 WDH
WDH suggests a high-quality lifestyle generated by the manufacture with Japanese traditional skills. You can enjoy the change of their original items over the years. Beautiful items deepen the depth of your life.