Silver Champagne Flutes with Tin × Gold Leaf
[Nousaku]Champagne flutes
Our original set
Exclusive gift box
With Japanese description
With English description
Bubbles Burst in Silver Champagne Flutes with Gold Leaf
Enjoy special champagne elegantly!
Champagne flutes from Nousaku is made of tin and gold leaf.
Rising bubbles shine in the glitter of gold leaf.
Home party and dinner time become more gorgeous.
Does champagne shine? Rare tin champagne glasses
When we open the bottle of champagne, it often is a special day,
Make success on job, or anniversary of couple.
Or, when we cooked very delicious dishes.
We become in a mood like "how about opening this champagne today?"
Silver champagne flutes from Nousaku are suitable glasses for that night.
Glitter of gold leaf makes champagne shiny.
Sparkling bubbles looks different in this trumpet champagne glass.
Enjoy sparkling and shining time.
This silver champagne flute is a rare glass, made of tin.
For elegant champagne time, or gorgeous home party, tin champagne flutes work.
Stylish and useful trumpet champagne glasses from Nousaku would be great gifts as well.
"Gold leaf", a traditional craft in Kanazawa applied gorgeously
Look inside of the toasting flutes of Nousaku. It is totally gold!
These champagne glasses are gilded with gold leaf. The gold leaf is a traditional craft in Kanazawa, and the gold leaf craftsmen in Ishikawa prefecture apply the gold leaf. It is a gorgeous hand made work of craftsmen. Tin champagne flutes are casted in Takaoka city of Toyama prefecture. Takaoka copperware including casting tin is a traditional craft in Takaoka. So, the trumpet champagne glass is the collaboration of traditional crafts in Takaoka city of Toyama prefecture and Kanazawa city of Ishikawa prefecture.
Glitter of gold leaf on this toasting flute make champagne look beautiful.
100% pure! Gentle shine of pure tin
Not only gold leaf provides gorgeous presence of silver champagne flutes of Nousaku. The material of glass "tin" is so beautiful.
It is not well-known, but tin is the most expensive metal after gold and silver. Nousaku produces the champagne flutes with 100% pure tin. Unique presence of tin is one of the secrets of beauty of this silver champagne flute.
Gentle gloss of tin surprisingly suits well in table setting. It goes well with usual scenery of dinner.
Elegant form to upgrade dinner table
Stand smartly like a modern object of art.
Silver champagne flutes of Nousaku are characterized by the unique form. Trumpet form is very stylish! Shine of gold leaf gets light inside. You may have not seen an elegant tin tableware like this champagne glass.
Toasting flutes from Nousaku can make behavior of user look beautiful. With these trumpet champagne glasses, you can upgrade your table setting easily.
Easy to hold and very stable!
The features of the silver champagne flutes of Nousaku are not only appearance.
I am so surprised to use it, that it is "very easy to hold!" If you are not familiar with using stem glasses like flute glass or coupe glass, it is difficult to use them smartly. However, the trumpet champagne glasses from Nousaku fit comfortably with our hands. We do not have to worry about dropping glasses. Regardless of generations, everyone can use toasting flutes at ease.
In addition, it has great stability. The silver champagne flute is tall, slender, but has enough weight. Therefore, if you look for tall, stylish, but useful champagne glass, we recommend trumpet champagne flutes from Nousaku.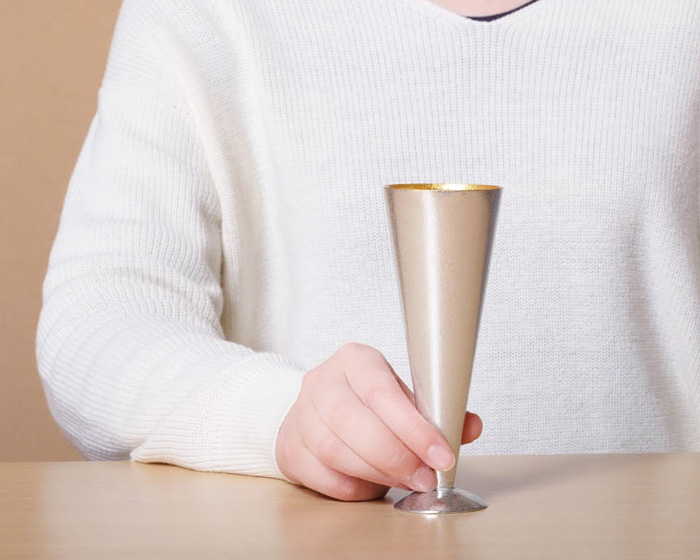 Cool in refrigerator for 1~2 minutes
How to drink champagne deliciously with the champagne glass of Nousaku?
Just pouring champagne is good. But let us introduce a tip for more delicious champagne.
Cool the silver champagne flutes for 1~2 minutes in refrigerator!
Another feature of tin champagne glass is high thermal conductivity. Drink cold champagne with cold glass. The mouth-feel becomes better and champagne become more delicious! In addition to champagne, we recommend cold sparkling wine or sparkling sake.
However, tin champagne flutes might change in quality in low temperature. Please avoid keeping toasting flutes in refrigerator for a long time, or cooling in freezer.
The tip to enjoy tin champagne glass is "A few minutes in refrigerator!"
Trivia! What is the difference between champagne and sparkling wine?
When you enjoy champagne, have you ever wondered what is the difference between champagne and sparkling wine?
According to my research, all sparkling wine is classified in "sparkling wine."
Among "sparkling wine", names of "Champagne", "Cremant" or "Cava" are given for wine which fulfill necessary conditions such as limited kind of grape, designated manufacturing, or designated area.

"Champagne" is a sparkling wine that is brewed in accordance with the rule of "champagne" in Champagne area where is the northernmost producing area of France. As for high-class champagne, "Dom Perignon" and "Moet & Chandon" are famous.
Best size to get tipsy
Silver champagne flutes form Nousaku can contain 130cc.
Tall glass has great presence, but slim flute only contains a little. Therefore, it is not suitable when you would like to drink a lot of beer. The trumpet champagne glass is good for alcohol drink which we would like to enjoy little by little, such as champagne, wine, umeshu (Japanese plum wine) or Japanese sake.
Toasting flutes from Nousaku is recommended for evening drink to get tipsy.
Tin champagne flutes suit well with glassware
Silver champagne flute from Nousaku suit well with glassware.
For a special party, glass plates make dishes look stand out. Tin champagne glass can be a cool accent among glassware.
Glass plates and champagne glass suits well. But with glassware and tin ware, you can make more stylish and polished table setting.
Top brand of casting! What is "Nousaku"?
"Nousaku" is one of the representative casting brands in Japan.
It was established in 1916 in Takaoka city of Toyama prefecture. They inherit techniques of "Takaoka copperware" which has been handed over for 400 years.
Nousaku produces sake cups such as tin beer cups or tumblers, flower vases made of tin or brass, wind chimes, or tableware. Under the concept of "Produce better casting in better way", they pursue beauty which reflects modern sense.
The world pay attention to skills of craftsmen and modern design
Nousaku opened a directly managed store in Milan of Italy in 2014 to meet the demands of customers in Europe. Now, Nousaku is a top brand that is said "speaking of modern design traditional crafts, Nousaku is the first."
Various items Nousaku releases every year attracts designers all around the world as art works.
How to care tin champagne glasses?
"Isn't it difficult to care tin champagne glasses?"
If the silver champagne flutes of Nousaku are the first tin ware for you, you may worry about that. In addition to the material, this toasting flute is gilded with gold leaf.
However, you do not have to worry.
Tin champagne glasses can be washed with dishwashing detergent
Silver champagne flutes from Nousaku are easy to care.
Gilded gold leaf is coated. So, you do not have to worry about gold leaf.
As the care after use, please hand wash with soft sponge and dishwashing detergent (neutral) as same way as usual tableware. You do not have to worry about breaking glass unlike champagne glasses.
Silver champagne flutes as celebrating gifts
Trumpet champagne glasses from Nousaku are suitable for celebrating gifts. Because champagne is indispensable for celebrating toast!
Do you know why we drink champagne or sparkling wine in toast for wedding parties or any other parties?
Champagne is auspicious!? Reason of toasting with champagne
When we pour champagne into champagne glasses, delicate bubbles rise. In fact, these bubbles of champagne are auspicious. They have meaning that "may happiness lasts forever like everlasting bubbles of champagne." Also, it is said that the sound of sparkling bubbles is "applause by angels."
Just like champagne is indispensable drink at celebrating party, champagne glasses are indispensable items. How about choosing silver champagne flutes of Nousaku as wedding favors?
We make a pair glasses set of the trumpet champagne glasses. Pair glasses would be great wedding gifts, wedding anniversary gifts, birthday gifts or housewarming gifts. Since the toasting flutes are simple design, it is good for silver wedding anniversary or gold wedding anniversary. Also, gorgeous silver champagne glasses would be great retirement gifts.
Gift wrapping of Japan Design Store for important gifts
If you send silver champagne flutes of Nousaku as gifts, please leave it to Japan Design Store. We have various suitable gift wrappings for various gift scenes. Elegant Noshi wrapping and cute Japanese Ume Mizuhiki have been popular. Easy wrapping with Tosa Japanese paper is also good.
Gorgeous time with tin trumpet champagne glasses
"Tin champagne glass!? It is rare!"
Everyone is surprised to see the glass.
Usually, we enjoy rising bubbles of champagne with clear glass. However, toasting flutes of Nousaku are glasses to enjoy transparency of champagne and sparkling bubbles.
Glasses of Baccarat, RIEDEL, or Tiffany & Co. are popular. But traditional beauty produced by Japanese craftsmen is also attractive. Sparkling gorgeous glasses provide unusual atmosphere.
Please enjoy special time with sparkling champagne flutes.
Look for more champagne glasses? See here!
For your long use at ease
All the products are handmade by traditional craftsmen. Please enjoy different individualities of each product. We do appreciate your kind understanding before purchase. Champagne flutes from Nousaku are made of pure tin. Since tin is a soft metal, the toasting flutes can be bent with a little power, but they are not inferior goods. Please enjoy unique features of products.
How to care
* Wash with soft cloth or sponge with neutral detergent after use.
* When the gloss has become dull, please polish the products using a commercially-available metal polish, toothpaste or baking soda. The gloss will return with them. Please do not use metal polish or baking soda for gilded place.
* Please do not rub with a hard-scrubbing brush. Also, the product is soft and vulnerable. Avoid polishing with the cleanser.
Cautions
* Gold leaf is coated. However, please avoid transforming or keeping drink in glasses for a long time since the gold leaf may be come off.
* Strongly acid food or dink may cause change of colors. Please wash soon after using.
* Since tin has high thermal conductivity, the whole flute become hot when you pour hot drink. Please enjoy cold drink.
* Please keep the silver champagne flutes from flames because tin has low melting point.
* NOT microwave SAFE.
* NOT dishwasher or dish dryer SAFE.
* Please do not put in the freezer to reduce the risk of tin pest (that tin becomes brittle by the cold). Also, please avoid long-time storage in refrigerator.
Personalize gift service
For the bulk order more than 20 items, we can personalize your items with the name of your company, school, or with logomarks. If you plan to order corporate gifts or keepsake gifts, please contact us from "Contact us."
* Personalize gift needs service fee. The fee depends on items.
* Personalize service is not available for some products. Please feel free to ask us.