Colorful dinnerware, Mino yaki, SAKUZAN
Colorful dinnerware DAYS! Daily useful Mino yaki
[To the customer]

This product is no longer sold.
Colorful and cute! Daily useful dinnerware
"Let's eat colorfully."
This is a message of DAYS series of SAKUZAN.
Colorful dinnerware makes you feel exciting.
Just you set colorful dinnerware on the table, happy dinner time begins.
"What do I make for this colorful plates?"
"How do I make color coordinate today?"
DAYS series are not only cute, but also very useful in every cuisine.
Please enjoy happy life with high-quality Mino ware.
"DAYS" was born from the pursuit of a Mino yaki pottery SAKUZAN
Colorful dinnerware "DAYS" was born with a wish,
"We wish people color the life every day."
DAYS has rich color variation and smooth mat texture. Craftsmen handmade all products one by one. They pursue the quality to the edge of rim※.
Handmade colorful dinnerware has best thinness for eating and comfortable texture.
The more you use DAYS, the more you love them!
Colorful dinnerware DAYS do not obstruct the color of dishes. On the contrary, the colors of DAYS are considered to make dishes stand out. Once you put it, you can make stylish food presentation easily. Colorful Mino ware work every day!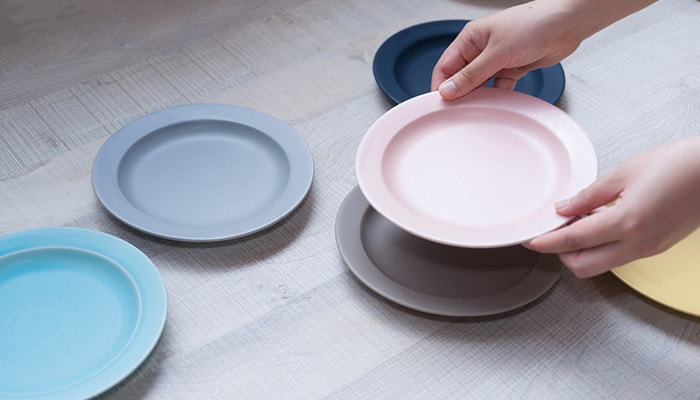 Also, you can make harmonized table setting with all combination of colors. Putting colorful dinnerware, and you will complete a stylish table setting. It seems difficult to make harmonized color table setting. However, you will be a good interior coordinator with DAYS of SAKUZAN.
Useful colorful dinnerware makes you addicted to collect all! How about choosing different color plates and cups for all family members?
With various color tableware, you can enjoy different table setting every day. One day, cute combination, another day, chic table setting…
Your cooking and preparing time will be happier with colorful Mino yaki dinnerware.
Mino ware is so strong that you can use them every day at ease. DAYS of SAKUZAN wishes for your happiness in cooking, preparing, and eating every day. Colorful dinnerware colors your dinner table and your life.
Comments on the words of pottery or porcelain
* Rim : The band of upper edge of plates. When you take the plates, rim keeps you away from touching food. The plates with rim are called rim plates.
DAYS series has 8 colors! Enjoy choosing colorful dinnerware
Colorful dinnerware DAYS are rich in colors. DAYS has "cream, pink, yellow, turquoise, navy, gray, brown, and black." When we put all colors, the dinner table gets happy atmosphere.
You can collect one color tableware, or enjoy color coordinate with some colors. For example, you can make chic table setting with gray cup and saucer with cream cake plate. A pair of yellow and turquoise cup and saucer will cheer you up.
The color combinations of colorful dinnerware are totally up to you! Enjoy your own color coordinate.
Cute logo of SAKUZAN at the bottom of colorful dinnerware
There is a logo of "SAKUZAN JAPAN" at the bottom of plates and coffee cups. Cute logo of SAKUZAN reminds us mountains or sea. Craftsmen put the logo by their handwork.
What is SAKUZAN, a pottery of colorful dinnerware DAYS?
SAKUZAN is famous for its modern and beautiful tableware. A pottery of Mino yaki is in Toki city of Gifu prefecture. Toki city is in Tono area of Gifu prefecture. We can see people's life with pottery in Tono area.
SAKUZAN was established in 1987. Now, the third inherited the pottery. At first, their atelier was an atelier of over-glaze painting. The second established the pottery name of "Yamasaku pottery." And the third started "SAKUZAN."
Under the last owner, the atelier launched into commercial production. But now, SAKUZAN's products are little amount but rich in variety. SAKUZAN uses 14 kinds of clay, 3 ways of firing, and more than 100 kinds of glazes. With inherited skill of Mino yaki, SAKUZAN produces modern design tableware for contemporary life.
SAKUZAN tries to collaborate with famous brand as well. For example, they produced collaboration items with Afternoon tea or Floyd. The collaboration items are popular for stylish and high-quality. It can be said that there is a spirit of changing with the times in SAKUZAN.
SAKUZAN pursuits not only the visional beauty, but also the details of usability. Kneading raw materials, forming, drying, firing unglazed pottery, glazing, and firing glazed pottery.
Craftsmen of SAKUZAN carefully confront with all procedures of pottery. You can feel the beauty of handwork by the Mino ware of SAKUZAN.
"Beautiful work makes beautiful tableware. And beautiful tableware makes healthy smile."
SAKUZAN pursues the beauty.
Useful, beautiful, and stylish tableware of SAKUZAN make our dinner time more comfortable.
What is Mino yaki (Mino ware)?
Mino yaki or Mino ware accounts for more than 60% of the production quantities of tableware in Japan.
Mino yaki is a pottery produced in Kani city, Tajimi city, Toki city and Mizunami city of Gifu prefecture. Mino yaki is characterized by its variety. Various potteries are produced by rich clays and high skill to absorb the great points of other potteries or porcelain.
There are all sorts of "Mino yaki": from daily-use tableware to high quality Japanese tableware, or tea ceremony set. The area of Mino ware has many lively working potters in art object, crafts, or traditional crafts. Mino yaki has about 1300 years' history. It is said that Mino yaki is the representative daily tableware.
About 430 years ago, tea ceremony came into the fashion. As it became popular, SEN no Rikyu and Oribe Furuta guided the new tea ceremony set, like "Shino" "Oribe" or "Setoguro." These are kind of Mino yaki. Mino yaki was at the leading edge of fashion in that time.
Now, the spirit of Mino yaki is inherited. With traditional skill and new skill, new tableware is produced in the area of Mino yaki.
DAYS series are colorful and various!
DAYS Sara Coffee Cup & Saucer

[To the customer]

This product is no longer sold.

Cute coffee cups and saucers of DAYS series will make your coffee time happier. Of course, you can drink black tea, green tea, or Houjicha with this colorful cups. The handles are easy to have, and the place you drink from are comfortable. We can see the care in details and high-quality on this simple colorful cups.

The cups and saucers of SAKUZAN are in the wooden boxes with cute logo of SAKUZAN. So, simple and cute coffee cups and saucers are suitable items for gifts. Choosing favorite colors for your family members or your guests. The conversation will be livelier.

Days Sara plate

Sara Plate of DAYS series from SAKUZAN is stylish and rich in variety. Sara Plate has 8 colors and 2 forms; DAYS Sara plate (rounded) and DAYS Sara Oval.

DAYS Plate (rounded) has 3 sizes. Sara 10" plate (Large), Sara 7" plate (Medium) and Sara Saucer (Small.) If you pile up 3 different sizes of plates, gorgeous table setting is complete! Double, triple, or different colors…how do you coordinate them?

DAYS Oval has 2 sizes, L and M. Oval plates gives more blank space than rounded plates. The blank space produces beautiful food presentation.

Mat glaze makes smooth texture of this colorful dinnerware. It has a little depth, so, you can put juicy food.

Usually, people collect same color individual plates. However, we recommend colorful individual plates with DAYS. You can make beautiful color coordinate with every combination. For home party or daily dinner, these colorful dinnerware work well! Also, we recommend using Sara plates with coffee cups and saucers as cake sets.



Colorful dinnerware DAYS for gifts
Just like you choose your cloths every day, how about choosing the color of dinnerware?
A plate for a day will make you happy. For breakfast, lunch, snack time or dinner. Colorful dinnerware work in various scenes. If you like the tableware of Iihoshi Yumiko, you will like DAYS as well!
Simple and high-quality colorful dinnerware are suitable items for gifts. Mino yaki will make your important person happy. How about sending colorful dinnerware for your important person?
We have another series of dinnerware "Stripe series"
SAKUZAN offers another dinnerware series. The "Stripe series" has stripe pattern like "Shinogi." Shinogi is one of the traditional pattern of ceramics. Craftsmen shave the plate before firing.
Mat texture and monotone color plates have calm presence. Once you put food on the plates, the food looks more gorgeous!
Plates of Stripe series look flowers. If you put those dinnerware, the flowers will bloom on the table.
Stripe series has 2 colors; white and gray. How about making a table setting with white and gray plates?
For your long use at ease
You can see unevenness or color irregularities of glaze on this product. Also, you can see small cracks on the surface of the glaze. Or, the products may change colors when it is soaked in water. Those are the characteristics of the glaze. There is no problem in the quality. Craftsmen glaze all plates one by one with their hands. We appreciate your understanding on the characteristics of handmade products.
Notes on Turquoise color
Turquoise color is very beautiful with its mat texture and clear light blue colors. However, we can see some scratches, kannyu (cracks on the surface,) iron powder (black dots,) uneven colors, or crystal (polka dots on the surface) more than other colors. The reason of this is the glaze of turquoise. The turquoise glaze is highly transparent.

Turquoise color has strong personality. However, there is no problem in the quality. We appreciate your understanding on the characteristics of handmade products.
Notes on Brown color
Brown color is beautiful with its mat texture and natural atmosphere. Brown plate fits various cuisine. However, we can see difference on colors of brown. It varies from grayish brown to red brown. There is no problem in the quality. We appreciate your understanding on the characteristics of handmade products.
Caring tips
* All the products are handmade by traditional craftsmen. Please enjoy different perspective of each product.
Personalize gift service
For the bulk order more than 20 items, we can personalize your items with the name of your company, school, or with logomarks. If you plan to order corporate gifts or keepsake gifts, please contact us from "Contact us."
* Personalize gift needs service fee. The fee depends on items.
* Personalize service is not available for some products. Please feel free to ask us.