Official Hello Kitty Products for Adults from Nousaku
Worldwide Famous! Hello Kitty Products for Adults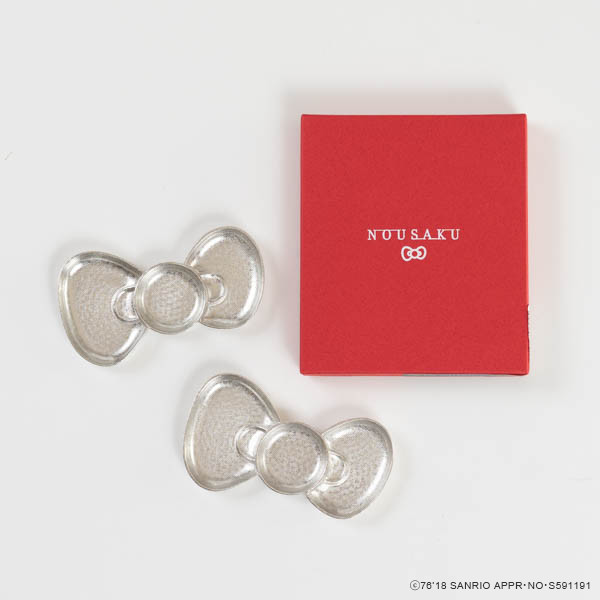 [Nousaku]Hello Kitty Products
Our original set
Exclusive gift box
With Japanese description
With English description
Traditional product of Hello Kitty
HELLO KITTY is now a worldwide popular character from Sanrio.
Hello Kitty represents Japanese "Kawaii". Famous celebrities love her, such as Lady Gaga, Mariah Carey, Britney Spears, Cameron Diaz, or Paris Hilton.
In Japan, Hello Kitty has been loved as "Kitty-chan" since her birth in 1974.
Here, we introduce cute tableware of Hello Kitty for adults! Her trademark red ribbon become tin tray and chopstick rests.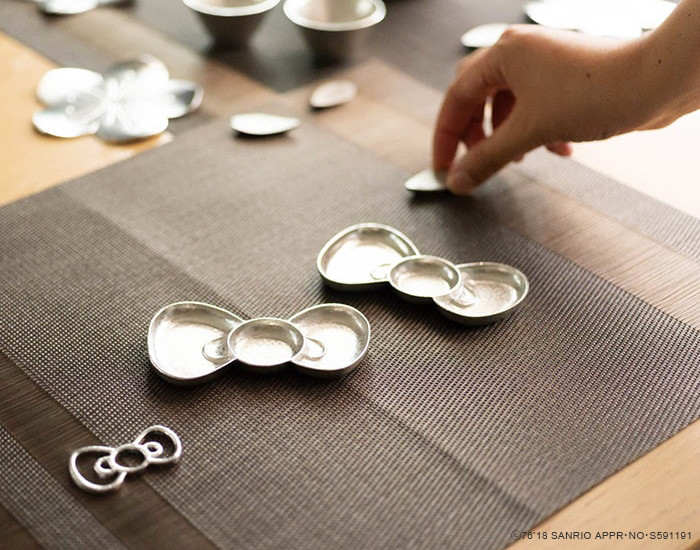 Hello Kitty products from Nousaku are official Hello Kitty items. Cute and stylish Hello Kitty products with high-class atmosphere would be great rewards for yourself and gifts for Kitty lovers.
Hello Kitty products for adult from Nousaku
Hello Kitty items from Nousaku is for sophisticated adults. They are very cute, but simple and modern design which is suitable for any types of table setting.
On the dinner table, shiny Hello Kitty products make accent.
In addition to use for daily dinner, please use this cute Hello Kitty tableware at home parties. Put them as finish of table setting. Ribbon trays will get attention of all people.
"How cute this tableware of Hello Kitty!" All Kitty lovers cannot miss it!
From small children to adults, most people know Hello Kitty. There are all sorts of products of Hello Kitty for adults in the world such as stuffed toys, wallets, watches, or bags. However, there are a few tableware of Hello Kitty for adults. Stylish Hello Kitty products from Nousaku are recommended for Kitty Lovers now and the past.
Cute! 2 Hello Kitty products from Nousaku
Hello Kitty items from Nousaku are gorgeous tin tableware. Tin has high antibacterial effect. So, you can use this tableware at ease. Let us introduce special 2 Hello Kitty products.
Nousaku Hello Kitty Ribbon Tray

This is a tin tray motif of Hello Kitty's ribbon. There are 3 rooms in a tray. It is useful for soy sauce, olive oil or seasonings. Also, you can use Hello Kitty plate for small confectioneries at tea time. In addition, cute Kitty tray can be accessory tray or a tray for stationeries at office. Just like mamezara (tiny plates), please use this Hello Kitty tray in your favorite way.

Since this is a pair trays set, it is good Hello Kitty gifts for adults. For wedding gifts or wedding anniversary gifts, Kitty lovers will be happy with this cute Hello Kitty plate.




Related Products

Nousaku Hello Kitty Ribbon Chopstick rests

This is a set of 5 tin chopstick rests of which motif is Hello Kitty's ribbon. Tin is a soft metal. So, you can bend chopstick rests a little. You can arrange the Hello Kitty chopstick rests in your way.

Everyone falls in love with cute chopsticks of Hello Kitty. It is necessary Hello Kitty product for home party.




Related Products
Stylish Hello Kitty products for adults are great home decor as well. A Kitty tray or chopstick rest on your favorite place make you happy every time you see it. Please add this cute Hello Kitty item to part of your life.
Beautiful and useful! What is tin tableware?
We do not hear about tin tableware that much. What are the features of tin tableware?
Tin is the third expensive metal after gold and silver. It has been said that "the water in a tin ware does not rot," or "a tin ware softens the taste of sake." Therefore, people have been used tin as a sake cup or tea cup. Tin tableware is hard to be oxidized and has strong antibacterial effect.
In our store, Beer cup or Sake set Katakuchi and Guinomi have been popular.
Hello Kitty products from Nousaku are made of 100% real tin. General tin products are mixed with other metals to make it stronger. But Nousaku does not add any other metals for tin products. They make the best use of shine and features of tin at its maximum. So, Hello Kitty items from Nousaku can be used as tableware at ease. You can enjoy the original beauty of tin.
Tin tableware is easy to care
"Isn't it hard to care tin tableware?" You may think so. However, you do not have to worry about it. As daily care of Hello Kitty products, you can just wash them with soft sponge and neutral detergent.
Not a kitty?? What is Hello Kitty?
Cute Hello Kitty products would be good gifts for cat lovers. However, do you know that Hello Kitty is not a kitty?
In fact, this news is taken up by Los Angeles Times of U.S.A. We can see the great interest of Hello Kitty in the world.
Hello Kitty is a cheerful and gentle girl. Her height is as tall as 5 apples, and her weight is as heavy as 3 apples. She likes apple pie made by her mom. She likes to play the piano and making cookies. Her dream is to be a pianist or poet.
YES. She, who wears clothes and walks with her 2 feet is a girl getting motif from kitty.
Hello Kitty has both adorableness like a kitty and sweetness like a girl. Her mysterious charm attracts people.
Hello Kitty products from Nousaku are designed from her trademark ribbon.
Secret of ribbon of Hello Kitty
A familiar item of Hello Kitty, Red ribbon. There is a reason why she always wears cute ribbon. That is to distinguish Hello Kitty from her twin sister "Mimmy." Kitty and Mimmy have so same faces that their family is hard to distinguish. Therefore, mom put ribbons for left ear of Kitty and right year of Mimmy. Hello Kitty products from Nousaku get motif from this ribbon. Pair ribbon tray can be used as one for Kitty's and another for Mimmy's.

Good for gifts or collection! Exclusive box for Hello Kitty products
Please pay attention to the exclusive box of Hello Kitty products. It is an impressive red box. This color reminds us the color of Hello Kitty's ribbon. It is the suitable color for ribbon tray and chopstick rests of Hello kitty.
Under the logo of Nousaku, we can see ribbon of Hello Kitty. Exciting moment for cute Hello Kitty products begins before opening the box.
Hello Kitty products within stylish exclusive box would be great gifts for your important people. Elegant tin tableware can be good gifts for even not a Kitty lover. Of course, Hello Kitty collectors will be enchanted with rare Hello Kitty items.
Products of Nousaku are popular gifts
Nousaku is a brand in Takaoaka city of Toyama prefecture. Its tableware and various goods made with skills of a traditional craft Takaoka copperware get attention.
Among many products from Nousaku, casting items with modern design have been popular such as tin sake set, tin chopstick rests, tin small tray or tin tableware KAGO. Their items have been selected for wedding gifts, return gifts, longevity gifts, or corporate gifts.
Nousaku sets a new trend of traditional crafts. Their Hello Kitty products would be great gifts for adults. Beauty produced by superb skill of craftsmen color your life more.
Nousaku products are with English descriptions. So, it is good gifts for your friends in overseas countries.
Send Hello Kitty products as gifts? Leave it to Japan Design Store
If you would like to send Hello Kitty products as gifts, please leave it to Japan Design Store. We prepare suitable gift wrapping for cute Hello Kitty products for adults.
From Japanese traditional Noshi wrapping to elegant wrapping, we have various gift wrapping. Please choose best wrapping for your gift purpose. Cute Ume Mizuhiki option has been popular.
Cautions
* Hello Kitty products from Nousaku are tableware made of 100% tin. Since tin is a soft metal, you can change their forms a little. Please note that excess bending cause cracks or breakage of the product.
* Please clean the products when you put strongly acid food. It may cause discoloration of products.
* Since tin has high thermal conductivity, when you pour hot foods or the plate touches with hot items, the product itself become extremely hot. Please be careful of getting burnt.
* Please do not put in the freezer to reduce the risk of tin pest (that tin becomes brittle by the cold). Also, please do not storage product in refrigerator for a long time.
* Hello Kitty goods of Nousaku are licensed products. We only sell Hello Kitty goods within Japan. We appreciate your understanding.
* All the products are handmade by traditional craftsmen. Please enjoy different individualities of each product.
Caring tips
* Wash with soft cloth or sponge with neutral detergent after use. When the gloss has become dull, please polish the products using baking soda.
Personalize gift service
For the bulk order more than 20 items, we can personalize your items with the name of your company, school, or with logomarks. If you plan to order corporate gifts or keepsake gifts, please contact us from "Contact us."
* Personalize gift needs service fee. The fee depends on items.
* Personalize service is not available for some products. Please feel free to ask us.