Stylish kettle Anbi, Enamel tea kettle, Noda Horo
Stylish enamel kettle Anbi for Brooklyn style interior
[Noda Horo]Anbi
Our original set
Exclusive gift box
With Japanese description
With English description
Stylish pot pursuits playful mind and functional beauty
Vintage home decor, black iron, unique drift wood.
Brooklyn style interior is characterized by those items.
How about making an interior design like Brooklyn style? Stylish enamel tea kettle "Anbi" from Noda Horo suits that cool style well. Glassy gloss and chic colors attract us.
A stylish kettle in kitchen makes a day. Enamel tea kettle is useful for camping, too.
Stylish kettle Anbi is recommended for stylish men and cool women. Enamel tea kettle would be great wedding gifts or housewarming gifts as well.
Stylish kettle Anbi is designed by Koumin Yamada
Cool kettle Anbi from Noda Horo is filled with playful mind. A product designer Koumin Yamada designed this stylish enamel kettle. Mr. Yamada is famous for his design of Global knife. Many tools that pursuit usability and beauty got many kitchenware fans. He won great reputation from the world. If you would like to use kitchenware for a long time, we recommend stylish enamel kettle Anbi for you.
Profile of Koumin Yamada
A product designer. Born in Tokyo in 1947. He graduated from department of industrial design of Ikuei college of technology (now, TOKYO Salesian college of technology). Father Hendrix introduced him to department of industrial design of Chiba University as an assistant. He researched design concept and modeling there. His representative product Global knife has been loved for more than 30 years around the world. Mr. Yamada won numerous famous awards such as Japan Good Design Award, Long Life Design Award, Package Design Award of Japan Packaging Contest, Design Plus Award in Germany.
A kettle which is beautiful from every angle
When we look down the enamel tea kettle, it looks square. Side design has unique triangles.
The stylish kettle Anbi is designed under the concept of "a beautiful kettle in every angle." It is new but has some nostalgic atmosphere.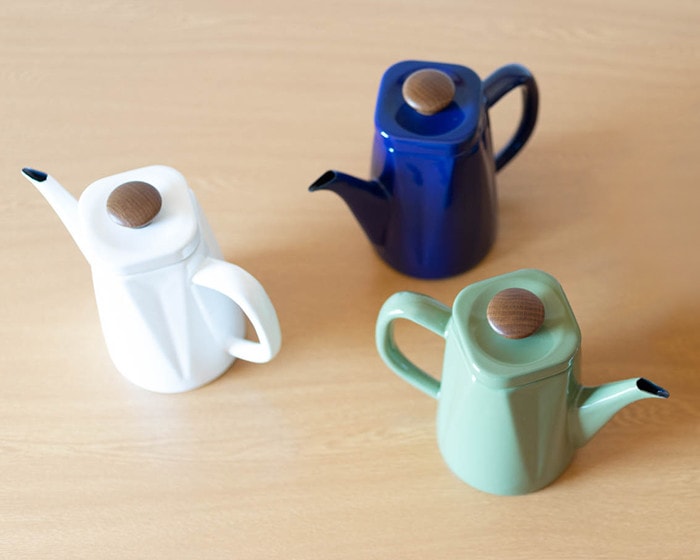 The knob of lid is made of natural oak. Smooth wooden knob is hard to become hot while the kettle is heated. Stylish kettle Anbi has retro warmth with the combination of natural wood and enamelware.
SAFE! Lid does not fall when we tilt kettle
Please look at the backside of lid. There is a projected point. When you close the lid, set this point towards handle. The lid become hard to fall from the pot. It is safe when we pour hot water.
Good for coffee lovers! Delicate spout
Stylish enamel kettle Anbi is recommended for coffee lovers, too.
Since the spout of enamel tea kettle is thin, you can drip coffee slowly. As a drip pot, stylish kettle Anbi would be great.
How about having an elegant time with stylish enamel kettle Anbi and your favorite drink? Of course, useful tea kettle is also recommended for black tea or Japanese tea lovers.
In addition, delicate spout works when you water small green or flowers.
Look for enamel tea kettle? See here
Enamel tea kettles are stylish and useful. If you like Anbi from Noda Horo, you may also like this page "Cute glossy enamel tea kettle! Stylish kettles from Noda Horo".
We have useful retro kettle Amukettle, cute Scandinavian design kettle Pottle, and pour over kettle L'ambre pot. Please find your favorite enamel kettle!
Send stylish kettle as gifts? Leave it to Japan Design Store
Stylish kettle Anbi would be great gifts for your important people. How about sending enamel tea kettle for cooking lovers, coffee lovers, or tea lovers?
A stylish life begins with stylish kitchen, and a stylish kitchen begins with stylish kitchenware. For all men who like Brooklyn style interior or all women who like kitchen like a café, enamel stylish kettle Anbi would be great.
If you would like to send enamel kettle Anbi as gifts, leave it to Japan Design Store. We offer various gift wrapping for any purposes of your gift. For wedding gifts, return gifts, birthday gifts, the Father's Day gifts or the Mother's Day gifts, our gift wrapping tell your heart to recipient. Japanese traditional Noshi wrapping has been popular.
For your long use at ease
Anbi of Noda Horo is handmade by craftsmen. We can see color irregularities at edge or joint place of spout where glaze is hard to be covered. Also, enamel kettle may get rust in your use. Handmade enamelware is made of iron. We appreciate your kind understanding. Iron rust is harmless to human body. You can use it at ease.
Kraft boxes for kettles or teapots are just boxes to protect products during delivery. It is rare case, but some kraft boxes already have some dents or slightly broken places on surface when they arrive in our store. Those small dents or tears do not relate to the quality of products.
Also, when we ship from our store, we will strengthen those places with cushion forms to reduce impact during delivery. Please note that damages on kraft boxes are not covered by our exchange or return policy. We do appreciate your kind understanding.
Caring tips
* When you boil water, the handle of the stylish kettle becomes hot. Please use kitchen mitten or thick dish cloth to hold the handle.
* Anbi is an enamelware. The surface of enamelware is glassy. Please avoid strong impact or dropping.
* Boiling the kettle dry is dangerous. Please avoid it. By any chance you boil the enamel tea kettle dry, do not cool the pot rapidly. Wait for it cool down naturally.
* Please do not use the stylish kettle on the stove. It may cause the dry boiling and damage of enamelware.
* After using enamel kettle, clean it with water and dry well.
* Please avoid using metal scouring brush or cleanser. They will damage the surface of the enamelware.
* The volume of the teapot is full volume. To avoid boiling over, we recommend boiling 70% of the indicated volume.
Personalize gift service
For the bulk order more than 20 items, we can personalize your items with the name of your company, school, or with logomarks. If you plan to order corporate gifts or keepsake gifts, please contact us from "Contact us."
* Personalize gift needs service fee. The fee depends on items.
* Personalize service is not available for some products. Please feel free to ask us.