Folding hand fan, Japanese fan, Fuwari, Nishikawa Shouroku shouten
Fresh and cute! Folding hand fan Fuwari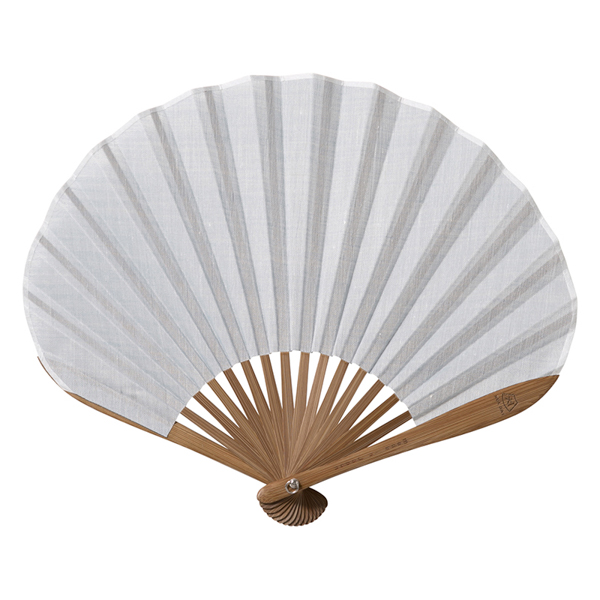 [NISHIKAWA SHOUROKU SHOTEN]Fuwari fan
Our original set
Exclusive gift box
With Japanese description
With English description
Elegant like flower! Folding hand fans cool and color summer
Like a flower bloom.
Or a rounded shell on the beach.
"Fuwari" is a high-class folding hand fan from Nishikawa Shouroku shouten.
Rounded form gives elegant atmosphere to the Japanese fan. Even the closed form of fan is pretty.
Nishikawa Shouroku shouten was established in 1585 in Omi Hachiman city of Shiga prefecture. It is a select shop with more than 400 years' history. They propose Japanese masterpiece for modern lifestyle.
In this page, we would like to introduce the fascination of "Fuwari" folding hand fan from Nishikawa Shouroku shouten.
Sophisticated presence, Fuwari fan
The folding hand fan Fuwari makes you look more elegant. When you go outside, please bring a Japanese fan with you. It makes you look elegant and cools you.
Let's find the secrets of its elegance.
Cool and gentle, Omi Chijimi

Do you know "Omi Chijimi"?
Omi Chijimi is a linen born in Omi (old name of Shiga prefecture.) This textile is produced with a collaboration of traditional skill and new technology.

The feature of Omi Chijimi is its unique crepe.
The linen is woven with twisted weft. By rubbing the linen, unique crepe of Omi Chijimi is produced.

The crepe has less touch with our skin. In addition, it makes air come through. Therefore, we can enjoy freshness and coolness by crepe.

The cover of Fuwari fan from Nishikawa Shouroku shouten is made of this Omi Chijimi. That is why we can feel cool atmosphere from the folding hand fan Fuwari.

Omi is famous for a producing area of high-quality linen. The nature around Omi fulfill the conditions for producing good linen.
Omi is surrounded by mountains. Lake Biwa causes proper humidity. Limpid stream from Suzuka mountains. Those nature makes Omi a proper place.

Omi Chijimi is a historical textile. We can see wisdom of Japanese people to survive summer comfortably.
Maybe, the tradition and history of Omi Chijimi makes the elegance of Fuwari folding hand fan.

Rounded design for women's hand

When you open the fan, rounded cover blooms like a flower.
The cover is made of refreshing Omi Chijimi.
Also, the guards are gently rounded.

Carefully made folding hand fan fits the hands of women. Cute Japanese fan is good with whether Japanese dress or casual clothes. A fan makes you more elegant.

On the guard, the logo of "BOUDAI" and "made in Japan" are carved. BOUDAI is the name of a brand of Nishikawa Shouroku shouten.

We can see a cool metal parts at the rivet. You can put key chains or straps there. When you wear yukata, let's wear this folding hand fan on your obi. It gives more elegant atmosphere.

Fuwari has 5 colors. Shiro (white), Ama-iro (light blue), Natsumushi-iro, (Light green), Sobakiri (gray) and Asa-iro (beige).
All colors look cool and refreshing. Please choose your favorite color.

Use Natsumushi-iro (Light green)
Elegant folding hand fan as gift
The Fuwari fan is set with navy fan case within exclusive paulownia box. The fan case is also made of Omi Chijimi.
Rounded form fans have been popular among women. Elegant and high-class folding hand fans are great gift items.
There are few craftsmen who make cloth fans in Japan. Please feel the beauty of Japanese fans with your hand.
For stylish men, cool "Dai-furyo" fan suits well
Nishikawa Shouroku shouten also offers cool "Dai-furyo" fan.
Dai-furyo means big wind power. As the name explains, this folding hand fan can make big wind with its large cover. In fact, the height is 8 sun (about 24cm.) The great presence suits big hands of men.
The cover of "Dai-furyo" is made of high-quality strong paper. When you fold the hand fan, you can enjoy its comfortable sound. Even a man dynamically fan himself, he looks cool with the folding hand fan.
Cool hand fan "Dai-furyo" provides more elegance to men. Simple folding fan would be great presents for men in any generations.
How about sending a set of "Fuwari" fan and "Dai-furyo" fan for a couple?
Customers' voice
Fell in love at first sight

I was looking for a cute, and not too antique folding hand fan. And I fell in love with this Fuwari at first sight! I like the refreshing atmosphere of it.

Suitable fan for various clothes

Fuwari is useful since it fits casual clothes and Japanese dresses. I like the innocent material.

Gift for my boss

I gave Fuwari to my female boss. She looked happy with my present. I believe it is good present since it has stylish and elegant atmosphere.
We have more stylish folding hand fans!
Caring tips
* All the products are handmade by traditional craftsmen. Please enjoy different individualities of each product.
Personalize gift service
For the bulk order more than 20 items, we can personalize your items with the name of your company, school, or with logomarks. If you plan to order corporate gifts or keepsake gifts, please contact us from "Contact us."
* Personalize gift needs service fee. The fee depends on items.
* Personalize service is not available for some products. Please feel free to ask us.