Natural Wooden Jubako Box from Matsuya Shikkiten
Just Put Dishes! Natural Wooden Jubako Box
[Matsuya Shikkiten]Jubako Box
Our original set
Exclusive gift box
With Japanese description
With English description
Make usual dishes special
"Want to make bento for Sports day look gorgeous."
"Want to present osechi in cute and stylish way."
"What is the tableware that can make table setting for home party beautiful?"
Everyone racks his or her brain for table setting on special day. Then, we would like to introduce three tiered Jubako box from Matsuya Shikkiten. It is a cute and natural Jubako box with beautiful wood grain.
How to use? Just put usual dishes!
Stylish Jubako box is suitable for osechi, hanami (cherry blossom viewing) or picnics. Natural jubako box can make usual dishes look gorgeous. So, it works for bento at the Sports day, home parties, or present when you are invited to someone's house.
Japanese Jubako box of Matsuya Shikkiten suits any kind of meals in addition to Japanese meals. So, it is good for daily lunch or dinner.
Everyone can make beautiful food presentation easily! Partitions set
"I would like to use Jubako box, but how should I put food in it?"
For Jubako beginners, we would like to recommend wooden Jubako box from Matsuya Shikkiten.
Japan Design Store introduces natural Jubako box with partitions.
It is only partition for Jubako, but it is partition, after all.
If you have already used partition of Jubako, you may know this fact. With partition, we can make a stylish food presentation in Jubako box.
You should obey one rule. Put one dish in one place. A little twisted fries or easy-to-be-messy stewed food, all food looks like a dish in restaurant within a room in Jubako box.
You may be absorbed to put food, and notice "oh, there is no room anymore!"
You do not have to make various kind of dishes for many rooms. Even same dishes look great if they are not side by side.
For example, you can put colorful noodles beautifully with three tiered boxes from Matsuya Shikkiten like this.
Of course, you can make stylish food presentation without partitions. When you use Jubako box for home party or serving confectioneries, leave some blank space and put food. It will be cool food presentation like chef does.
Here, let us introduce a trick for beautiful food presentation. Wooden Jubako box of Matsuya Shikkiten is best size for TY Palace Plate 160 from 1616/arita japan. A cute plate within Jubako box is very gorgeous! Good idea for treating your guests.
Our original Jubako box set with partitions is with "4 equal parts" "6 equal parts" and "9 equal parts." Each partition is in each tier box. The partitions are removable. So, please use them in your favorite way. When you would like to put a lot of rice or sushi in a box, just remove partition.
The partition parts are assembling small boards. They are easy to wash.
Natural Jubako box filled with beauty of wood
As "Japanese Jubako box", you may imagine traditional lacquer Jubako box in red or black.
"Japanese traditional lacquer Jubako is beautiful. But for daily dinner, I would like to use a Jubako box with more natural atmosphere."
Wooden Jubako box from Matsuya Shikkiten is the beset item for you. It is not too formal, nor too casual. You can feel the smooth texture of natural wood every time you use it.
In fact, this natural Jubako box is kind of the Echizen lacquerware. But it is a composed lacquerware. Wooden Jubako box is finished with clear and mat urethane coat. Therefore, you can enjoy natural beauty of wooden grain and color. urethane coat repel water, so, you can put food with some sauce or juice such as stewed food or marinate.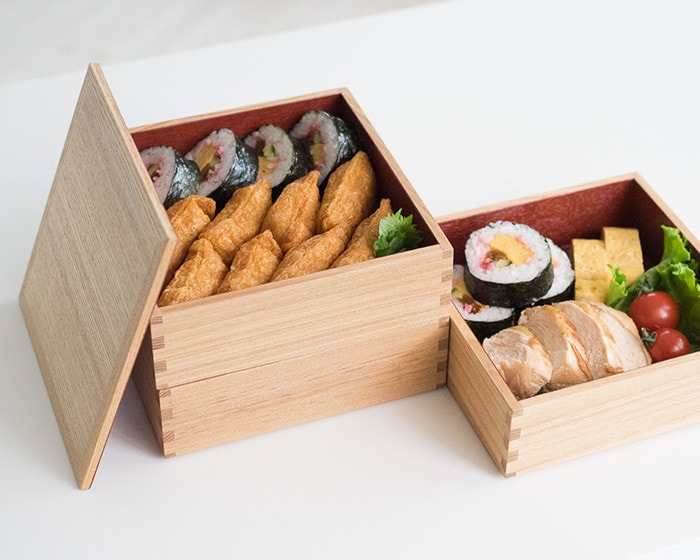 The corners of Jubako box are fretted. It is a structure to keep strength, but beautiful as design.
Composed lacquerware is easy to care!
"Wooden Jubako box" seems to be hard to care?
As for wooden Jubako box of Matsuya Shikkiten, you do not have to worry about it. Since it has clear and mat coating, it is hard to get stain. Just wash with neutral detergent like usual tableware after use. However, please remember one thing. Do not soak the wooden Jubako box into water since it is made of natural wood. After wash, wipe water soon and dry box well. You can use wooden Jubako box for a long time with this care.
Which do you like? Ash wood or walnut?
Matsuya Shikkiten offers 2 kinds of wooden Jubako boxes, Ash wood and Walnut.
Ash wood is natural and bright Jubako box. It makes me to go on a picnic with Chirashi sushi or Inari sushi. Casual food like tamago yaki (Japanese omulette) or tomate petit look cute in this magical Jubako box.
Walnut is chic brown color. Its color makes the color of vegetables look stand out. So, it is happy to put colorful dishes. Instagrammers love this color since it can make everything photogenic. You can bring confectioneries within this wooden Jubako box for a party.
One more step. If you would like to add gorgeous atmosphere as lacquerware, we recommend colored Jubako box inside.
Ash wood box has inside red paintings like a lacquerware.
For walnut Jubako, we have a Jubako box with black paintings.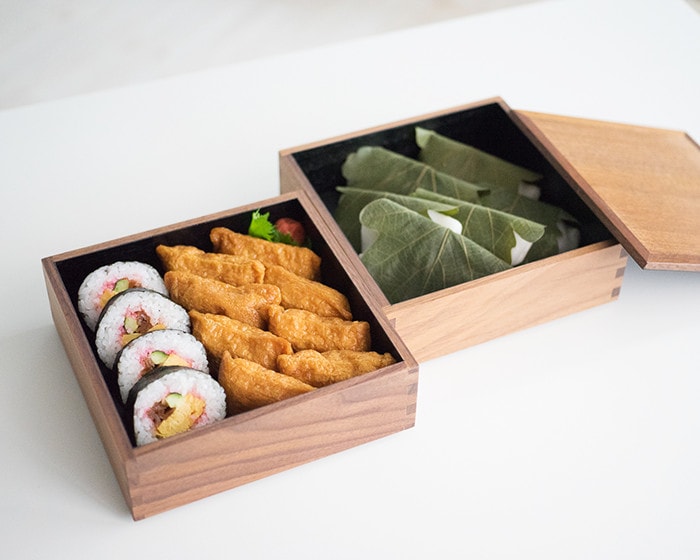 See in a movie! Noticeable Jubako box
Wooden Jubako box from Matsuya Shikkiten get attention from people who like carefully life. In fact, this Jubako box was used in a movie "Megane (glasses)" directed by Naoko Ogigami. She is famous for a movie "Kamome Diner." Food stylist Nami Iijima select this. Her food presentation has many fans.
Natural Jubako box from Matsuya Shikkiten provides gentle atmosphere that we would like to eat lunch with family or friends. Please enjoy a time like a movie with rice balls or sandwiches in wooden jubako box.
What is Matsuya Shikkiten?
Matsuya Shikkiten was established in 1905. It is a studio of Echizen lacquerware in Sabae city of Fukui prefecture. They produce tableware for modern lifestyle with inherited traditional skill. "Plain wood coat" that makes most use of wood grain of plain wood has been especially popular. We become attached to their stylish products with skills of lacquerware the more we use.
How do we bring this wooden Jubako box?
Each Jubako box has small step at the bottom. So, we can pile boxes on another box comfortably. However, it is hard to bring out 3-tiered box if we just pile the boxes.
If you bring wooden Jubako box with bento, we recommend wrap it with Furoshiki or big cloth. With modern Furoshiki, you can make more stylish appearance. In hot season, wrap Jubako with Furoshiki, and keep it in cooler bag.
Wooden Jubako box is lighter than ceramic Jubako. So, it is good for picnic.
What is the size of natural Jubako box?
Wooden Jubako box of Matsuya Shikkiten is a Jubako box of 6 sun (1 sun = about 3 cm, or 1.1 inches). For 3-tiered box, it is W 18.2 × D 18.2 × H17.0cm.
For 1 box (inside diameter), W 16.8 × D 16.8 × H 4.5cm.
Please enjoy combination with other tableware like TY Palace Plate 160.
3-tiered box of Matsuya Shikkiten is good size for 3~5 people. If you use 2-tiered box, it can be used for 2~3 people as well.
Useful wooden Jubako box as gifts
In addition to osechi in the New Year's Day, we can use natural Jubako box for picnic, Sports Day, and through the year.
3-tiered box of Matsuya Shikkiten is good for sushi, Chirashi sushi, confectioneries, or salad.
The time when we put food in Jubako box is a happy time. So, we recommend sending Jubako box as gifts for your important people.
Gift staff of Japan Design Store carefully make gift wrapping for you. Tosa Japanese paper and Ume Mizuhiki option has been popular for gifts.
More easily! Life with Jubako box like lacquerware
If you look for stylish Jubako box that can be used easily, we recommend Japan Design Store original Jubako box. This is plastic Jubako with beautiful gloss like a lacquerware. We pursue its simple and modern design with high-class atmosphere. You can use plastic Jubako as same way as other tableware. So, it is good for family with small children.
In addition to special dinner like osechi, you can use this for picnic or Sport's Day. Among various items, Jubako box for picnic has been popular for its useful set with inside seals and partition cups.
For your long use at ease
Ash wood and Walnut Jubako box from Matsuya Shikkiten are composed lacquerware. Each wooden Jubako box is coated with urethane. It is characterized with beauty of wooden grain and easiness to use as urethan coated tableware. Please enjoy unique texture of natural wooden Jubako box handmade by craftsmen.
Caring tips
* NOT open flame, microwave, oven, dishwasher, or dish dryer safe. Removal of paintings, transform, or catching fire may occur.
* Plain wood Jubako box should not be soaked in water. After wash, wipe water soon and dry well.
* Lacquer or coating may cause rash depends on your physical condition. If you feel itchy or anything unusual, please stop using and see a doctor.
* Stop using if Jubako box get cracks, breakage, or when paintings are removed.
* If you mind the smell of coating when you use at first, wash Jubako box with lukewarm water, wipe water well, and dry it in airy place avoiding direct sunlight.
* Please use Jubako box correctly in line with original use and purpose of products.
Personalize gift service
For the bulk order more than 20 items, we can personalize your items with the name of your company, school, or with logomarks. If you plan to order corporate gifts or keepsake gifts, please contact us from "Contact us."
* Personalize gift needs service fee. The fee depends on items.
* Personalize service is not available for some products. Please feel free to ask us.