Okinawa Pottery Yachimun from Issui Pottery
[Issui Pottery]Yachimun
Our original set
Exclusive gift box
With Japanese description
With English description
Placid and Cute! Tropical Okinawa Pottery "Yachimun"
Polka dots, Colorful paintings, Check pattern like tiles.
Do you know these cute Okinawa pottery "Yachimun"?
Now, pottery from Issui pottery is popular in Instagram.
New plates come from Okinawa with placid tropical breeze.
Back order for a half of year!? Great SNS attention item "Yachimun"
"Finally, it arrived!"
It is an item that our buyer eagerly looks forward to meeting. In fact, it past half of a year since we ordered.
But it is natural. Okinawa pottery "Yachimun" from Issui pottery has got great attention from tableware lovers. Since it is very popular, it takes much time to be restocked when it becomes out of stock. Therefore, other online shops also have only some of them.
If you find your favorite one, place order while it is in stock!
"Yachimun" arrived from comfortable pottery in a tropical island
In Yomitan village in Okinawa prefecture.
Pottery of Issui pottery is at calm place where can access sea within 3 minutes by walk.
Open rustic wooden door and find various colorful tableware.
From the inner room of quiet gallery, we can hear the sound of manufacturing. Inner room of this shop is pottery studio. Calm and placid atmosphere make us feel nostalgic somehow.
Soon, a quiet-mannered man welcomes us. He is the potter of Issui pottery, Shinya Takahata. His design varies from colorful and pop ones to strong ones. Expressive and placid atmosphere attracts us.
We would like to introduce Okinawa pottery "Yachimun" from Issui pottery.
Please find your favorite Okinawa pottery that was born with Okinawan air and sense of Mr. Takahata.
Issui pottery and Mr. Takahata produce Okinawa pottery
Issui pottery is a pottery of "Yachimun" by a potter Shinya Takahata.
Mr. Takahata had trip around Asia like India, Nepal, or South East Asian countries. Finally, he moved to Okinawa since he was attracted by there. He trained in Kinjo Toshio pottery, and become independent in 2005. Ethnic and brilliant Okinawa pottery from Issui pottery seem to be influenced by his trip. Mr. Takahata is motivated in earthenware as well. He shows us an earthenware baked in Thailand. He leads Issui porcelain and is a potter simultaneously. He had his one-man show in Tokyo, Hong Kong or Taiwan.
Now, Yachimun of Issui pottery is known to those in the know. It is popular in Instagram. Also, his Okinawa pottery is introduced in lifestyle magazines such as "Croissant", "Tennen Seikatsu (Natural Life)", or "CREA". Moreover, tourist guide books of Okinawa "Rurubu", "Mappuru", "Kotorippu" introduced his Ryukyuan pottery.
Japan Design Store selects! Okinawa pottery of Issui pottery
Well, which should we choose from these many "Yachimun"?
Okinawa pottery of Issui pottery is all attractive, so it takes time. However, Japan Design Store selected some Okinawa pottery plates from the following 2 points.
・Useful design for daily life
・Good for gifts or presents
We introduce masterpiece of Issui pottery with our confident.
Issui pottery offers 3 sizes of plates, Rectangle S, Rectangle L, and Square.
All Ryukyuan pottery plates are handmade by craftsmen in Issui pottery. Each plate is different in sizes, colors, or touches of brush. Please enjoy the only one meet with Okinawa pottery.
No. 1 popular! Useful size for cake or as individual plates
Issui pottery Yachimun Rectangle S

Rectangle S plates from Issui pottery are about 16.5 × 11.5cm (about 6.5 × 4.5 inches ). We believe that this plate work most among 3 sizes. Cute and useful Yachimun plate is good for cake, or individual plate. From daily dinner to tea time, colorful plates work anytime. For small cup, Rectangle S plate can be saucer with some small dessert.

Brilliant pattern plate would be great home decor as well. Also, this plate is best size for pens. So, we recommend using cute Okinawa pottery plate as a stationery tray.




Related Products

Standard plate of Issui pottery! For hour d'oeuvre, or grilled vegetables
Issui pottery Yachimun Rectangle L

Rectangle L plates from Issui pottery are about 29.0 × 11.0cm (about 11.4 × 4.3 inches). Stylish rectangle plates get attention at home party. Caprese salad or sashimi looks very stylish on them. Of course, rectangle plates are useful for baked fish. Sushi or yakitori can be a party menu.




Related Products

Cute square plates for confectioneries!
Issui pottery Yachimun Square

Square plates from Issui pottery are about 12.5 × 12.5cm (about 4.9 × 4.9 inches). Square plates suit well with Japanese confectioneries. Please use this beautiful Okinawa plates for dessert, cake, or individual plates.
Square plates have cute "Icchin (slip trailing)" pattern. It is also good for accessory tray or tray for small stuff.




Related Products
What is most popular Okinawa pottery plate?
According to Mr. Takahata, the most popular pattern is "Gosu Maru Mon."
Mr. Takahata: "Customers who want to place some patterns choose 4~5 patterns of Rectangle S. Customers who have favorite pattern gets 2 Rectangle L."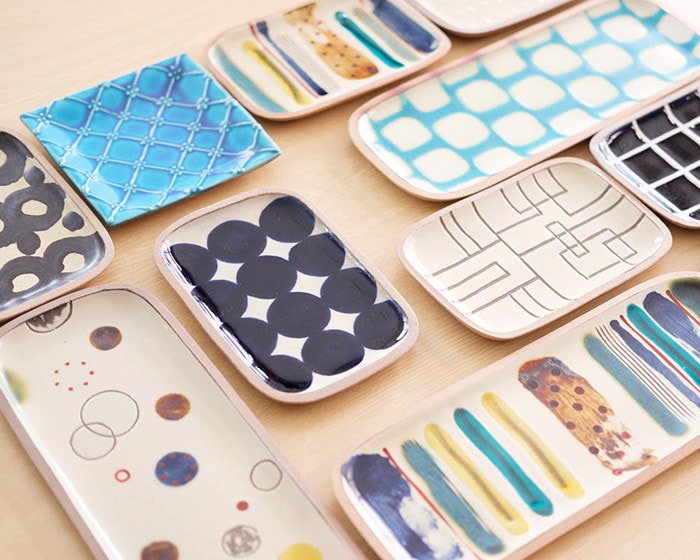 Yeah, I see! We would love to place some patterns of Okinawa pottery plates "Yachimun" from Issui porcelain. As for colorful pattern, "Stripe" has been popular. It looks too gorgeous, but when we place some dishes on it, dishes look very gorgeous!
In the gallery, we can see rounded plates of Okinawa pottery. However, rounded plates have big individual difference, so they do not sell for online shop. Mr. Takahashi said, "please visit our shop to see tableware which are not sold in online shop." By the way, our buyer quietly aims to "get mugs someday for our store!":)
Yachimun of Issui pottery is Dishwasher and Microwave SAFE
Basically, you can use Okinawa pottery plates from Issui pottery in dishwasher or microwave. However, according to the potter, "please have responsibility for your decision of using at last."
Not only cute design! Look at here for Ryukyuan pottery plates
Okinawa pottery from Issui pottery is made by "slab building." Stretch pottery clay in board and form it. Gentle contours have kind atmosphere. When we look at the backside of plates, we can see the marks of cloth which was made when clay was stretched.
Brown pottery clay is Okinawan clay which includes a lot of iron. Glaze engobe on the surface of plate, and paint plate over engobe.
Here, let us introduce a part of techniques.
●Icchin (Slip trailing)
Craftsmen piles slips and draw lines or pictures with some thick. Patterns of "Icchin" plate of Rectangle L and Square plate was drawn by slip trailing.
●Kaki Otoshi (Sgraffito)
It is a technique to make pattern by shaving surface of tableware and show different color. For "Prism" and "Kaku-Kaku" plates, craftsmen shave lines after glazing engobe.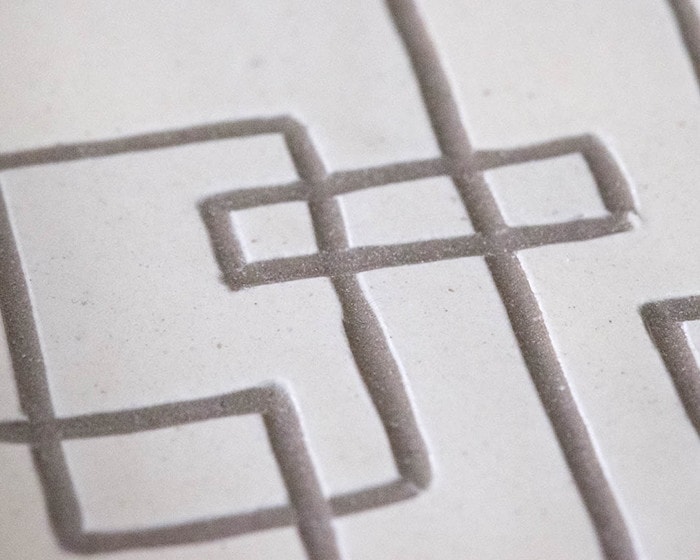 In addition to these, some patterns are hand painted by paints, and some patterns are expressed by painting special glaze that repels glaze. We can see the times and works for one plate from the Okinawa pottery of Issui pottery.
Ryukyuan pottery is heavier than porcelain such as Arita ware or Hasami ware. However, we believe that you love these carefully produced plates more and more.
What is "Yachimun"?
"Yachimun" means ceramics in Okinawan dialect. In standard Japanese, ceramics is "Yakimono."
"Speaking of Okinawan ceramics, I remember Shisa, the Okinawan guardian lions." When you see Okinawan guidebook, you see them. But "Yachimun" has long history. It is said that earthenware is already produced about 6600 years ago. In 15th century, the quality of ceramics was improved through trading with Korea, Thailand, or Japan. In 1616, Korean potters from Satsuma (now, Kagoshima prefecture) told the skill, and basis of "Yachimun" manufacturing was established.

After Meiji era (about 100~150), its production became sluggish by inflow of cheap porcelain tableware. However, Souetsu Yanagi and Shoji Hamada who are the foremost advocates of Mingei (National Art) Movement rated high value on "Yachimun". Mingei Movement discovers "beauty of daily use" in the handicrafts which are used in daily life. The beauty of "Yachimun" was introduced all around Japan and recovered manufacturing. The popularity of Okinawa pottery started then.

Generally, "Yachimun" is characterized by tableware or pots with thick form and powerful paintings. Now, "Yachimun" varies from traditional design to new design for modern lifestyle. It is a popular souvenir for Okinawa trip.
Okinawa pottery plates for gifts
Placid design Okinawa pottery from Issui pottery suits Scandinavian design tableware well. How about sending Yachimun for those who love natural interior or folkcraft lovers? Brilliant tableware would be great wedding gifts, housewarming gifts, birthday gifts, or gifts for the Mother's Day or Father's Day. Stylish Okinawa pottery color your dinner table brightly.
For your important gifts, choose gift wrapping of Japan Design Store
If you send Okinawa pottery from Issui pottery as gifts, gift wrapping of Japan Design Store is recommended! We prepare various stylish wrapping for your important gifts. Our gift staff carefully wrapped fragile items.
Easy wrapping with Tosa Japanese paper and Mizuhiki from Nagano prefecture has been popular. Cute Ume Mizuhiki option is also well liked.
Stylish dinner with Okinawan breeze
Okinawa pottery from Issui pottery is a wonderful product.
Turquoise blue like sea in Okinawa. Cheerful and colorful design. Natural color suits our life. Okinawa pottery of Issui pottery is very cute but make us feel its unique taste that is more than "cute". Tableware from comfortable pottery brings comfortable breeze to our life.
If possible, we wish you could visit gallery in Okinawa. However, Okinawa is a far place in Japan. So, Japan Design Store offers you instead! When you visit Okinawa, please visit the pottery. A cute cat waits for you in Issui pottery.
For your long use at ease
Each plate is handmade by craftsmen one by one. So, we can see individualities on its size or colors. Also, we can see cracks of glaze, small projection on surface, warps of tableware, crack of clay by slab building, or scratch on backside. Please enjoy unique features of handmade crafts.


* "Gosu Maru Mon" plates have different sizes of circles.


* Some plates have paintings at the rim of plates, but they are design.

Cautions
Basically, Okinawa pottery of Issui pottery is dishwasher and microwave SAFE. However, when you use them, pay attention to safe use of the machine, and please have responsibility for your decision of using at last.
Personalize gift service
For the bulk order more than 20 items, we can personalize your items with the name of your company, school, or with logomarks. If you plan to order corporate gifts or keepsake gifts, please contact us from "Contact us."
* Personalize gift needs service fee. The fee depends on items.
* Personalize service is not available for some products. Please feel free to ask us.