Colored glassware, hand blown glass, solito, fresco
Hand blown & cute colored glassware solito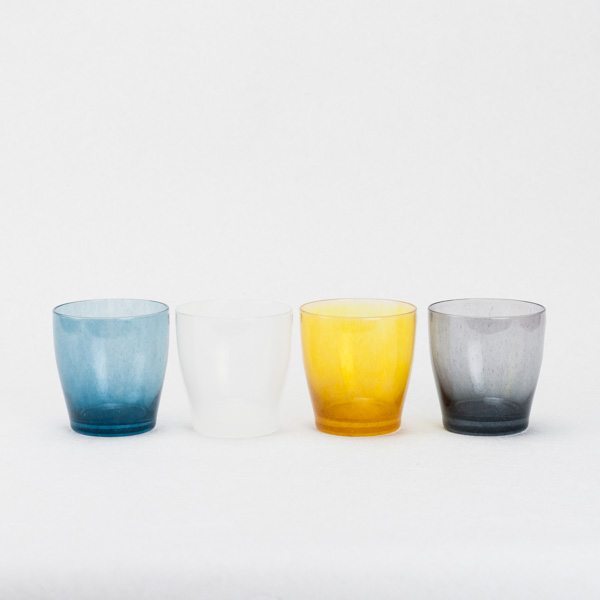 [fresco]solito
Our original set
Exclusive gift box
With Japanese description
With English description
Crop of sold out due to enormous popularity! Earlier order is recommended
Fresco is famous for its stylish glassware. People in the know, know its name.
Breathtakingly beautiful glassware often becomes 4-months wait until their new arrival.
Now, we are sorry but we have been out of stocks for a while. However, we can receive back order for the glassware.
As soon as its arrival, we will ship the products in order of the order date. If you purchase this product, we recommend placing order as soon as possible.
"Always", "Usual", the colored glassware solito
The glassware always in the cupboard.
The glassware always on the dinner table.
The glassware you usually use to drink water.
"Solito" means always or usual in Italian.
The colored glassware solito from "fresco" is stylish but daily-use glass. Fresco is an atelier of hand blown glasses.
The colored glassware makes you always happy.
Cute hand blown glasses can color your dinner table vividly.
From 10 colors, you can make your favorite pairs and send it as gifts, too.
Nostalgic and new. The colored glassware of Japanese brand
We can see simple beauty in the colored glassware of fresco.
The hand blown glasses solito are always with you.
When you touch the gentle texture of hand blown glass, you actually feel that "these colored glasses are the glassware for every day."
Solito glasses have fantastic atmosphere. However, the light color glasses fit our fingers and dinner table well.
You can see the beautiful color of the hand blown glass. In addition, the colored glassware has comfortable weight, high-quality thickness, and smooth texture.
The more you use, the more you love the cute glasses. Solito glasses have nostalgic, as well as new atmosphere. You can enjoy your life with the colored glassware.
Solito glasses are hand blown glasses, but simple design. You can use the colorful glasses every day.
Special color that glasses look warm
Solito glasses from fresco have glossy and smooth surface.
In the hot season, the colored glassware looks cool. In the cold season, it looks warm.
Gentle transparency of the glass meets tender gradation.
You can enjoy the colored glassware solito through the year.
The glassware of fresco is all hand blown glasses by craftsmen.
Fresco is good at creating delicate color. The soft color is only made by hand glass blowing.
Small drop of color and tiny bubbles make a foggy gradation. The beautiful colored glassware captivates us.
Solito glasses reflects light gently. It is made of glass, but has warm atmosphere somehow.
Only the hand blown glasses of fresco can express this delicate color.
The colored glassware created by delicate handwork color your life.
Please enjoy the beautiful scenery expressed in each solito glass.
Collect all! Rich color variety
What is your favorite colored glass?
One of the attractive points of the solito glasses is rich color variety.
Each color glass has glossy shine and beautiful color.
We cannot help collecting all!
We offer 10 colors of solito glasses from fresco.
In the picture below, we would like to introduce the color from left to right, top to down.
Blue / brilliant gold /new pigeon grey / white / opal dense rose / purple / jade green / grey / new blue / apricot.
All colored glasses have beautiful gradation. It is so difficult to choose one.
You can make a stylish table setting with every color of solito glasses.
At first, please choose your favorite one. Next, choose one color fits for your favorite colored glassware. Then, you will see the next color.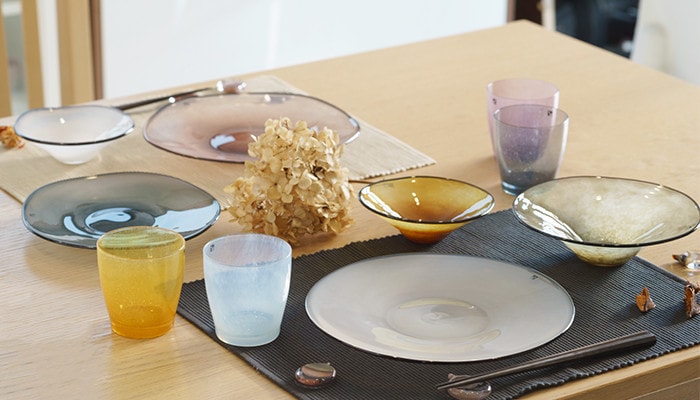 How about collecting the colored glassware for your family members or friends?
It is fun to get another glass when you have new member.
Even in the cupboard, the hand blown glasses look beautiful.
We make Japan Design Store original sets!
Solito is cute colored glassware. We make our original sets.
Japan Design Store Writer recommended set

Our writer makes Northern European color set with blue, white, brilliant gold and grey.




Related Products

If we change brilliant gold to purple, this is the "Buyer recommended set."
Chic set has blue, white, purple and grey.




Related Products

Cool gradation set

If you would like to enjoy delicate color of the hand blown glasses, we recommend this cool gradation set.
It has new pigeon grey, new blue, jade green, blue, and grey. You can enjoy a beautiful gradation.




Related Products

Jewelry colors set

Jewelry colors set has cute 5 colors. Apricot like a mandarin garnet, new blue like a peridot, brilliant gold like a citrine, purple like an amethyst, and new pigeon grey like an opal.




Related Products
Let's make your own set!
Enjoy collecting! Stable mold-blown glass
Do you know mold-blown glass?
Craftsmen hand blow the glasses into the mold. With this skill, the glassware of fresco has stable form.
Solito glasses of fresco are made for your fun to add more colored glassware.
You can stack some colored glassware. The mixed color of different glasses is also very beautiful.
You can find its smart usability when you stack the solito glasses. It is fun to use various colors' glasses.
Colored glassware solito as a multi-use cup
Cute hand blown glasses solito fit daily life.
When you have breakfast, pour milk or fresh juice. When you have lunch, pour tea. When you have guests, serve the colored glassware with iced tea. For dinner, you can pour alcohol.
All kinds of drink in various scenes will be delicious and beautiful with the colored glassware solito.
In addition, you can use the hand blown glass as a dessert cup.
You can enjoy ice cream, coffee jelly or pudding. For your breakfast, put some yogurt with some fruits. It is a good start of a day.
Moreover, you can use the colored glassware as candle holders. Please enjoy the flicker light through hand blown glass. When you use the glass as candle holder, please use LED candle.
Hand-carved sign at the bottom of the colored glassware
You can enjoy the bottom of the colored glassware, too! When you turn down the glasses, you can see the beautiful gradation well.
Hand blown glasses have thick bottom. It looks like a candy! The colored glassware even looks it is wet.
At the bottom of the glasses, you can see the brand name "fresco." All signs are hand-carved by craftsmen. So, if you compare 2 glasses, the signs are different.
We can feel the pride of fresco towards their hand blown glass.
What is the glasswork studio "fresco"?
Fresco was established by a popular glasswork craftsman Takeshi Tsujino. On the foundation of Mr. Tsujino's record of glasswork, he started his own studio in Izumi city of Osaka prefecture. In 2005, he started his own brand.
The name "fresco" means fresh in Italian.
The theme of fresco is "to coexist the 'reliability' of brand and 'originality' as handmade crafts." So, their glassware has superb beauty as handmade crafts, and usability to fit daily life.
Fresco treasures the relationship of people through the glassware. They regard that the select of tableware by users as one of the expression. By the daily use of users, the expression of craftsmen and that of users meet. That is the complete of expression.
With these thought, they propose a rich life with glassware to the world.
Brief history of fresco
2001 Opened glass studio fresco
2003 Started glass design workshops
2005 Established a glass brand fresco


Selected at Asahi Modern Craft Exhibition (After this, won it every year until 2008)

2006 Started sales in domestic the United States of America


The first fresco exhibition in Tokyo

2009 Started sales in domestic Canada
2012 Started sales in domestic Taiwan
2014 Started sales in domestic Australia
Colored glassware "solito" as gifts
Cute colored glassware solito would be great gift! All hand blown glasses are filled with Japanese craftsmanship.
The exclusive boxes are very stylish, too.
The colored glassware solito can be used as daily glasses, and special glassware for serving them to guests.
Delicate hand blown glasses are loved by everyone regardless of age.
If you like the Kartio series of Iittala, you also like this colored glassware.
Pair glasses of solito would be great wedding gifts or housewarming gifts.
Please choose beautiful Japanese glassware for your someone special.
For your long use at ease
All the glassware of fresco are handmade by craftsmen. Each glassware has each individuality in their color or texture. Please enjoy various beauty of all glassware. We are happy that who can enjoy each individuality get the glassware of fresco.
Caring tips of glassware
* The glassware of fresco is not heat-resistant glass. Please avoid rapid change of temperature by heating in microwave oven, freezing in freezer, or pouring hot water.
* The breakage of the products may cause serious injury. When small children use the products, please watch them carefully.
* The logo mark on the products is a seal. Please remove it before use.
Personalize gift service
For the bulk order more than 20 items, we can personalize your items with the name of your company, school, or with logomarks. If you plan to order corporate gifts or keepsake gifts, please contact us from "Contact us."
* Personalize gift needs service fee. The fee depends on items.
* Personalize service is not available for some products. Please feel free to ask us.