Bird plates, TORIZARA, Mino yaki, Floyd
Cute bird plates of Mino yaki for cute adults
[Floyd]TORIZARA
Our original set
Exclusive gift box
With Japanese description
With English description
Bird plates "TORIZARA" deliver smiles to people
At first sight, you may become smile at the cute bird plates TORIZARA of Floyd.
In fact, this TORIZARA has two meanings in Japanese.
First, "torizara" means individual plate for which a person take food from a big serving dish.
Second, TORIZARA is a combination word of "Tori" + "Zara." In Japanese, "Tori" means bard and "Zara" or "Sara" means plate. In Japanese, some words put a voicing mark when they are combined with certain words. "Sara" becomes "Zara" with "Tori."
So, the bird plates TORIZARA were born from a word game. When you know this secret, TORIZARA look cuter! These bird plates TORIZARA arouse the heart of adults.
TORIZARA was born from a collaboration of Floyd and SAKUZAN. SAKUZAN is a pottery of Mino yaki in Toki city of Gifu prefecture. Floyd produces unique items.
Gentle colors and usability make you addicted to collect these bird plates.
More fun with many birds!
Simple and cute bird-shaped plates.
One bird plate has great presence on your dinner table.
But with many plates, you can enjoy various combinations of colors.
What color do you like?
Cute combination "White × Pink"

White × Pink combination has cute atmosphere like strawberry and milk. In Japan, red and white is auspicious combination. So, these bird plates are recommended item for gifts.

Related Items

Chic and stylish! "Gray × Navy"

Cute bird-shaped plates, but chic coordinate. With these bird plates, you can make stylish and polished table settings.

Related Items

Happy spring feeling "Yellow × Pink"

Yellow × Pink combination make you feel the coming of spring. Your daily dinner table becomes happier with these bird plates.

Related Items

Usable monotone "White × Gray"

If you like monotone coordinate, we recommend this White × Gray combination. These bird plates can make the food stand out with their simple colors.

Related Items

Fresh coordinate "White × Yellow"

White and Yellow can freshen up your dinner table. These colors can make the food look more delicious. This set looks the most "bird-like" among our sets. White bird looks a chicken and yellow bird looks a chick! Cute family!

Related Items

Set of 4 pale color bird plates

We offer pale color set consists of Pink, White, Yellow and Gray. With 4 plates, you can enjoy various combination or table setting of the bird plates TORIZARA. Form in a line, make a flower, or geometrical pattern… What table setting do you make with these bird plates?

Related Items
Bird plates TORIZARA can be used in various scenes. Not only in daily dinner, but also at home party. You can make various table setting by changing combination of colors or arranging. Happy home party cannot be started without happy preparing time.
"What color of bird plates are suitable for today's dinner?"
"What color combination do I make today?"
"How do I make the table setting with these bird plates?"
From daily dinner to special party, your food presentation will be broadened. Please enjoy your original table setting with bird plates TORIZARA.
Bird plates TORIZARA color your snack time
You can use bird plates TORIZARA as dessert plates. Home café time starts with cakes on cute bird plates. These bird plates fit Japanese confectionery, too. How about putting rice cakes on these bird plates? Stylish tea time begins.
When you have sudden guests, bird plates work! The conversation will be livelier with cute bird plates.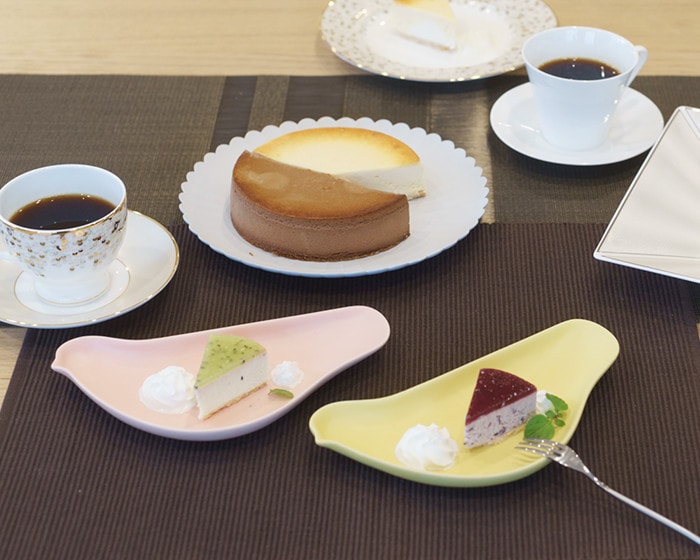 More than dinnerware! Bird plates can be accessory trays
Cute bird plates TORIZARA work more than dinnerware! Cute Mino yaki plates can be accessory trays or key trays. At the entrance of your house or your desk, bird plates keep your accessories or keys.
In your office, beautiful Mino yaki plate works with you as the tray for stationery. Cute bird plates may smooth the communication with your co-workers.
The secret cute point of bird plates
You can see the uniqueness of TORIZARA bird plates at the backside of the plates. The high stand of the bird plates is white. The shape of the high stand is birds' wings! We can see the delicate care of design. The more we know about them, the more we love these bird plates.
Not just a cute plate, but bird plate is usable!
Simple and stylish tableware TORIZARA bird plates. It is like Northern European tableware. Torizara of Floyd has cute bird-shaped, gentle colors, and mat texture.
However, these Mino ware plates are more than just cute plates.
The tail of TORIZARA is best size for having the plate. This bird plate is easy to hold, so you can easily put the plates on the table.
Mat texture makes the plate not slippery. Mat glaze gives gentle gloss to the bird plates.
Moreover, these bird plates can be piled neatly. Not much room is needed for the bird plates. When you pile some TORIZARA up, the layer of colors is very beautiful.
Furthermore, these Mino yaki plates can be used in microwave oven and dishwasher or dish dryer. You can use the bird plates every day at ease.
Collaboration of SAKUZAN × Floyd
These bird plates TORIZARA was born with a collaboration of SAKUZAN and Floyd.
What is SAKUZAN?
SAKUZAN is a pottery of Mino yaki in Toki city of Gifu prefecture. It was established in 1987. SAKUZAN is famous for its contemporary design and modern beauty. They continue to produce the Mino ware with care of colors, forms, and usability.
Kneading raw materials, forming, drying, firing unglazed pottery, glazing, and firing glazed pottery.
Craftsmen of SAKUZAN carefully confront with all procedures of pottery. You can feel the beauty of handwork by the Mino ware of SAKUZAN.
"Beautiful work makes beautiful tableware. And beautiful tableware makes healthy smile."
SAKUZAN pursues the beauty.
Usable and beautiful Mino yaki makes your daily dinner time more comfortable.
What is Mino yaki (Mino ware)?
Mino yaki or Mino ware is a pottery produced in Kani city, Tajimi city, Toki city and Mizunami city of Gifu prefecture. Mino yaki is characterized by its variety.
There are all sorts of "Mino yaki": from daily-use tableware to high quality Japanese tableware, or tea ceremony set. The area of Mino ware has many lively working potters in art object, crafts, or traditional crafts. Mino yaki has about 1300 years' history. In fact, Mino yaki accounts for the 60% of tableware in Japan. It is said that mino yaki is the representative daily tableware.
About 430 years ago, tea ceremony came into the fashion, as it became popular, SEN no Rikyu and Oribe Furuta guided the new tea ceremony set, like "Shino" "Oribe" or "Setoguro."
Now, the spirit of Mino yaki is inherited. With traditional skill and new skill, new tableware is produced in the area of Mino yaki.
What is Floyd?
"To deliver emotion, surprise, and smile to people." Under this statement, Floyd produces unique products. They suggest tableware, ceramic accessory, or miscellaneous goods. Their cute products have been popular for wedding gifts or birthday gifts.
Bird plates TORIZARA for presents
Cute Mino ware bird plates TORIZARA have 5 colors; pink, white, yellow, gray and navy. Cute design and playful mind is the attractive point of this bird plate.
We offer cute sets of 2 colors or 4 colors. Bird plates TORIZARA have exclusive box. The excusive box has small bird-shaped window at the front. We can see the color of inside from here.
We recommend the bird plates as gifts. In the natural world, many birds are always with their partners. Therefore, set of 2 or 4 bird plates are suitable item for wedding gifts.
In addition, cute design plates fascinate young to old. As daily individual plates, or special dinnerware for parties, these bird plates TORIZARA color your table.
Café at home! Heat-resistant glass & bird plate
We make Japan Design Store original set. The set is suitable for gifts.
For cute bird plate TORIZARA, cute heat-resistant tea glass "Tea Mate" suits well. We will wrap this set with Dish cloth from WDH. Colorful dish cloth can be used as place mat or dish cloth. Eco-friendly and useful gift wrapping!
With this set, you can have a relaxing tea time with cake!
Related Items
For your long use at ease
You can see unevenness or color irregularities of glaze on this product. Those are the characteristics of the glaze. Craftsmen glaze all plates one by one with their hands. We appreciate your understanding on the characteristics of handmade products.
Caring tips
* All the products are handmade by traditional craftsmen. Please enjoy different perspective of each product.
Putting name service
We cannot offer putting name service for all products. We appreciate your kind understanding.