Japanese lucky cat, Maneki Neko, Floyd
Japanese lucky cat Maneki Neko brings you good luck
[Floyd]Fortune cat
Our original set
Exclusive gift box
With Japanese description
With English description
Cute and stylish lucky cat! Fortune cat from Floyd
Floyd offers pair Japanese lucky cats "Fortune cat."
Maneki Neko was born in end of Edo era (about 1850s) in Edo (now Tokyo). Floyd designs simple, cute and stylish Japanese lucky cat.
They offer 2 colors of Maneki Neko, white and black. On the simple fortune cat made of Seto ware, there are silver and gold polka dots.
Japanese lucky cat from Floyd has a taste of modern art.
What is Japanese lucky cat of Seto ware?
Seto mono, or Seto ware means general ceramics in Japan. In Seto city of Aichi prefecture, people produced a lot of "Seto Novelty". Seto Novelty means decorative objects of people or animals. Most Seto Novelty was exported to the world.
Maneki Neko is one of the origin of Seto Novelty. In fact, Seto city holds "KURUFUKU Manekineko Festival in Seto". It means a festival of bringing lucky by Japanese lucky cat. Also, there is "Maneki Neko museum" in Seto. It is a biggest fortune cat museum in Japan.
What is the meaning of paw of Japanese lucky cat?
When you see Maneki Neko, you may realize that there is a fortune cat with left paw raised and right hand raised. In fact, there is a meaning for raising paw of Japanese lucky cat.
Fortune cat with its "Right hand" raised beckons "Lucky or Lucky with money". On the one hand, fortune cat with its "Left hand" raised beckons "customers".
Maneki Neko is an auspicious item to wish a lot of customers and good business. Therefore, both right and left paws beckon lucky for good business.
Also, there are some lucky cats called "Tenaga (long paw)". Tenaga Maneki Neko has long paw that the paw is as long as or longer than its ears. Tenaga beckoning cat beckons big lucky and the lucky from far away.
Fortune cat from Floyd is small, but a Tenaga cat. So, the Japanese lucky cat brings you big lucky and lucky from far away.
What is the meaning of colors of Japanese lucky cat?
Floyd offers two colors of Maneki Neko, white and black.
The colors of Fortune cat also have meanings.
White lucky cat invites luck into your life.
Black Maneki Neko wards off evil and disease.
How about putting black Japanese lucky cat at entrance hall to keep evils away from house, and white Fortune cat in living room to invite more lucks?
Customers' voice for Fortune cat of Floyd
Here, let us introduce our customers' voice who use Fortune cat of Floyd. Our customers send stylish Maneki Neko for housewarming gifts or celebration for new open of a store. In addition, many customers put cute Japanese lucky cat as a home decor item.
They tell us the favorite points of Fortune cat, and how they use it. Let's hear their voice!
Suits well with interior of my house

I looked for Japanese lucky cat and found Fortune cat from Floyd. Its simple design attracted me, so I bought it from an online shop. Palm size Maneki Neko is very cute! My family also like them. 2 cats are not too big, nor too small. They suit well with flower vase or photo stand at my entrance hall. Cute Japanese lucky cat relaxes me every morning.

Polka dots make Maneki Neko much cuter!

White Japanese lucky cats are cuter than I expected. I had planned to put Fortune cat at entrance hall, but I decided to put them on side table in living room to see them at any time. Lucky cats are simple as they look in the picture. Silver and gold polka dots make them much cuter. The exclusive box of Fortune cat is also simple and stylish.

Get Japanese lucky cat as an amulet

I bought stylish Japanese lucky cat as an amulet for my overseas posting. Small size Maneki Neko is good for putting everywhere. I like them very much. It was hard to decide whether white or black, but I chose cute white lucky cat.

Palm size Fortune cat is best

Japanese lucky cat from Floyd is palm size. I am satisfied with the best size of them. I chose Maneki Neko to celebrate the opening of my store. They are much cuter than I expected. If my friends open their new shop, I choose this Japanese lucky cat as a gift.

Put Maneki Neko in my office

I decided to put an auspicious item to the bleak office. So, I bought white Fortune cat from Floyd. It is simple and stylish. I put products in my company by the Japanese lucky cat.
Cute Fortune cat would be wonderful present or gift
Maneki Neko is said to beckon luck. It is recommended as the gifts or presents for your important people. Cute Japanese lucky cat looks inviting good things one after another. "May a lot of happiness come to you." Maneki Neko can be great birthday gifts, celebrating opening of new business, or housewarming gifts.
If you look for Japanese lucky cat, there are lots of traditional designs or the one made of crystal glass from Baccarat. However, it is difficult to find simple and stylish Fortune cat.
This lucky cat of Seto ware has silver and gold polka dots on glossy ceramics. They have suitable gorgeousness for the presents.
Also, Fortune cat of Floyd is palm size. 2 cats with right paw up and left paw up become a set. If you send these Japanese lucky cats, the recipients can put them anywhere.
Maneki Neko of Floyd has simple and cute design. They even attract those who do not have interest in auspicious items or cats.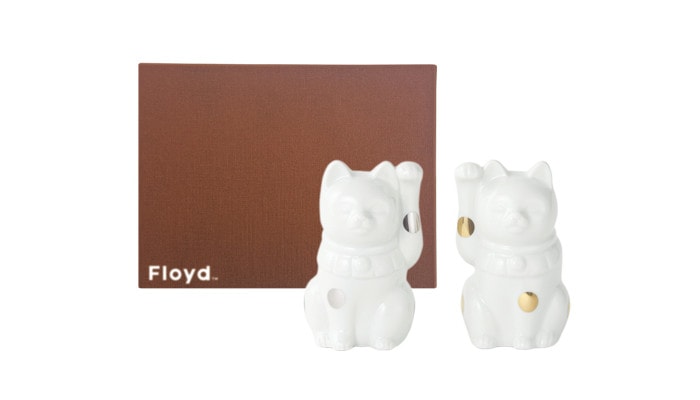 Presents for cat lovers? Mamezara of 11 cats are also recommended
"11 cats" is a series of Japanese picture book. It has been popular series for a long time.
To celebrate 50 years' anniversary of the picture books, cute cats become cute mamezara with the pictures by Noboru Baba, the writer of 11 cats.
Azmaya produced the mamezara of 11 cats. Azmaya proposes traditional crafts, tableware, and daily necessities made by Japanese craftsmen for modern lifestyle. Their uncompromising work and great handwork of craftsmen have won great reputations.
For "11 cats" fans, or cat lovers, these mamezara are recommended in addition to Japanese lucky cat.
What is Floyd?
Japanese designers' brand "Floyd" designed and produced simple and stylish Fortune Cat. They state their mission as "to deliver emotion, surprise, and smile to people." It was established in 2005 in Mishima, Shizuoka prefecture in Japan.
Mr. Fujinuma, the representative and a designer of Floyd ran a select shop before he established Floyd. With his experience at the store, and conversations with customers, he has invented unique and stylish items.
Maneki Neko is a traditional Japanese decorative object. However, it becomes modern and stylish by Floyd. White and black colors, make a set with 2 cats with right paw raised and left paw raised, and polka dots pattern. Traditional Fortune cat become new one from a different perspective.
Here, we introduce "auspicious decorative ornament" that is very rare in Japan Design Store. We usually introduce tableware or kitchen utensils. However, I am attached to auspicious objects such as Maneki Neko or daruma as a Japanese. For example, small Japanese lucky cat in bleak office or entrance hall of company relax us. If we receive lucky cat as a gift, we cannot stop expecting future happiness.
Culture of Japanese lucky cat is said to start in Edo era (about 1850s). I guess there are some reasons why people have loved Maneki Neko. So, I decided to introduce Fortune cat.
Well, when you choose lucky cat of Floyd, it is difficult to choose whether white cat or black cat. Both white and black Maneki Neko are so cute.
If you wish more happiness or luck, or send it to woman, we recommend white cats. We cannot stop stroking cute cats.
If you would like to ward off evil and disease, or send it to men, we recommend black cats. Cute Japanese lucky cat will protect your family.
Caring tips
* All the products are handmade by traditional craftsmen. Please enjoy different individualities of each product.
Personalize gift service
For the bulk order more than 20 items, we can personalize your items with the name of your company, school, or with logomarks. If you plan to order corporate gifts or keepsake gifts, please contact us from "Contact us."
* Personalize gift needs service fee. The fee depends on items.
* Personalize service is not available for some products. Please feel free to ask us.