Arita soba cup, CHOKU, ERI, amabro
Arita soba cup with traditional beauty and modern art
[amabro]CHOKU・ERI
Our original set
Exclusive gift box
With Japanese description
With English description
Arita soba cup with great presence
If you look for stylish soba (buckwheat noodle) cup, you cannot miss these Arita soba cups from amabro. Amabro offers 2 unique soba cups "CHOKU" and "ERI."
These Arita soba cups are slightly bigger than other soba cups. So, you can use the unique cups in various use.
What do you use these Arita soba cups?
CHOKU and ERI from amabro are new soba cups. The Arita soba cups respect the traditional patterns or skill.
In addition to this, amabro adopts contemporary aesthetic sense to the soba choko. We can see the respect to traditions from the patterns and paintings. Also, we can see the adopting of modern sense in gold paintings or color.
The Arita soba cups will give you fresh discovery as you use the cups every day.
Colorful soba cups of amabro make your dinner table happier. Therefore, the Arita soba cups would be great gifts for your dearest person.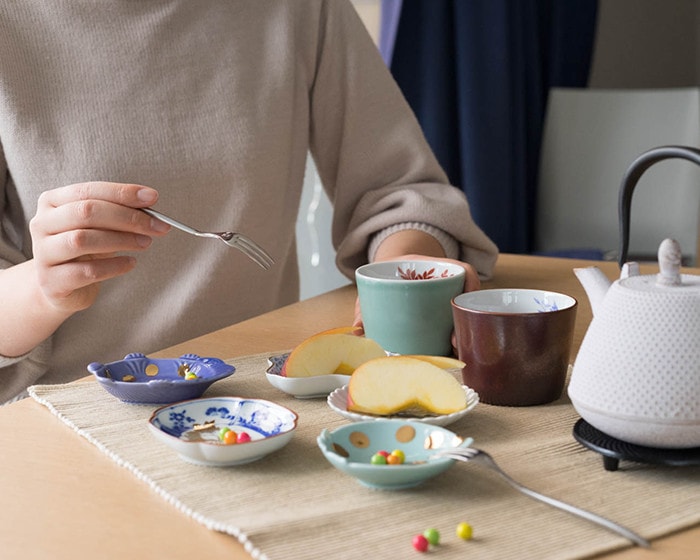 Speaking of Soba cups, Arita porcelain is the best
In fact, soba choko cups of Arita porcelain have been very popular among collectors. Antique Arita soba cups are object of avid desire for collectors.
Japanese people started to produce soba choko cups in Arita. Arita had been famous for a producing area of ceramics since early times.
At that time people used soba choko as a cup for drinking sake or as daily tableware. Soba cups has been familiar tableware for Japanese people.
Therefore, the patterns in fashion at that time were decorated for soba cups.
So, Arita soba choko cups of Edo era (about 17th century) are filled with Japanese art at that time. We can see the transition of technique or craftsmanship of ceramics from Arita soba cups of 17th century.
Craftsmen in Arita inherit the technique of Arita porcelain.
Amabro mixed the traditional design and modern atmosphere. With the craftsmen of Arita porcelain, amabro produced new Arita soba cups.
Please enjoy a beautiful world of soba choko cups proposed by Amane Murakami, the representative artist of amabro.
2 series of Arita soba cups of amabro
amabro CHOKU

The name of "CHOKU" originated from the origin of a word "choko." In fact, the origin of "choko" comes from "choku." In this series, Arita soba cups have beautiful gold paintings on traditional blue and white drawing.
CHOKU series has 4 Sometsuke (underglaze blue porcelain) cups and 2 simple glazed cups.

The patterns and motifs of soba cups are the revival of Arita soba cups in 17th century. The quality and design satisfy antique lovers, too. Only Arita craftsmen can produce these dignified and elegant soba cups.

"Isn't this soba choko cup expensive rather than other soba cups?" You may think so. However, you will understand this price when you know the times and works devoted for a soba cup.
If you like designers' items, those artistic Arita soba cups are preferable.

Amabro respects traditional beautiful things, and revive them in new expression. Amabro wishes that "we would like people to touch Japanese traditional art with new sense." The Arita soba cups are filled with craftsmanship of Arita porcelain and wish of amabro.

amabro ERI

ERI series has brilliant colors and unique pattern of "Tako-Karakusa." The colorful Arita soba cups have great presence on the table.

On glazed soba cup, golden line makes an accent at the edge of the cup.

The name of "ERI" originated from the material's name "Eri." In the ceramics world, the clay is called Eri.

There are all sorts of components in Eri. To produce white porcelain, such as "CHOKU" or "MAME" of amabro, craftsmen use Eri without iron.
When the clay with iron is baked, the iron turns to black dots. So, it is not adequate for smooth and white porcelain.
Nevertheless, Eri with iron have unique atmosphere and different charm.

In this ERI series, craftsmen dare to use clay with iron. Therefore, Arita soba cups of ERI series has unique texture of material.

The unique pattern on these Arita soba cups is called "Tako-Karakusa." This unique pattern was introduced from China. Whorled vines and leaves look like the octopus's sucker. So, it is called Tako-Karakusa.

Tako (octopus) is an auspicious motif. It is said, "Octopus sticks to good things", "Tako reminds us 多幸 (a lot of happiness)", or "Octopus wraps the difficulties in smoke."
Japan Design Store original sets
amabro CHOKU Pair "Celadon & Iron glaze" in paulownia box

This is a pair of Celadon and Iron glaze Arita soba cups from CHOKU series. This pair suits more tea time than soba dinner. It is a stylish combination of clear blue and quiet color of iron glaze.

The inside and outside of these "Celadon" and "Iron glaze" are glazed in different glazes. In fact, this work takes some time.
In addition, we can see elegant flowers inside the Arita soba cups. When you drink tea, you can enjoy beautiful flowers more.

2 glazed Arita soba cups have a gap of simple outside and elegant inside. The pair set of sophisticated cups would be great gifts for couples as well.




Related Products

amabro CHOKU 4 Sometsuke cups in exclusive box

This set includes 4 Sometsuke cups. It includes "Tako-Karakusa", "Fujibana", "Rinpo" and "Sho-Chiku-Bai". You can enjoy delicate shade of blue paintings and gorgeous gold paintings of the Arita soba cups.

The patterns of "Tako-Karakusa" and "Fujibana" is printed by a skill "Douban-Etsuke". In Douban-Etsuke, craftsmen carved a pattern on copper board (Douban). Next, they print the pattern with paints to a paper. Finally, they print the painted pattern to unglazed ceramics.

The detailed paintings of "Rinpo" and "Sho-Chiku-Bai" are all hand-painted by craftsmen. You will be impressed with the delicate touch of craftsmen.

Also, please look at the inside of the Arita soba cups of CHOKU series. The inside or the bottom of the Arita soba cups have line of Gosu (cobalt blue painting). For "Fujibana" cups, there is a cute painting of Sho-Chiku-Bai at the bottom of the Arita soba cup.

CHOKU 4 Sometsuke cups set makes your dinner table elegant. Blue and white tableware work as teacups, small bowl for dishes, or dessert cups.
Amabro also offers pair sets within paulownia boxes. Sophisticated Arita cups sets would be great presents.




Related Products

amabro ERI Pair "Red" and "White" in paulownia box

This set is pair of Red and White Arita soba cups from ERI series. Its daring but smart design has a great presence on the table. Gold line and traditional Tako-Karakusa motif brings special atmosphere. In fact, this pattern makes the surface uneven, so that we can hold the cups easily.

The clay with iron gives simple impression. The Arita soba cups have retro mood somehow.
ERI series fit your teatime or coffee break.

Pair of red and white is an auspicious combination in Japan. So, the pair sets would be great gifts for wedding or new baby.
Amabro also offers set of 4 Arita soba cups. For family, the set of 4 cups would be better.




Related Products
Fit to our hands! Simple but beautiful form
The Arita soba cups of amabro inherited the form of traditional soba choko. Simultaneously, amabro produced original form to make the cups fit to modern life.
It is not a straight trapezoid, but slightly rounded. Therefore, the Arita soba cups of amabro fit our hands well.
The size of the soba cups is φ80mm × H65mm. It is slightly large for a soba choko cup. So, you can use the Arita soba cups from amabro for dipping sauce for soba, tea, dessert or vegetable sticks. From a daily dinner to entertaining guests, you can use the soba cups every day.
In addition, your sake time will be more stylish with cool Arita soba cups.
Furthermore, the soba cups can be stacked neatly. Please use the traditional and new soba choko cups every day.
Traditional "Janome-Kodai"
Please look at the backside of the Arita soba cups of "CHOKU" and "ERI". This style is called "Janome-Kodai". "Janome-Kodai" is often seen in the Arita soba cups of the late Edo era (about 250 years ago).
"Janome" is a name of Japanese traditional pattern. It is double circle with inside circle painted over. "Kodai" means high stand.
The bottom of the soba cups is similar to this pattern. The center of the bottom is sunk and filled with glaze.
The soba cups are glazed to the edge of the bottom. They are baked with special tools for kiln. So, the Arita soba cups are hard to damage your dinner table.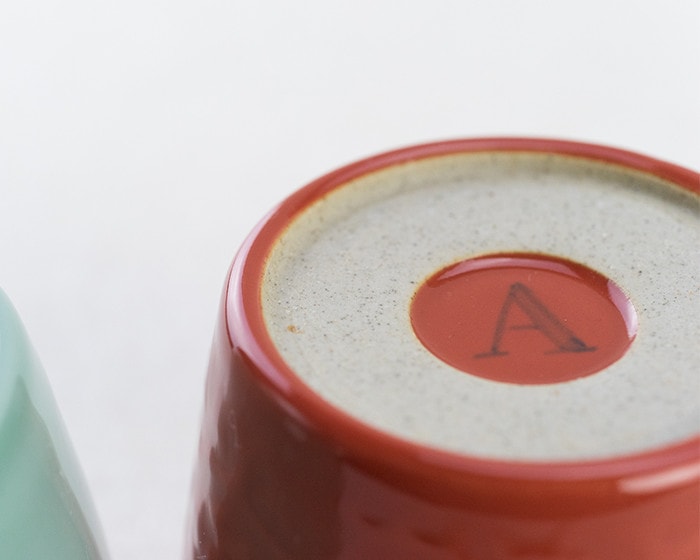 Amabro revived the Arita soba cups in design and the bottom of the cups! Antique lovers will satisfy these details.
At the center of the Arita soba cup, the potter's mark "A" is drawn by craftsmen. On traditional design soba choko, modern alphabet gives unique atmosphere.
Stylish box for Arita soba cups
Arita soba cups "CHOKU" and "ERI" of amabro offer special pair sets within beautiful paulownia boxes. For Arita cups collectors, the box is best place for storage. Of course, you can put other ceramics in the beautiful box.
The gold tooling on the box has elegant atmosphere. Pair sets within the gift boxes are suitable for gifts.
Also, amabro offers cute paper boxes. CHOKU Arita soba cups are within green box with gold tooling. The box for ERI is cream paper box with gold tooling. Both are very modern. (* No exclusive box for paulownia box set)
We can see the pursuit of amabro from the gift boxes of the Arita soba cups.
Gift of Japan Design Store for your dearest one
The Arita soba cups "CHOKU" and "ERI" has both Japanese tradition and modern aesthetic sense. You can make a stylish table setting anytime with the soba cups.
High-class Arita cups would be great gifts for your dearest person.
Japan Design Store offers great gift wrapping for your special gifts. You can choose the best gift wrapping from our various ways.
We will wrap your items thoughtfully.
Within Japan Design Store original gift box
Some gift sets are within our original gift boxes.
Our original gift box has gentle ivory color like Japanese paper. A gold logo mark is on the box as an accent.
The Arita soba cups of amabro are recommended for wedding gifts, housewarming gifts, or birthday gifts for ceramic lovers.
Also, high-quality Arita soba cups would be great gift item for the Mother's Day or the Father's Day.
For your long use at ease
We can see some chip or crack of the gold paintings of the Arita soba cups. Also, we can see different shade of color or chip of patterns on paintings. All the tableware is handmade by craftsmen one by one. We appreciate your kind understanding to the handmade crafts. There is no problem in its quality.


Arita soba cups of "ERI" series have black small dots. They are iron components in the clay. Please enjoy the unique texture of special clay.

Other caring tips
* NOT oven safe.
* The tableware with gold paintings are NOT microwave oven safe. ("Celadon" and "Iron glaze" of "CHOKU" series are microwave safe)
* When you put sour food on the Arita soba cups for a long time, paintings may turn their colors.
* The breakage of the products may cause serious injury.
* After use, please dry the plates enough. When the dry is not enough, it may cause stains or mold.
* Please do not use the plates at high places or unstable places. That may cause breakage or injure.
How to care
* Wash with neutral detergent and soft sponge after use.
* Please check the care label of the detergent. Gold paintings and paintings may be easy to be removed by washing.
* When you use forks, knives, spoons with the tableware for a long time or frequently, the tableware may become black by the adhesion of metal components. Also, scuff marks may be caused by strong scratch by knives.
Light scuff marks can be removed by polishing it with soft sponge with cleanser.
* Dishwasher safe. But please note that Arita soba cups may be damaged or cracked under certain situation. Please use the dishwasher with following care label of it.
Personalize gift service
For the bulk order more than 20 items, we can personalize your items with the name of your company, school, or with logomarks. If you plan to order corporate gifts or keepsake gifts, please contact us from "Contact us."
* Personalize gift needs service fee. The fee depends on items.
* Personalize service is not available for some products. Please feel free to ask us.