Baby poncho, BAB PONCHO, amabro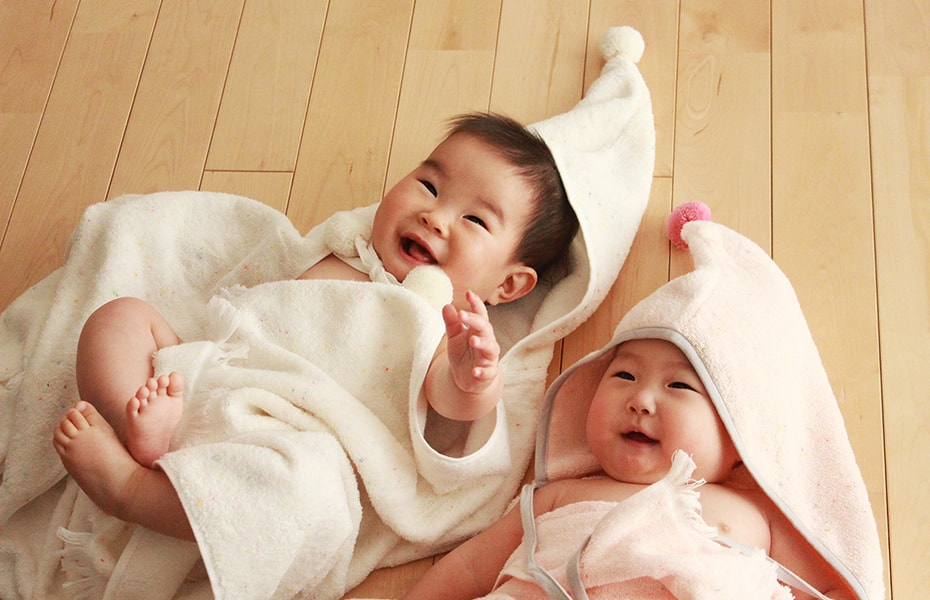 Fluffy and cute! Towel baby poncho made in Imabari
[amabro]BAB PONCHO
Our original set
Exclusive gift box
With Japanese description
With English description
Best item for new baby gifts!
Do you know "Baby poncho"?
It is a poncho for babies, also known as baby cape or hooded towel.
Baby poncho can keep the babies warm, or keep little angels away from direct sun ray.
Regardless of the seasons, baby poncho helps mom and dad.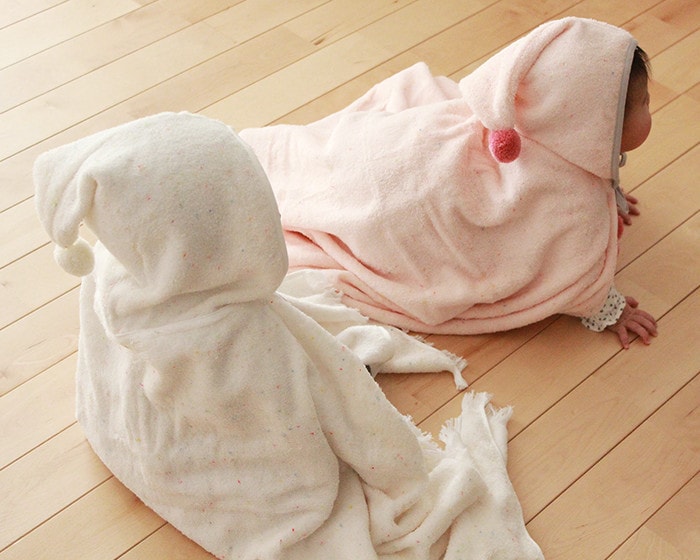 We would like to introduce a baby poncho "BAB PONCHO" from amabro.
We cannot stop saying "how cute they are!" BAB PONCHO is made of towel produced in Imabari. As you may know, Imabari is a famous producing area of high-quality towels.
Babies sweat a lot. So, fluffy hooded towels absorb their sweat gently.
You can use the baby poncho as a bath towel, too.
Useful and cute baby poncho is a great item to celebrate the arrival of new babies.
Towel made in Imabari! High-quality for new babies
The baby poncho BAB PONCHO is made of towel produced in Imabari.
In Japan, the towels made in Imabari is famous for their quality. The towels in Imabari are often selected as new baby gifts or wedding gifts.
Imabari city in Ehime prefecture is a biggest producing area of towels in Japan. It has 120-years history. Fluffy towels are produced with a fusion of traditional technique and new technology.
Why does amabro use the towels made in Imabari as baby poncho?
The reason is the high quality for babies' weak skin.
Imabari city is surrounded with great nature. The underground water of Sojagawa River is good soft water. The soft water is appropriate for bleaching or dyeing towel fabrics.
In addition to the water of Sojagawa River, the underground water from Mt. Ishizuchi is great water.
Rich nature in Imabari has supported the towel producing for 120 years.
Good water absorbency, keeping piles, and toughness. Towels made in Imabari are kind material for babies and parents.
For the delicate skin of new born babies, fluffy hooded towels are suitable.
In addition to its cute design, the baby poncho of amabro has great quality.
If you would like to send "stylish, as well as great quality new baby gifts," we recommend BAB PONCHO from amabro.
Cute and stylish design of the baby poncho
"I would like to put this baby poncho on a baby!"
Everyone think so when they see the BAB PONCHO.
The hooded towel makes cute babies cuter!
The great feature of BAB PONCHO is its stylish design.
3 colors of baby poncho
BAB PONCHO of amabro has 3 colors. the colors are mint, natural and pink. So, you can send the baby poncho to both boys and girls.
The surface of the hooded towels seems plain color. In fact, the fabrics are woven with colorful naps. The naps are made of polyester.
The backside, which touches baby directly, is made of plain 100% cotton fabric.
Top of the hood and ends of ropes have cute pom-pom.
Hem of the baby poncho is fringed.
Naps towel, pom-pom, and fringe. Cute and delicate design captivate us.
Suitable gift box for stylish new baby gifts
The baby poncho of amabro is within cute gift box. It becomes good new baby gifts.
When a baby wears the hooded towel, BAB PONCHO displays its attractive points at the most.
5 reasons of the popularity of BAB PONCHO
All families having babies should have a baby poncho at least.
Adorable hooded towel BAB PONCHO has been popular gift item to celebrate new arrival of babies.
The followings are some of the reasons of its popularity.
At home and going out! Baby poncho works everywhere

Baby poncho from amabro is breathable and highly absorbent. Also, the poncho has big hood.
For cold seasons, hooded towel keeps babies warm. For hot seasons, the baby poncho keeps babies away from strong sun shine, ultra violet ray, or too cold air conditioning.

Baby poncho works anywhere and anytime for babies.

When a baby is on board stroller, or when parent is holding baby, the hooded towels can be put on babies easily.
Baby poncho is a necessary item for parents when a baby goes out.

Baby ponchos as baby wrapper

BAB PONCHO of amabro is made of towel produced in Imabari. Fluffy hooded towels can be used as baby wrappers.

Baby wrappers or swaddling clothes are clothes to swaddle new born babies. Swaddle clothes keep the warmth of babies and provide safe and cozy feelings to babies.

The towel made in Imabari is thermal and highly absorbent cloth. Therefore, babies can even sleep while being wrapped.

While swaddling, babies can feel safe and comfortable like they are in the womb. BAB PONCHO of amabro is kind material for sensitive skin of babies.
Parents can use the baby poncho at ease.

Not only for baby, but also for mom as nursing cover

BAB PONCHO of amabro is a baby poncho. However, mother can use it as nursing cover. Tie the rope at the back of her neck, and hold baby inside the poncho.
In addition, hooded towel becomes a blanket when parents change diapers.

Fluffy and cute bath towel

For busy mom and dad, baby poncho becomes an easy bath towel.
After a bath, parents are very busy. Wipe the babies' body and change his or her clothes, and change own clothes.
Then, baby poncho of amabro help you!

Just put a hooded towel to babies, and wipe their water gently. Tie ribbons to stay the towel for babies. The fluffy towel keeps the warm of babies.
So, mom or dad can change their clothes.

If you look for cute bathrobe for babies, the baby poncho of amabro is the best!

When you bring babies to the sea or pool, please bring this hooded towel, too.

Can never have enough towels for babies!

If you have a babies or children, you know that you can never have enough towels.
The baby poncho from amabro is made of high-quality towel produced in Imabari. So, cute hooded towel can be a cute and fluffy bath towel, too.

Also, if you look for towels as new baby gifts, how about hooded towels? Cute baby poncho will help busy mom and dad.
Furthermore, BAB PONCHO can be washed at home easily. Parents can wash the poncho every day.
What is BAB series from amabro?
Amabro is a product brand produced by MURAKAMI ART Co., Ltd. Under an artist Amane Murakami and the concept of "Art of life", MURAKAMI ART proposes a life with Japanese traditional and beautiful things. In 2006, amabro is started under the concept of "Rebuilding of expression." They reconsider various creation existing now, and create new product from an artistic view.
"There is a day even a baby wants to be looked smart."
BAB series of amabro was born to make that wish comes true.
Please live a life with babies and BAB series from amabro.
The baby poncho will color the families' life.
Pursuit for the kindness to babies
Please look at the clothing labels of baby poncho. Usually, the clothing label is put at the back of neck, inside the cloth. However, the clothing labels of BAB PONCHO is put on the surface.
So, when a baby wears the hooded towel, they do not touch the label.
Amabro pursues such a small point for the comfort of babies.
For important new baby gift, please choose BAB PONCHO
The baby poncho of amabro will be together with the growth of babies. When a baby is new born, hooded towel can be a swaddling cloth. When a baby becomes able to sit alone, the baby poncho works as coat or towel.
You can feel the growth of baby by changing the use of baby poncho.
BAB PONCHO of amabro has been popular item as new baby gifts. Since the hooded towels have 3 colors, it is good presents for both boys and girls.
The poncho can be used for a long time, from new born to about 3 years old.
Please choose the high-quality baby poncho for your dearest person.
Customer's voice for BAB PONCHO
Received as a new baby gift

My friend gave this baby poncho for my new baby's gift. It is so cute, fluffy, and comfortable! When it is cool, I use the BAB PONCHO as blanket. When we go out, hooded towel is a necessary item.

Sent it to my friend as a new baby gift

I sent mint color of baby poncho for my friends. When I visit visited visit her, the baby wore it! Yellow pom-pom suited well with a girl. When I am blessed with a baby, I would like to buy this hooded towel for him or her.

Very useful baby poncho

BAB PONCHO is a necessary item after a bath. She looks cute with the baby poncho. Above all, it is useful! Fluffy and big bath towel absorb the water soon. In addition, I can wash the poncho in washing machine easily at home.

Have never known such a stylish brand!

I found amabro when I was looking for a new baby gift for my niece. I have never known such a stylish brand. I chose natural color from 3 colors of BAB PONCHO. I am satisfied with beautiful gift wrapping, too.
Caring tips
* BAB PONCHO has bias tape ribbon. Please be careful not to wind the ribbon around neck or body of babies.
* BAB PONCHO is made of a naps-woven fabric. When the naps are rubbed with something, the naps may rise.
* Please watch your child or pet not to swallow pom-pom.
* All the products are handmade by traditional craftsmen. Please enjoy different individualities of each product.
How to care
* Please use washing net when you wash the baby poncho in washing machine. Please do not use tumble dryer.
* To keep water absorbency, please refrain from using softeners.
* Please use non-fluorescent brightening agent. Also, please avoid bleaching with chlorinated bleach.
* After washing, smooth out wrinkle and dry it.
* When the pile falls out, please cut it from the root.
Personalize gift service
For the bulk order more than 20 items, we can personalize your items with the name of your company, school, or with logomarks. If you plan to order corporate gifts or keepsake gifts, please contact us from "Contact us."
* Personalize gift needs service fee. The fee depends on items.
* Personalize service is not available for some products. Please feel free to ask us.