Japanese small plates mamezara, Arita porcelain KIHARA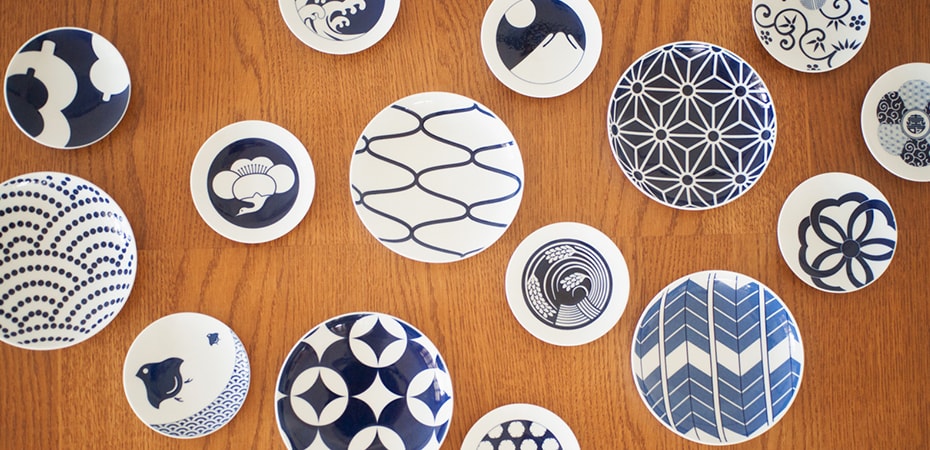 Stylish Japanese small plates! Mamezara from KIHARA
[KIHARA]Mamezara/Torizara
Our original set
Exclusive gift box
With Japanese description
With English description
Japanese tradition × modern design! stylish Japanese small plates
Recently, Japanese small plates, or mamezara collectors have been increased.
Just a small dish can be a stylish dish with cute Japanese small plates.
On SNS like Instagram or Twitter, we can see many food presentation with mamezara.
The KOMON series of KIHARA is characterized by beautiful coloring of white and blue. Mamezara and Torizara have modernized Japanese pattern. Cute Japanese small plates with Japanese pattern decorates your dinner table. For daily dinner, or home party with friends, Japanese small plates work in the various scene.
All patterns of small plates are Japanese traditional auspicious patterns. Therefore, these Japanese small plates are suitable items for gifts. You can use the Japanese small plates in dishwasher or microwave oven. If you send these Japanese small plates, the recipients of the gift can use the small plates at ease.
Various use! the fascination of mamezara
Many magazines and curation website have picked up Japanese small plates. The mamezara of KIHARA are 10.8 cm (about 4.25 inches) diameter. This size is the reason why Japanese small plates have various use. most Japanese people use Japanese small plates for putting soy sauce or small dishes. However, the fascination of mamezara is more than just a soy sauce dish.
Used at every meal! The world of Japanese small plates
Happier breakfast

A day starts with breakfast. If cute Japanese small plates are on the table in the morning, the breakfast will be happier one! For example, various kind of jam, olive oil, or small pickles… Usual bread breakfast become a special breakfast in hotels!

Exciting lunch

For a busy day, lunch time tends to be short. But the easy lunch turned to be an exciting one with mamezara! For example, let's put seasonings or sauce for noodles on small plates. The table become colorful!
A busy day lunch should be a happy time.

Sweet coffee break

Around 3 o'clock PM, let's have a coffee break. For that short break, Japanese small plates work! Small cookies, chocolates, or candies look more delicious on the Japanese small plates. When you have guests, the Japanese small plates play important role. With a little fruits or snacks, you can entertain your guests.

Stylish dinner

Dinner needs a lot of space and tableware. But, KIHARA's mamezara do not need much room. You can put many Japanese small plates on the table. The mamezara have unified color. So, you do not have to care about table setting.
The more times you use, the more patronage you have towards Japanese small plates. Here is one tip for great food presentation. If you put small dishes on Japanese small plates, try to put them not too much. If the patterns of plates can be seen, the food presentation will look more stylish.
Used at other scenes than meals! Happy mamezara
As accessory tray

KIHARA's KOMON mamezara can be accessory tray. For the tray of earrings, rings, keys, or any other small stuff. Japanese small plates keep your treasures as stylish interior. You do not have to look for the small items when you need them.

As incense holder

For your relaxing time, Japanese small plates make you relax as incense holder. With your favorite incense and favorite mamezara, you can have comfortable time. If you do not have stands for sticks, we recommend incense cones.

As stylish interior

KOMON mamezara are designed from modernized Japanese traditional patterns. Beautiful color and cute design plates can be stylish interior. Japanese small plates do not need much room. However, small plates have great presence. Please join KIHARA's mamezara into your collections!
Graphic printing by special skill
Beautiful blue pattern on the white Arita porcelain. A special printing skill "Pad printing" make it possible to express this beautiful contrast. Pad printing is a printing skill using silicon pad. With this printing skill, the craftsmen can print complex and delicate patterns on plates. General printing seats are difficult to print on curved surface. For example, please look at the delicate lines of "Yabane" of Torizara and "Kotobuki-mon" of mamezara. Those delicate lines are only possible by pad printing.
Also, Japanese small plates of KIHARA are printed by "Shita-Etsuke" *, not "Uwa-etsuke" like printing seats. Therefore, we can see "blur" on the printed patterns. The blur is a characteristic of Gosu *, a pigment. The blur gives deep atmosphere to Japanese small plates. KOMON series of KIHARA is a masterpiece with traditional pattern and modern skill.
Generally, the procedures of pad printing do not cause unevenness on patterns. However, mamezara and Torizara of KIHARA keep the unevenness on patterns. That uneven surface produces more unique expression to the small plates. If you touch the mamezara, you can feel the uneven surface of plates.
Comments on the words of pottery or porcelain
* Shita-Etsuke: In English, Sita-etsuke means painting ceramics before putting glaze and baking. Since the paintings are under the glaze, the gloss of glaze is beautiful. Uwa-Etsuke is the opposite of Shita-Etsuke.
* Gosu: Gosu is a cobalt-type pigment. Baking after painting with Gosu and putting glaze, the painting turned to navy or blue.
A wish of KIHARA. Broaden Arita porcelain from Japanese small plates
Arita porcelain started the production of porcelain in 1616.
KIHARA is a trading company of Arita porcelain. KIHARA proposes tableware which people can love for a long time. With inherited traditional skill from 400 years ago, KIHARA invented Arita porcelain for modern life style.
KOMON series is one of best-seller items of KIHARA now.
"We would like people to feel more familiar with Arita. Let's produce a tableware people can use in daily life with a light heart."
With this wish, KOMON series are planned as KIHARA original collection in 2011. By arranging Japanese traditional pattern, mamezara KOMON was invented. Torizara was born after mamezara. Now, KOMON series is the leading product of KIHARA.
Arita porcelain is the representative porcelain of Japanese ceramics. Some of Arita porcelain are very expensive. However, KIHARA produces daily usable and stylish design mamezara. Japanese modern pattern is loved by all generations. We can feel passion of KIHARA from cute and beautiful Japanese small plates.
KOMON plates for auspicious occasion
KOMON series of KIHARA have auspicious patterns. Therefore, the Japanese small plates of KIHARA are suitable for auspicious occasion. Of course, you can use these Japanese small plates daily. But, if there are special tableware for only auspicious occasions, the tableware adds special atmosphere to the special occasion. For celebration of someone or entertaining special guests, Japanese small plates are the best. Beautiful contrast of white and blue gives fresh atmosphere on your dinner table.
Modernized Japanese patterns fit various types of cuisine. Japanese people make unified table setting with various tableware. That is the characteristic of Japanese tableware. Please enjoy various Japanese tableware on your dinner table.
Mamezara has 2 series; Kisetsu-mon and Kissho-mon
Kisetsu-mon series of Japanese small plates

Kisetsu-mon, or seasonal pattern series is a set of 5 plates. The 5 plates have different patterns; Umeduru, Maromon-Nami, Inaho, Fuji, and Yukiwa. We can feel Japanese four seasons from these 5 plates.

Umeduru

Umeduru means Ume (Japanese plum) + Tsuru (crane). In japan, crane has been loved by people as a symbol of long life. Plum, and crane welcome spring.

Maromon-Nami

Nami means wave. Sea is the origin of life. Just like the wave comes continuously, this pattern welcomes happy one after another. Maromon-Nami represents Japanese summer.
* KIHARA plans and produces Maromon-Nami based on the license contract with "Maro" and Takeda corporation Inc.,

Inaho

Inaho means the ear of rice. Japanese people have believed that God dwells in rice. Ear of rice is a symbol of fertility. Japanese people use Inaho as the family crests or decorations for New Year's Day. Inaho represents the fall in Japan.

Fuji

Fuji or Fujiyama is the pride of Japan. Japanese people believe that Mt. Fuji is a mountain with mysterious power. Fuji is the symbol of Japan. At the New Year's Day, Fujiyama becomes a special place for Japanese people.

Yukiwa

Yukiwa means Yuki (snow)+ Wa (ring). Yukiwa is a pattern designed from the crystal of snow. Japanese people have used this pattern since about 1200 years ago. If snow falls, the year will be fertility. Yukiwa has the wish for fertility.

Kissho-mon series of Japanese small plates

Kissho-mon, or auspicious pattern series is a set of 5 plates. The 5 plates have different patterns; Hyoutan, Sho-Chiku-Bai, Kotobuki-mon, Musubi-Zakura, and Nami-Chidori. The auspicious pattern may bring you lucky and happiness.

Hyoutan

Hyoutan means the gourd. The vines of the gourd entangle in branches of trees. So, the strength of gourd becomes the symbol of good business. Also, gourd has many seeds. Therefore, gourd has the meaning of prosperity.

Sho-Chiku-Bai

Sho-Chiku-Bai means Sho (pine tree) + Chiku (bamboo) + Bai (Japanese plum.) In Japan, Sho-Chiku-Bai is the representative of auspicious patterns. Ume blooms earlier than other flowers. Therefore, Ume is the symbol of vitality. Bamboo grow fast and have great propagating power. So, bamboo means the prosperity. Finally, Matsu is always green throughout year. Therefore, Matsu is the symbol of perpetual young and long life.

Kotobuki-mon

Kotobuki-mon means Kotobuki (auspicious) + mon (pattern). In fact, some auspicious patterns are combined to make this pattern. At the center, there is a kanji of Kotobuki. The flower is chrysanthemum. Chrysanthemum is also the symbol of perpetual young and long life. Navy petals are Karakusa. Karakusa means the continue of long and happy life from the past to the future. The white petals are Asanoha. Asanoha means the prosperity or link.

Musubi-Zakura

Musubi-Zakura is a pattern designed Sakura (cherry blossom) drawn with a single stroke. This pattern means the link and happiness lasting forever.

Nami-Chidori

Nami-Chidori means Nami (wave) + Chidori (birds). Wave consists of a lot of fan shape wave. The fan shape means "Suehirogari." The shape of fan is widening toward the end. It reminds us the increasing prosperity as time goes on. This is called "Suehirogari." In addition to the auspicious wave, Chidori is also an auspicious pattern. Chidori flies above sea forming groups. So, Chidori can avoid troubles.
Japanese traditional auspicious patterns of Torizara
Torizara of KIHARA is 15cm (about 5.9 inches) diameter. This size plates work in various ways. For example, you can serve pieces of cake on this Japanese small plates. Deep blue color make dishes stand out.
Torizara is a set of 5 plates. The 5 plates have different patterns; Shippo, Amime, Asanoha, Yabane, and Seigaiha. All patterns are traditional continuous patterns. Continuous or repeated patterns remind us the infinity. Therefore, all the patterns of Japanese small plates are auspicious.
Shippo

Shippo consists of numerous circle. Each circle links with the quarter of circumference of other circles. It is said that the name of Shippo came from "shiho (four dimensions)." Shippo is a Buddhist word. In the Buddhist word, Shippo means "Shicchin (the seven valuable treasures)." Shippo pattern can repeat and broaden infinitely. Therefore, Shippo has the meaning of prosperity, peace or harmony. Also, this pattern has the meaning of wealthy.

Amime

Amime is a pattern of chained curved line. This pattern looks like the net of fisherman. In Japan, we call the pattern of net "Amime." This pattern was in fashion in Edo era (about 400 to 200 years ago). People in that era liked the simple and rhythmical carved line. People used the pattern in hand towel or ceramics. Especially, fishermen liked this pattern for the wish of large catch, or generals liked it for the wish of catch the enemy with one cast of the net. Now, people believe that Amime net can catch the fortune.

Asanoha

Asanoha pattern is said to have the talismanic value. A traditional pattern with regularly ordered hexagon. Japanese people have used this pattern since about 1000 years ago. Asanoha means the leaf of hemp. Hemp grows very fast. So, Asanoha is used as the pattern for kimono (Japanese traditional wear) and the underwear for babies for the wish of healthy growth.

Yabane

Yabane is the wing of eagles, hawks, or kite on the top of arrows. Yabane, also called for Yaba, have been used for the ceremony or celebration for boys. Yabane has the meaning of averting evils or hit the target. Therefore, bushi used Yabane as their kimono. Also, once arrow shot, the arrow never return. So, parents gave kimono with Yabane to their daughter when she got married. They wished daughter's happiness and never return by divorce.

Seigaiha

We can see Seigaiha pattern in ceramics and the box of Japanese confectionery. A continuous pattern with concentric circles. This pattern came from ancient Persia. Through the Silk road, Seigaiha was introduced to Japan. The Japanese name of Seigaiha was originated from a kagura (a performance of sacred music and dance in Shinto). Seigaiha was used in a kimono of kagura named "Seigaiha." Seigaiha has the meaning of "may the peaceful life lasts forever like the wave of sea."
Japanese small plates of KIHARA for gifts
In KIHARA KOMON series, mamezara has 2 sets of Kisetsu-mon and Kissho-mon, and Torizara has a set of Kissho-mon. All Japanese small plates of KIHARA have auspicious patterns. How about sending happy motif plates to someone? For wedding, housewarming, or birthday. Japanese traditional pattern may bring happiness and tell your feelings to the recipients.
We prepare our original English description for this product. Please do not worry about care or use.
Japanese small plates entertain us with its cute patterns, beautiful colors, and the meaning of patterns. You can enjoy the mamezara when you look at them, put dishes on them, and cooking dishes for them. Auspicious Japanese small plates will be suitable gifts!
Customer's voice
For New Year's Day

I bought Torizara for New Year's Day. The size is best for serving plates. I also like the design.

Gorgeous table setting!

The plates are beautiful with the gloss and the coloring of white and navy. These plates decorate my dinner table colorfully. I thought these small plates are very "Japanese." But the plates can fit Western-style dinner table perfectly.

More plates, more useful!

These Japanese small plates are traditional, but modern plates. Deep blue is very beautiful. The coloring make dishes stand out. I am planning to buy another set.
Caring tips
* All the products are handmade by traditional craftsmen. Please enjoy different perspective of each product.
Personalize gift service
For the bulk order more than 20 items, we can personalize your items with the name of your company, school, or with logomarks. If you plan to order corporate gifts or keepsake gifts, please contact us from "Contact us."
* Personalize gift needs service fee. The fee depends on items.
* Personalize service is not available for some products. Please feel free to ask us.