Hirota glass, Japanese traditional crafts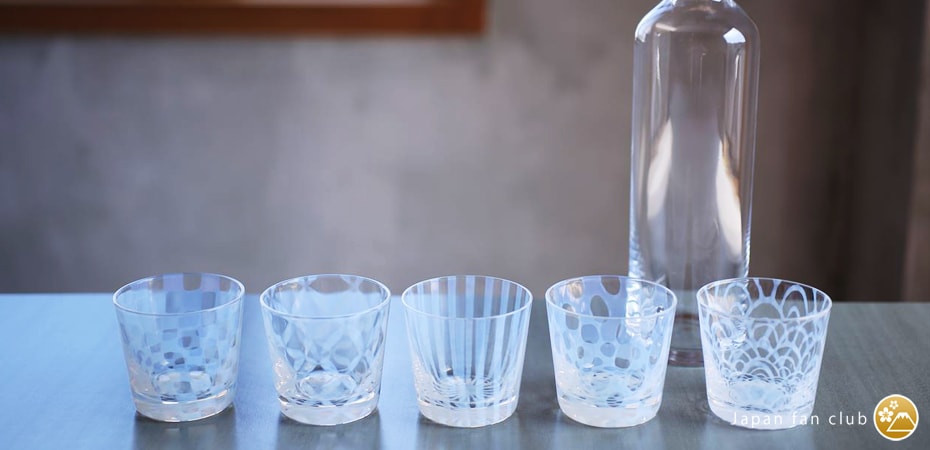 Beautiful glass of Taisho Roman glass series
[Hirota Glass]Soba cups
Our original set
Exclusive gift box
With Japanese description
With English description
Glass of Taisho Roman glass series
Taisho Roman glass is a series offered by Hirota glass. The glasswork of this series are made with special skill, "Nyuuhaku-glass-aburidashi."
"Nyuuhaku-glass-aburidashi" is the specific name of the blowing skill. Skilled craftsmen blow glass which includes special material named kokkai (bone ash) to uneven patterned mold. When the hot glass touches to the mold, the sudden change of temperature develops the color of opal. Then, certain pattern will appear to the glass.
Hirota glass produces Japanese glasswork
Hirota glass offers glasswork with traditional skill. The company was founded in 1899 in Tokyo, Japan. Since its establishment, Hirota glass has continued to have its passion for traditional Japanese glasswork. People worldwide are fascinated by the glasswork of Hirota glass by the combination of traditional skill of craftsmen and simple design.
Enjoy the coming of spring with Taisho Roman glass
These beautiful glasses are made for "soba choko," which used when Japanese people eat soba (a kind of noodle made of buck wheat flour). Japanese people pour soba tsuyu (sauce for dipping soba) into soba choko, and dip soba noodle into the sauce.
However, this glass is more useful than merely a soba choko. Therefore, we recommend this glass for a multiple use glass. As you can see in the picture above, you can feel the coming of spring when you pour green tea to the glass.
Five Japanese traditional patterns
The glasses of Taisho Roman glass series have 5 patterns. All of the patterns are Japanese traditional designs. We offer the patterns named ichimatsu, tokusa, nami, tsunagikousi, and mizutama. Skilled craftsmen make each glass by traditional "Nyuuhaku-glass-aburidashi" skill.
This opal color glass looks like a jellyfish floating in the sea. At the same time, the glass also looks like stylish modern art. The glass can change its face by what you put in. Please enjoy various faces of this glass.
Taisho Roman glass fits various cuisine
The glass becomes a colorful cup of sushi when you put some vinegar rice, avocado, salmon, and salmon roe. This glass decorates your table. It is happy time for you to imagine various cuisine to put in.
Coordinate with glass water bottle and Taisho Roman glass
When you serve some tea with these glasses, what do you want to use as a bottle? We recommend the glass water bottle of Hirota glass.
"Uruoshi bottle" is the name of this bottle. "Uruoshi" means moisture in Japanese. It is hand blown glass bottle. Unlike the glasses of Taisho Roman glass, this bottle is beautiful of its transparency. The plug is made of lacquer with antibacterial effect. The clarity makes tea and water look more beautiful and delicious.
Caring tips
* Wash with soft sponge with ph-balanced detergent.
* The sudden change of temperature cause the damage on the glass. Please do not wash in hot water of dishwasher.
* The glass of Hirota glass is soda glass. It is not a tempered glass.
* All the products are handmade by traditional craftsmen. Please enjoy different perspective of each product.
Personalize gift service
For the bulk order more than 20 items, we can personalize your items with the name of your company, school, or with logomarks. If you plan to order corporate gifts or keepsake gifts, please contact us from "Contact us."
* Personalize gift needs service fee. The fee depends on items.
* Personalize service is not available for some products. Please feel free to ask us.