Japanese Dishware Hasami Porcelain from Eiho
Japanese Dishware of Hasami Porcelain with Cute Pattern
[Eiho porcelain]Japanese dishware Series
Our original set
Exclusive gift box
With Japanese description
With English description
Translucent white porcelain, Cute Japanese dishware
Ichimatsu, Karakusa, Seigaiha, Yabane and Shippo.
Cute and auspicious Japanese patterns are expressed on dishware.
We got stylish Hasami porcelain with fresh beauty.
Let us introduce Japanese dishware of "Wa-modern" series from Eiho porcelain. Eiho porcelain is a pottery of Hasami porcelain in Hasami town of Nagasaki prefecture. It is famous for its translucent white porcelain. Shiny white porcelain from Eiho makes dishes stand out and brighten up your dinner table.
Stylish and fortunate Japanese dishware set would be great wedding gifts as well.
Beautiful Sen-dan Suji of each plate
Japanese dishware from Eiho porcelain has graphic Japanese patterns. In addition, we would like you to look at the beauty of white porcelain and sharp lines of "Sen-dan Suji".
"Sen-dan Suji" is a name of pattern. Craftsmen carve lines with metal parts on rotating unglazed porcelain from its top to bottom. "Sen-dan" means a thousand layers and "Suji" means line. Japanese people express "many" with thousand.
Lines carved by craftsmen make translucence of white porcelain stand out. The lines gently reflect light. Dishes look more beautiful on Japanese dishware of Eiho by its white porcelain and Sen-dan Suji.
The founder of Eiho porcelain was a master-hand at using pottery wheel. Craftsmen of Eiho porcelain have handed over the inalterable skill from the time of its establishment and constantly produce beautiful white porcelain.
Surprisingly thin and light! Hasami porcelain dishware from Eiho
When we pick up the Japanese dishware, we can feel the lightness of plates.
When we pile the dishware up, we can see that they are smart and compact.
Japanese dishware of "Wa-Modern" series has both thinness and lightness as well as beauty. Dishware should be beautiful and useful.
Since the Japanese dishware from Eiho is light, everyone can use them easily from children to the elderly people. Also, we can wash and store thin plates easily. Slim and light dishware works very well at home parties.
What is Hasami porcelain?
Hasami porcelain is produced in the area around Hasami town of Nagasaki prefecture.
Hasami porcelain started its history about 400 years ago. It is said that a potter in Korea Lee U Gyeong established it. About 1660s, a big 155m kiln "Nagao Hon Nobori Gama" was established to produce Kurawanka bowls or "Conpra bottle" which was used to export soy sauce.
The best feature of Hasami porcelain is its usability. From ancient era, Japanese people have loved Hasami porcelain as daily use tableware.
Japan Design Store original Japanese dishware sets
Japan Design Store makes our original sets of Japanese dishware from Eiho porcelain. Stylish and useful Japanese dishware sets would be great gifts as well. Combination of dishware set with chopsticks or chopsticks rests would be perfect gift set.
Each set is within exclusive box. Let us introduce a part of our dishware sets.
2 pairs of Chuzara & Deep plate

This is a pair set of Japanese dishware. We make a set with Chuzara (19cm / 7.5 inches plates) and deep plate (14.5cm / 5.7 inches). Pair set would be great wedding gifts or presents for the Mother's Day or Father's Day.




Related Products

[Set of 5] Kozara Red & Blue

Cute small plates sets have been popular recently. In this set, we make a set with 5 different patterns. Kozara in "Wa-modern" series is about 10cm diameter (3.9 inches). You can use the Japanese dishware as sauce plates or make a Japanese table setting by putting different dishes for each plate.




Related Products

[Set of 10] 5 Small bowls & 5 Torizara

Small bowls (11cm / 4.3 inches) and Torizara (15cm / 5.9 inches) work very well. This set includes 5 small bowls and 5 Torizara. For 5 family members, or when you have guests, this Japanese dishware set works. Dishware sets are useful for daily meals and entertaining guests.




Related Products
Eiho porcelain offers 5 types of Japanese dishware, Chuzara, Torizara, Kozara, Deep plate and Small bowls.
Chuzara is 19cm diameter plate. It is useful for main dishes.
Torizara is 15cm diameter plate. You can use it for cakes.
Kozara is 10cm diameter plate. For seasonings, sauce, or pickles, this size is useful.
Deep plates and small bowls are useful for juicy dishes. Also, Deep plate can be used as rice bowls.
Auspicious and modern! Japanese traditional patterns of dishware
On Japanese dishware of Eiho porcelain, Japanese traditional patterns are printed. We would like to introduce the fortunate meanings of each pattern.
Shippo / Shichihou

"Shippo (Shichihou / Shicchin)" means 7 valuable jewels in Buddhism (Gold / Silver / Lapis lazuli / Glass / Coral / Giant clam / Agate). In the pattern of Shippo, circles infinitely chain. Those infinite circles express "peace" "harmony" and "prosperity of posterity".

Seigaiha

Seigaiha is a design of waves of sea. We wish this pattern that "peaceful life will last forever like the calm waves of the sea."

Yabane

Yabane is arrow fletching. Yabane is believed to have meaning of "achieve purpose" since arrows hit the target.

Ichimatsu

This pattern become popular from the pattern of hakama of Sanogawa Ichimatsu, who was a kabuki actor in Edo era. Ichimatsu pattern chains up and down, left to right. So, this pattern expresses "longevity and forever peace." Ichimatsu is used for the emblem of Tokyo Olympic in 2020. It is a representative pattern of Japan.

Karakusa

Karakusa is designed from winding vines. Vital plants express "prosperity of posterity" and eternal "repeat of happiness."
Japanese dishware is microwave and dishwasher safe?
We got a question from a customer, "is this dishware microwave or dishwasher safe?"
So, we asked it to the atelier. According to them, it is SAFE for Microwave and Dishwasher. However, some detergent for dishwasher include polishing material. So, for your long use, they recommend wash by hands.
Japanese dishware "Wa-modern" series is overglaze painting. On smooth glazed plate, craftsmen print patterns and bake again. Please avoid strong rubbing or polishing.
Japanese dishware from Eiho porcelain for gifts
Now Hasami porcelain get more and more attention from the world.
Japanese dishware from Eiho porcelain will make daily life richer. Simple and stylish plates set would be great gifts as well as your own use.
Auspicious Japanese dishware can be great wedding gifts. "Wa-modern" series from Eiho porcelain have been popular gifts that wish everlasting happiness of the recipient. Also, useful Hasami porcelain tableware is suitable for cooking lovers or who starts a new stage in his / her life.
Japanese dishware sets as gifts? Leave it to Japan Design Store
If you would like to send Japanese dishware from Eiho porcelain as gifts, please leave it to Japan Design Store. We offer various gift wrappings for every purpose of presents. You can also order Japanese traditional Noshi wrapping.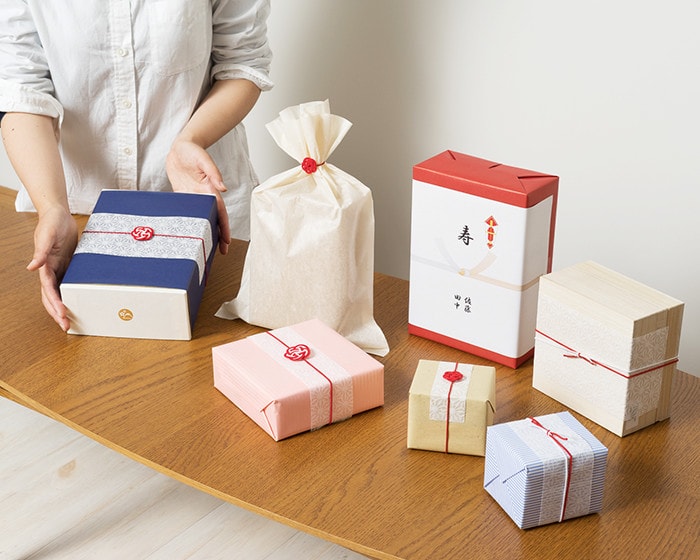 For your long use at ease
Japanese dishware from Eiho porcelain is all handmade by traditional craftsmen. Some plates may have tiny black dots (iron powder), small white projections, or slight hollow of glaze inside the high stand. Those are not impediment for your use. please enjoy individualities of handicrafts.
Personalize gift service
For the bulk order more than 20 items, we can personalize your items with the name of your company, school, or with logomarks. If you plan to order corporate gifts or keepsake gifts, please contact us from "Contact us."
* Personalize gift needs service fee. The fee depends on items.
* Personalize service is not available for some products. Please feel free to ask us.